I didn't get my hands on the Lanvin for H&M collection because it is at select H&M stores- not the ones at the mall- which is stupid. Most people shop a the mall. So have designer collaboration collections at H&Ms located in malls! Why should I have to drive to an H&M in Washington DC to get the new Versace for H&M collection? And probably see it sold out because I had to drive 30 minutes to get there! The collection with ONLY AT 300 stores. Probably sold out in a day... so get competitive!
I hope Donatella dives into the archives and sends out a "Gianni Versace Couture" from the late 80s to early 90s-inspired collection. It would be great to have the younger generation (whom I assume are big H&M fans) get a chance to wear tons of gold medusas, buckles and multi-color printed everything.
Versace has signed on to do H&M's latest designer collaboration.
The collection will be big and include two rollouts, one on November 17 including men's, women's, and homewear, and another prespring collection on January 19. The line consists of "iconic" archive Versace pieces repurposed for H&M. More from H&M's press release:
The womenswear collection will be dominated by dresses that express the spirit of the season, featuring studded leather, silk and colorful prints, and accessories including high heels and costume jewelry. The men's collection will focus on sharp tailoring, including the perfect tuxedo, as well as belts and jewelry for men. For the first time in a designer collaboration at H&M, the collection will include homeware pieces including pillows and bedspread.
"For me this is an opportunity to show to a very very big audience what Versace has been and what Versace is now," designer Donatella Versace said in a video announcing the collaboration.

According to H&M creative adviser Margareta Van Den Bosch, the collection, which is comprised of 40 pieces for women and 20 for men as well as accessories, will look back at iconic pieces from the brand dating back to the '80s.
"As a designer I look at the future–I never look at the past, but being the sister of Gianni, the DNA is Versace and I'm going to use iconic Versace pieces of iconic Versace moments which are not exactly always the past but also the present," Donatella said.
And as if to prime the masses for an accessible vintage-leaning iconic Versace collection at H&M, Lady Gaga has been wearing only Gianni Versace to promote her new video, "Edge of Glory." Good timing.
I think Donatella changed her attitude from 2008, when she declared she wouldn't do a line for H&M: http://nymag.com/daily/fashion/2008/05/donatella_versace_wont_do_an_h.html
The collection is set to hit 300 H&M stores on November 19. Donatella has also designed a pre-spring collection for the Swedish retail giant, which will only be available in countries with H&M on-line sales starting on January 19.
The highlight of the Versace men's show at Milan Men's Fashion Week was not the striped booty shorts or pink suits, it was Donatella — but isn't she always the highlight, in a way? — taking her bow at the end wearing a Versace for H&M studded leather dress.
Sketches from Donatella Versace's Versace for H&M collection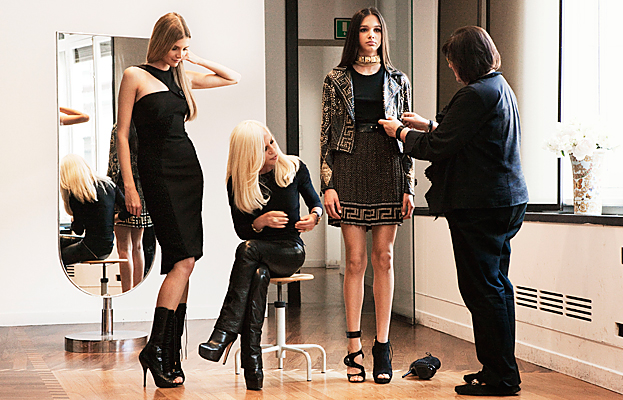 Donatella Versace puts the finishing touches on one of her H&M looks.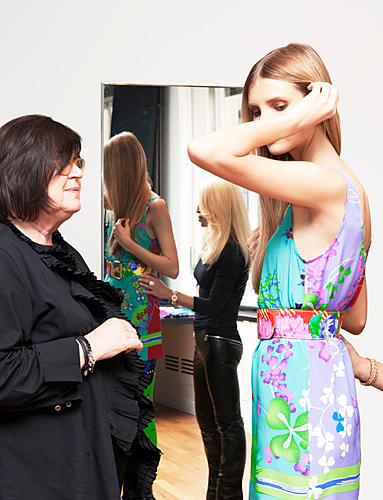 The H&M collection will be full of "prints, color and exuberance," Versace said in a statement.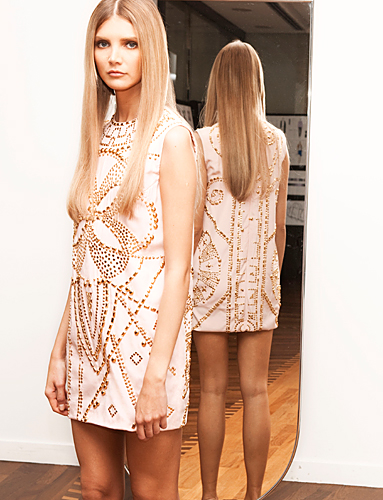 A studded shift dress from the Versace for H&M collection.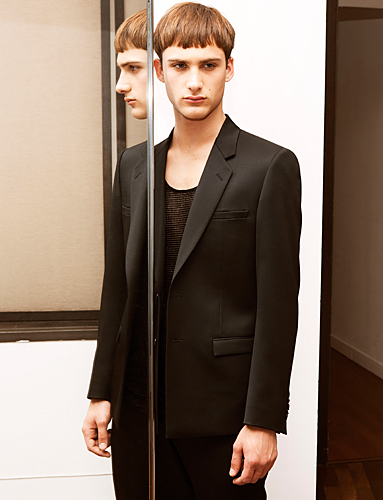 Men's looks will focus on sharp tailoring, and the collection will include a tuxedo.