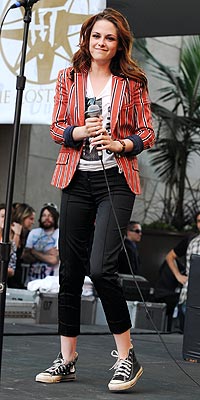 Kristen wears a striped blazer, face-print T-shirt and Converse sneakers.
Kristen wears a b
lack-and-red one-shoulder colorblock Balenciaga dress, Chanel fine jewelry, Christian Louboutin 
Simple 85 Suede Pumps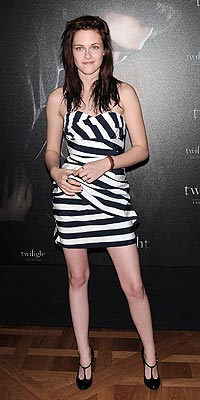 Kristen shows her fashion stripes in a black-and-white camilla and marc minidress and black T-strap pumps.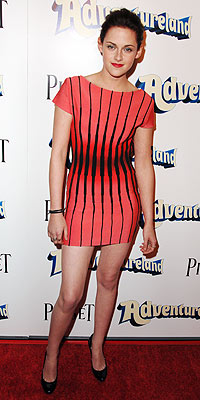 Kristen dons 
a neon body-hugging Hervé Léger minidress topped off with matching lipstick and basic pumps.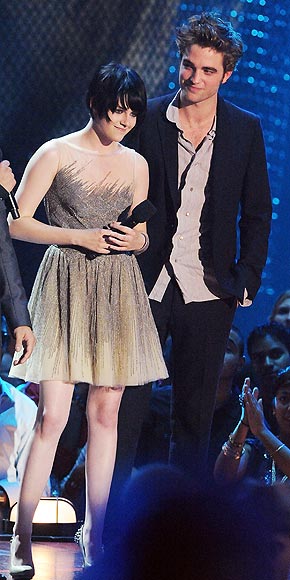 sets off her gilded Valentino frock with edgy studded heels from Rock & Republic and House of Lavande jewelry, 
In 
Yigal Azrouël and classic 
Converse Chuck Taylor high tops.
Kristen throws on a cardigan that looks like a blazer (a fun spin on a cardi), good fitting jeans and pointy pumps to go from day to night.
Kristen head to toe in Gucci; I am interested in this look because she chose to wear all black Gucci out of all the other Gucci or DRESSES for this event. But this is Kristen Style so be it.

Simple simple simple: Raybans, tight jeans, grey Converses, grey t tied up at the waist for effect
http://www.shopstyle.com/users/Kristen+Stewart
That is the link to my Kristen Stewart shopstyle.com account where I literally track down piece to piece of her outfits for you all ;)