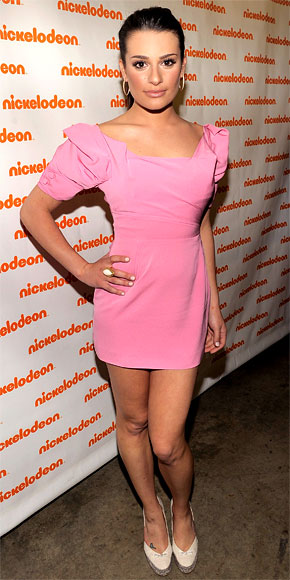 Lea Michele enters my girl-crush crew in this hot pink Zac Posen minidress and Tabitha Simmons heeled outfit.
Lea is cute in a silk cerulean blue dress that has a flowy top and tight skirt. I even like her platform ruffle detailed heels.
Is she gorgeous here or what? I am fanning myself. Lea's nude slingbacks make her legs look fantastic.
Sweet and just the look for spring in a classic lace bodice, silk skirted dress and leather strappy sandals.
Michele looked every bit the teen queen in a bright yellow Maggie London dress, leg-lengthening nude pumps, and a contrasting Kotur clutch.
Lea wears another sweet flirty frock, this time a red and black floral number with simple leather sandals.
I love this flaming color on Lea. I kind of like her fruity pumps. Her hair looks fabulous.
Lea channeled her flirty style in an Isaac Mizrahi minidress with a bustier bodice and a gathered petal-pink skirt; she accessorized with a Fendi clutch, Giuseppe Zanotti metallic pumps and Irit Design gems.
Lea Michele made her Grammys debut in a flirty navy dress with a shredded chiffon skirt from Romona Keveza, diamond Lorraine Schwartz bangles and black satin Brian Atwood platforms. She admitted that the single-shoulder design was her second dress of the evening, citing a "wardrobe malfunction" with a too-sheer white dress. "You could see through the entire thing."
I don't know who's been styling Lea Michele, but he or she should get a fat raise for the stellar work being done this awards season. Lea's been looking ADORABLE. This is so cute and youthful and it's super flattering.
I am fanning myself. Lea Michele is STUNNING in this gorgeous Maladrino silk gown. I love how the gown addresses her curves while at the same time elegantly falling past her body. Her bangles are a fun addition to her flawless look.
First, I wasn't sure. Then I decided it was sleek and sexy and that she was -- with an assist from the perfect shade of red lipstick -- pulling off something that's actually rather hard: a beige semi-Grecian body stocking. But for someone who passes fairly well as a high-schooler on TV despite being twenty-four, this works intelligently for Lea: It's not jarring enough to make me watch Glee and think, "Oh, right, there's that sexpot twenty-something trying to act like a goody-two-shoes student,",and yet it's grown-up -- but without being old and dowdy and musty.
Lea chose an elegant nude Herve L. Leroux gown with Grecian pleats. I hate this color on her, as I think it does little for her, but I just love the natural beauty of this classic gown.
I thought, a first glance, that this dress was too heavy for Lea Michele. It turns out Lea is just curvy, and that adds a different factor to the gown than the stick thin model adds on the runway. This gown may come off as a thick cloud of doom, but it actually is classic elegance. Detractors say this dress is too old for a starlet in her twenties who's just tasting fame.Supporters say it's cool, and she's stunning, so who cares? I fall somewhere in between: It's by no means my favorite of Lea's awards-season looks, but I applaud her for selecting a wide range of styles the past few months finding a way to make each one her own. Even though this is mature, she carries it well.
"Boyfriend jeans are my spring fashion must haves. Any kind because I have a really expensive pair from Barney's that are really awesome, but I also have a pair from Express that are just as great."