In a Catherine Malandrino crinkle chiffon shirt dress that looks gorgeous with her skin tone.
In a Oscar De La Renta Spring/Summer 2008 RTW dress. Lily said Anna Wintour picked it out for her.
Lily Collins wore this Alice + Olivia chain necklace top with AlDO Kilbury platform sandals.
Totally cute.
This would look stunning on Lily on the red carpet, except I don't like the heels.
Lily did some modeling ontop of reporting for Nickelodeon and being a student at UNC.
Llily looks like a Christian Dior-garbed housewife here, but I am loving it.
I always thought Taylor Lautner and Selena Gomez were the cutest couple, but Taylor and Lily Collins are totally cute together too.
Possible romance??? Who knows.
In a ladylike dress that looks a vintage find from the '60s. I love her jeweled pumps.
There aren't many paparazzi shots of Lily, surprisingly, but here is one of her wearing Toms canvas shoes.
In a strawy Chanel Spring 2010 RTW braided tweed dress with Camellias and fringe trim. I adore her gorgeous white gold and diamond Camélia Chanel ring, Spring 2009 Couture heels and white satin diamond clutch.
I am really not digging black accessories with this gorgeous Burberry Prorsum Spring 2010 chiffon knotted dress. Though I do love her Lauren Merkin Eve lizard clutch.
In a gorgeous Chanel Haute Couture Spring 2008 dress. I don't like her Chanel satin black pumps with a logo engraved pearl heel. COLOR COORDINATION, gorgeous.
This is how I wish Lily Collins dressed because she can totally pull off cute.
In a cute spotted flutter sleeve Michael Kors dress.
Lily wears a bright red Stella McCartney Fall 2010 RTW sheer dress and satin and cork Quinn sandals. I love this look, and her Falabella shiny chain clutch from the Stella McCartney Resort 2010 Collection.
Lily poses in a mature, lady-like Behnaz Sarafpour dress with the designer.
Lily is in head-to-toe Chanel. I don't think this dress is anything special, if anything it is boring.
I am so glad Lily chose this green Matthew Williamson Spring 2009 RTW dress with beaded straps, as it goes wonderfully with her coloring, so I don't know why she wore those evil tights and those schooly shoes!
This look would look sleeker if she didn't wear those tights! Her Sergio Rossi slingback are fab. Lily was attending a charity event hosted by the gorgeous Russian model Natalia Vodianova, which raised money for her charity The Naked Heart Foundation.
The actress and daughter of singer Phil Collins wore a Tibi asymmetrical beaded mini dress, which I love so much. Lily paired her dress with bright orange Brian Atwood Martay pumps and gold drop earrings with a orange pendant.
Sleek pulled back hair is becoming Lily Collin's signature look, and she looks lovely here in an asymmetrical baby blue dress with a circular hem and nude heels.
Lily is head-to-toe in Chanel. Her dress reminds me of an embroidered cloud of whipped cream. I love her black patent Chanel Paris Moscou pumps with pearl trims.
Lily wears a night out-about-town look, all of which is Jimmy Choo for H&M. I love her black sequined blazer and mauve top accented with a gold tassel necklace.
I am ignoring her black tights and mystery gold-edged heels that I can't see because they are blacked out. I love everything else though. I love her peach ruffled blouse and gorgeous purple brocade skirt from Matthew Williamson's Pre-fall 2010 collection.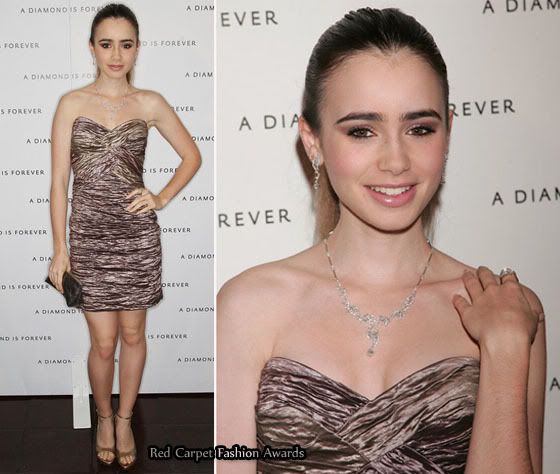 She wore a crushed BCBG Max Azria taupe dress, with gold heels. I wish she dropped the weak necklace. I do like how this dress works with her coloring.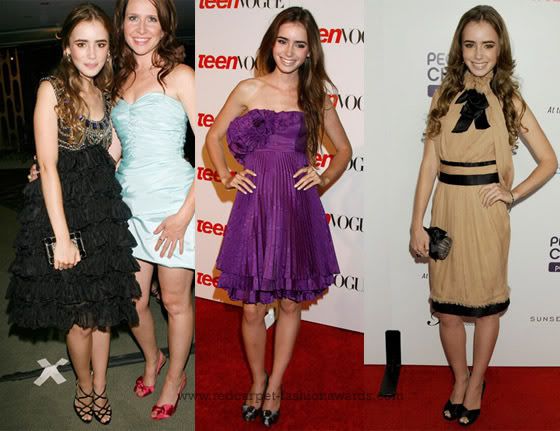 Lily has been seen wearing many big name designers, include Temperley London Fall 2008, Erdem Fall 2008 dress and Chanel Fall 2008 RTW.
Lily wore a lace Topshop lace bodycon dress with some Primal High Sandal by Boutique sandals sold at Topshop which very much look like the stunning Louis Vuitton "Spicy" sandals. Gold jewelery and a black patent clutch completed the look.
The teen star wore beautiful Jason Wu Spring 2010 aqua dress with a bubble skirt.
This is a great look and I especially love the red waist belt and the patterned bodice.
What I didn't like were the Sergio Rossi ankle boots.
Seriously, please can we ditch these ankle boots with everything.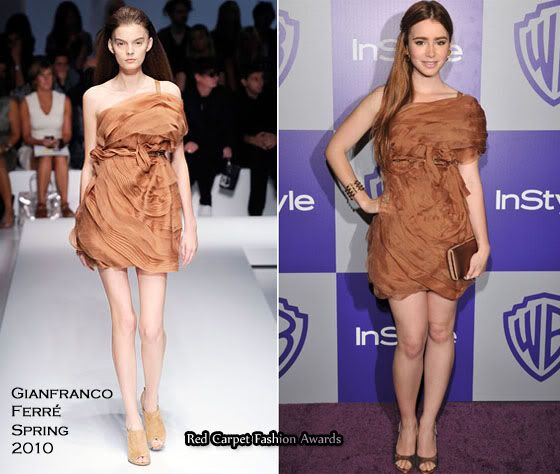 When I pictured looks from the Gianfranco Ferré Spring 2010 collection on the red carpet, teen actress Lily Collins wouldn't have been the first person to come to mind.
She wore a one-shoulder coffee colored dress from the Gianfranco Ferré Spring 2010 collection. The dress with a swirling detail was paired with matching peep-toe heels and a matching clutch. This is a cute look for her, but I'm not so sure she should've picked a dress that was the same shade of color as her hair. I would've like this better if she had swept her hair off her shoulder. She still looks fabulous.