I am relieved Dita didn't go for animal print accessories, and instead chose Christian Louboutin metallic peep toes, gold clutch and simple yet elegant jewels.
Dita is red hot in her form fitting silk dress, Louboutin patent pumps and gorgeous red satin gemmed clutch.
Not only is this just a gorgeous photograph, Dita looks stunning as she poses in a fur wrap over a strapless begie dress, worn with chunky platforms and a moxie Alexander McQueen green bag.
Dita is classic in a navy brooched waist pintuck dress worn with a gorgeous blue satin tassle clutch, stupid tights and Christian Louboutin blue heels. I love her red nail polish- it adds some extra spice to her chic outfit.
This is a very candid Dita. She threw on a beige trench, wedged sandals, a lantern pill-box bag and a straw hat and calls her self done. It is refreshing actually.
Dita is chic in a Louis Vuitton get up consisting of an awesomely tailored vest ove ra laced asymmetrical top, skinny trousers and simple pumps.
Dita struts a chic Dior ensemble featuring a split peplum cream suit, vintage pumps and small handle quilted bag.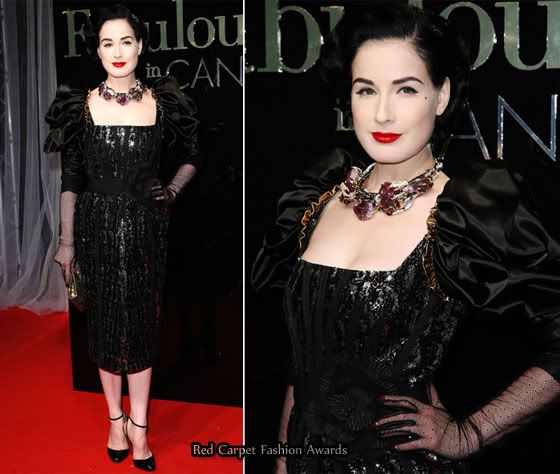 Dita Von Teese sticks to her trademark polished style, with a black sequin Dolce & Gabbana dress, with exaggerated sleeves. Her elbow-length lace gloves adding an extra touch of glamor, whilst her make-up was flawless, and her necklace was striking.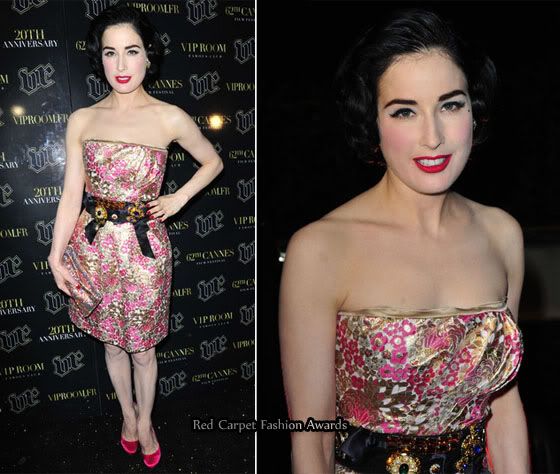 Dita wears a gorgeous Dolce & Gabbana strapless baroque dress with a beige, gold and rose floral fabric. Her fuchsia pink heels were the perfect finishing touch, and I actually love this stunning rosette jeweled navy belt with this dress.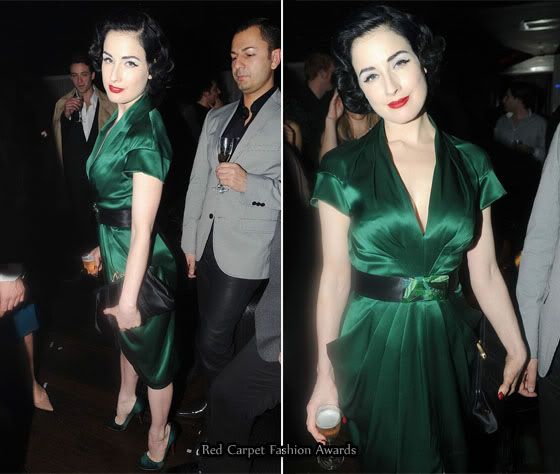 Dita wears a lovely emerald satin Maladrino Fall 2008 dress. The plunge-neck dress has a tulip skirt, and a black belt with a green marble buckle. Her look is complete with trademark red lips and nails. She carries a Christian Louboutin clutch and matching emerald satin heels.
I love this Marchesa Spring 2009 strapless lilac confection. Stunning.
In a stunning feathered Julien MacDonald gown.
In a Burberry gorgeous flowing dress paired with boring black pumps.
Dita goes vintage glam in a muted green chiffon appliqued dress with gold pointy Louboutin heels and stunning long envelope clutch.
I am in love with this Jean Paul Gaultier gold gown.
Dita works the runway in a tailored structural Jean Paul Gaultier creation. It is classic yet futuristic.
Dita is chicly warm in her knitted cream fuzzy dress, red clutch and peep toe heels.
Dita strolls with a pal in gorgeous nude satin platform heels, goregous and creamy coat and vintagesque bag.
Dita wears gold-edged Dolce & Gabbana wedge satin sandals.
Dita embraces the summer in this adorable painting dress and wedged sandals.
Christian Louboutin satin emerald pumps.
In Louis Vuitton sunglasses and a fierce Alexander McQueen bag.
The real Dita von Teese.
Dita von Teese without her usual caked-on makeup. Wow. It's nice to see the real her.
Dita is fresh in this summery strapless floral dress, paired with matching blue wedges.
Even though some of you think this is tacky it is classic Dita- always channeling a vintage vibe.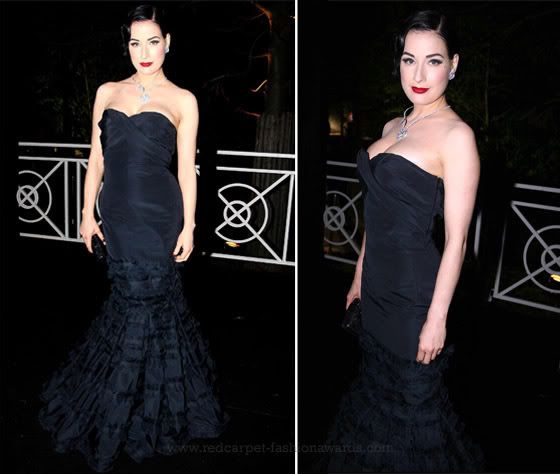 Dita opted for more elegance, in a navy strapless gown with a mermaid ruffled hem.
She wore a Dolce & Gabbana Fall 2009 hot pink satin long sleeved ruched dress with black waist belt. This dress is quite refreshing on Dita as her dress with the exaggerated shoulders isn't too structured.
Even though Dita von Teese's Malandrino Fall 2009 metallic dress was presented in silver, Dita opted for the black version. She totally picked the right color as this gown looks amazing on her.
I love the way it drapes on the hips.
Dita Von Teese stunning as always in this pale blue ruffled one-shoulder gown. The seafoam green glorifies her skin tone and ebony hair.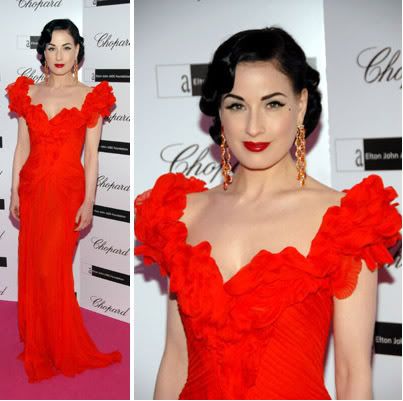 In an engine red loud Christian Lacroix Spring 2007 Couture gown that catches the eye in flair and of course, in color. Dita's fiery jewels add sizzle along with her contrasting black hair.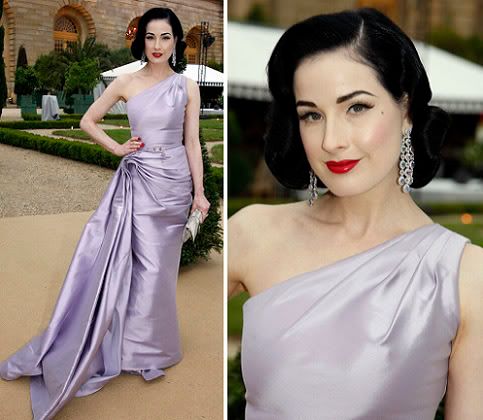 Stunning. ABSOLUTELY STUNNING. She is flawless here wearing a modified Christian Dior Fall 2007 silk gown. This is one of my favorite gowns and I could not think of anyone else in this gown but myself, but Dita proves me wrong.
In another fussy yet gorgeously intricate strapless lace dress by Dior.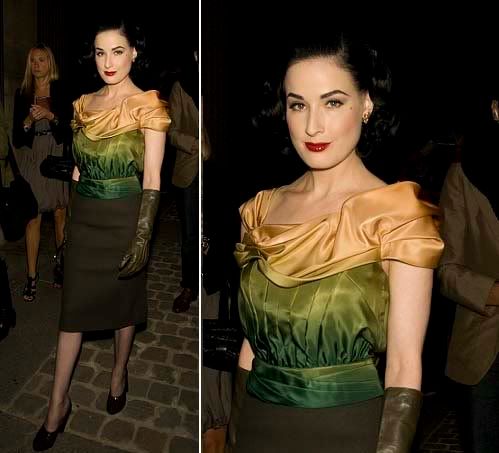 Dita wears a Louis Vuitton Fall 2007 ensemble with a degraded (when one color bleeds into another) top in a poised fashion. It has a beautiful stain top with a color-bleed effect. She completes her outfit with a chocolate skirt, heels and arm-length gloves.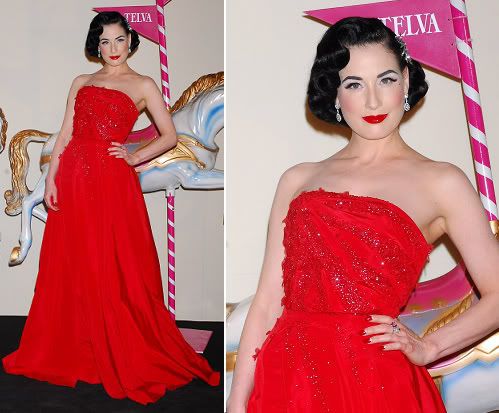 No one does full length and fabulous like Dita Von Teese. She stands out in this fire engine red Christian Dior Fall 2007 gown.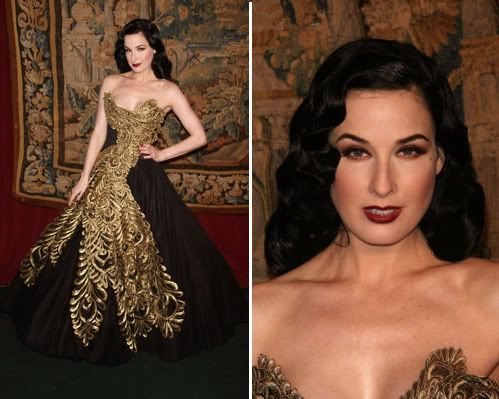 Dita's pale skin and the dramatic nature of this silk tulle Marchesa dress plus the detail are just breathtaking together. Dare to take on Dita's defined lip color by pairing your lipstick with a liner of the same shade or even slightly darker. Lip liner is the best way to manipulate the color. The underlying shade can amplify a dark lip even more. Try Makeup Forever's Pearly Burgundy Black for a deep burgundy sheen packed with pigment. "If I had a superpoer I would fly." Dita is wearing gold peacock feathers and unfortunately, peacocks can't fly.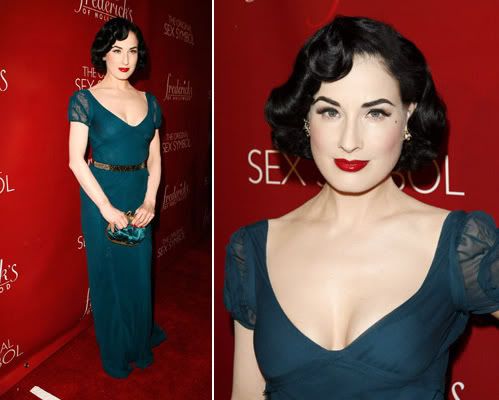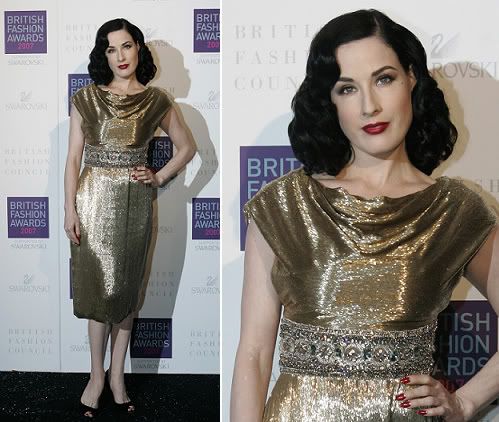 Even though this dress doesn't fit her correctly and makes her look heavier than she really is (and her red nails clash with the metallics), I love this Elie Saab gorgeous dress.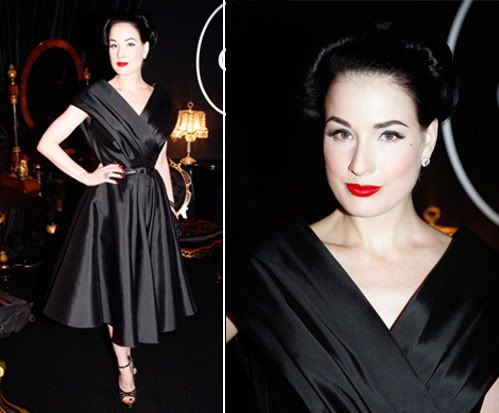 Dita Von Teese in black satin Dior Fall 2007. Flawless. As usual.
Pure perfection by Dita Von Teese wearing a pink embellished Christian Lacroix Fall 2007 Couture gown with black accents. I would don this gown in a second and Dita, my fashion alter-ego, is the Queen of Christian Lacroix.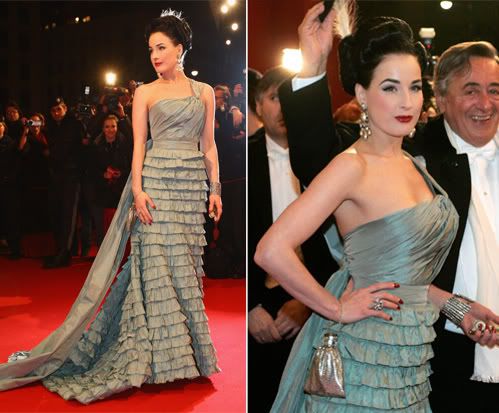 Dita is gorgeous in this seafoam tiered shoulder sash gown with a silver pouch and jewelry.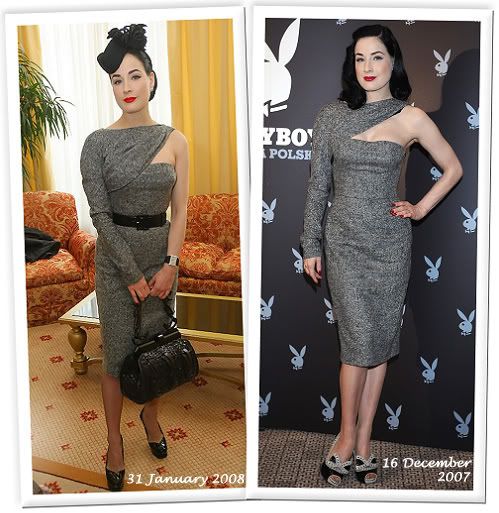 Dita first wore this Dior Fall 2007 one-shoulder grey dress with a pair of peep-toe shoes and wore it again but added a patent belt, a black hat and a Dior bag from the Fall 2007 collection. I love it when clothes are wore again. A dress you wear once is not cheap- versatility and longevity are key principles in fashion that make certain pricey pieces not so daunting.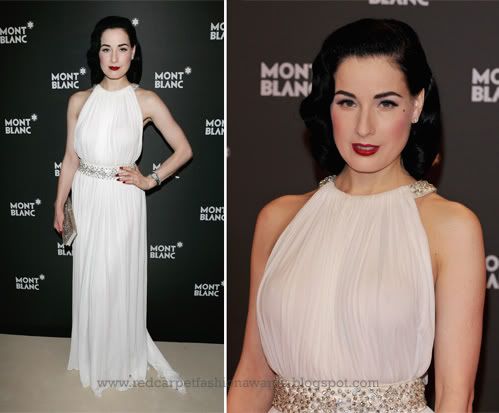 Dita sparkles in this white jewel embellished Amanda Wakeley halter-neck gown. At first, I thought Dita looked out of place in this goddess gown because she is the Queen of Dior, whose classic staple silhouettes often are more tailored and tidy. But Dita's poise and how well she fits into this gown confirms she is right in place. I hope she wears more goddess dresses.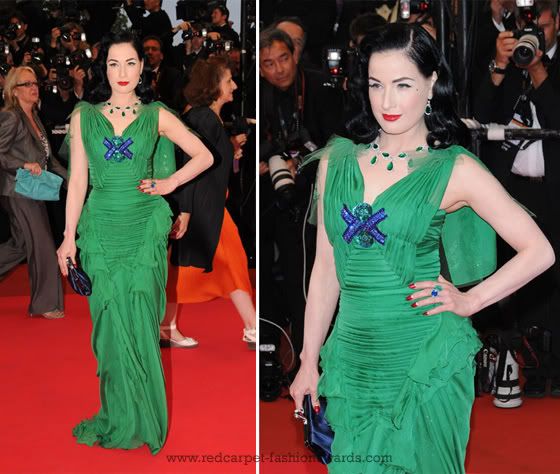 Dita brings out the glamor in this sea green Christian Lacroix Spring 2008 Couture gown. This pleated dress gives her an amazing silhouette. I was surprised by the incorporation of blue into the gown, as I prefer colors that match, yet to my own surprise, the blue detail is not fighting with the green.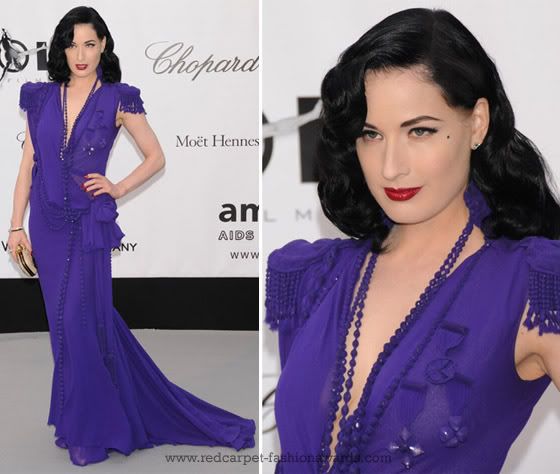 Couture Queen Dita von Teese is exquisite in this violet Jean Paul Gaultier Fall 2007 Couture chiffon military-esqe gown. The dress has badges of honor as embellishments and beaded epaulets. This gown blew me away- it is an eye-catching purple color and elegant but also detailed. Dita owns this dress.
Dita matched her maroon belt with her heels, as she wore a fur-print Dolce & Gabbana Fall 2008 turtle-neck dress with puffy sleeves. This dress is one of my favorites from the collection and I am so happy she gave it justice!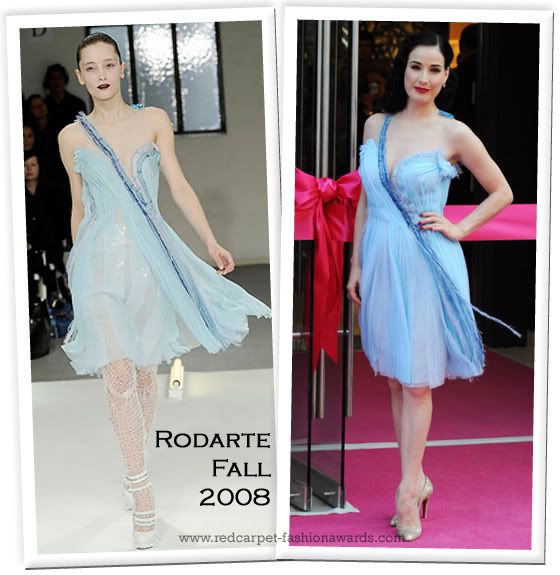 This is a beautiful baby blue corseted Rodarte Fall 2008 dress. The dress has a contrasting blue strap, which cascades down the skirt of her dress. Dita, who poses right down to the tips of her tippy toes, wore a pair of nude Christian Louboutin heels. This Rodarte dress blew me away with its lithe delicacy and snow maiden charm. Dita looks like a faerie princess in this dress. I loved this Rodarte collection, and Dita has kept on nailing some of my favorite looks, making my fashion dreams come true. Dita Von Teese brings fashion from the runway to the red carpet with her own style while not manipulating the piece to fit her so much that the dress loses its original essence.
Dita is wearing a ivory Dior suit, which has colored beadwork on the hem of the jacket and the skirt. The lady who usually wears a lot of dark colors has been embracing lighter colors recently, and it has been a refreshing change. I love her lilac shoes with a flower applique!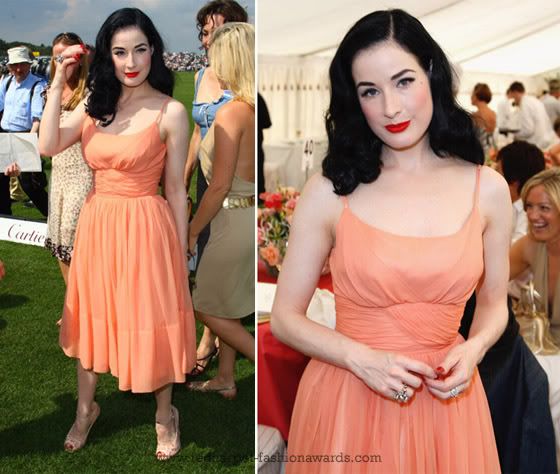 Dita can be fierce yet here she choose to be delicate in this lovely peachy dress that should technically wash Dita out, but the color looks divine against her milky skin and her pumps do not distract from the dress. As always Dita wears her trademark red lips and nails.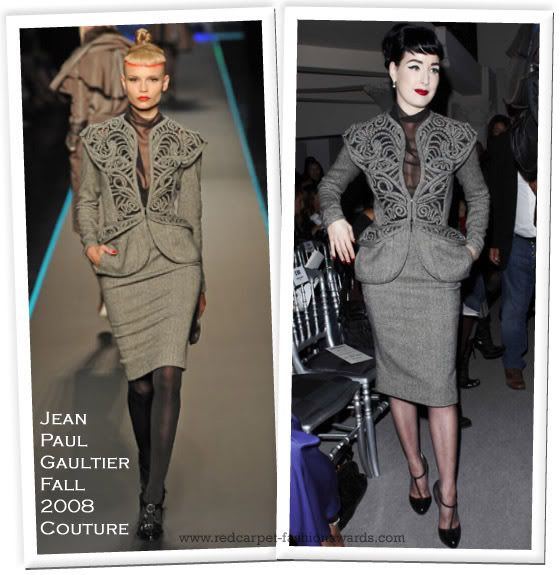 In a grey Jean Paul Gaultier Fall 2008 couture suit, which she wore with a sheer blouse.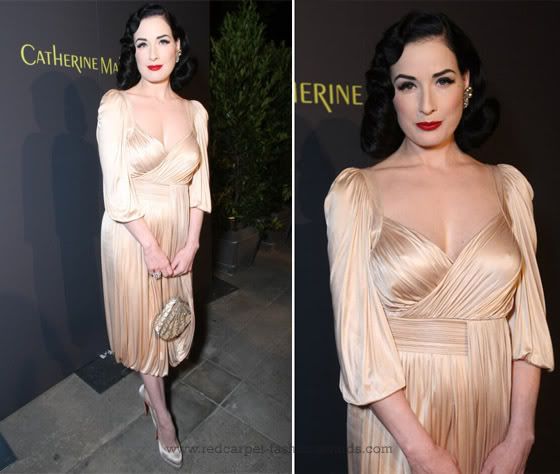 Dita looked stunning in a nude dress with pleat detail from the Malandrino Fall 2008 collection. The flow and draping is gorgeous!
Dita wore an embellished Louis Vuitton Pre-Fall 2008 top with a black skirt and long leather gloves. I love how demure and sophisticated this look is. I love 1930's-1960's fashion and Dita Von Teese is the epitome at her best of a star from that era.
The ice blue satin plunging dress is covered in very intricate silver embroidery, which really sparkles. Those details are no doubt the reason why Dita opted to keep her jewels to a bare minimum. Her Louboutin's sparkled as gloriously as her dress, and as you would expect Dita's hair is immaculately styled, without a single strand out of place. The look was complete with her trademark bold ruby red lips. I was hoping Dita would wear this dress and she did!
Dita wore this Gothic romantic Elie Saab Spring 2009 Couture strapless dress with a glittering lace overlay. The look was pulled together with an obi-style belt, black peep-toes and standard red lips. I love this dress because it is fussy yet gorgeous and intricate. The black lace is manipulated in a barely over-the-top design that it can actually be worn.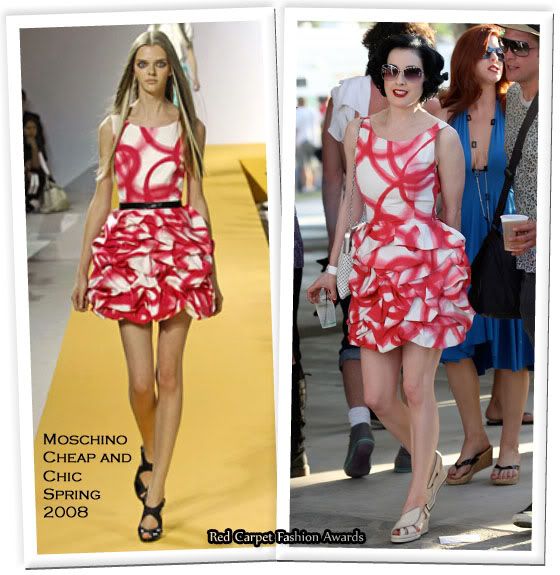 Dita wears a Moschino Cheap and Chic Spring 2008 white and red circle print sleeveless dress with a ruched bottom.I love this because it's a cute summer dress with a unique print. The dress is gorgeous, but the surprise here was wedged heels. Yes they are perfect for the occasion, considering she would have been walking over grass, but the surprise is to see Dita sans Louboutin's or Dior heels.
Dita wears this tidy one-shouldered Christian Dior Spring 2009 Couture dress with a red Christian Louboutin clutch, to match her perfect pout.
Dita wears Christian Louboutin Marie Antoinette pink ankle strap heels, with a pretty baby blue lace dress, which had a very puffy skirt.
Dita looking glamorous wearing a Moschino cream tiered plisse chiffon gown.
Dita wears a Fendi Spring 2009 nude dress covered in floral appliqués.
Dita's dress has been modified to suit her sensual style. The extra layer under the dress has been removed to become a shorter dress, with a deep plunging neckline showing even more of her milky skin. Her look is complete with red lips, red nails, watermelon satin heels and a matching floral Fendi clutch.