Diane is gorgeous head-to-toe in Chanel. Her layered embroidered chiffon Chanel gown contrasted voluminous, gathered black and cream chiffon with a delicate, pleated sweeping train and black lace neckline. Diane accented her gown with Chanel's black and white diamond "Camelia Nervure" brooch (elegantly pinned in her hair), the "Spirale" diamond ring, white gold and diamond "Camelia" studs and a Jaeger-LeCoultre diamond bracelet timepiece.
Diane opted for this red Calvin Klein Resort 2010 dress with a box clutch, metallic t-strap sandals and a vintage Jaeger-LeCoultre timepiece set with 225 diamonds jewelry. I actually liked that she changed the color to a nice red. She could've looked gorgeous in the pale white runway version, but I am glad she changed the color all the same. But I really dislike the white bra under this dress.
Diane is obviously in Chanel.
In a gorgeous Chanel gown.
In a gold tunic dress by Yves Saint Laurent.
In an Avion Feminin navy peplum dress
In a gorgeous tiered lace Elie Saab Couture gown.
In a strapless Chanel cloud ostrich feather hemmed confection.
In a sumptuous Lanvin scarlet velvet gown.
Diane has always loved feathers and she flaunts it in this feathery Chanel gown.
Delicate and pretty in a rose pink chiffon dress.
Gorgeous. The dress is only pretty waist up.
Diane intrigues me in this exotic lilac and gold trail dress.
Diane wears a chiffon beaded robe over a strapless crinolined silk tomato gown in 2002.
DiAne and her beau Joshua Jackson are cute or what? Diane is adorable in a gorgeous magenta peplum dress paired with simple black flats and her trusty Chanel chain bag.
Diane gets sexy in a strapless black mini dress under a gorgeously tailored black blazer that she wears with quilted Chanel bow booties.
Diane is fresh in a printed wrap dress, wrap sandals, and fringed bag. Joshua, rid yourself of the lame flip flops- especially when wearing an otherwise nice outfit and strolling with DIANE KRUGER.
I absolutely love this Diane Kruger look. This is why I consider her a top fashionista. She wears a gorgeous tailored wrapped mustard dress with a chic peplum waist, Yves Saint Laurent tomato stiletto heels (matching red nail polish) and an emerald quilted Chanel bag.
Diane is chic casual in a gorgeous sleeveless long cardigan sweater, black jumpsuit (ugh), Chanel clinching belt and green quilted Chanel bag. Oh, and her cool red Ray Ban sunnies and studded flats.
Diane walks around New York cordinated with her boyfriend Joshua Jackson in a hat, motorcycle heeled boots, tight slate skinnys, navy scarf, striped sweater and taupe flat bag.
Gorgeous and youthfully spunky in sexy lace up boots, polka dot dress, olive jacket and diva fur.
Diane works a similar look to the one above in her diva fur over an olive jacket, flared straight leg jeans, platform heels and green quilted Chanel bag. But really Diane, stiletto heels stolling around New York? Ouch.
Diane is stunning in this absolutely gorgeous Elie Saab goddess gown.
Chanel Haute Couture dress.
Diane Kruger is a classic beauty naturally, especially in this stunning Jason Wu chiffon gown, Harry Winston jewels and a Kotur clutch. She played up the rich marigold of her gown with bright ruby jewelry.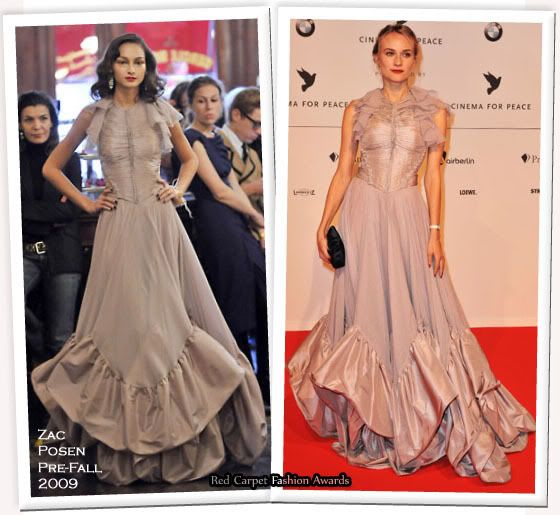 Diane is gorgeous is this dusty rose Zac Posen gown with a ruched and ruffled bodice, and the skirt with the contrast layered hem. On an inferior being they would have got lost in this gown, but Diane's beauty shines through. I am not crazy about her navy Fendi clutch though. She needed a complementing color to the rose. I love her jeweled headband though.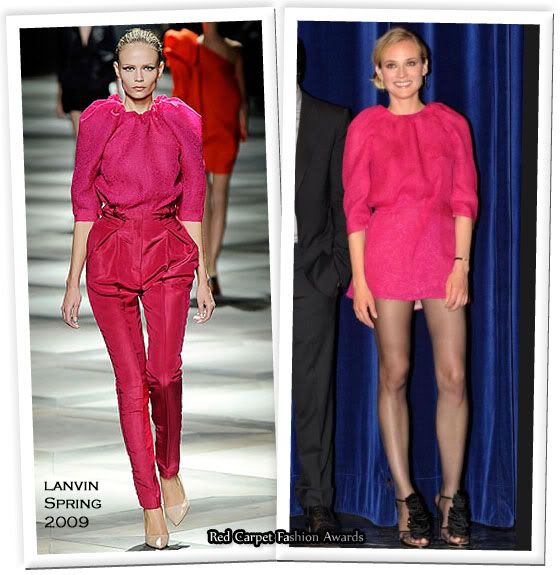 This is my favorite look from Lanvin that was originally presented as at top on the runway. Maybe that's because it was too short to be considered a dress. Diane, since you made it a dress, make sure it is long enough that at every angle we don't see the inside lining like we do here. If the dress wasn't too short, Diane darling, you didn't need to wear those tights. I am not upset about Diane's Stewart Weitzman 'Jardin' t-strap ruffle black heels.
I love how Diane Kruger made this Jason Wu lipstick red faille dress with micro beading and Swarovski embroidered epaulets dress work for her. She added Tom Binns bracelets and a Roger Vivier clutch. The bright orange-red color, the silk gazar fabric and appropriate length look amazing on her.
I am glad Diane didn't go for the easy black heels and clutch combo with this gorgeous one-shoulder silk draped Marchesa cocktail dress. Diane chose sparkling midnight blue Christian Louboutin pumps and a Roger Vivier metallic blue clutch and a light blue House of Lavande stone cuff.
I love my Diane in blue and she is nothing but beautiful in her Chanel Fall 2009 Couture dress. The magpie in me is drooling over the midnight blue sequins embroidered onto the dress, whilst the cynic in me is grateful she ditched the train. The peplum skirt appears to be longer on Diane than on the runway which I prefer. My only criticism is that the dress didn't need the Chanel Fine Jewelry necklace. Diane wears a Joallerie 101 Eltier Rock Set diamond time piece by Jaeger-LeCouture. Diane's watch is not only a watch, but a dazzling evening piece of jewelry that can be worn day to night.
Diane more than does this my favorite Christian Lacroix Spring 2009 Couture stunning pink ombre bustier pleated tulle gown justice. The colour really pops on the soggy red carpet. I love the sleek old Hollywood hairstyle. She was really out to impress. Her white Raven Kauffman Couture clutch matched the pretty white bow on the side of her dress. Her Chanel jewels are subtle, as she wanted to keep the attention on her gown.
Diane Kruger has been experimenting with shorter hemlines and edgier pieces, but last night she opted for ethereal elegance as she glided down the red carpet wearing an asymmetrical Donna Karan Spring 2010 gown. Look as the way she's working the hell out of this gown. That backward S shape she's making with her body is fully showing off the magnificent of this gown.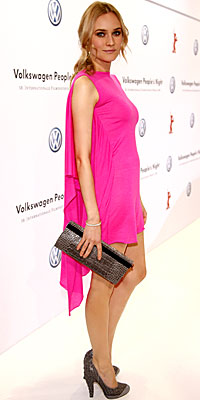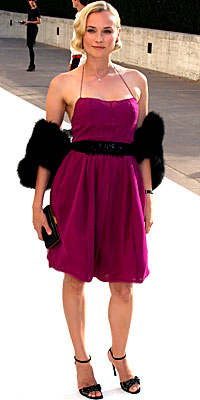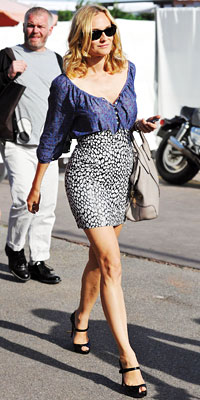 Diane complemented a high-waist printed skirt with a Splendid peasant blouse, Louboutin ankle peep toes and a Tod's bag.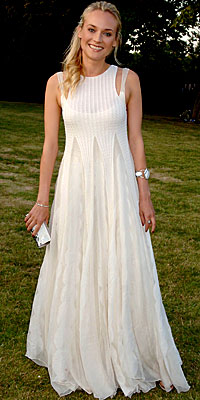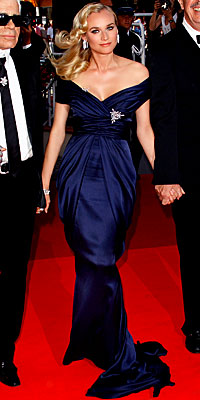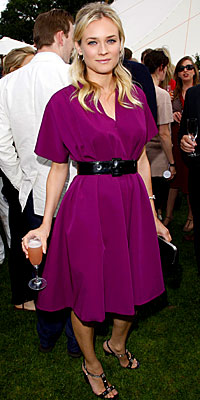 In Yves Saint Laurent
I never thought Diane could wear a damp forest green color, but she rocks this Christopher Kane 'Hanna' silk and velvet dress that has a feminine silhouette with an urban twist. With all its flounce and velvet this dress stay true to a down town feel. I prefer the runway heels to her YSL Fall 2009 black suede and elastic Divine ankle boots but that doesn't matter because Diane looks great.
No stripes, No ruffles, No floral prints…this dress is totally unique. This out-of-this-world Atelier Versace Fall 2009 collection dress is made completely from colored crystals. Her Fall 2009 couture black silk satin backless dress was completely embroidered with black glass fringes finished in degrade of ruby, grenas, amethyst and sapphire colored crystals. Her hair was swept up as she paired her dress with a Versace clutch and heels for this breath-taking look.
Even when she's out shopping in Berlin, Diane Kruger is still incredibly stylish. The actress wore a Stella McCartney Resort 2010 ensemble which included a yellow tank top she wore off-the-shoulder, with a blue striped tulip skirt. She added a two-strand dagger necklace, gold woven flats and a white Chanel 2.55 quilted bag to complete her 'off-duty' look. So cute.
Diane wore this gorgeous tea rose Hervé Léger by Max Azria Resort 2010 dress with square-cut shoulders, which showed off her toned legs. Armlets, gold heels and a silver clutch completed the look, but I just love that pop of red on her lips.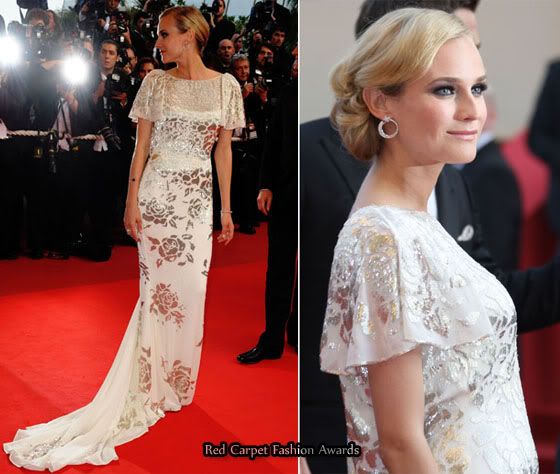 Diane Kruger is a heavenly angel in her stunning ivory silk chiffon Marchesa gown with flutter sleeves. I love the cowl back and with silver floral embroidered detail of this gown. The side swept bun, and simple diamonds quietly scream elegance.
Diane Kruger can pull this off. Her Chanel snow white embroidered look consists of a square shouldered cropped jacket, cute black bow and crinkled peplum skirt that reveals a lace lining. A bejeweled black clutch and trusty Louboutin ankle strap black heels complete her look.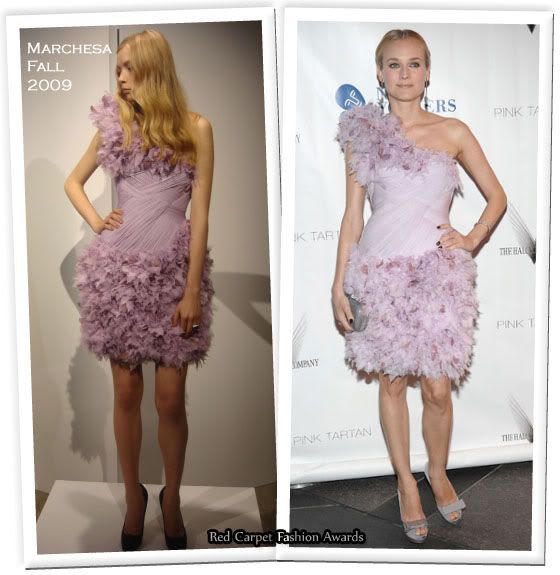 Diane's beautiful, but the dress is exquisite. I love the feathered flower details cascading down the shoulder, and on the skirt of this lilac tulle draped dress. I love how her hair is pulled back, so we get to see the stunning details on her dress. Diane wears this stunning dress with Fendi lilac bow peep toes and an Alexander McQueen box clutch.
The back drop and red carpet were both pink but in her stunning pink Jil Sander dress with a gathered detail on the hip, Diane still stands out. Her dress was paired with nude strappy sandals and a silver clutch for an utterly feminine look.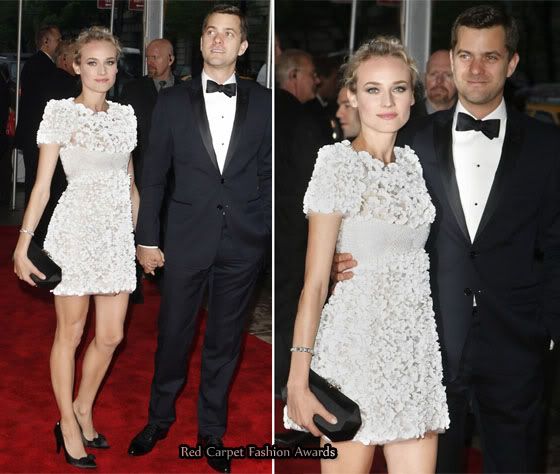 I like the girlie bliss of this floral applique Chanel dress on a cute Diane Kruger, but I wish she was more creative than black accessories. Her ring, brooch and bracelet from Chanel Fine Jewelry just don't the bill for me. Then again, Diane's main accessory was her cute beau Joshua Jackson.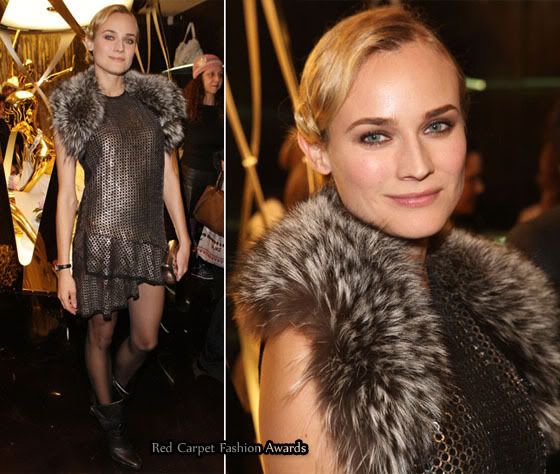 Diane Kruger is f-k'n moxie here. A chain mail Roberto Cavalli Fall 2009 dress with tights...edgy heeled Sportmax taupe boots...and a fur shrug? That takes moxie.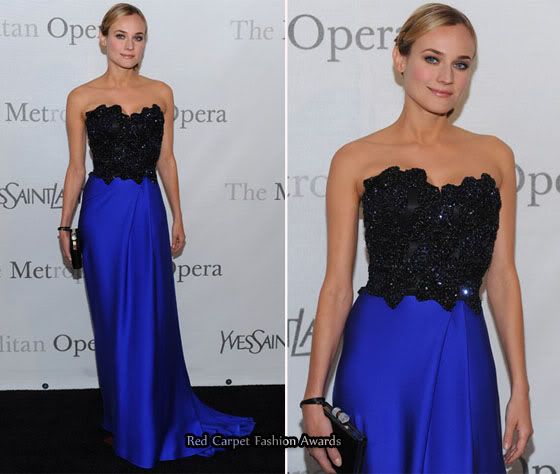 Diane Kruger was looking as radiant as ever in a strapless bow-encrusted black gem bustier that she paired with a sweeping blue silk skirt, both from Yves Saint Laurent. Blue is Diane's color.
I didn't like this dress until I saw it as a gown version on the gorgeous Diane Kruger. The mustard gown has been lengthen - for the better - from the runway, but has retained the draping on the skirt, and the embellishments on the sheer bodice. She completed the look with a small gold clutch, her hair styled in a loose up 'do, and flawless make-up.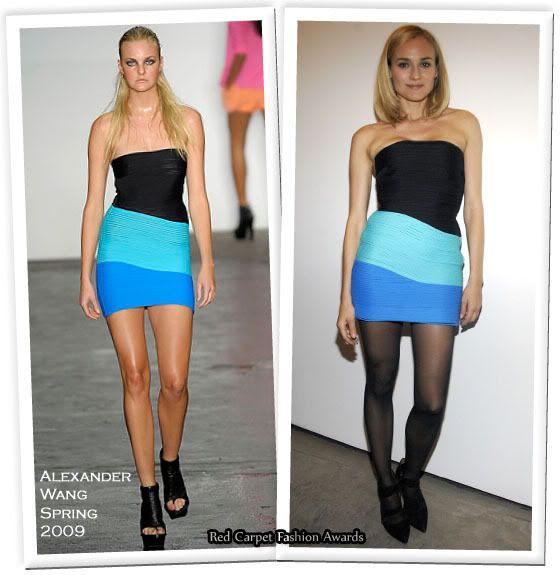 In an Alexander Wang stretch-mesh combo strapless dress that works with tights and black pointy pumps.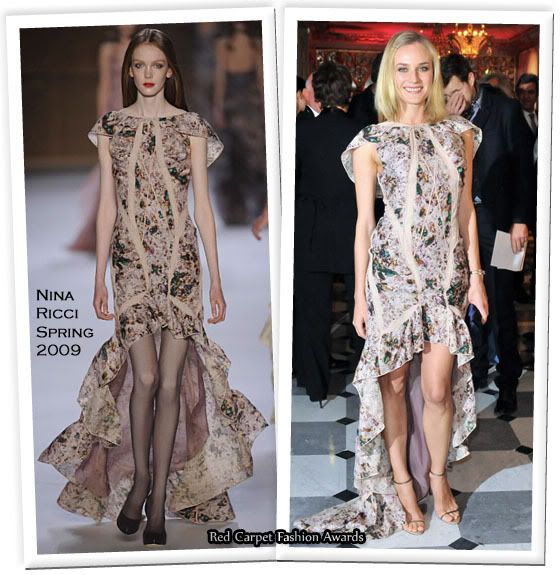 Diane rocked this train ruffled hemmed print Nina Ricci gown with fresh energy.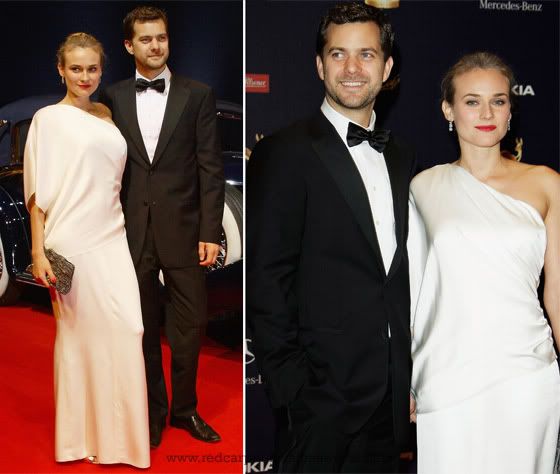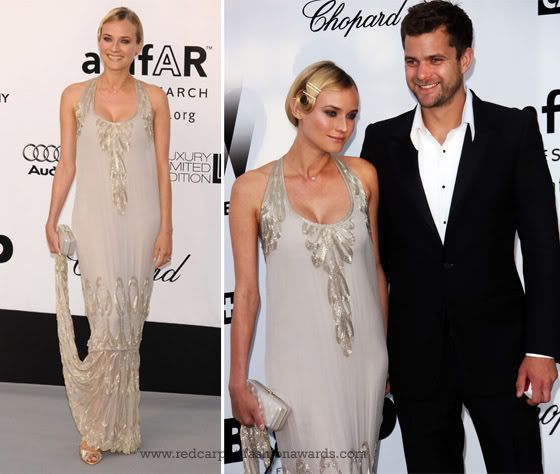 In Chanel
Diane's fifties-style Christian Dior Couture dress has a retro-meets-modern esthetic with its opaque corset and sheer overlay. The belted waist shows off her tiny middle and accentuates the full skirt. She gave her petite frame a lift in Valentino heels.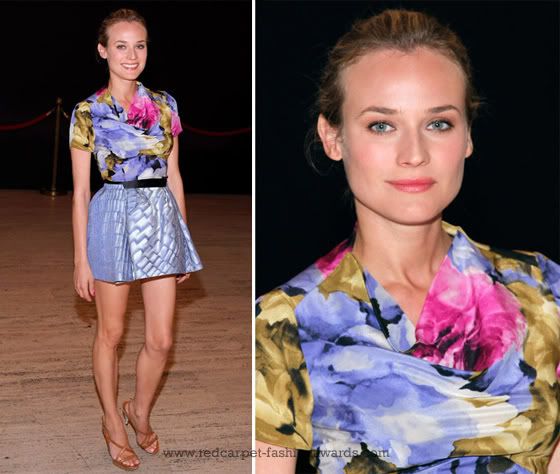 The shape of the skirt of Diane Kruger's Balenciaga dress works well on her athletic frame and gives her a playful and youthful look. Anchor the girlish silhouette with a grown-up pair of heels for a sophisticated finish.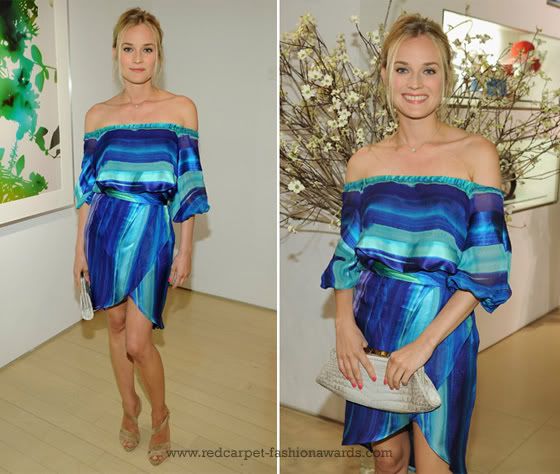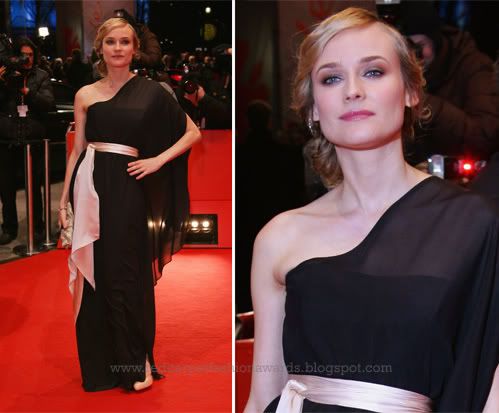 In Escada with a Dior clutch.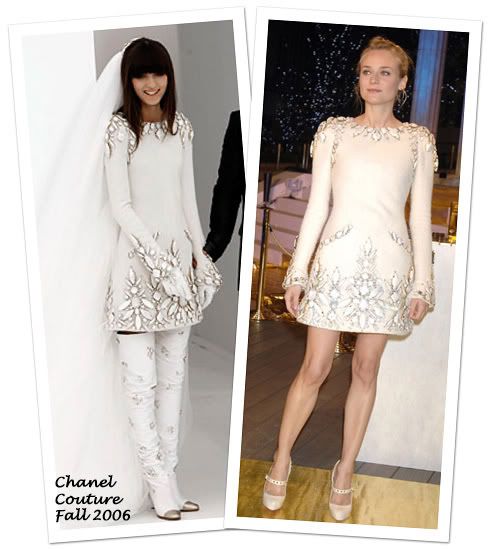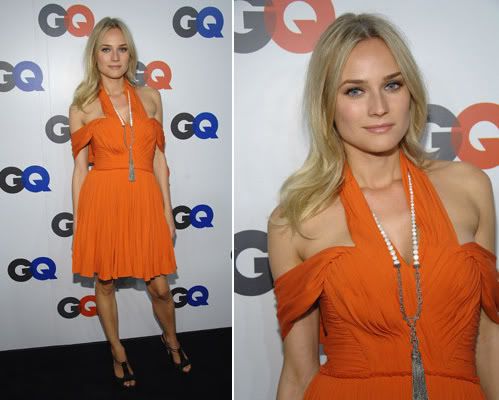 She was breath-taking wearing a shimmering silver satin strapless J.Mendel Spring 2010 dress with a structural cocoon skirt. Her make-up was light, her hair was pulled back, but it was her leopard print Lanvin Pop clutch and edgy spiked Eddie Borgo bracelet that made a statement.


Diane rocks a one-shoulder green and black polka dotted Jason Wu Spring 2010 dress with an asymmetrical hem and crystallized Swarovski elements. From her hair to the tips of her pedicured feet she is total perfection. Her dress was accessorized with silver satin Roger Vivier heels, a black Hunting Season clutch and Eddie Borgo gem-encrusted bracelets and Tom Binns bracelets.



Stunning Diane Kruger looks effortlessly chic in this asymmetric velvet Chloe Fall 2009 jumpsuit with Louboutin ankle strap heels, and a snakeskin minaudiere. Belted, to cinch her waist and showing just a peep of skin, the actress needn't do anything else to this fabulous piece. She kept her hair and make-up basic to achieve a flawless example of great style.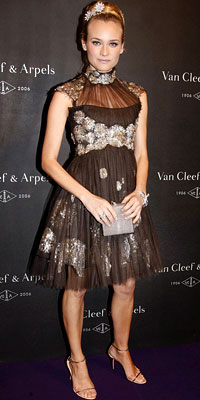 Diane Kruger showed off her unique style in a not-so-basic brown dress with ornate floral detail by Chanel.