Emilio Pucci gown.
I feel pretty confident this stunning Armani Privé gown won't receive negative reviews.
Her black gown was layered with lacquered black jet beads and multi-coloured crystals at the bust to add a touch of sparkle. The gown stops just before the floor, so we can see her silver satin heels with a cute bow accent.
A Ferragamo black satin clutch completes the look.
Her look is beautiful, bedazzling and befitting for the Bollywood babe.
Thanks to Aishwarya Rai we didn't have to wait long to see Elie Saab on the red carpet at Cannes Film Festival.
The Indian model/actress glided down the red carpet wearing a stunning periwinkle periwinkle tulle and mousseline embroidered Elie Saab Spring 2010 Couture gown. I love the scalloped details all over the gown which was accented by velvet floral buds. These buds also appear on the chiffon detail which drape off her shoulders.
If I would critique one thing it would be her hair. It had a bit too much volume for my liking. Other than that she ticks all the boxes and looks absolutely fabulous, which is easy in an Elie Saab gown.
With picturesque clear blue skies in the background the Bollywood actress looked beautiful wearing an Emilio Pucci sequin trim print dress, which we saw on the Spring 2010 runway as a silk mini dress.
Her look was paired with superstar shades and Christian Louboutin Almeria 120 wedge sandals.
Aishwarya Rai is one of the most beautiful women in the world. She always looks more than perfect and does not disappoint here in her striking, elegant sari-gown.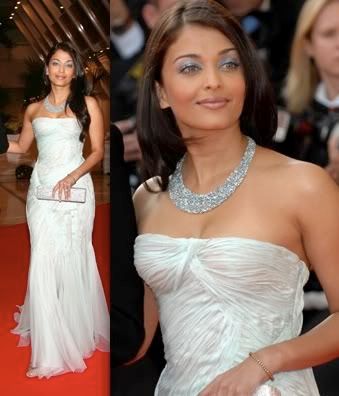 Aishwarya Rai is one of the most beautiful women in the world wearing this gorgeous Valentino dress, so she does not need this horrid blue eyeshadow.
Aishwarya Rai was again on the red carpet, wearing a stunning nude beaded Giorgio Armani Spring 2008 gown with a matching clutch.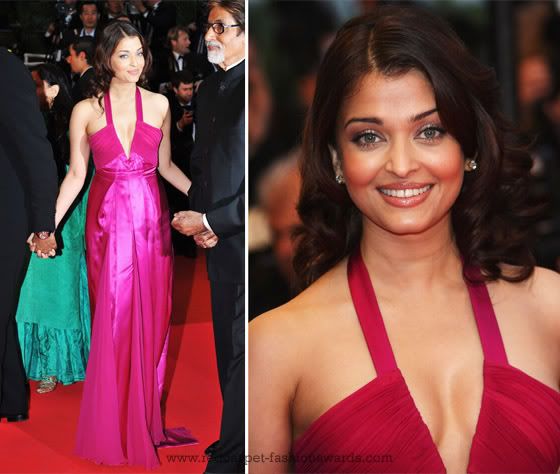 Aishwarya Rai opted for a fushica deep plunging Roberto Cavalli Pre-Fall 2008 gown.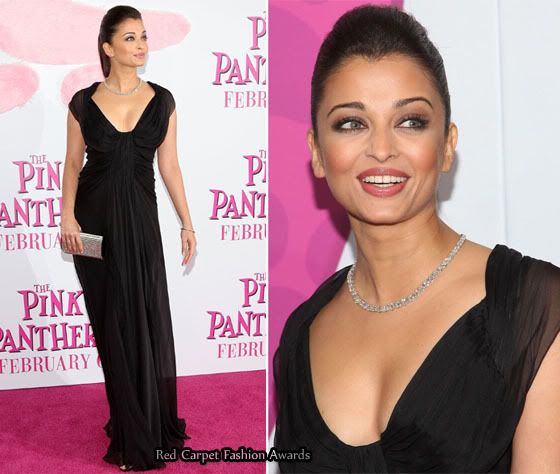 Aishwarya Rai wore a Alberta Ferretti Fall 2008 black chiffon draped gown with a plunging neckline. The stunning beauty never fails to impress on the red carpet. She wore her gown with a silver clutch, and a bedazzling diamond necklace.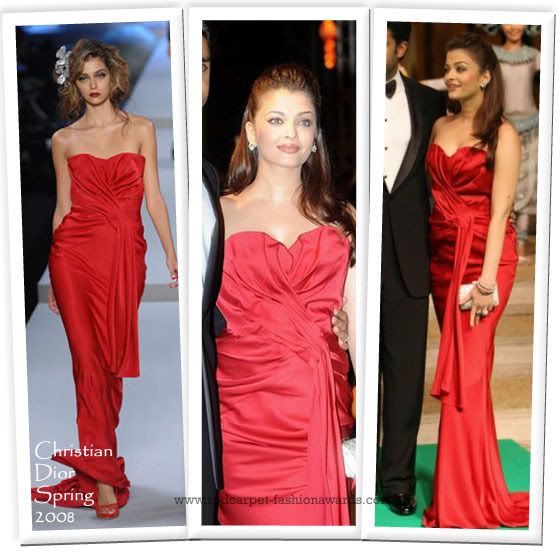 The stunning Bollywood actress, who was accompanied to the event with her husband, wore her Christian Dior strapless red gown with a gown box clutch.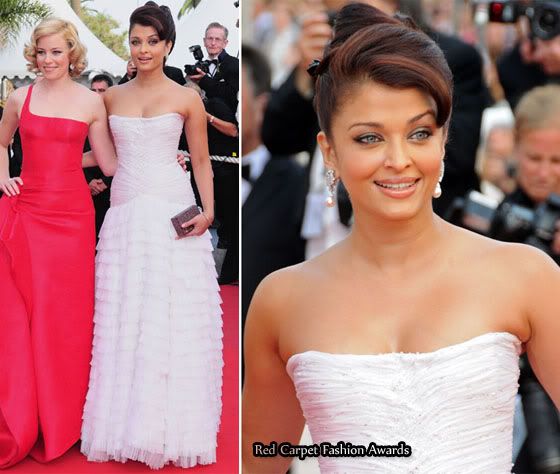 The Indian actress glowed in her white strapless Roberto Cavalli gown with a ruffled tiered skirt. I do like her red bejewlled Swarovski box clutch, and those pearl drop earrings.




Ms. Rai looks dazzlingly radiant wearing a one-shouldered baby blue Elie Saab Spring 2009 Couture gown.