I would even wear this stunning master-piece by Alexander McQueen from his Spring 2010 collection.
In her Bad Romance music video, Lady GaGa wore an absolutely stunning Alexander McQueen gold sequined sculpture dress.
Lady GaGa's artsy chandelier-like crystal skirt dress was designed by Miuccia Prada. The skirt has stunning tear-dropped jewels in various shades and is woven together in a chain-like effect with glass beads.
I love Lady Gaga's black velvet wide skirted dress with square shoulder pads. It is from Oliver Bobin's FADE Fall 2007 collection.
I only like this look because I have come to appreciate cutting-edge designers like Bernard Chandran. This steel dress with stupid puffed garbage bag puffed sleeves from his Fall 2009 collection. She finished the look with a pop of color, a la electric blue Christian Louboutin "Lola" pumps.
I actually like GaGa's raspberry sharp shoulder-padded jumpsuit and I certainly am digging her crocodile platform pumps. The slips of lace on her wrists in actually a pretty touch.
This honeysuckle layered sweet Valentino Spring 2010 organza confection makes me want lemon sorbet. I dunno if I agree with her bit-h'n Yves Saint Laurent "Imperiale" black platform pumps though.
I just think this is a cool photograph.
Lady GaGa greets her fans at an airport in Japan in kickass cut black leggings, black patent pointy pumps and her favorite Maison Martin Margiela black tailored square-shouldered jacket.
Even though she looks like a Soviet KGB spy, I give credit to GaGa for covering herself. I love how she not-so-subtly yet subtly pouts red lips, fingernails, phone, and box in her white handbag to add some color. And to her credit, I actually like this houndstooth umbrella with her navy coat dress.
Lady GaGa goes gaga over D&G's butterfly themed Summer 2009 collection: she wears D&G butterfly inspired shaped black sunglasses and butterfly-embellished detail black pumps. The white satchel does not go with the cream of her flouncy skirt though.
I kinda think this Francesco Scognamiglio Spring 2010 collection gown with a three-dimensional star at her center is cool- I would never wear it, but I think the gold triangled-square shoulders are cool. Also, I am thankful GaGa covered herself up- a bit.
The name of the blue piece is "The Blue Jewel Beetle" and is made of Satinised Chiffon, real human hair and beetle-wings Holly imported from Tokyo. And there are over 1000 of them in the whole collection! Can you imagine how incredibly laborious and time consuming has to be to manually sew each of the beetle-wings on the shoulders one by one? Only the dress took a couple of weeks to make!
Lady GaGa's Holly Russell gown left me stunning. I think it is ludacris but at the same time awesome. In another life I would wear it. The gown incorporates real beetle-wings and human hair (this pair grosses me out).
Being a lover of fussy, frilly and ruffley fashion, I like this. Her nude stretch tulle shorts are by her new bff, Marc Jacobs from his Spring 2010 collection. I love this look- except for those fishnets. They can go to hell.
The diva styled her platinum blonde locks into a bow on top of her head, channeling Minnie Mouse, whilst wearing an electric blue figure-hugging Herve Leger strapless bandeau dress with Christian Louboutin nude pumps.
If you are anything like me you will be feeling mixed emotions looking at Lady GaGa wearing this Alexander McQueen Fall 2009 knit dress with tubular coils around the hem and upper body. Happy because a piece from that stunning collection has finally seen the light of day outside of an editorial, but sad this piece wasn't worn by someone more statuesque like Tilda Swinton or Erin O'Connor. Lady GaGa turned this dress into a comedy piece with the lace bunny ears, so I can't like it like I want to.
I personally think this Ashley Isham from his Spring 2008 collection dress is awesome. I'd even wear it. I kinda even like her Ruthie Davis "Pop" sandals.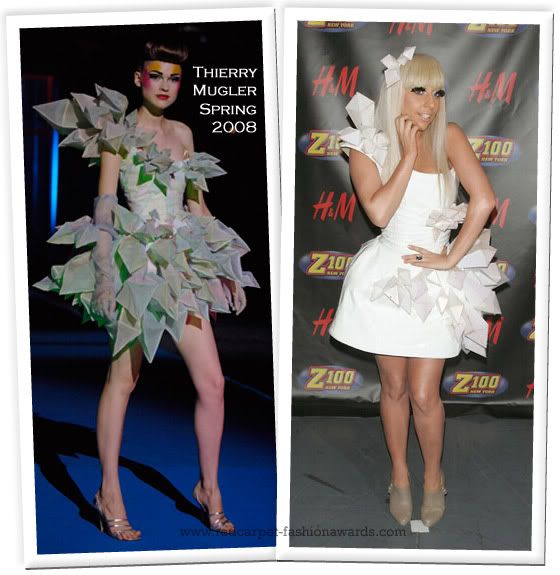 I honestly love the runway version better because of it's awesome play on color sheen and cosmic yet faerie-earthiness of the triangle piece embellishments. Her Christian Louboutin ankle booties are killing me. They just don't work.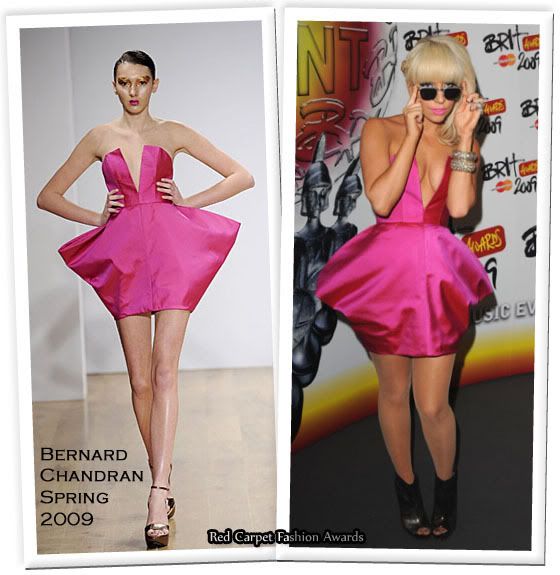 I hate Gaga's display of the twins, but I love this gorgeous pink sharp hipped dress, and it looks stunning on the runway. I don't like Gaga's rather boring (for her) peep toe booties and tights with this dress. But I love her chunky silver bangles.
I am intrigued by this white bodysuit with the grey tulle half-skirt on the right leg. It is wacky and whimsical and even Romantic.
I am dazzled by this sizzling blue Balmain sequin one-sleeved frontal ruffle dress that, let's face it, looks just as sizzling on Lady GaGa.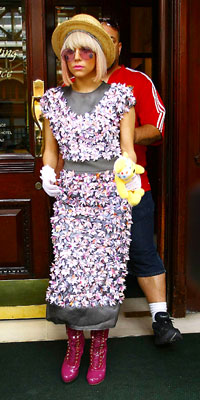 In a Viktor & Rolf Fall 2009 collection sheath covered in handmade silk flowers. Her accessories included a straw boater, fuchsia granny boots, white gloves and a stuffed-animal version of the British Children in Need mascot, Pudsey the Bear. Gaga's 1960's inspired sunglasses are from Charles Anastase new line of sunglasses, fruit of the collaboration with Linda Farrow. The specs will be available in selective stockists worldwide from January 2010.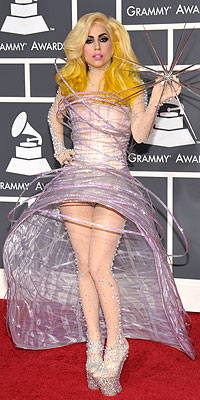 The long sleeved corseted dress – which appears to have been designed based on Look 38 from the Prive Spring 2010 presentation – is covered in Swarovski crystals and seems to have a solar system theme, complete with a spiky accessory and her heels have a touch of McQueen about them.
Look 38 from Armani Prive Spring 2010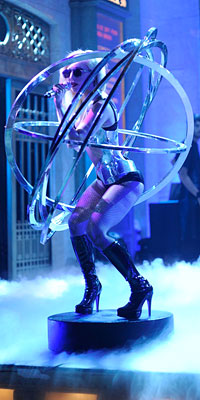 The metal creation, which was made in collaboration with designer Nasir Mahzar, rotated around the star during her performance.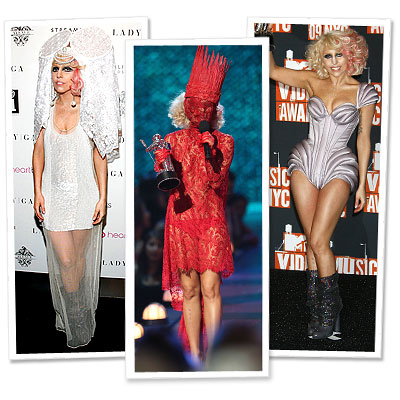 She added an Alex Noble lace headpiece to a chiffon-topped white dress for the after-party (left), a Jean Paul Gaultier sculpted one-piece (along with Viktor & Rolf boots) backstage (right) and wore a red lacy Alexander McQueen (Fall 1998) dress with a Haus of Gaga crown to pick up one of her three awards (center).
I love this magenta and silver sequined look. The sparkle highlights her figure even without the body-hugging silhouette's help.
Lady GaGa wears the same Marc Jacobs Fall 2009 black cap sleeved striped taffeta dress embellished with jeweled stones. She wears Alexander Wang "Lara" combat crocodile pointy boots and carries a Marc Jacobs Fall 2009 quilted leather gold-studded "Trash Bag."
She wore an ivory and black swirl embroidered Marc Jacobs Fall 2009 dress with a blouson skirt and sculptured shoulders. Her look was paired with candyfloss pink lips, black platform heels and her trademark Oliver Goldsmith shades. Part of the look was her crimped platinum bob, which made her look like a cute little poodle. But would've we expect nothing less from the OTT singer? GaGa later added pink thigh-high boots to her look, when she launched her own earphones range.
Lady GaGa donned an ethereal Valentino Spring 2010 dove grey strapless gown which looks like mounds of material wrapped around her tiny frame. I love the gown and her Valentino Spring 2010 ankle strap black bow sandals, but she wears the gown too low down, and it gives her a look of having droopy boobs.
As she made her way pass fans and papa-paparazzi she looked a bit chilly wearing an ivory silk tulle Marc Jacobs Spring 2010 sleeveless gown.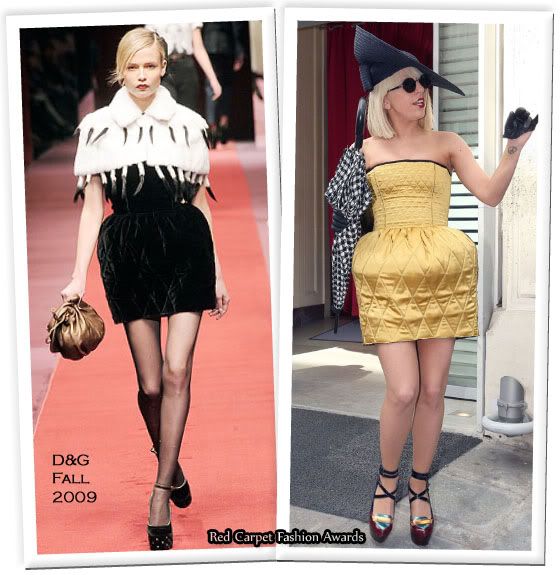 The D&G Fall 2009 collection is one of my favorite collections ever because I am absolutely in love with Renaissance fashions and the way Dolce & Gabbana translated medieval and Renaissance (Baroque and Neo-Classical here and there too) fashions into a modern collection is breathtaking. I can't get over the fur and velvet combo nor the gorgeous velvet platform pumps.


I am gaga for Lady Gaga's look: a quilted gold satin strapless D&G dress and clutch with badass dagger skyscraper crocodile heels to die for. I love her dress-shoes-clutch look too much to hate her gloves, lipstick and houndstooth umbrella too much. Does my bum look too big in this?


I love this Manish Arora Fall 2009 sparkly dress and her Guiseppe Zanotti for Balmain gladiator sandals. Gaga looks bonkers, but I just love this dress on her. Sans the tights and bonker make-up and hair, this look is fabulous. Her glasses? 56-8171 by Jean Paul Gaultier. The lenses are aspheric and the springs on the temples really work and draw in the frame when folded. Designed in the early 90's in black as Gaga's, gold and silver.


Lady Gaga looks like a badass platinum version of Victoria Beckham here...with a spiked leather cuff and studded gloves and a D&G satchel. I am in love with her vintage Oliver Goldsmith Y-Not black sunglasses that you can still order for £380 from his studio in London. But I'll just find a cheaper copy of these somewhere.



Lady Gaga is gold with her fab Marc Jacobs Fall 2009 gold bonded Filigree lame velvet peplum dress and studded Yves Saint Laurent "Y-Rock" satchel. Gaga, darling, ditch the tights. I wanna see your platform pumps b-cth.


Gaga channel Chanel Gaga-Style in a classic Chanel jacket, tailored pants, and pink gold hardware Balenciaga satchel. I can't like her hideous quilted boots-whatever the hell they are, though I love the pearls around her ankle. Fab detail, along with her pink-tinted shades.
What is Chanel without pearls and a bow or two?

I LOVE her artzy, unique skirt. This is actually a combo of her nude Maison Martin Margiela bodysuit, a wide elastic belt and a black high waisted skirt from Gemma Slack Spring 2009 collection.
I love this look- especially her lilac tailored blazer (but why the built-in gloves?). Her liquid metallic leggings are awesome and create great contour for her legs, and her Christian Louboutin ankle booties complement the outfit. I love how she put a colored silk scarf in her white tote. Great flourish to her outfit. I am going to try it myself!
I am loving this outfit because she is actually
clothed
and I am so proud of her
.
I like the simplicity yet edge of her off-the-shoulder top and gorgeous bow-belted pants. Her blue Christian Louboutin "Lola" pumps are a needed pop of color and work well with her bright white tote.
In a Jean Paul Gaultier strapless dress with a beyond awesome Ericson Beamon body jewel and her favorite Yves Saint Laurent Imperiale pumps.
In a strapless white jumpsuit with a red patent Yves Saint Laurent Large Downtown bag, and nude Christian Louboutin peep toe pumps. Gaga makes her hair bow accessory herself, using inexpensive hair extensions: "I tied it up in a bow, and then you can just bobby [pin] it to your hair."
I refuse to put nude pictures of Lady Gaga or any star for that matter because it disgusts me. All of these Gaga pictures are what I consider to be the exceptions to Lady Gaga's, in opinion, whorey and overtly sexual outfits that too often go over artistry. Lady Gaga: showing off your butt and twins gets old- dress classy every now and then. However, despite my contempt for too many of Gaga's outfits, when she does clean up, she does it creatively and with her always constant Lady Gaga snazz.