Some of you may say 'what's wrong with this?' I love Emma Stone, but this dress is not flattering and the floral print is shitty. I hope she didn't pay for it.
How can someone so vibrant look so drab? From the chin up, we're onboard, but we have no idea why she's wearing a body bag sewn to an old Elizabethan funereal neck ruff. Let's hope it's research for a role in which she plays some sort of drunk nineteenth-century undertaker.
Tina's got great legs, so it's beyond us why she'd choose to cover them up with what appears to be a giant striped herringbone lampshade. Moreover, the skirt's bizarre length makes her look wicked stumpy, like this whole time she's been secretly walking around with foreshortened limbs. Limbs which, last night, just happened to end in shoes originally chosen to go with an entirely different outfit. We hate to say it, because she does look great from the waist up, but Tina totally Lemoned this one.
Here's a suggestion: If you want to branch out from your role in a psychotically beloved vampire franchise, don't show up places wearing something fashioned out of Dracula's old cape and Lestat's downstairs shower curtain. That bodice practically has fangs.Try diversifying.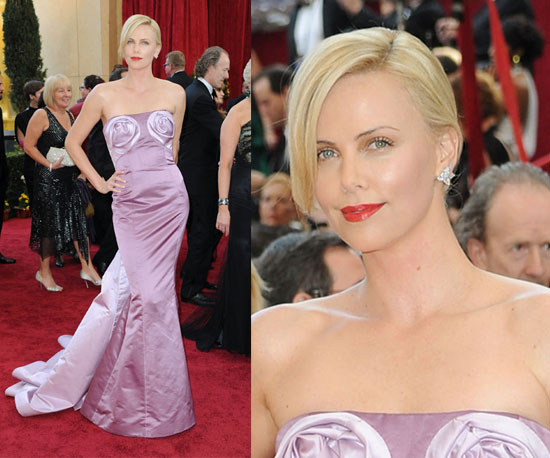 We hear Charlize is single again; maybe she's sworn off men, which would explain why she allowed her clothes to make a pass at her.
Not only is SJP wearing a metric ton of bronzer, she's also wandered out of the house wearing a shapeless yellow nightgown haphazardly trimmed with aluminum foil.
Props to Heidi Klum for her happy marriage to Seal, her cute kids, and for walking in a Victoria's Secret show not long after giving birth; however, I am disappointed that this post-pregnancy outing is of the "Incredible Sinking Breasts" variety. The collar-and-leash setup is violent enough, but the waistline of the dress coupled with how low the bodice sits makes her chest look like decrepit dunes that are slowly leaking sand. Indeed, that neck harness actually makes it look like she's trying to keep her feuding rack and nape separated so that they can just
please
get through the night without them starting an awkward argument.
STELLA MCCARTNEY: My skirts get shorter every year! TAKE THAT, GYWNIE PALTROW.
LIV TYLER: My outfit has a train, just like Stella's. Because what every extremely basic sheath -- the likes of which one would wear to the wedding of an only moderately tolerated coworker -- needs is a TRAIN! If you're crazy.
KATE HUDSON: CHECK OUT MY NEW CLEAV!
STELLA: Kate, I thought we talked about this.
LIV: Yeah! We were all going to wear short dresses with trains, and black open-toed shoes, because there is NOTHING cuter than three thirtysomething lady friends showing up at parties wearing matching outfits, right?
KATE: Yeah, but I look hot.
STELLA: And we....?
LIV: What are you saying?
KATE: You guys look kinda weird, honestly. I'm just not feeling the trains. Although if you didn't have them, you'd just look like you were running late for a sorority meeting. So...yeah, good luck with that. On the other hand, I look like a movie star.
STELLA: How dare you! I am so bringing this up at the next meeting of the Moderately Successful Offspring of Wickedly Successful Performers! You are going to get fined so hard!
KATE: Bring it. I lived through
Bride Wars.
I can take you.
It goes like this: I think Christina Hendricks is [expression of love] and [praise for her acting] and [pro-curves statement] but my patience is wearing thin with because [rambling rant about finding clothes that fit]. [Adoration for the color] but [expression of disbelief that either she or other people treat her boobs like they are Dolly Parton's].
DONALD FAISON: Shit, dude.
ZACH BRAFF: Stay calm. Just. Stay. Calm.
DF: Dude! HOW AM I SUPPOSED TO STAY CALM? We're at some awards show! I thought the driver was taking us to Autozone! I'm not even wearing pants!
ZB: There must have been some kind of miscommunication. Just....look like we meant to dress like this. It's MTV. We're....just....laid back! We're laid back.
DF: Have you even looked in a mirror? Do you know how you look right now? Are you and Mandy having a contest to see who can go the longest without showering, or something?
ZB: I know. I know, okay. I thought the driver was dropping us off at Easy Ed's Mini Putt and Mega-Arcade. But we're here, and we have to act like we did this all on purpose.
DF: My girlfriend is gonna kill me when she sees these pictures. I probably shouldn't even go home tonight. Or ever.
ZB: Okay, we're almost to the photographers. Just...just look fierce, Donald! Just look fierce!
Everybody but me thinks this is cool. I hate it. I mean... tell me honestly: Did I sleep through an apocalypse? Did a new world order declare a pox on willowy blondes, forever dooming them to weird shirts that don't fit? And why do I feel like her boobs are secretly angry robot eyes? Is it judging me? Is it going to replicate? Will a plague of cruel silver corsets rain down on my house later today and make me wear them with gladiator sandals and leggings? Does the new villainous race of cyborgs that clearly just took over our planet REALLY want to dredge up memories of
Aeon Flux
?
Ashley Greene was the fashion correspondent for the night, which I found totally ironic considering how bad I thought she looked. She arrived wearing this D&G gold skirt and a black strappy corset with ruffled edges, but later changed into a worse red skirt which bunched up. I also really hated her gold skirt white clutch combo. Ashley has to be the worst fashion correspondent ever, as she only asked Taylor Lautner what he was wearing despite interviewing Jennifer Lopez and Leighton Meester.
This is so half-hearted. I feel like, either go with a minidress, or go with a prom dress, but don't wear a tiny skirt with a top that looks like you cut off the business end of the wedding dress and then dyed the bodice black. Isn't her
Twilight
character supposed to be the clothes-conscious one?
1) We were really clumsy with super glue, as evidenced by Amber accidentally fusing her sunglass cord to the front of her shades.
2) We have a pathological fear of unfettered eye contact
I like the occasional animal print, but not when it turns her into a walking, talking Leopard Sausage. The cut adds weight to her midriff and looks so tight and uncomfortable that, once she finally pours herself OUT of that thing, she'll be taking nothing but deep breaths for a month.
ASHTON: Hey, Cameron! Nice to see you here! You look fantastic.
CAMERON: Hi, Ashton! You... are also here!
ASHTON: Oh, you're so funny. But seriously, I know you've had a really tough time lately with your father passing away and everything, so I just wanted to tell you that you look beautiful and we're all here for you.
CAMERON: That's so nice, thanks, Ashton. I... like your tie.
ASHTON: ... That's it?
CAMERON: You also have good teeth, I think.
ASHTON: Come on, man!
CAMERON: What? I'm just telling it like it is.
ASHTON: Okay, I'll let it slide this time, because I meant what I said. We love you and we're all happy to see you back and feeling better and looking fantastic.
CAMERON: Aw, thanks. And I don't TOTALLY hate what you're wearing. I just wish you didn't look like you forgot to shower after hiking Runyon Canyon.
CAMERON DIAZ: I am just going to coyly fan myself. Like a geisha girl. I AM in Japan. It's like a shout-out!
ASHTON KUTCHER: Can you BELIEVE we're still promoting this movie? I don't even remember promoting it in America! Did it even come out?!
DEMI MOORE: Ashton, I told you not to wear that shirt. It's making me nauseated.
CAMERON: No, Ashton, I will not look at you directly. Your shirt gives me vertigo. I told you that earlier. But I look sort of adorable, don't I? I do.
ASHTON: This shirt is AWESOME. I bought it at the pro shop at Morongo Casino! Engelbert Humperdinck is playing there this weekend. I can't believe we're missing it.
DEMI: No, really. I feel sick. I hope I don't vomit on this dress. I look so put together otherwise. Barf will ruin it....Although that would be a good excuse not to sit through this movie again. I am a genius! Vomit it is!
Nothing says "classy" like a dress with photos on it of a woman's hand holding a cigarette. She's basically in costume as lung cancer, and if that doesn't get a girl in the mood to wear a frilly tutu, I don't know WHAT does.
ASHTON KUTCHER: Hey, Sara!
SARA PAXTON: Hey, Ashton. Sorry about your low-flow showerhead crisis.
ASHTON: Huh?
SARA: Oh, nothing.
ASHTON: You look cute tonight.
SARA: Aw, thanks!
ASHTON: Just like my grandma, all baggy and stumpy and cropped. So huggable! I want you to bring me cookies!
SARA: Damn you.
Can we talk about this? Okay. There are some truths that I hold to be self-evident: namely, that no one can deny the beauty of Demi Moore. She is crazybeautiful. She may be bathing in the blood of virgins, or drinking vanilla extract under the blue moon while standing on her head, or eating Bacon, Lettuce and Kitten sandwiches to maintain this level of beauty, but beautiful she is. Bravo, Demi.
HOWEVER. I am unclear as to why
W
has taken a super hot, very successful, grown woman and Photoshopped her until she looks like a waifish, hungry 19 year old who is just waiting tables at Caeser's Palace until she gets her big break. Demi Moore looks FANTASTIC normally, but she looks neither this fragile nor this hungry, and frankly, I am as tired of fragile, hungry-looking cover models as I am of epaulets. She's nearly 50. Surely there is more to highlight about her than an artfully-shadowed clavicle.
EMMA ROBERTS: I am taking a page from Aunt Julia's book, wearing an understated black dress, a cool necklace, and nice pumps.
ASHTON KUTCHER: I am taking a page from my favorite randy old Great Uncle's book, mixing a beige under-sweater with an impish expression that suggests those are NOT, in fact, merely Werther's Originals in my pocket.
JESSICA ALBA I am taking a page from the book Flockblocked, about the time Little Bo Peep lost her sheep in the dead of winter and got crippling frost bite on both her feet.


If you stare at Jessica Biel long enough while she's actually walking around in this dress, something rather interesting happens. First, you get a blinding migraine. But once your vision returns, still blurred from the agonizing pain, the motion and the colors of her dress start to mix and swirl and you will begin to get sleepy.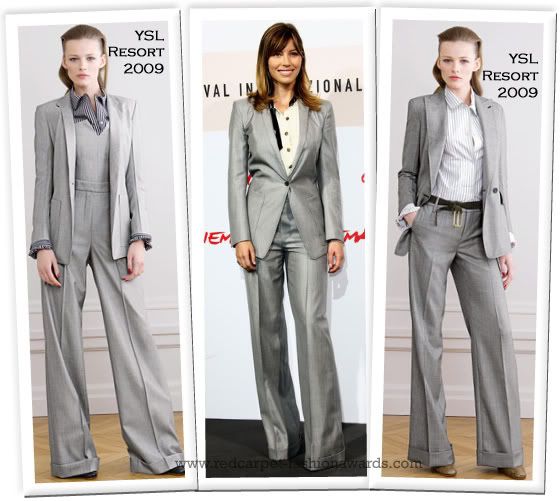 Like, I expected it to be either way worse OR way better than it actually is. Sure, her pants aren't properly hemmed, but it's more that this seems like it aimed for Avant Garde but instead accidentally made a pit stop at Sort of Weirdly Boring. Actually, I was thinking about this the other day, and I may have actually mentioned it here before, but: I feel like Jessica Biel has gotten wildly dull since she started dating JT. Not that she was like a fascinating creature before, but at least she seemed like a really nice, normal, super hot girl. And now she just seems BLAND. Is it possible that Timberlake is some kind of Man-Succubus, wicking the Interesting from the women he dates, in order to keep himself charismatic and relevant? But! Cameron Diaz didn't turn boring when they were dating (that I remember). Maybe she got a little weirdly rage-y, all beating up the paparazzi and whatnot, which did seem sort of out of character. And she did turn wildly hot once they broke up, but I always attributed that to Revenge Hotness Syndrome (you know, where you have a really bad break-up and you take all the residual emotion to the gym, with the result that you both sort of run it out of yourself, and you also look AWESOME when you run into your ex at the local bar/the Oscars, causing him/her to feel deep, life-altering and never-ending regret about letting you go, the likes of which will probably lead to several angry, sad novels and bitter songs). But maybe she was just getting back to her old self. I don't WANT to blame Justin for this. I really don't.
Yes, undeniably, there is something artsy about the dramatic stripes and the peacock detail, but none of that eradicates the fact that a giant bird is staring me down from the vicinity of her crotch. A giant, legless bird-pod whose feathers are exploding out of Katy's groin. It's like a horribly overwrought metaphor for the plumage she CAN'T show because this outfit has forced her to cover her nethers.
I feel hugely disappointed by this look from Julianne Moore. Normally I get 100% from her, but last night I got about 20%.
I'm only appreciating this look from the knees up.
I love her pink draped Calvin Klein dress as it's such a divine color on her and her Bulgari clutch is gorgeous, but tight black tights and grey suede ankle boots????
It's like she just stuck a knife through my heart.
Rachel Weisz looked elegant in a one-shouldered Narciso Rodriguez dress, but I wasn't crazy about the color. Had this been a midnight blue or navy I think I would have liked it.
I know that Rihanna is a big fan of Alexander Vauthier and Balmain who both love bold shoulders, but Christian Dior didn't follow that trend. Rihanna is clearly still in love with this trend so she improvised by over padding her Christian Dior Spring 2010 chevron print dress.
This look feels so contrived. Nothing feels natural about it.
It could've been so pretty, but I really dislike the badger hair plus her beige Brian Atwood pointy pumps don't work when paired with the white Christian Dior shimmery ankle socks.
If you're not pregnant, don't wear this dress Camilla Belle.
Anna Friel should have taken the subtle hint from her hideous gown which was telling her no.
No Anna! Bad Anna! No. Like I'm scolding a dog. That's how bad this is.
My other problem is that Anna should have really considered a bra, because the twins are not holding up too well, and they're also smuggling raisins.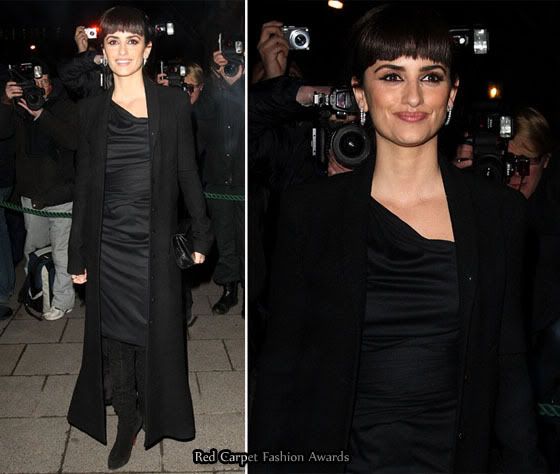 Penelope Cruz is a mess of doom.
I love Anna Friel, but her whole outfit is just awful and her fur isn't even classy. The corset gown is just unappealing. Gothic vibe or not, this just not work for the gorgeous Anna Friel.
Mandy Moore's attempt at grunge is just pathetic. Mandy, you have good style, but just cut this out.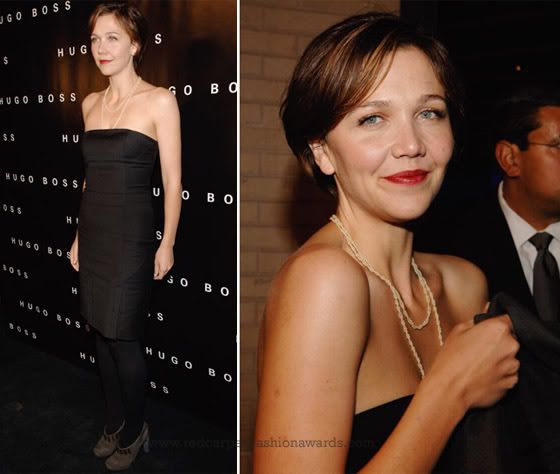 Wah Maggie Gyllenhaal? Can you be any more boring here? Maggie is normally anything but boring but here she just depresses.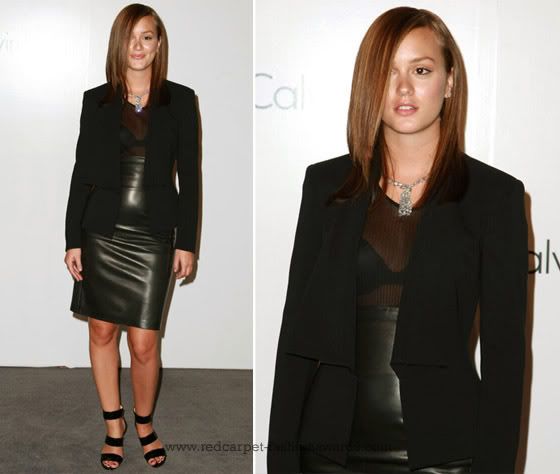 Leighton Meester has style and she is just throwing that out the window here in this horrible look consissting of a leather skirt that points out her pacho (nothing wrong with a little stooge...), and her stupid and unsexy transparent top and bra. Baby, please push your hair out of your face and wake up.
I am not putting this look in my BORING section because this is just frumpy and unflattering enough that it just ruins Cynthia Nixon who does have elegant style and can pull of simple, clean-lined looks but here she just is all frump and no fab.
Michelle Trachtenberg has style, I know she does, but this is just frumpy and does not glorify her curves. Michelle is gorgeous here though. Her barely-there make-up shows off natural prettiness and big eyes.
I hate Katie Homes wearing Lanvin, and she is being ridiculous here in an unflattering Lanvin dress and that poor scarf suffocating her graceful neck.
Tilda Swinton is known for not wearing clothes as clothes, but clothes as art, and I know she was going for that here, but this is just hideous. John Galliano's design was hideous to begin with and Tilda, even in her avant-gardeness, cannot save this.
Ok. This look is not bad, but for Kerry Washington standards, this is lame. Kerry is a stunning, classy beauty who just takes my breath away but here she is just too cliche. The dress is pretty enough, but the t-shirt worn under this v-neck dress is a tactic for a woman who doesn't want too much skin showing. This dress without the shirt would have been sexier on Kerry because it is on Kerry in the first place, but the shirt is lame. Her berry pumps are cute though.
Three years later, I still hate this dress for the same reason as I hate Kate's dress below. This modern design does nothing for my beloved redhead Julianne Moore and this dress is just nothing special at all. I know Julianne likes Calvin Klein, and I know she likes modern and clean designs, but this is just plainly disappointing.
When I first saw Kate Winslet here, I hated it and was appalled, and three years later, still am. This sack does nothing for my favorite Kate and role model, and it just is a piece of trash. Kate's healthy curvy figure is betrayed by this mess of a dress and that just makes me sad.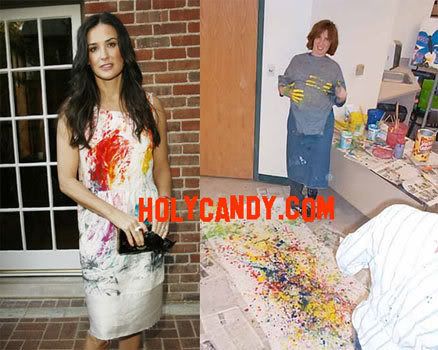 My sentiments exactly. I asked this week if someone had thrown a few tins of paint on Demi Moore.
Such a stupid unflattering dress that looks dull on Demi Moore. She should know better.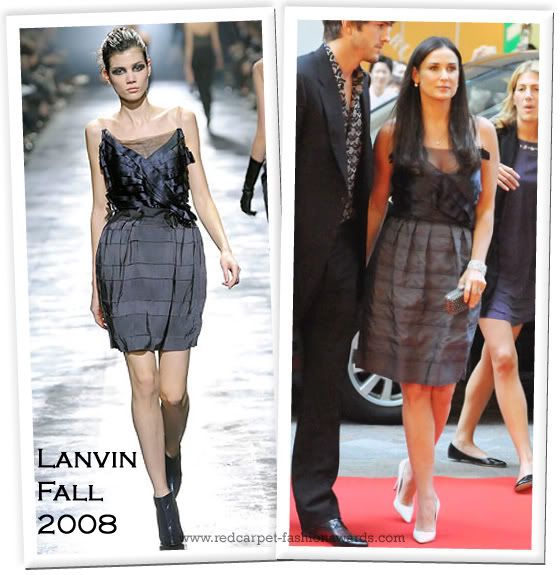 Demi Moore looks like she is wear a morose degraded sack that looks gorgeous on the runway but ill-fitting on her.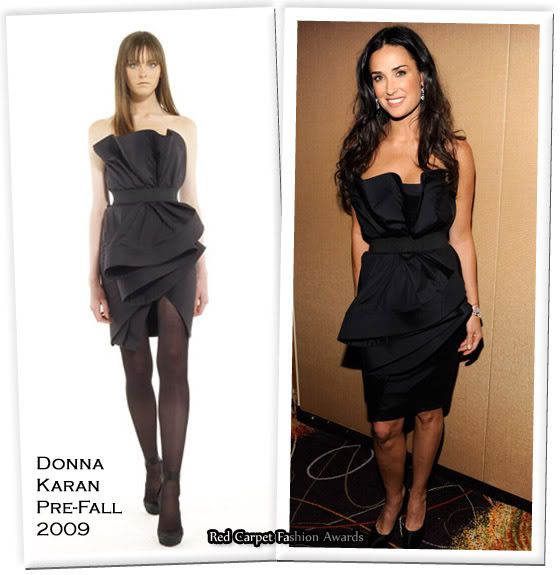 Demi Moore looks like she was stuffed in gift wrapping held together by a band. Demi does not wear this dress well. It doesn't work for her body; it works better on the taller model.
Demi Moore in pinstripes or in any suit is just unfortunate because she is so beautiful and apparently the fountain of youth, so it is extremely ridiculous she is wear a suit. Frumpy.
As part of her humanitarian efforts, Kristen Stewart supported the local Mexican economy by purchasing her entire outfit from a street vendor in a nearby slum. At first he wanted fifty pesos for it, but she got him down to forty. Well played, Kristen!
Demi Lovato looks like a bit too Kim Kardashan here. She is too talented and cute for this boob fest.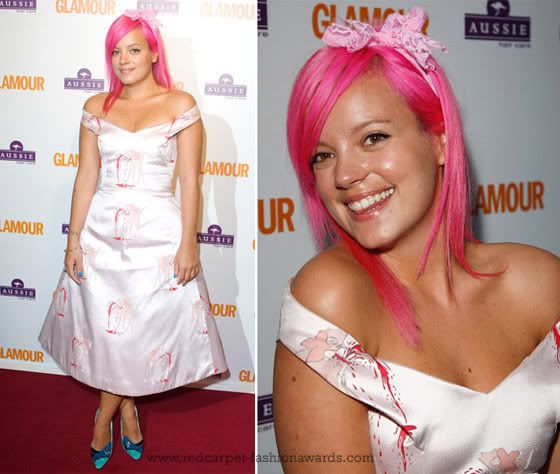 Lily Allen's look is a bloody mess.
Alexa Chung's style is not to my liking, but I do appreciate her H&M skirt, but I can't bare the greasy hair. I don't understand how greasy hair became so trendy.
Peaches Geldof looks like a moody sulking teenager and ruins this cute dress with her tights and shoes that just don't work.
Kate Moss looks more like she's on vacation rather than sitting at a fashion show. She shouldn't be able to get away with this. This look is find around town, but not at shows.
Kate Moss gives us nothing we haven't seen before from her and this is just a mess.
Miley Cyrus is too cute for this trashy and over accessorized look.
Jenny McCartney shows us how thigh-high boots can go terribly wrong and this dress is ugly.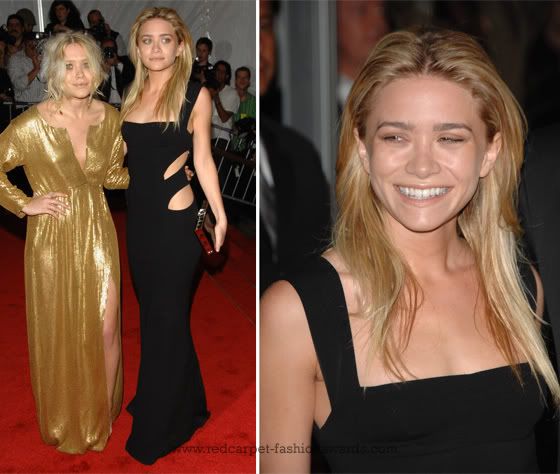 The Olsen twins Mary-Kate and Ashley look unimpressive. Mary Kate looks like a mess in her gold gown that is too big- the sleeves are to big and the shoulder pulls on the waist. Ashley's black cut-out dress is sexy but not thrilling.
Vogue editor in chief Anna Wintour shouldn't be able to get away with everything, including this hideous Chanel Haute Couture sculpture.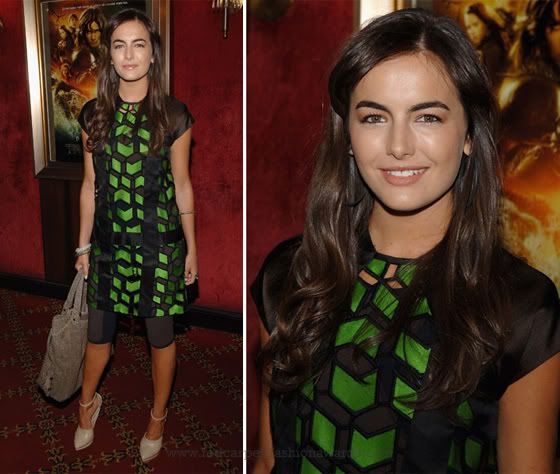 Camilla Belle's Miu Miu Fall 2008 dress fails to flatter. She need to get rid of the tights and trade her handbag for a clutch.
Lindsay Lohan has lost her sense of style and that makes me sad with this stupid breast and butt zipper dress.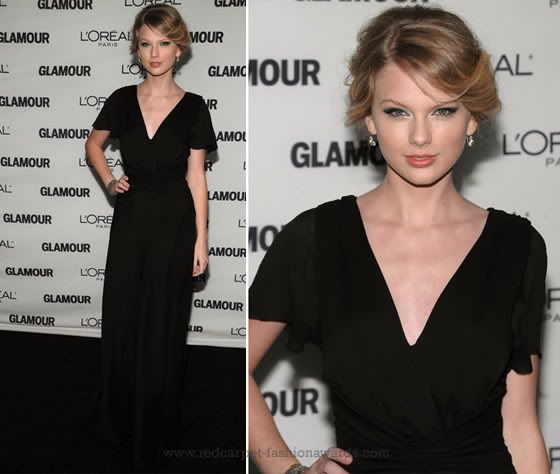 Taylor Swift is not just boring, she is depressing in her Dress of Doom.
Selita Ebanks' gown is pretty, but just falls right past her body like someone running right past you without noticing your existence.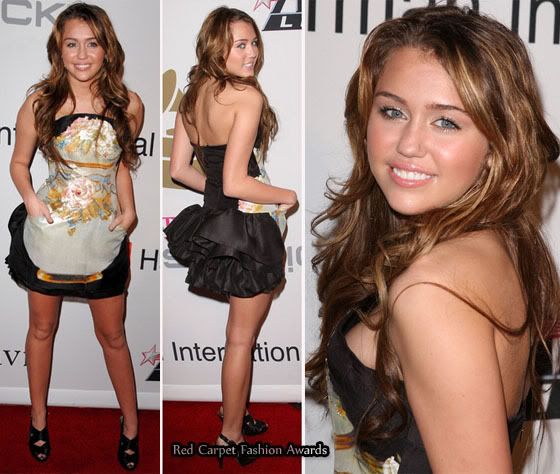 I love the front of this Roberto Cavalli Spring 2009 dress but the butt is dumb, but comfy. Miley Cyrus needs to get a better stylist.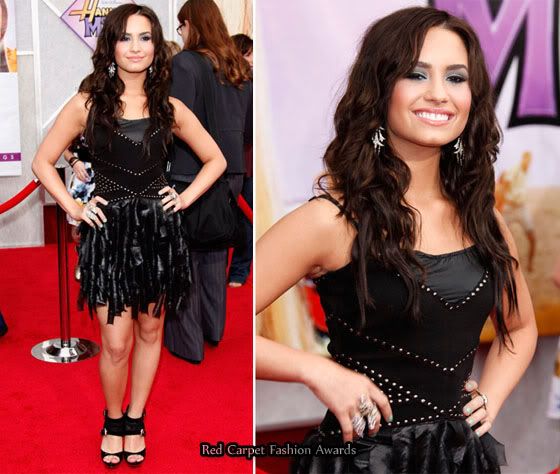 Demi Lovato looks horribly awful. Who let her out of the house wearing such a wretched confection? This is something you buy at the Halloween store.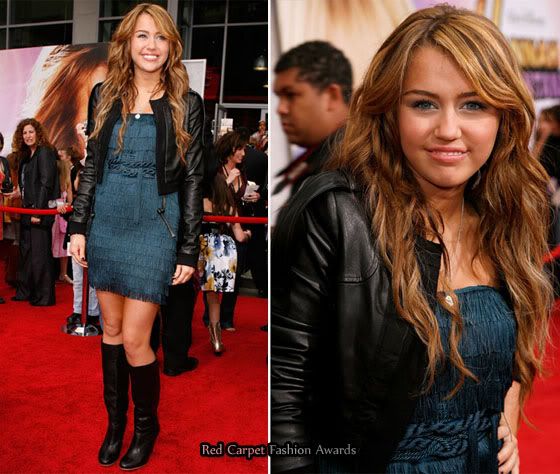 Normally there is something I dislike about what Miley Cyrus wears, and such is this occasion that she ruined this fringed teal Alberta Ferretti Spring 2009 dress with a gorgeous matching fringed rope belt. She struggles with finding the right mix of being stylish, young and fun.
This is disgusting. Why try to minimize your waist like Kelly Brook? This is the 21st century.
Coco Chanel would not be enthused about the see-throughness of this gown on both the runway and on Lily Allen that makes it trashy, not Chanel classy.
Paulina Rubio looks like a mess here, everything from her mini dress to her futuristic boots.
I love that Kelly Clarkson is curvy, but this dress is hideous and does nothing for her.
Such a strong woman like Regina King should not wear a ridiculous LAME outfit. The dress, the color, the belt, the hat... so unflattering.
Victoria Beckham looks ridiculous. I can't believe this is my favorite Spice Girl. Her butt does look comfortable though. Like having a feathered pillow to cushion her probably bony butt.
Unfortunately for Thandie Newton, this hat looks like...well...a bunch of her hair tortured into some wacko confection.
Melody Thornton obviously thinks 'hooker chic' is in vogue.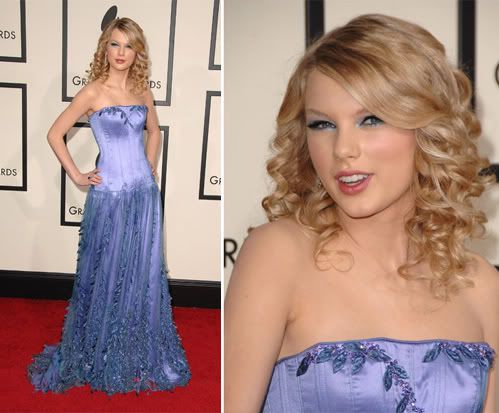 Taylor Swift's dress is designed by her stylist and it looks like some tacky prom dress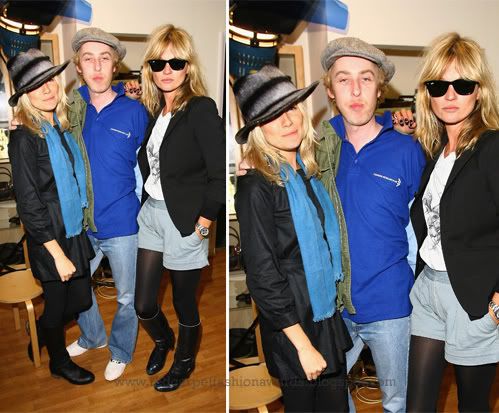 Sienna Miller and Kate Moss think are trying to out do each other in their I-Don't-Care attitudes, but really, they don't look as cool as they think they do.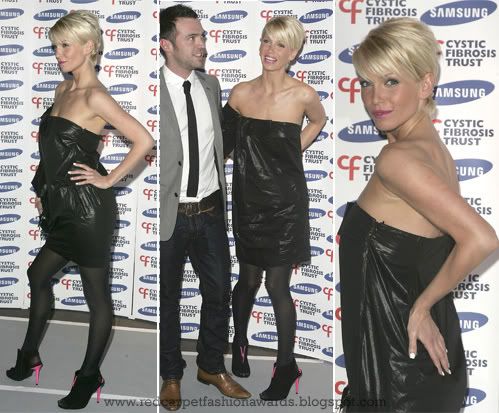 Sarah Harding from the Brit girl pop group Girls Aloud wore this dress that looks like the black garbage bag I put outside my house for the garbage crew to pick up.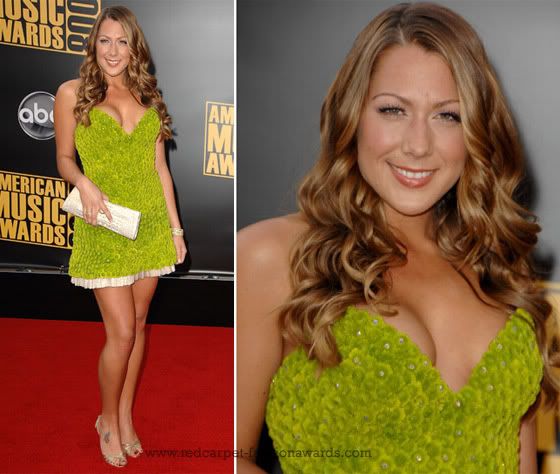 Colbie Caillat's dress looks like the bright green sponge I use to clean out my sink.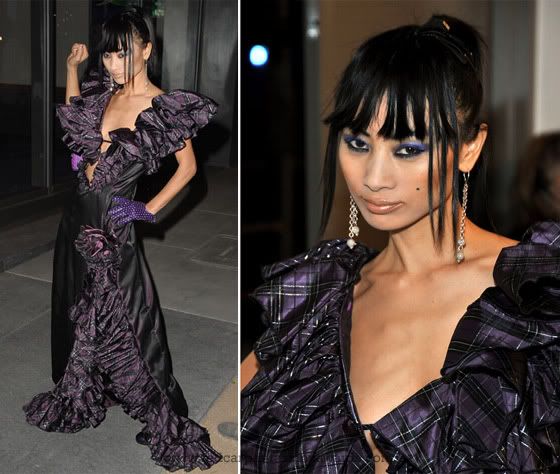 Bai Ling pretty much always dresses horribly, but that is her style- outrageous that is. I don't even know if I should bother putting her on here because all of her red carpet looks are going to end up here.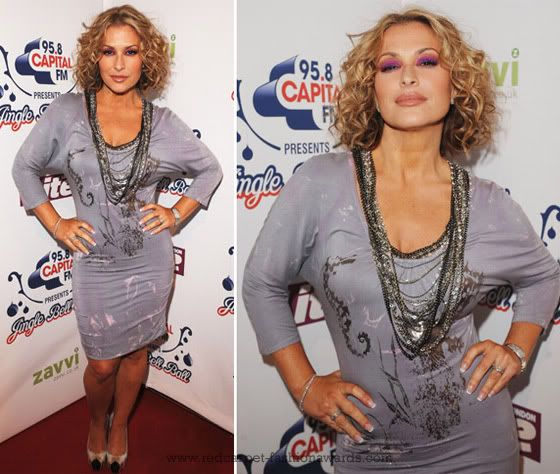 Singer Anastasia's clingy outfit is what you call desperate. I like her pumps though.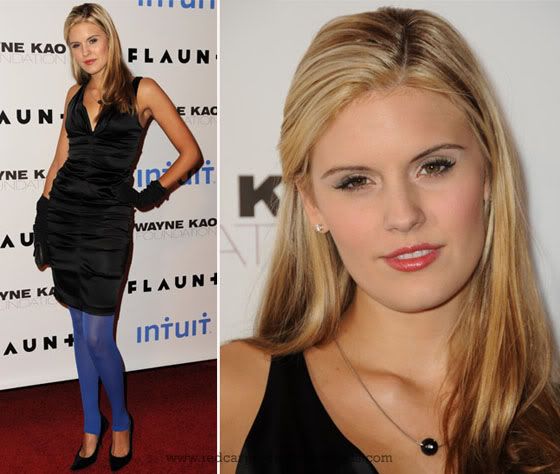 Maggie Grace's outfit is just confusing. A nice, simple LBD with gloves...and blue tights? The dress is too scrunched up above her hips (even though the dress is supposed to be clingy) and the tights are just so out of place.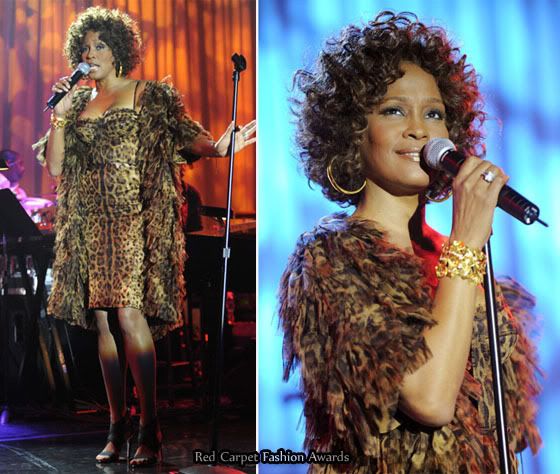 Whitney Huston is a cheetah mess. You should have one cheetah item in your outfit- never ontop of each other- it is overwhelming. If Whitney discarded her feathered cloak, she would have looked sexy in her bustier dress and ankle heels.
Carrie Underwood reminds us of country blonde tacky. Not all country songbirds are tacky or blonde, but really, this brings back so much dejavu of awful tacky moments (Kellie Pickler dresses?). Carrie, you can do better. We all know.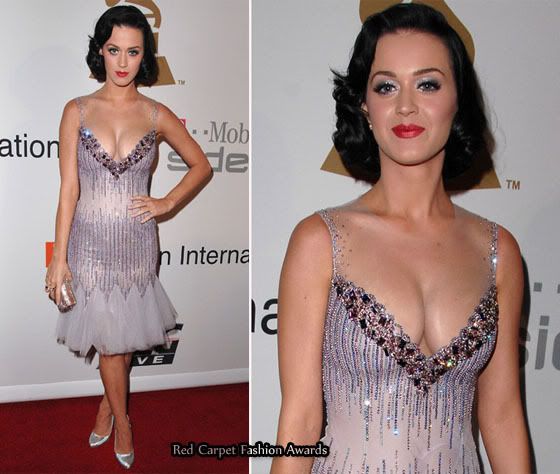 This dress is prettily tacky because of the overexposure of Katy Perry's breasts that look like oppressed I-Hop pancakes.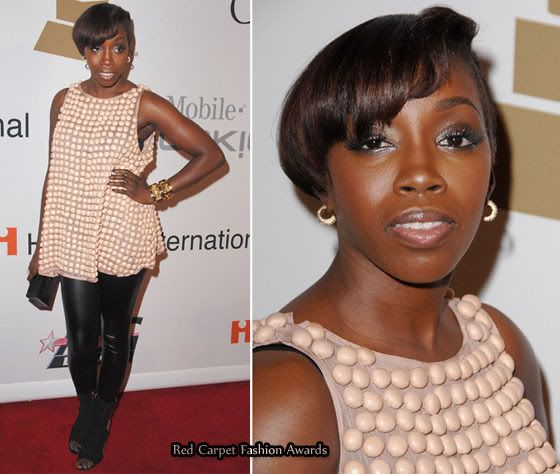 Estelle. you have cancer bumps all over your chest. Call a fashion doctor immediately. This whole look just isn't flattering at all (but I LOVE her fab bright gold bangles).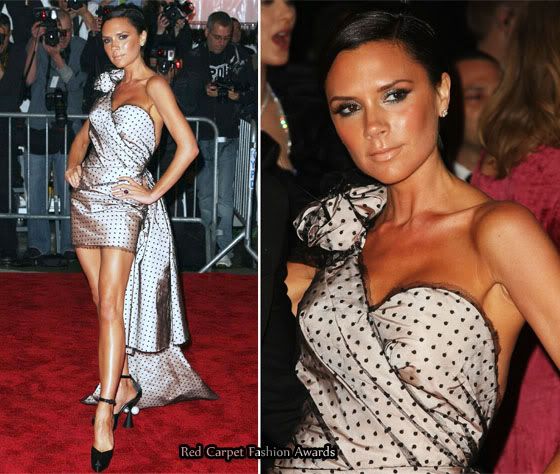 Victoria Beckham's Marc Jacobs dress is not flattering and looks like some discarded tacky prom dress fashioned to make a mini dress that shows off her ridiculously tanned body.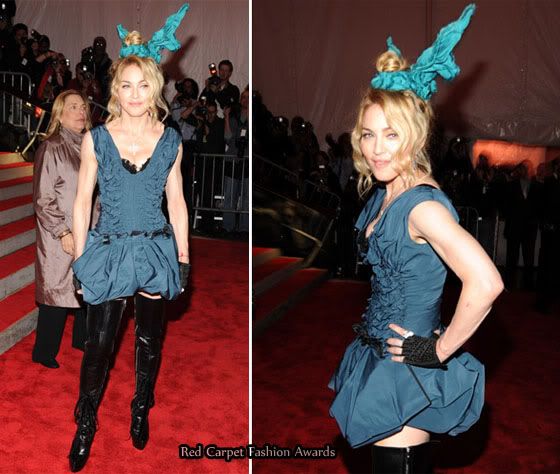 Madonna's Louis Vuitton disaster makes her look like a court jester buffoon. Bunny fool fool.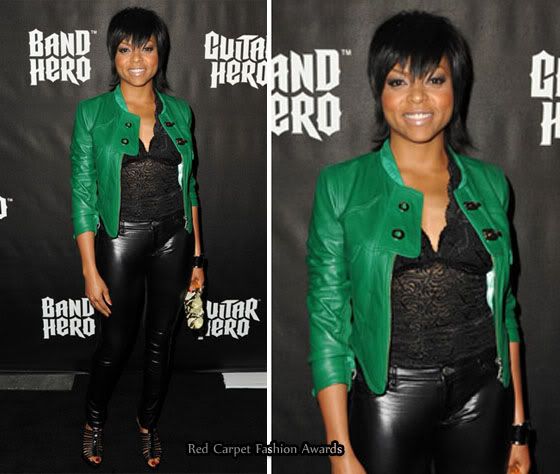 Taraji P. Henson reminds me how lace and leather just don't work. On Joan Jett, but not you.
Isabel Lucas ruined this gorgeous dress with her stupid black tights and cute but unsuiting silver peeptoes.
Kristen, gotta love ya for a break from all the glossed saturated Hollywood dolls in their mini dresses to your natural badassness and I-Really-Don't-Give-A-Fuck red carpet attitude. I know you are saying 'these are bullets mofo, not feathers' but really, save the bullets for the sake of your own butt.
There is definitely a kicky aspect to her spiny mini-dress, like she is some kind of crime-fighting figure-skater who launches a triple-axle and lets the knives on her skirt shred through her enemies like a tornado of pain.
Victoria Beckham looks like a dried up apricot prune in her unflattering dress and nature-defying boots. It does NOTHING for her and shows off how horridly thin she is.
Sooner or later Rihanna is going to poke her own eye out with her very own 'fashion' choices.
This is slut, not fashion. Damn the boots Shakira, with your tiled dress. The dress is great on you, but please ditch the boots and the arm sleeve. In the movie
Nine
Fergie plays a prostitute, but in real life, she does NOT have to dress like one. Even if she is the 'lovely lady lumps' of the Black Eyed Peas. Kate looks hot, but I just wish women would turn down the sexy and turn up the chic.
This is something you'd wear to paint the fence- overalls and boots. Not anywhere else.
Leighton Meester whose make-up is so plastered on made this knit dress skimpy. It is a bit too short even though it's a mini but still. The leopard Louboutin booties? Too much.