Katy opted for a silver Georges Chakra Fall 2009 Couture gown.
The sequined tulle gown looks good on the runway, but I really don't like it at all on Katy.
I think it's because of the way she styled it. I'm not fond of the hair nor the lavender suede Christian Louboutin Alta Spritney sandals. With a dress this dramatic you don't need to over to everything else.
Loree Rodkin jewels complete the look.
Perry opted to wear a Jenny Packham Spring 2010 dress.
Her gorgeous sleeveless dove blue sheath dress has a gold circle pattern overlay which falls slightly longer than her blue dress.
A cluster of crystals embellish the shoulders.
Purple Christian Louboutin Eugenie satin pumps add a quirky finishing touch.
Her hair looks stunning. I'm surprised she feels the need for ridiculous wigs.
I really love this look. Do you?
She looked stunning wearing a Bodyamr Spring 2010 nude jumpsuit with aqua peep-toe heels.
Her on trend silk crepe jumpsuit with drawstring front was covering the stitches she sustained on her leg after hurting herself at the Much Music Video Awards afterparty.
I love the cold-shoulders, the tie which she left loose and her long silver necklace.
If you have a sweet tooth, you might want to look away now.
Katy wore one of my favorite looks from the Zuhair Murad Fall 2010 Couture 'Romantic Intimacy' collection. She does crazy, edgy, sexy now she's giving us adorable wearing a pink silk and tulle party dress.
This look might be too sickly sweet for some, but I love everything about this dress from the crystal embellished bustier bodice, to the sweet feminine bow on the waist, to the rosette detailed skirt.
Matching ankle strap peep-toes complete her gorgeous look.


Katy Perry was in great spirits as she posed outside SkyRock radio station in Paris this week surrounded by her fans. They had a giggle pulling funny faces at the paparazzi.

Katy's on a roll as she looked gorgeous wearing a Kaufman Franco Fall 2010 halter dress.

The dress has a captivating universe print which is almost hypnotic.

She paired her dress with flat sandals and a silver cuff.

I'm amazed at how her dress is managing to say up with those spaghetti straps.


Guess what? Katy Perry and Russell Brand are entering the very competitive world of ice dancing. I hear their free dance adaptation of Russell's autobiography My Booky Wook is incredibly moving.

The sheer top part of her one-sleeve dress is embellished with black sequins which cascades onto her white layered skirt.
I think this is the perfect look for Katy. I don't think many would've pulled it off, but I'm disappointed she didn't go the whole hog and wear the tattoo print tights as well.
She would've totally worked don't you agree?
Jimmy Choo heels completed her look.
Russell Brand and Katy Perry were swarmed by photographers as they prepared to depart LAX on Friday.
Amidst the chaos Russell punched a photographer, leading to his arrest.
Judging by Brand's t-shirt he was clearly spoiling for a fight from the get go, whilst Katy was a picture of serenity wearing a delightful Philosophy Spring 2010 dress.
Her mini dress which had printed green lips was paired with a large straw hat. The rest of her look included a Chanel bag and gold heels.


Katy Perry opted for a chic yet sexy white asymmetrical dress with a thigh-high split from Hussein Chalayan Spring 2010 collection. Alexandre Birman nude heels and a purple shimmering Judith Leiber clutch complete the look. I remain pleased.


She looks fantastic in this. Although maybe I'm biased, because it reminds me of nothing so much as the pattern on tiny little snack cakes -- you know, you decorate it with lines, then drag a toothpick down the center so it forms the little fancy swirly V, and oh, God, I'm totally going to make brownies today, aren't I? Dammit.


"Dude... dude, meet me near the Ferris Wheel. You are NEVER going to believe who's here. KATY FREAKING PERRY. ... I know, right? She's totally hot. Although I think she has a really wack sunburn on her legs. ... No, wait, never mind, they're just dumb shoes. But you have to GET HERE, dude, to see what this camouflage apron is doing to her boobs. It kinda looks like they're only staying up because she's harnessed them to her body. ... EXACTLY. Also, like, why is NEON camouflage helpful? Where is she going to hide? A paintball expo? ... HA HA, I know, right? HURRY UP. We have to follow her around. She looks insane but she's KISSED A GIRL, DUDE, and she LIKED IT, so maybe she'll do it again. Bring the camera."


Then, as we head south, I start thinking of the speaker on my clock-radio, then leaving the cap off my pink highlighter and realizing it's left marks all over my textbooks; the bottom, though, is pure Ova Waiting To Be Fertilized. I wonder if that's supposed to mean something about the state of her union with Russell Brand. I will say this for that child: It will have long dark hair, and it will be spindly.
I think, of all the dots, I might like the top and then the very bottom the best, so I almost wish I could see a dress that just picked one of those and ran with it. I'd also like to snip this ragamuffin off at the knees, because mullets are for hockey players, not party dresses. (Just kidding, hockey players! Please don't come kick my ass. My punching hand has a nasty paper cut, and also, I lack your robust dental-bridge budget.) However, I will reward her shoes for being slammin', and then I will punish myself for using the word "slammin'."


Interesting take on design.
On the surface, it's a flirty white-and-pink gown with dramatic art-deco jewelry. Actually, I don't care too much for the design of the gown itself -- there's a lot of gathers around the hips and back that aren't tremendously flattering -- but of course, as it turns out, there is a REASON for all that. And it is:
She has to hold up and hide the battery pack SOMEHOW. Because, yes, Katy Perry is wearing a dress that lights up, kind of like glow-sticks plus a Lite Brite times. The only miracle here is that a woman who often dresses up like Carmen Miranda and once wore a carousel as her skirt has not already done this. But you know what? It made me laugh. Maybe I just needed a laugh at the moment when I saw this, or maybe it's genuinely sort of funny. I don't know. But God help me, I giggled. And then I decided that the reason Lady Gaga skipped the red carpet is that she found out about this and declared a jihad on Katy Perry, and that hopefully we are in for some seriously intergalactically nonsensical stuff from her in an effort to maintain her superiority.
And I don't even think the Met Ball is such an odd choice of venue for something this overtly goofy. I kind of appreciate that she didn't get all overintellectual about The Meaning Of Neon In An American Woman's Life or turn a dress into a thesis statement. It's kind of a harmless wink at the idea of an outfit not being what you expect. And as long as nobody throws water at her or knocks her into the toilet, nobody's going to get hurt.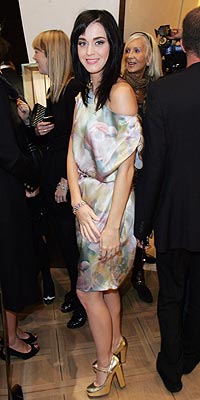 Adorable and pretty in a floral watercolor Moschino Cheap and Chic dress and metallic gold Mary Jane heels.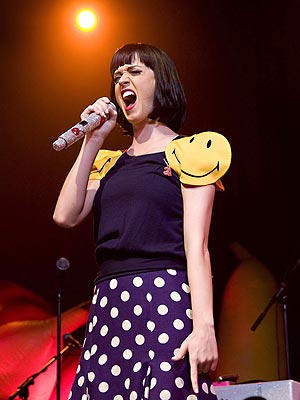 I find this creative, classic and comically adorable.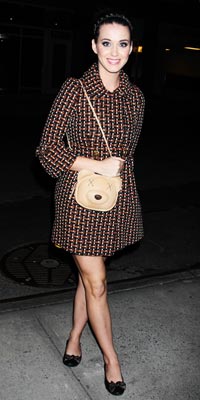 Katy wears an unexpectedly conservative yet sparkley tweed coat, black flats and an updo – and adds a whimsical touch with a teddy bear purse strapped over her shoulder.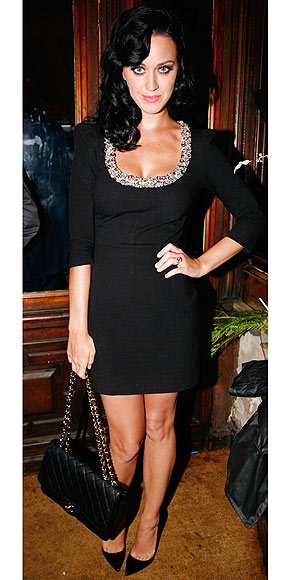 Katy keeps it classic in a beaded-neck black dress and oversized quilted Chanel chain bag and black pointy patent Christian Louboutin pumps.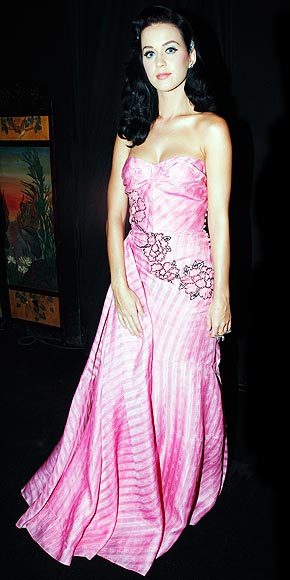 In a pretty John Galliano cotton candy pink pink, Katy sticks to fearless fashion in this sherbet striped gown adorned with crystals.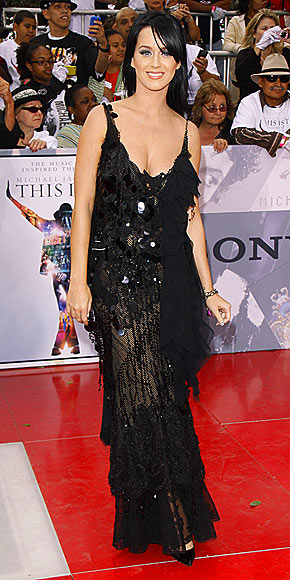 Katy wears a paillette-laden vintage Christian Lacroix couture gown. I love this gown because it is fussy, opulent and demuringly sexy. Katy's 'Decoltissimo' Louboutin heels are hidden beneath her long dress.
Taylor, Miley, Kelly, and Katy. Four cuties in a row. "I have certain girlfriends who I just think are the most angelic, beautiful creatures. And if any of my boyfriends ever fail me, I'll turn to them!"
A cute pink floral wrap dress with gold studded cute flats. Comfty and cute.
This is badass. A sequin sparkley metallic emblossed top, leather leggings and hot blue suede bootie. Rock it Katy.
Such a cute floral jumper. A very Katy Perry Outfit- florals, hearts, shortness and cutesyness. Yep, that's Katy.
Wearing a stunning glimmering shimmering black leather belted tunic dress with pretty sparkley black suede pumps.
Russel Brand is what one could call a hot mess. All the time. I'd like to see him in a suit. THAT would be funny Russell! Katy wears a cute polka dotted silk hoodie, white skinny jeans and cute white flats. I am glad she is growing her hair out. I am really trying to like her bangs, but I'm struggling to.
Katy posing with REAL school girly dressed in their frumpy (elitist? The tie and cashmere sweater on the little girl! What?) school uniforms. Katy however, looks adorable in a snug fitting pink top (the Gap? H&M? Anywhere?) and pretty white floral skirt. I really like the hair style of the girl to Katy's left. It breaks up the ponytail-or-bun school hairstyle humdrum.
There is no excuse running over someone wearing such a (awesomely) bright color with your car. How could you miss them? In this case, Katy Perry isn't getting hit by a car, but she sure can be spotted faraway. Katy looks sumptuously chic with her Herve Leger salmon curve-hugging dress, Christian Louboutin black patent pointy pumps, and black patent handle clutch.
I am getting a flash back to the 1980's here. The hair, the gold loop earrings, the bright pink lipstick, the bright metallic nail polish (Katy's is gold metallic nail polish), an actual dress with a brightly colored map on it (Jeremy Scott for Adidas) leggings (Donna Karan leggings- the best), the rubber shoes (slingback Vivienne Westwood Anglomania + Melissa Lady Dragon pumps)...
"I thought I was promiscuous, but it turns out I was just thorough – to get the right one." – Russell Brand, on dating his way to his fiancee Katy Perry (wearing a badass shirt with Mobb Deep lyrics).
Yes. Her birthday party did involve paint. Everywhere.
Why does her fiancee Russel Brand always look scared?
I love her scarf.
Katy's cute black, patent leather, t-strap sandals look darling with her bohemian sun dress.
Katy's white, pointed toe Vivienne Westwood flats have a heart embellished toe that take them from drab to fab. So cute! How adorable are Katy's matching heart accessories?! This white and turquoise, heart adorned, patent leather belt makes this ensemble all her own.


This is how you avoid the paparazzi: hide behind your hair. No, really, it works.
In AllSaints buckled boots. I almost couldn't find her lips here though.
Those construction works want a kiss Katy.
Katy wears a puff shoulder H&M dress and carries a gold metallic "Paddington" bag by Chloe.
Katy's teal, metallic dress flats, with crystal encrusted bow embellishments, are nicely paired with her grey skinny jeans. Katy carries a gold metallic "Paddington" bag by Chloe. She is wearing silver metal framed aviator sunglasses with a purple-black lens. Good match with her motorcycle jacket. This is a fun mix and match look.
Katy carries a gold metallic "Paddington" bag by Chloe.
Katy Perry seen on Dec 30 2009 in Jaipur, India. Katy Perry gets lei'd while on vacation with her beau in Jaipur, India on December 30. Katy and Russell Brand both donned ceremonial floral necklaces while seeing the sights on their romantic holiday getaway, both keeping fans updated on their travels via Twitter, naturally. For her day out and about Katy chose a bright pink seagull printed jumpsuit, accessorizing with a black flap bag with a dove shaped gold closure, black necklace. KP went for earthy studded flats and let her natural waves hang loose. What do you think of her low key look?
The great thing about having a tall man is that you can hide behind him. Katy carries a gold metallic "Paddington" bag by Chloe.
They find her very amusing.
THIS girl is so cute. She looks like the sort of funky but really cute girl who lives down the hall from you and has some kind of wacky business -- she's like a dog-walker or something -- that allows her to sign for packages for you and check on your pets while you're out and you think she's kooky but very trustworthy and she always has a funny story about, like, the time she got caught in a subway train with Bradley Cooper and how it was the best day of her life. You don't know her very well but she's charming and very pretty and you wish her the best. THAT Katy Perry seems like a treat.
I am liking this look and the turquoise colors on Katy. I especially LOVE her turquoise Yves Saint Laurent bag.
Classic Katy Perry: powdery make-up, with her dark shiny dainty hair, bright pink lips, floral dress, cute flats (this time red patent cutouts) and cute trendy bag.
Katy's red-haired friend is adorable and as adorably dressed as Katy (red sequined dress).
Katy looks like a college student at New York University here, leaving the city for a day trip and then out for her morning coffee and then off to class. This outfit is casual, put-together (though she wouldn't admit it) and is cool and fun.
I love this outfit, but I wish her top wasn't see-through. That would make the outfit classier.
GO FOR CLASS, NOT SASS in Dolce & Gabbana. Many stars overdose on Dolce & Gabbana's ensured sexiness, so it is important to make the already-sexy Dolce & Gabbana CLASSY.
Katy went for cute here with her see-through gorgeous floral blouse that just-so-happened to show off her black bra. Katy COULD have made this look CLASSY not sexy if her bra was not showing. Other than that trashy fluke, Katy was cute and sassy and a black lace pencil skirt and an adorable pink bow chain bag.
Exposed bras are not classy. Sexy yes. Classic. Not really- did Audrey Hepburn, Grace Kelly, Mia Farrow, Rita Hayworth, Bette Davis etc. expose their bras. NO! A whore would. A girl looking for... I dunno, sex would expose her bra. Unclassy and
not
chic.
Looking just plain cute in a floral dress under a grey cozy long cardigan, and bright magenta bow flats. Katy Style right there.
Wearing an awsome silk sheath with what looks to be a camel, a llama, an owl and a big ass moon with annoying tights, sparkly sequined purple clutch and black leather cut-out booties. I LOVE her friend's bright blue sharpely tailored blazer. Captivating and groovy.
In a Chanel dress with satin champagne t-strap pumps and a Katy Perry signature floral headpiece.
The singer wore a colorful floral print Basso & Brooke Spring 2009 mini dress, with an Asian inspired belt, which she wore with lilac suede heels.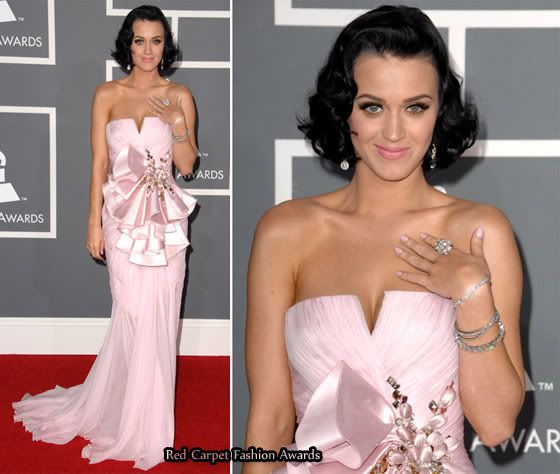 Katy Perry looks like the star she is in her gorgeous Basil Soda gown. The structure of the gown is exquisite, as I have come to appreciate from Lebanese designers.
The satin ruffle piece on the front of the gown doesn't bother me, the retro hair fits the look, the pink lips are simply divine, and the subtle Jacob and Co. earrings, an H. Stern ring and Neil Lane bracelets don't over-cook this look.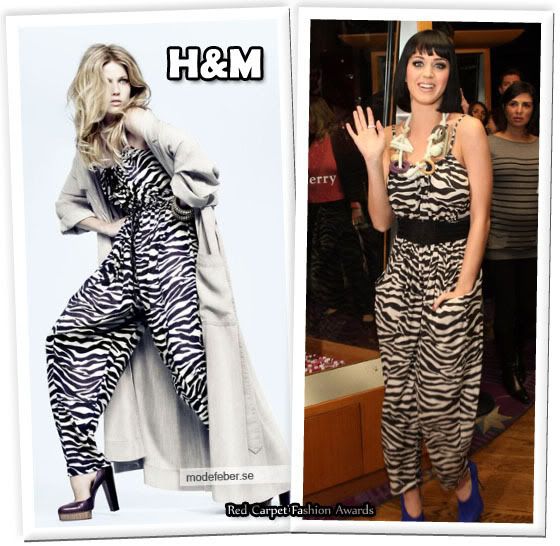 We all love to see celebrities wearing the latest designs off the runway, but it's also nice to know that they shop in high street stores just like us. Katy Perry wore a zebra jumpsuit is from H&M, with a large statement necklace, and blue suede booties. You can buy this jumpsuit from all H&M stores, in both the zebra print and in black for $59.90.
Katy Perry, who has carried a Lulu Guinness clutch to many red carpet events, was surprisingly clutchless at this event. Lulu has a sun blush snakeskin clutch which would have worked well with her orange and grey ensemble.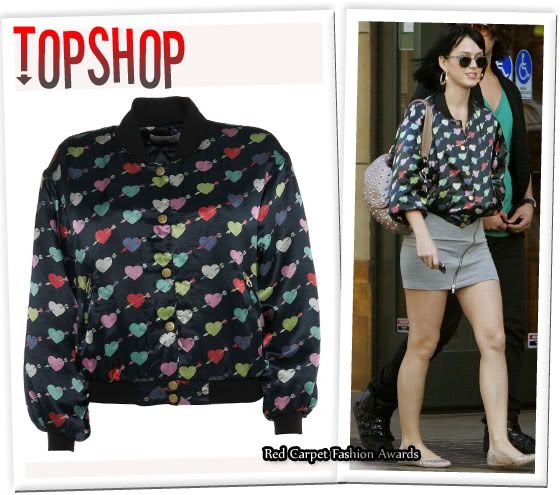 You can never define Katy Perry style. On stage, she opts for bizarre looks that can include looking like an American football player, to a half bride/half groom ensemble.
Her red carpet looks equally have Jekyll and Hyde approach, but her street style is quite different, unlike Lady Gaga who takes her stage style to the streets.
Katy is often seen wearing high street pieces. We have seen her in H&M, and on this occasion when she was at The Grove in LA with some friends enjoying an ice cream, wearing a Topshop silk bomber jacket. The silk jacket covered in multi-colored stab hearts, is available to purchase from Topshop for £90/$180. Katy's BE&D Garbo studded shoulder taupe bag you can purchase it from Intermix for $995/716.86 pounds. This bag is also available in black.
Katy Perry loves high street clothes. We've seen her many times wearing Topshop and H&M often mixed with more expensive pieces. She was one of the first celebrities to wear a stunning peacock dress from the Spring 2009 Matthew Williamson for H&M collection with a Lulu Guinness lips clutch and metallic Guiseppe Zanotti heels. This was not the only piece she purchased from this collection. Since then she has been spotted wearing the olive cropped leather jacket and Be&D studded bag, and she was spotted in London wearing an olive satin jumpsuit with a drawstring waist and embroidered details from the same collection.
Katy Perry was more demure wearing a Jean Paul Gaultier Fall 2009 black halter dress paired with a pigalle's and a Chanel quilted bag. Katy is wearing a sparkly, yellow, flower cocktail ring. When wearing an oversized ornament, it's best to keep additional accessories at a minimum.
Katy strolls in a Karl Lagerfeld Fall 2009 dress. I love the sharp-edged structure of the dark taupe colored dress. I also love the clinched wide patent leather and metal belt and the way the dress falls back over her shoulders. Her look was paired with pointy ankle booties and a Karl Lagerfeld Spring 2009 bag, which has the designer's face printed on the front.
Normally Katy wows us in a different way in eccentric Manish Arora pieces, but this time she wows us by looking so graceful in a nude one shoulder Marchesa Spring 2010 draped tulle strapless gown with embroidered black floral. A very pleasant surprise indeed.
Katy caught my eye wearing a nude Jenny Packham Spring 2010 chiffon dress with a playful feathered skirt. She wore her dress with Louis Vuitton "Cancan" platform heels that have gold satin with a black lace overlay. These funky, structured shoes look suprisingly awesome with Katy's feathered dress.
In this Marchesa 2010 dress, Katy Perry looks like something from a vamped-up version of a swan-lake production. Feathers seem to be a favorite with Marchesa for Spring 2010. Here they complement the lace body, adding movement and texture and give Katy the extra detail that she needs. I love the white on Katy. It's clean, fresh and works with her dark hair and eyes radiantly.
Sometimes it's best to keep things short and simple and for Katy Perry this cute pink tube Bodyamr dress is a sugary sweet choice. A twinkling sequined panel on the candyfloss color is charming.
It's fine. It fits her boobs better. It's fairly plain, but for the adornment on her chest that reminds me of what might happen if you ran over an Everlasting Gobstopper with your car.