Anna Hathaway took to the stage wearing a Prabal Gurung Fall 2010 long sleeved dress. Her oxidized silver metallic stretch lace dress has a curvilinear peplum, and oxidized silver lace sleeves. From the runway picture it's clear the dress has been heavily modified. The skirt is much longer which will explain why the peplum lays flat, and the sleeves are silver unlike the black sleeves on the runway version.
Anne doesn't do edgy, so the dress was modified to suit her style. What do you guys think?
Oh do I need to mention the tights and how much I would've preferred this look without them?
Na. I'm sure you guys know my thoughts on tights already.
Tang Wei wears a dark floral print Christian Dior Spring 2010 dress. Ok. That looks good. I love the print and that cute fluttery skirt.
But here's teh catch...EVIL TIGHTS. And those mushroom Burberry Prorsum satin and leather boots.
I'm a big champion of seeing non-black heels on the red carpet, but in this case the black version of these boots would've worked better for me, and she shouldn't not worn the tights.
From this angle it looks like she's wearing open toe socks.
Her Spring 2010 red white and blue striped dress is so beautiful, but my love for this look ends at the hem of Kate's skirt. But white tights??? *shivers* Sorry it just leaves me cold, as does her lilac and navy Christian Louboutin Maggie heels. I do however love her bun and her white Chanel clutch.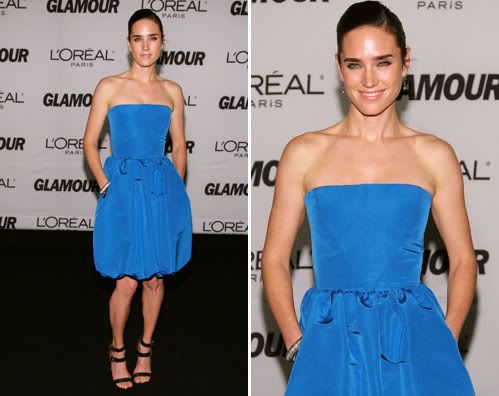 I love Jennifer Connelly and her cutting-edge style but this cute Oscar de la Renta dress seems out of place with her personal style. I feel Jennifer doesn't fit the dress- literally, the dress loves her figure, but Jennifer wearing this dress just doesn't work. I wish she chose different heels and wore a stunning necklace and done something with her hair.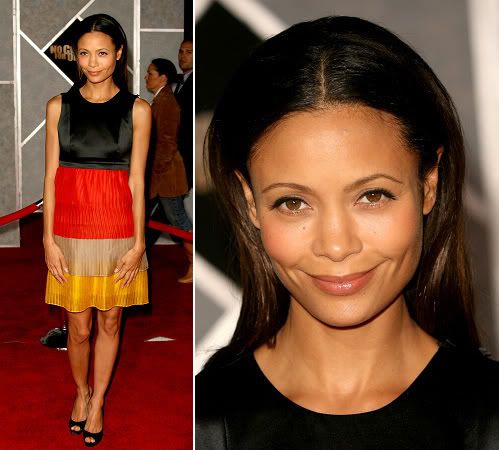 I honestly don't know how to approach this dress and also this dress on Thandie Newton. I personally think this dress is nothing special and kind of ugly, but it is a colorblock dress with lightly crinolined silk tiers with pretty sheen. Thandie loves color and she loves to try new fashion, but I just can't get excited about this at all.
I like Maggie Grace in this forest green dress and her green-gold approach with her sexy gold strappy stilettos but I just wish she wore a belt because the dress otherwise avoids her figure like the plague.
Thandie Newton is sexy in this Zac Posen dress and I know she was trying to mix it up with her Christian Louboutin mustard snakeskin pumps, put they just don't work for me here.
Park Jin-hee should have rocked my world in this fun, fresh colorful dress had she not worn those irritating tights and Louboutin booties that dull down the dress. I absolutely love the runway styling, minus the bow, with the blue belt, gold sandals and mint clutch.
What the hell is up with Camilla Belle's shoes? Gorgeous dress, awful shoes for this look.
The overwhelming fur shrug dominates and kills this gorgeous Robertyo Cavalli dress on Demi Moore. I can't focus on her.
I know being a bit edgy is Kristen Stewart's thing, but this gorgeous gown really deserved for her to have swept her hair back in a bun, or an elegant updo. Her wild hair kinda kills this look for me. It's like day and night, the two just don't go together.
I am cheering for Kristen Stewart, I really am, but she just ruins this intricate gown with her unkempt hair.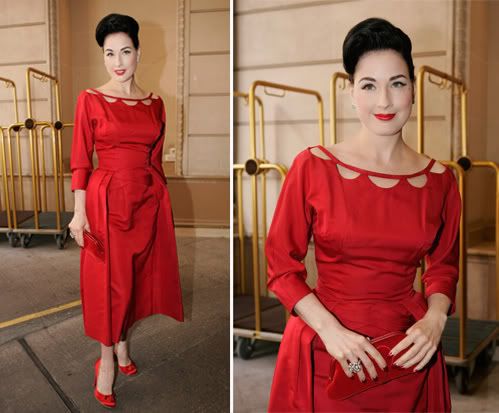 Dita von Theese's all-red look is a bit overwhelming. I wish she cut off the red. The dress is simple yet dainty and Dita-Style, but there's just too much red.
Tamara Beckwith wore a Valentino Spring 2008 pink coat, which is cute, but you just don't wear this Valentino coat over JEANS. It would have look far cuter if she just wore the coat as a dress.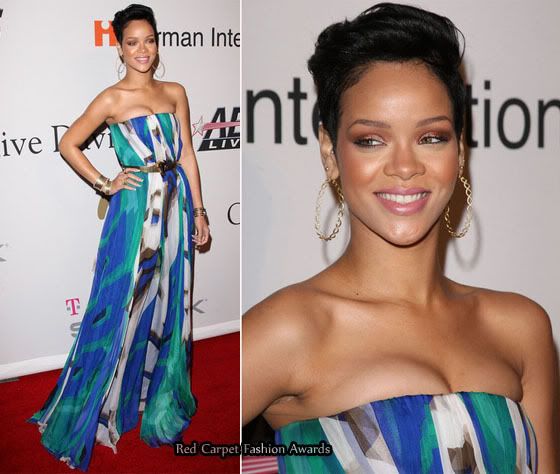 Rihanna looks stunning in her pretty Gucci dress except for the fact that her twins are escaping.
Audrina Patridge is stunning wearing her black backless Oday Shakar sparkling dress but ruins it with these thigh boots.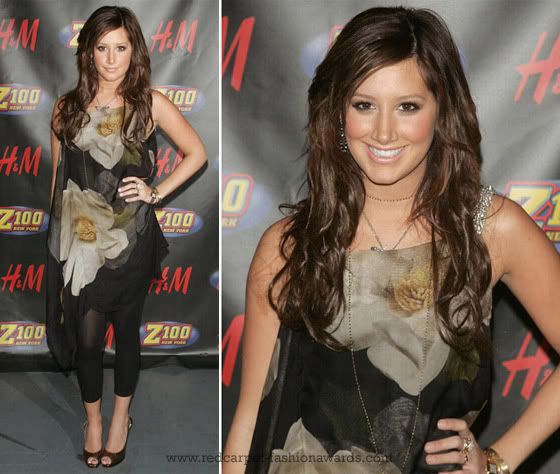 This gorgeous Collette Dinnigan Spring 2009 floral printed dress is so pretty and looks so great on Ashley Tisdale if she just hadn't worn the leggings. Oh the pain. Just the leggings Ashley...why?