Of all the pretty, colorful dresses from the Christian Dior Resort 2011 collection, Marion Cotillard chose a boring yet nevertheless dainty lace overlay strapless dress. Honestly, on Marion I am bored with this dress, which I feel would look a lot for fun and youthful on Ashley Greene.
There would've been no prizes for guessing that Marion Cotillard would wear Christian Dior. Style.com even predicted that exact dress she would wear.
Being predictable is a form of boring.
Here is how I take it: if you are promoting your FIRST EVER BOOK, I believe you should look impressive. Lauren Conrad's innocent silk chiffon moody top, black shorts and pumps are ok. But that is just it. You are promoting your FIRST EVER BOOK and you look okay. Is your book just
okay
?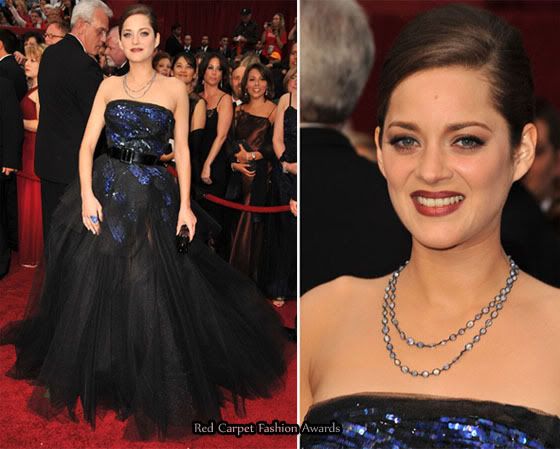 I know many have loved Marion Cotillard in this Christian Dior Fall 2008 Couture, but I think it is boring. All I see is blue sequined bodice + black belt + crazy wild black tulle= boring mess.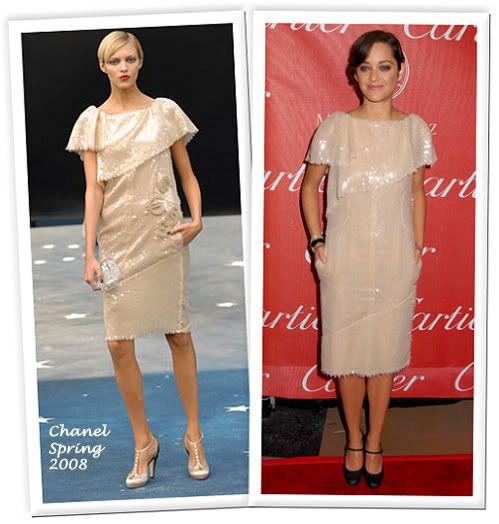 This dress is beautiful Marion Cotillard, but you made it so boring with unimaginative shoes and no visible clutch. The presentation on the runway is far more stunning with the t-strap satin heels and silver clutch.
Apparently French actress Clemence Poesy is some fashionista, but I'm not seeing that here at the Chanel show. Of all the Chanel dresses ever created, she chose this sleeper dress. Grey patterned tweed? MEH,
The 24 year old wore a Chanel Pre-Fall 2010 blue tweed dress. The dress has black trims around the neckline, hem, sleeves and under the bust line which have gold embroidery. We can also see some button details on one shoulder. Her look was paired with a black clutch and black heels with a gold trim. I like the dress, but I'm not crazy about this dress on Carey. She looks great don't get me wrong, but it ages her. As a 30 something year old I would wear this dress, but I wouldn't have worn it at 24.
I love you Zoe Saldana, I do, but why couldn't you have gone to the runway look? It is pretty casual, which is what you were obviously going for. Isabel Marant had so many cute mini dresses in their Spring 2010 collection. I really wish Zoe had rocked one of them. Also, her pink Ferragamo clutch reminds me of a Victoria's Secret shopping bag.
The "Twilight" actress opted for a black Azzaro Fall 2009 dress which was embellished with gold details to prevent the look from being a simple LBD. Kristen seems happier on this red carpet, I guess that because she doesn't have to deal with the intense pressure which comes with "Twilight."

I am bored. Black is her safety, go-to color and that is unacceptable in the world of fashionistas.
I don't... HATE it, but it strikes me as one of those dubious tunics you pull off the rack at Express while saying, "Wait... is this a long shirt, or a short dress?" And then it turns out it doesn't quite work as either. There's also a faint whiff of loincloth about the bottom part. Imagine if she'd worn it to any of the Twilight events; Bella plus Eau d' Loincloth plus either Jacob or Edward equals some seriously creepy fanfic.
Don't get me wrong- I love Kristen Stewart. She is talented, down-to-earth and quite normal- and that is all refreshing. But I can't, though I try, like Kristen in this dainty cute and pretty Chanel strapless. From the look on her face you'd think she was wearing a smelly dress from a charity shop, not a stunning Chanel Spring 2009 Couture strapless dress with beautiful paillettes on the hem. Yes it was cold and it rained at times, but throw your shoulders back, do something with that hair and smile for god sake. I may get hate mail from Kristen Stewart fans, but it is what it is. Not good. Kristen's dress was paired with ivory Roger Vivier shoes.
From the neck up, K Stew looks like she ran a half-marathon on Thursday and hasn't showered since. I totally get the concept behind doing casual hair with a very posh dress -- it's cool, and it's often the best option for someone in Kristen's demo (AKA: young and disaffected) -- but there's casual hair and DIRTY hair, and very rarely does "dirty" translate well on the red carpet.
Johnny's Depp's woman Vanessa Paradis fails to inspire me here. I think it is the black attack that has defeated her in the battle for style.
I'm all about the glamour on the red carpet as you know, but I fail to appreciate Chloe Sevigny's bed hair and "I just threw this on" style. This is a bit dull, even for Proenza Schouler.
I am just as bored as Chloe Sevigny looks here.
Even with this stunning dress, Demi Moore makes it boring with her black clutch and black heels. Demi's stylist, Rachel Zoe (whose reputation is declining) has failed to notify Demi that black F-K'N AGES her.
It's nice that Ashton has mastered the art of the paper airplane, but Demi can always just stick them to the front of the fridge. She doesn't have to indulge him THIS much by wearing them out.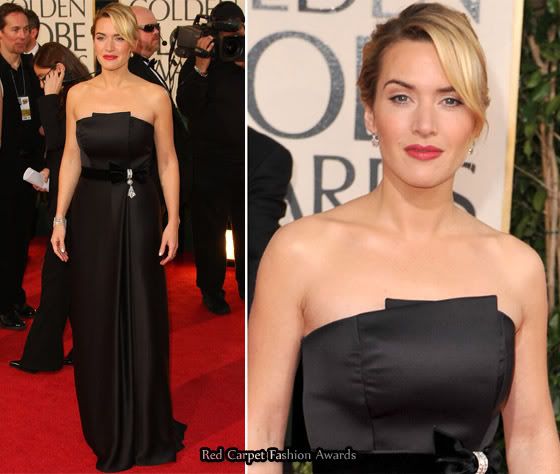 This boring plain Yves Saint Laurent dress is the best you can do Kate Winslet?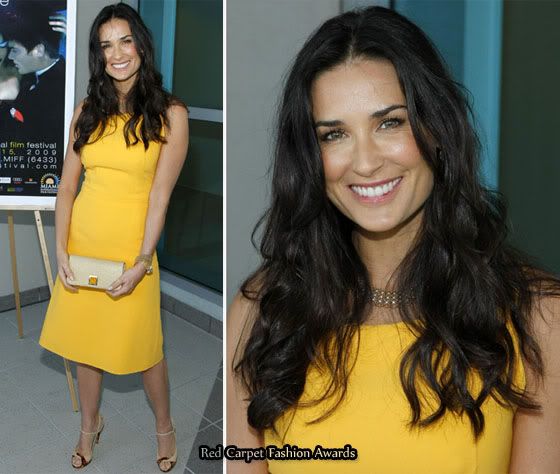 This bright sunny dress is for women over 50, not Demi Moore.
I hate it when Demi wears black. Frumpy. A 50 year old would wear this.
I bet Demi Moore's dress cost more than her beautiful friend's whole country makes in a day.
Boring. Damn black.
The length isn't quite right and this is something a 60 year old would wear.
This does nothing for Demi Moore. It falls off of her like a waterfall.
Of all things in the collection, Demi chose this grey number that just makes her look OLDER.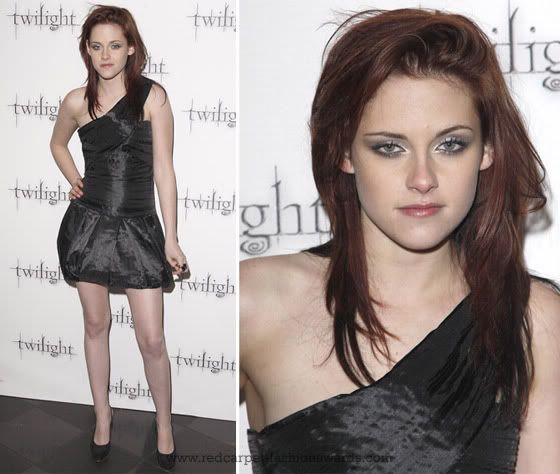 Kristen Stewart needed different colored pumps and jewelry to make this look interesting.
Megan Fox looks gorgeous except for her clothes. She just doesn't care here.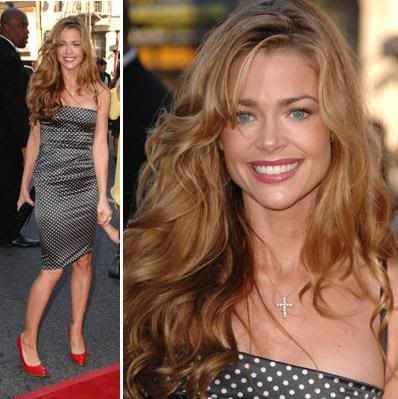 Denise Richard's polka dot dress with red pumps is tacky and done before.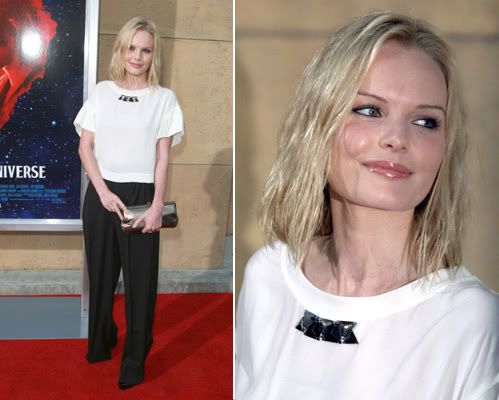 I hate baggy looks on Kate Bosworth. Her hair looks like she just got out of the shower.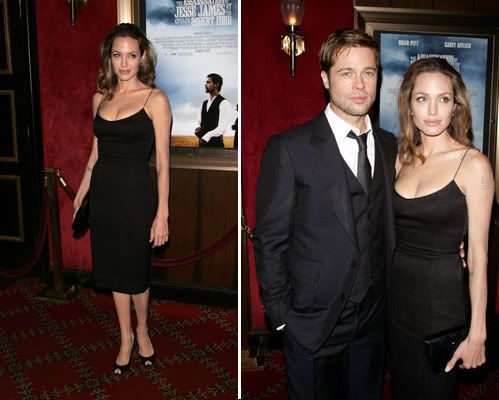 No Angie no! Not another black bore fest!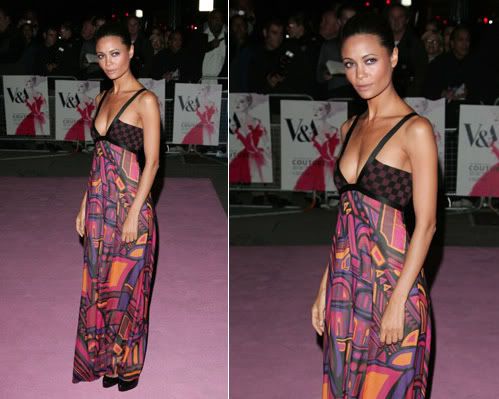 You can't say this dress on Thandie Newton is boring, but it isn't anything stunning. Thandie does look great in this dress and it works for her, but there is no wow factor and class that Thandie embodies.
I am not a fan of tweed on Kate Moss but her star blouse is fun.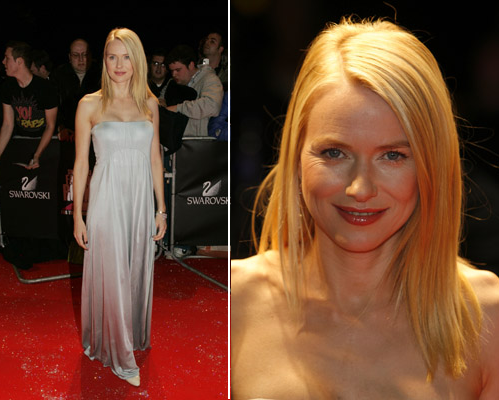 Naomi Watts looks a bit dull in my opinion. A bit of bling would have brightened up this dress.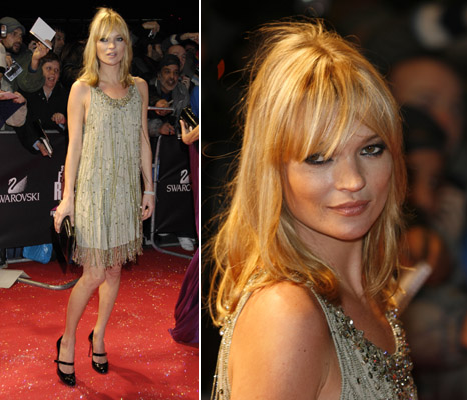 This fringed 1920's dress is pretty but the black accessories are uninspiring.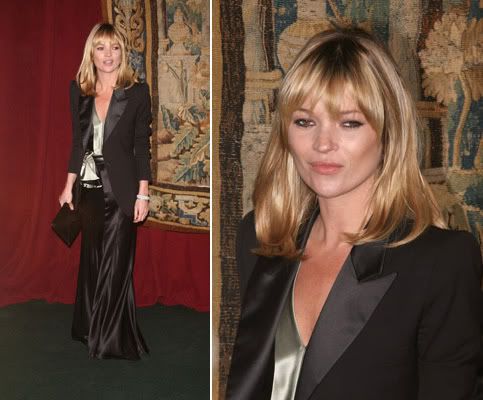 Kate Moss looks like a brown soggy mess.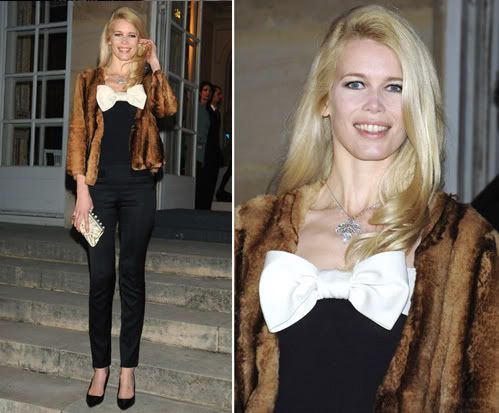 Claudia Schiffer opts to look corny. Her bow is her breast apparently.
Lauren Conrad rarely wears clothes from her collection, and from the above pictures you can see why. I don't see many people embracing her boring line.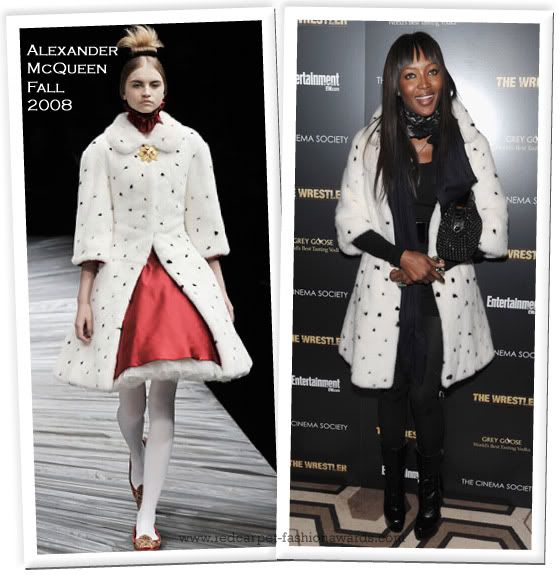 Naomi Campbell's whole look is trashy and the runway look is so beautiful I would wear it.
Too simple that it is just monochrome boring.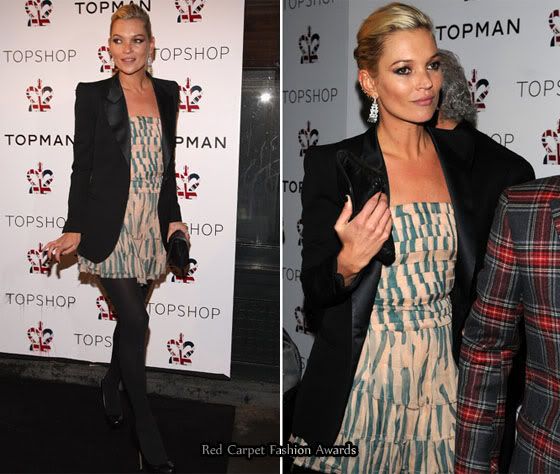 Ah, she does the same formula again and that's not unique.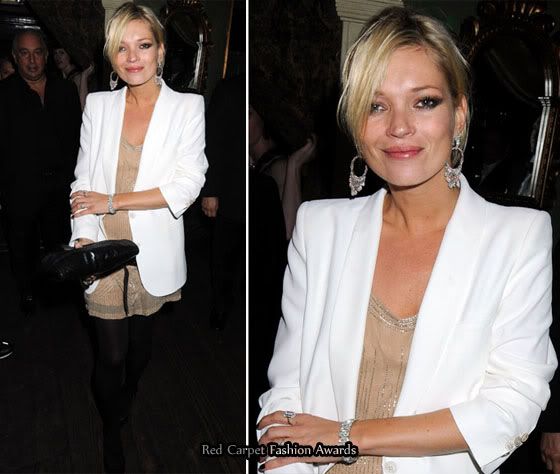 I believe Kate Moss is overrated. She has cross-eyed eyes and a disportionate face and an overrated style. A blazer over a nude dress with tights. We've seen it all before. Nothing special.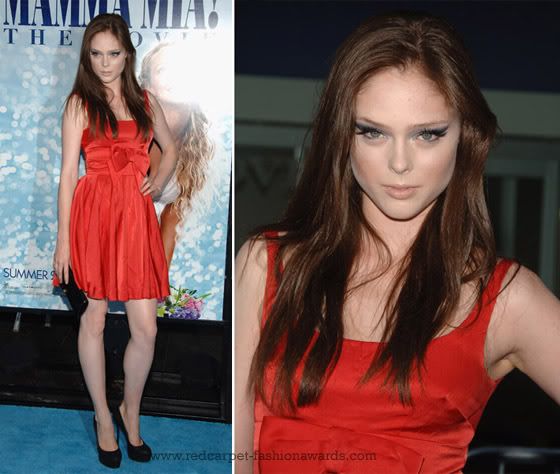 Coco Rocha is too fierce for this cute prom dress.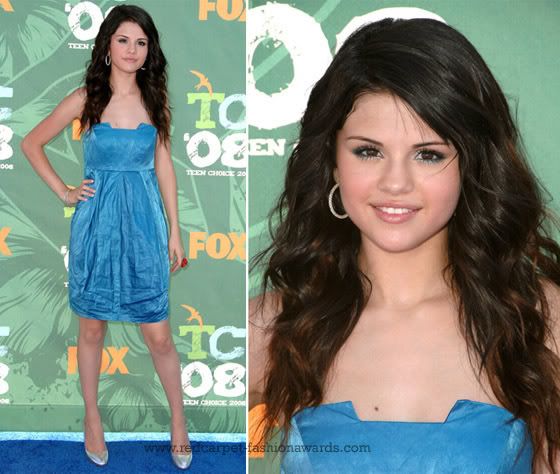 Selena Gomez' dress looks like it was not ironed before she left her house, therefore it just looks a total mess. Her eye makeup is too much.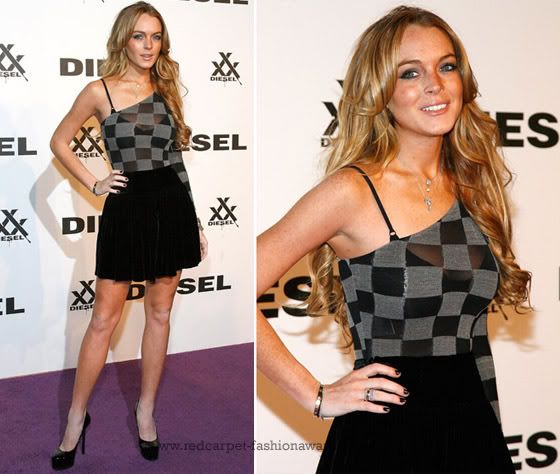 The top is asymmetric, but Lindsay Lohan still opts for a strapped bra, when a strapless bra would have been less tacky. The top appears to have a fault, which has been sewn with a thread lighter than the top. I can see the label through her sheer top. Finally she appears to have run out of fake tan, because her knees and the space from her ankles to her feet appear to be very white in comparison to the rest of her body.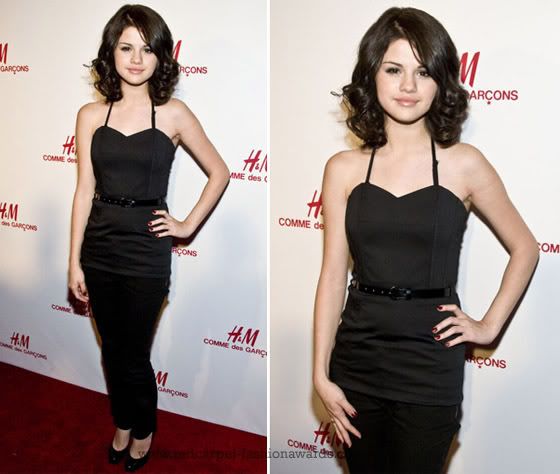 Selena Gomez really needs help. This is so boring. What else can I say?
Angelina Jolie, we get it. We get that fact that you would look great in a potato sack. We also get the fact that you don't care about how you look on the red carpet, and that you no longer try. But you could have nipped in this Max Azria Spring 2009 gown just a tad to give it some shape and wore some stunning jewels.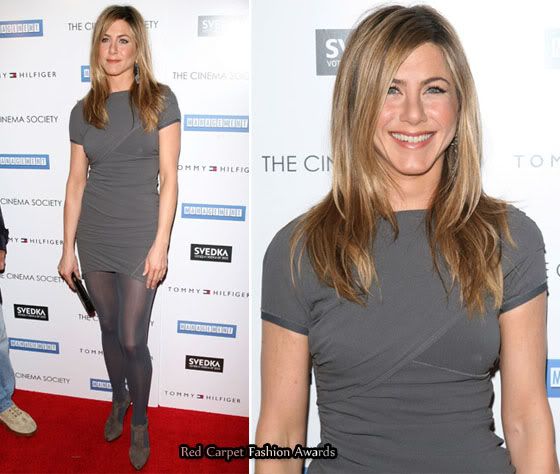 Jennifer Aniston's dress is actually quite sexy, but the all over grey just makes this looks soooooo boring.
Selena Gomez manages to make me even more bored in this H&M dress that needed color!
Is Selena Gomez a teen or a middle aged woman? Because from this dull look it's hard to tell. These Disney girls are becoming so boring.
Claire Danes kept her look too simple wearing a white Zac Posen strapless gown with an leaf waist belt. The dress is unflattering and does not fit correctly. The belt does not look like it is hanging correctly.
Selena Gomez is trying to be fun and hip, but this isn't too inspiring or put together. Nude black nude is the best you can do?
Selena Gomez needs some sort of color and stunning jewelry to bring this Notte by Marchesa dress to life.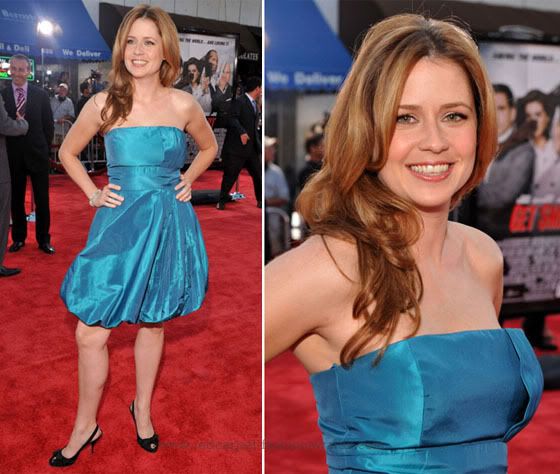 I love the color of this strapless bubble hemmed dress on Jenna Fischer, but other than that the dress is just OK. I wish she had worn nice silver strappy sandals.
The only interesting piece of this outfit is her stunning silver Guiseppe Zanotti metallic heels.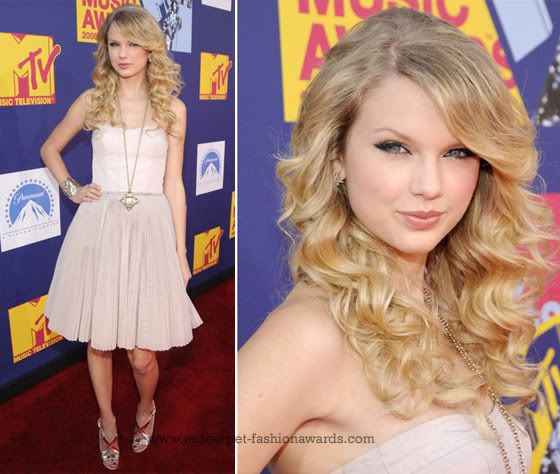 Taylor Swift wears a whole look that washes her own royally despite her lovely necklace.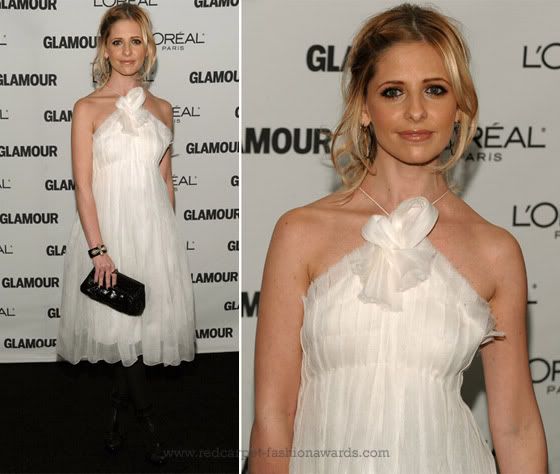 Sarah Michelle Gellar doesn't have legs.
Michelle Branch looks like a mess in a cream bag and awful hair and make up.
Taylor Swift looks like a more polished secretary here. Dull.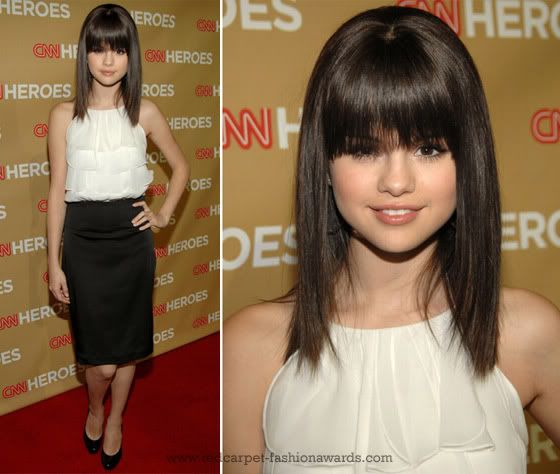 Selena Gomez bores me to death with awful bangs in which the left side is longer than the right side. You are seventeen- not a secretary. Plus, the skirt length should be a little bit more above the knee.
Jessica Biel's bodice is too busy and looks unfinished with the knot and asymmetric detail. Although boring Biel tried to spice things up, this yellow/taupe color combination look just does not work for me.
As it is, in an attempt to be Very Interesting, the design choice instead leaves us with a garment that appears to be alerting us to Jessica's right boob -- as if we might not have known she had one, for instance, or as if need to keep an eye on it because it's up to no good, or is about to attempt something shocking like pulling a rabbit out of itself. For one thing, I like to think that I wouldn't need the aid of her clothing to notice a bunny coming out of there, and for another, just think of the resentment this preferential treatment could cause between it and her left breast. Life is hard enough without your boobs being in a blood feud.
Ashley Tisdale fails to look decent here. The leopard pumps aren't enough to spark up this lazy ensemble. It looks like a cute homecoming dress.
Taylor Swift is getting too predictable with her anything-sparkly red carpet humdrum. She looks like a princess here, but it is kind of cheap looking.
Demi Lovato's Jenny Packham dress is so pretty, but Demi needed to break up the nude.
Diane Kruger is a hip fashionista, but I really am not wowed even though this dress treats Diane's figure like a queen.
I was disappointed in Taylor Swift. The dress is so pretty, like a fancy wedding cake slice, but it just shows off Taylor's approachingly disturbing tan and thin body.
Jessica Alba looks messy here. She needed life to make this simple yet chic dress anything and she failed. Silver clutch? That's all fab Jess?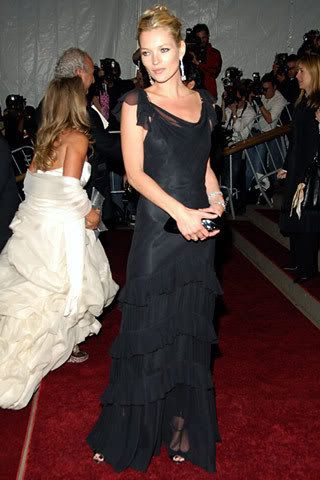 Kate Moss's dress is just dreary.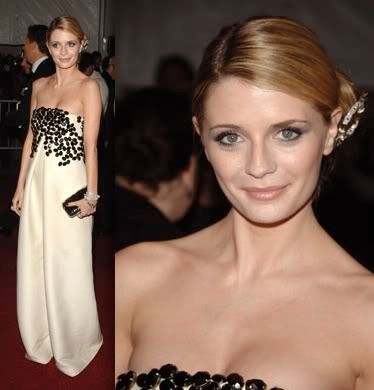 This dress is pretty but Mischa Barton can do better.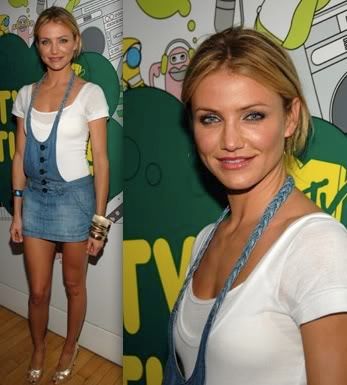 Cameron Diaz looks like a pregnant mom from the 80's.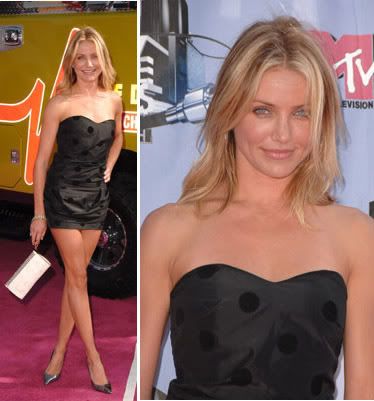 This polka dot mini dress is supposed to be fun on the Queen of fun, Cameron Diaz but I'm just not enthused.
Alicia Keys looks like a bridesmaid.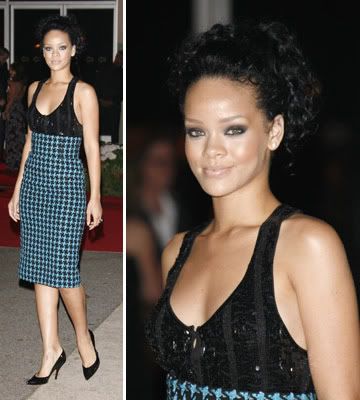 Rihanna is far more fun than this. I despise this houndstooth skirt as it does nothing for her.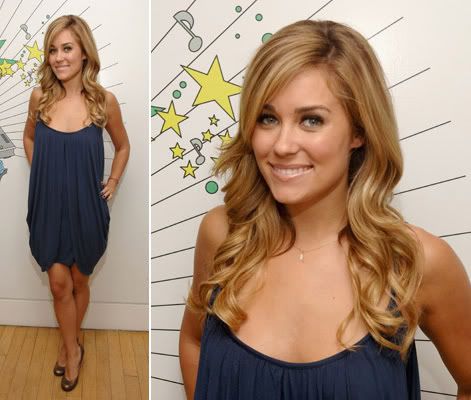 Lauren Conrad looks like she is going out to a movie with friends. It is cute, but just not enough.
Angelina Jolie just might not know that she can even be boring because she keeps on dressing that way and it makes us want to yell at her Angelina, you are ANGELINA JOLIE you can do better!
I am not sure what to say about this dress on Marion Cotillard, other than it being black and quite dull. She needs a better hair do, a belt and some stunning jewelry.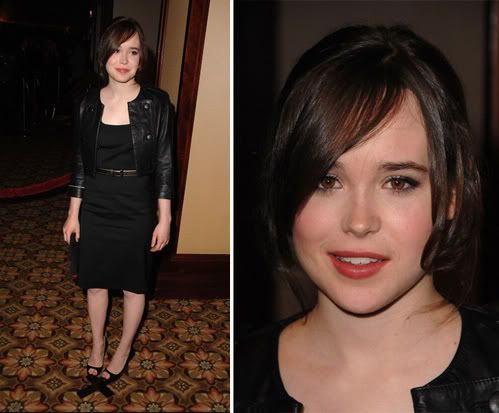 Ellen Page is black and just needs some color.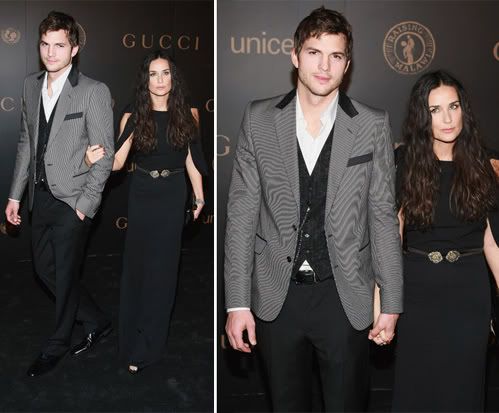 Demi Moore keeps on wearing clothes that AGE her. This dress does nothign for her and makes her look like the angel of death.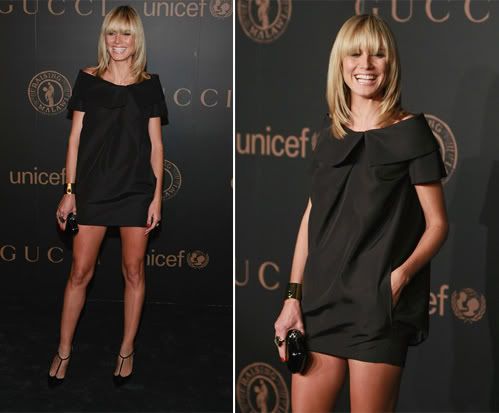 Heidi Klum chose this Gucci dress that is far too short, even for model standards and is just boring even though it is chic. I wish it was worn as some sort of top because it looks like a tent otherwise.
Blake Lively disappoints me here because if she dropped the tights and the pointy leather pumps and added say, any other pumps, this dress would have been not so frumpy.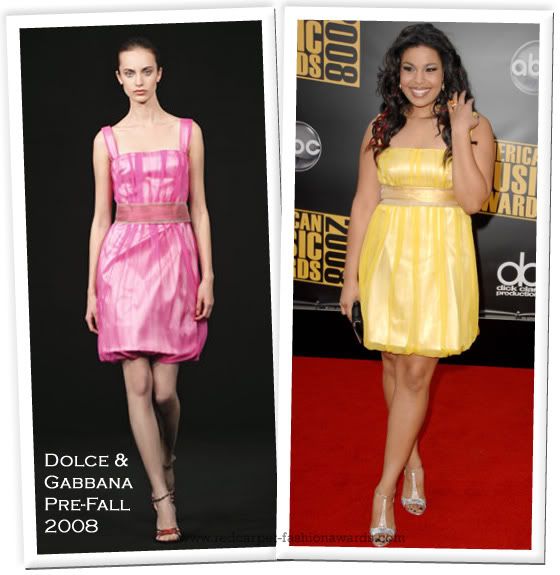 Jordin Sparks ruined this cute pretty dress by downsizing it and wearing silver t-strap sandals that don't work with yellow. Jordin made this luxe dress look like any American prom dress out there. She might have just bought it at my beloved Forever 21 and gotten the same effect and spent less money. Jordin does look adorable though with her great smile.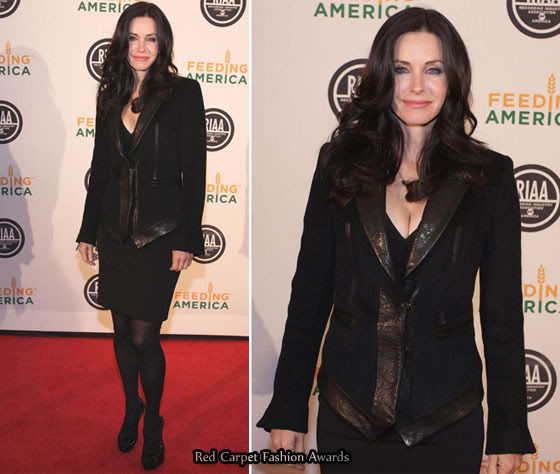 BLACK and boring. Courtney Cox, you look like a long chunk of coal.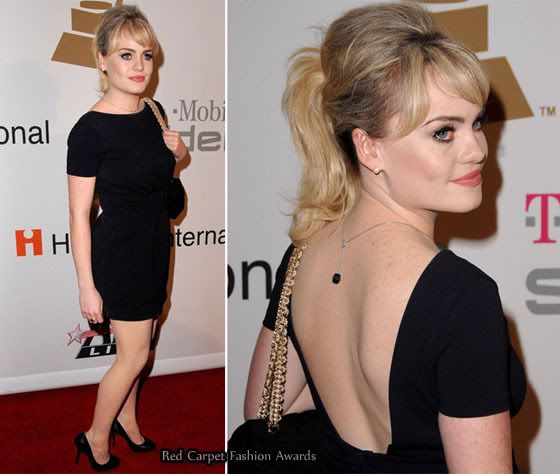 Duffy inspires yawns again. You are so cute and pretty and I appreciate your efforts with the Chanel bag, but that is supposed to COMPLEMENT an outfit, not make it.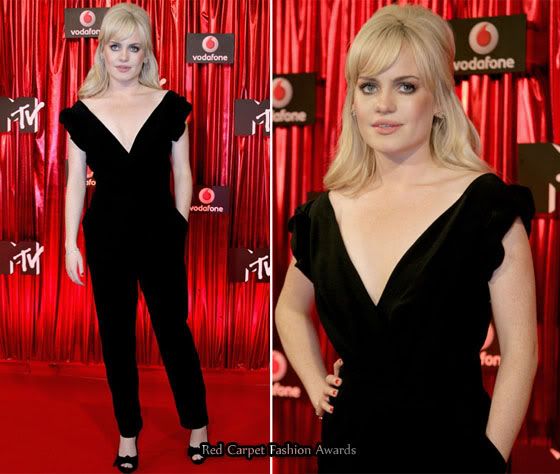 When you're as cute as a button as Welsh songstress Duffy is, why wear such a black jumpsuit of all things to possibly wear? With
black
pumps? Color? The red nails aren't enough.