Chloe collaborated with Opening Ceremony for a shoe line, and she wear these multi buckle wedge booties.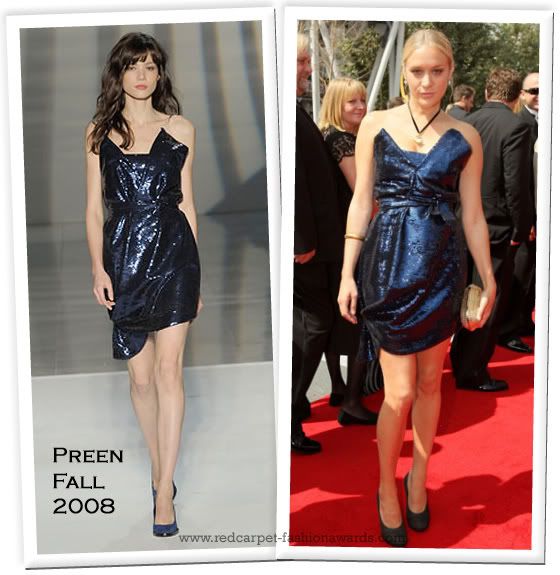 I love Chloe in this sparkly punchy little number, but I hate her shoes.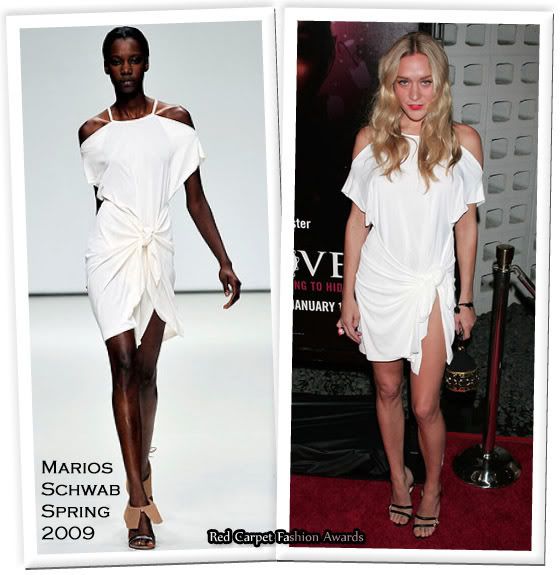 I like this look, but I'm not wowed. I love the sexy draping.
this is how you do a short style on the red carpet at the Costume Institute Gala.
This short sassy Proenza Schouler dress shows off her personality.
Her full skirted embroidered lace teal has a high neckline and long sleeves. I just love that purple hemline.
Proenza Schouler shoes and clutch complete this fabulous look.
Chloe wore a Valentino Fall 2010 beaded tiered dress with long sleeves.
I'm glad she wore this dress without the runway jacket, because for some reason I assumed this was a sleeveless dress.
Chloe's look was typically paired with ankle boots. Her nude pair were from the Valentino Spring 2010 Couture collection. Red lips and a taupe satin clutch completed the look.

I love the runway look with the gorgeous ruffled leather bolero better.
Chloe wears a Versus safety-pin dress from the Spring 2010 collection designed by Christopher Kane.
The LBD is accented with coloured safety pins on the shoulders and the skirt.
I loved seeing the return of the iconic safety pins. It's a brilliant nod to the infamous safety pin dress worn by Liz Hurley.
Like the runway, Chloe also carried the Versus shoulder bag which is also covered with multi-coloured safety pins.Is anyone else wishing she'd gone full on matchy matchy and paired her dress and bag with the Versus safety pin sandals?
I'm very indifferent when it comes to Chloe Sevigny.
I know many of you love her style, but my affections changed look by look.
This is the very definition of downtown urban-chic.
We often see her wearing Proenza Schouler and that's because it's a match made in fashion heaven.
The actress wore the blue and green mini top and skirt from Proenza Schouler's Fall 2010 collection.
I hate her black ankle socks and peep-toe shoes. I will never like them.

The look, however, remains effortless. She threw this on.
I much prefer Chloe's modified look with the print all over.
Chloe Sevigny would've been the most worried about getting her rose Valentino sleeveless gown wet as it would've deflated those beautiful ruffles.
But she was lucky to have a someone to help shield her dress from the rain.
Buccellati jewels complete the look. This is my favorite Chloe Sevigny look EVER.

I love this black Christian Lacroix Fall 2009 Couture embellished dress covered with a tulle overlay. It is so dramatic.
I'm all about the glamor on the red carpet as you know, but I can fully appreciate Chloe Sevigny's bed hair and "I just threw this on" style.
With touch of pink to her lips and thick black tights the blonde actress wore a Proenza Schouler Pre-Fall 2010 dress with embroidered details which gave it plenty of texture.
I just love the neckline on this dress which she paired with Proenza Schouler wedged booties, a wrap belt, and a Proenza Schouler croc PS1 clutch. However part of me wishes her ditched the tights and wore the runway shoes.
I love her in this Christian Dior Spring 2010 chiffon print dress with flutter sleeves.
Sometimes I think Chloe tries a little too hard to be cool all the time, so I love is that she doesn't over accessorize the look nor wear a leather jacket with it.
I'm not one who get carried away with her "style icon" tag, I just judge her look by look and this Isaac Mizrahi Resort 2010 one-shoulder polka dot gown I love.
I also love the fact that it's not an obvious choice.
I've never been one to go gaga over Chloe Sevigny, but I absolutely LOVE her in this Miu Miu Spring 2010 look.
It's something only the likes of Chloe and Zooey Deschanel could pull off without looking like a grown woman dressing childishly.
Her crystal accented turtle neck top and piquet dog print skirt is so playful and dainty, plus I love her neutral accessories which complement her dress well.
Chloe Sevigny just can't get enough of Chloé's Spring 2009 scalloped shorts.
She owns them in many shades including camel, cream and now olive green.
Her shorts were teamed with a pink chiffon blouse and her favorite Chloé wedges which she often pairs with her shorts. Chloe shows just how versatile scalloped shorts can be.
I am in love with this look, even to though to the less fashion forward, it looks ridiculous. I love her Mary Poppins straw hat, her lipstick which adds attitude and her lighter colored version of the runway suit. She completes her look with multi-strapped suede wedges.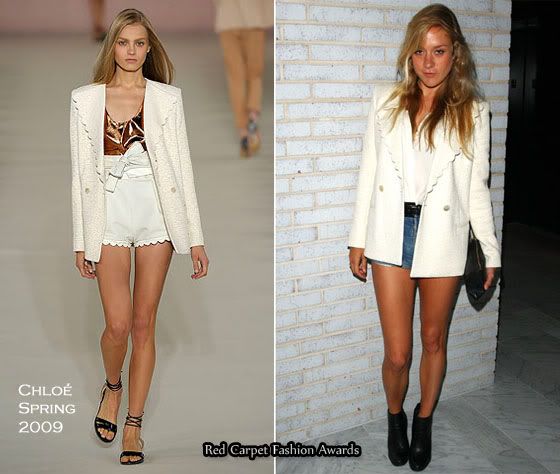 Chloe added her own touch with cut off short denim shorts, loose hair and ankle boots. I wish she wore the runway version!
Chloe wears a head-to-toe Chloe Spring 2009 collection look of a navy pant suit under a white blazer with scalloped edged lapels.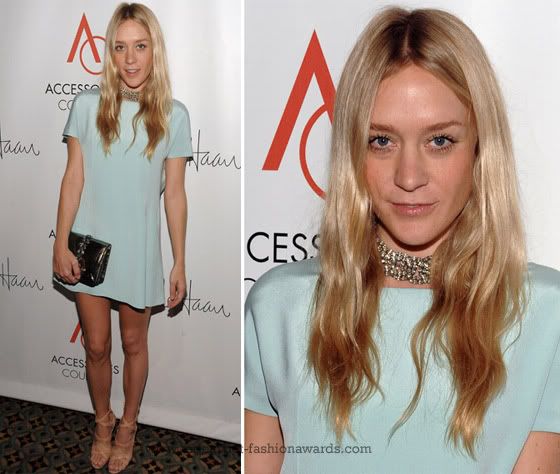 The actress wore a seafoam-green tunic, a sparkling choker, crocodile clutch and strappy sandals, all from Balenciaga.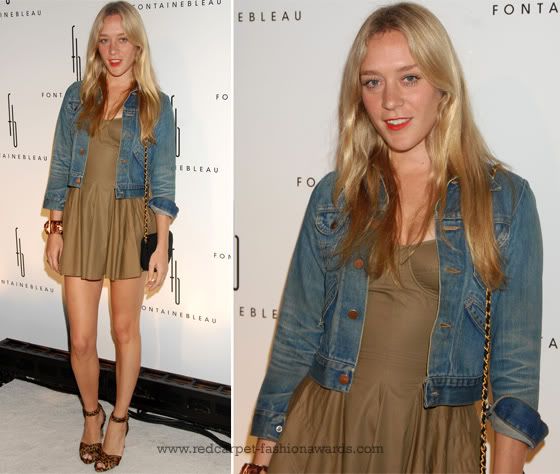 Chloe Sevigny's laid back style is in full effect here. I do like her khaki very mini vintage Alaia
dress, but I am less enthused with her Wrangler denim jacket.
Her animal print Ralph Lauren ankle-wrap heels, are the perfect finishing touch.
I am in love with this look head to toe! Her look consisted of a sheer berry blouse with a gold trim on the high neckline. Her orange mini skirt was embellished with a silver and berry sequins to compliment the blouse. Her animal print chunky bangles are also from the collection.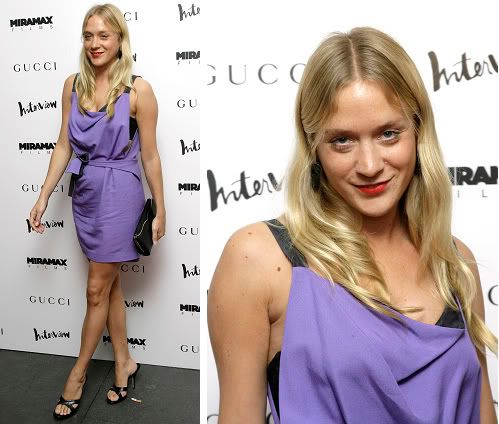 Chloe usually doesn't go for Narciso Rodriguez, so her wearing this sweet lavender dress from his Spring 2008 collection was a pleasant surprise.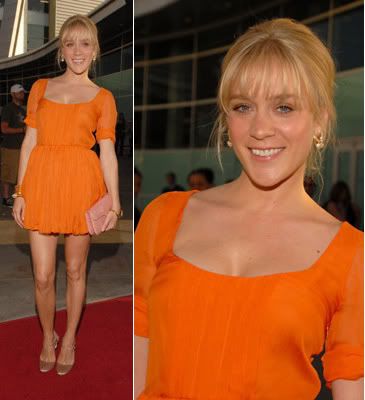 I remember that this is one of the first pictures I ever saw of Chloe Sevigny. I still don't think her resume matches her fame, but I can appreciate a fashionista here and there. I like this juicy Prada dress and just everything head-to-toe.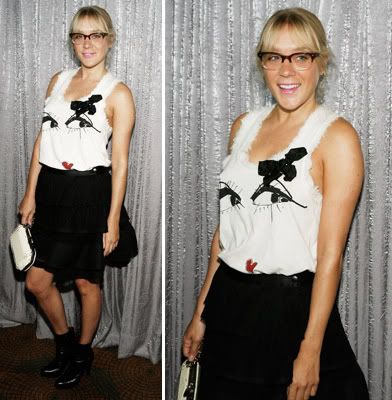 I love this look only because it is Chloe expressing her personal style. I also like her cheeky top.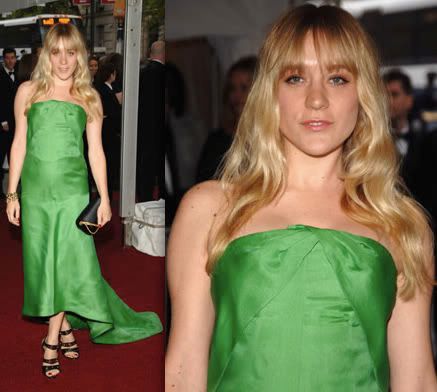 This Balenciaga dress is just ok. I know Chloe wanted a simple look, and wanted the luster of the green silk to speak for itself, but I expect something unpredictable from Chloe and this doesn't cut it.
I love this bubblegum pink fun dress! Chloe likes to have fun with fashion, and this color choice sure made her stand out. It may be too bold or girlish for some, but it works for me. I even like her necklace choice, but find her shoe choice bland.
I love her balloon sleeved white blouse with black shorts and a scorpion gold belt by Azzedine Alaia. This look is fun and fresh and classic all at once (2007).
Chloe in 2007 pairing a girlish striped dress with a motorcycle jacket and lace up boots for a girl-meets-badass guy look.
This is something a moxie fashionista would wear- a sheer Chloe dress (from the Fall 2007 collection) with stunning embroidery for a night out.
Chloe looks like she stepped out of 1987 in this 80's moon print dress.
Chloe is known for her kooky boyish style, as shown here in 2007.
I am in love with Chloe's dress. I beading on the bodice and puffed hem is beautiful and sexy. But where's a pop of color? Chloe poses here in 2007.
In a dramatic ruffled and pleated fan dress in 2005.
Chloe channels Marylin Monroe in 2002.
Chloe wears a cute and playful Tara Subkoff
dress.
High-waisted short-shorts are this summer's hottest article of clothing. Because the silhouette shortens the torso, balance your proportions by pairing them with a high-collared top like Chloe Sevigny.

Chloe Sevigny looks great in this pretty floral Emanuel Ungaro dress. I even forgive her black tights and shoes.