Dressed as a flapper, Marion Cotillard walks on the set of Woody Allen's latest movie, "Midnight in Paris", shooting on location in the French capital. French first lady Carla Bruni-Sarkozy is set to make a guest appearance in the movie.
Owen Wilson and Marion Cotillard on set filming scenes for "Midnight in Paris", the new film by Woody Allen. Shooting took place in Paris on the river Seine. Obviously, this is a period film, set in the 1920's.
Here is a cute chic look from Marion. Yes, occasionally I like her casual looks, and this is one of them. I love her cream blazer. It reminds me of the cream I put in my coffee.
This is one of the few of Marion Cotillard's causal looks that I like. I usually don't think she's too chic off the red carpet, but here, I like her use of a polka dot blue tee with a light blue star sweater with jeans and a red leather Dior bag.
A cute look- creamy pink and red.
Marion wears an airy Nina Ricci silk dress with stunning diamond jewelry, including a signature hanging necklace.
This pretty strapless gown doesn't look like a Dolce & Gabbana creation though. This early Marion Cotillard look is from 2007.
I love Marion here, in 2007, for wearing a fairy, airy swift look of a pink silk almost caftan like dress with strappy sandal-like heels.
I am in love with Marion's look from 2006. This strapless lace tulle overlay bubble dress is so beautiful.
This is a look I can relate to and appreciate. Marion is relaxed arrived at LAX airport in a sleek fedora, navy blazer over a beaded horse print tee and a cute tiered skirt that looks like she got it at Forever 21. She wore beige leather sandals and a white Dior shoulder bag to finish off her casual look.
She doesn`t need a red carpet to get glam! The French actress is daytime chic in a scarlet halter dress and gold glittered Christian Louboutin heels while out in Cannes.


Marion wore a Christian Dior Fall 2009 Couture nude dress with a lace embellished overlay and Chopard jewels.
The dress had been modified from the runway, which was in my opinion pretty burlesque and gross. I much prefer Marion's less Dita von Teese version here.

I am in love with this look head to toe. I would wear this!
The best actress nominee for La Vie en Rose is magical in a pale gray, strapless Nina Ricci gown and Chopard diamonds.


Here is Marion in 2008
at the Cesar Film Awards in France in a pink Gaultier Paris dress.
I love how feminine and girly this look is.
Kate Winslet would've never taken to the red carpet alongside the dashing Leonardo looking this bad. If anything she raised her game.
This Thakoon Pre-Fall 2010 print dress doesn't work for me on the red carpet for a major film premiere. It just doesn't belong.
Yes complaints are made that she only wears Dior, but I would've preferred a Dior re-run to this.
It just feels like a lazy effort.
It's sleek, clean, unfussy, modern and frankly unexpected.
It's not Dior, it's not cute and it appeals more to the edgier 'pre-Dior' style so many of you wish she'd return to.
I love her texture of her shimmering L'Wren Scott Fall 2009 sheath dress. It's a classic L'Wren Scott style which flatters every figure.
Dior heels, a slick bun and flawless make-up complete the look.
Marion looks absolutely beautiful in her Christian Dior Spring 2010 gown, which has been modified from the runway- which I am so thankful for. Marion's version is far more fabulous.
The French actress Marion Cotillard wore a silver sequin Christian Dior Couture gown to the Costume Institute Gala.
As much as I love Marion, I didn't love this gown. I wish it has been strapless, as I really dislike the long sleeves.
I'm also not particularly fond of her hairstyle either, as I feel like I've seen it many times before.
I'm putting it here because it is likable, but not for me.

Marion Cotillard was of course at the show looking divine wearing a lemon Christian Dior Pre-Fall 2010 dress which had a pink lace trim. I just love the knotted detail at the hem.
I love this look had to toe.
As much as I love Marion Cotillard in Dior, it was refreshing to see her supporting other French designer on the red carpet.
The French actress wore a gorgeous Lefranc Ferrant Fall 2010 jumpsuit.
Her metallic sequined jumpsuit was a perfect choice for Marion to show us how versatile she is on the red carpet.
I love hairstyle.
It's so elegant, so Parisian, so chic, and so delightful on Marion. I don't think many could pull off this hairstyle.
Her look was paired with Jimmy Choo accessories including black Jimmy Choo 'Marble' booties, which look like the Quinze booties without the embellishments, and a black Jimmy Choo Candy clutch.
Très chic.


I think Marion Cotillard has a love for mermaids in her heart and I love her for it. And you know what Marion, I do too!


The stunning French actress wowed in a Christian Dior Spring 2010 two tone bustier gown, with gold embellishments fanning out over the skirt.
I love the pink clutch, but not so crazy about those necklaces.
There would've been no prizes for guessing that Marion Cotillard would wear Christian Dior. Style.com even predicted that exact dress she would wear.
Her petrol green satin asymmetrical Spring 2010 dress has a thigh-high split with a black négligée peeping through. Jimmy Choo Drake sandals and Chopard jewels complete her look.
I LOVED her in this Elie Saab Fall 2009 Couture draped one shoulder white mini dress.
I adore the embellishment plus the floral appliqué detail at the hem of the dress. Her dress was paired with the runway heels and Chopard jewels. The only thing I don't like is her choice of heels. I wish she chose some color!

The French actress look chic wearing an Elie Saab Fall 2009 taupe sheath dress, paired with burgundy pumps. I love the simple elegance of her gently curled hair.
Marion wore a flattering silver lurex Christian Dior dress with fabulous ruby pumps and her signature watch. I can't help but wish she tamed her perm a little bit more.
The French actress looked stunning in a pink Christian Dior Resort 2010 dress.
I absolutely LOVE her choice of sparkling burgundy Dior wedges, and I am drooling over her pink dress. The color is absolutely perfect on her.

I love the not too revealing plunge which she decorates with multiple silver necklaces, and the way the tie at the front of the dress nips in her waist to give Marion's tiny frame a gorgeous shape.
Glamorous back-combed hair, smoky eyes, neutral lips, and a python clutch added the perfect finishing touches. While I wish she would have chosen the purple version, I am content the same.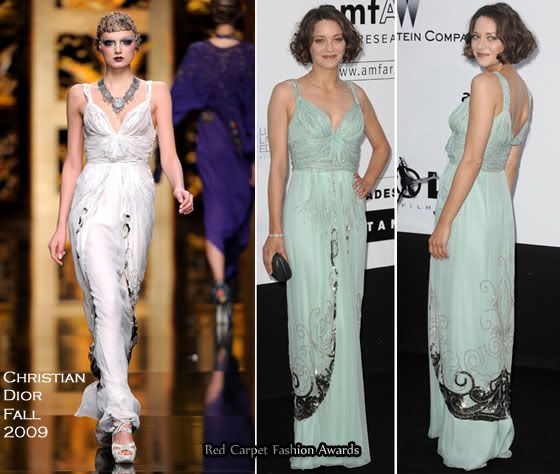 Her pale blue Christian Dior Fall 2009 embroidered gown is gorgeous, as it brightens up her complexion.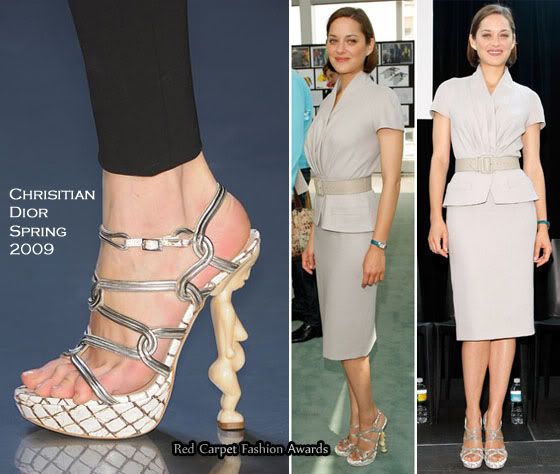 Marion wore this chic classic dove grey Christian Dior skirt suit that I appreciate for its simplicity. Some may say it's boring, but Marion and I see it's longevity a versatility. The cap sleeved jacket was belted to clinch in her waist, and give her a flattering silhouette.
Her lady-like look was contrasted with a pair of Christian Dior Spring 2009 tribal heels, with a African fertility goddess figurine as the heel.
French actress Marion Cotillard wore a very summery lilac strapless Christian Dior dress which she paired with silver open-toe heels and a double buckle belt. She wore this rather casual look to a premier, which I think isn't right, but I like the look alone anyways.
She arrived wearing a stunning figure hugging multi-coloured mosaic patterned Elie Saab Fall 2009 day dress with a cowl-neck and padded shoulders.
She oozed that chic sophistication that just makes her the breath-taking star that she is.
Her hair was styled in a classic beehive updo, and she completed her look with silver Jimmy Choo satin peep-toes and a blue python clutch from the same Elie Saab Fall 2009 collection.
J'Adore.
I don't really like this look- starting with her slicked back hair. Yes, she's being creative with her neck-length hair, but I still think this quiff hairdo is not chic. I don't like the length of the dress either. I think it should be a bit higher- up to her knees. I love this red satin strapless Vivienne Westwood bustier pocketed dress, and I like her black Stella McCartney Fall 2009 embossed faux leather clutch and black peep-toes though!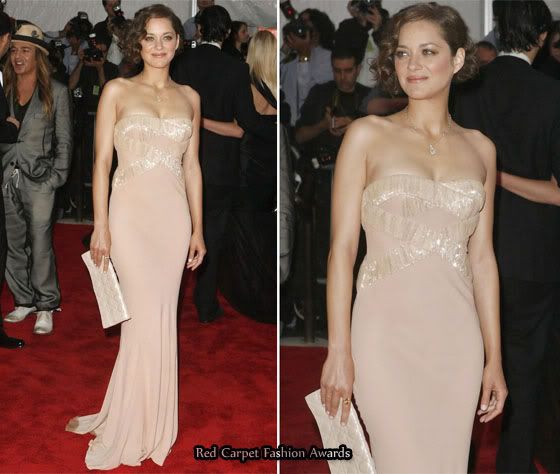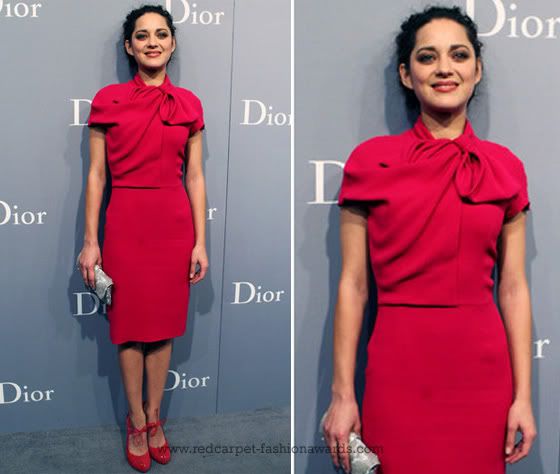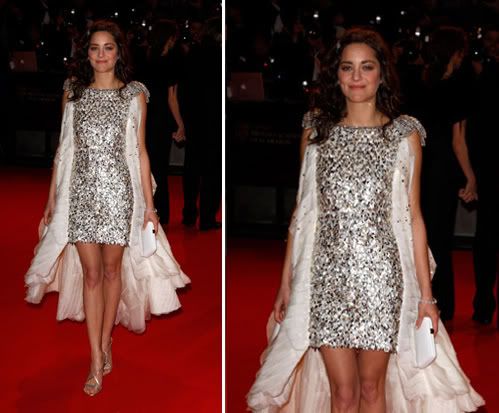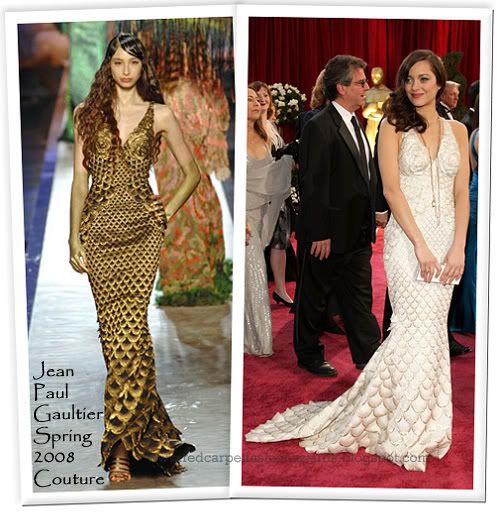 I love Marion Cotillard for dressing up as a mermaid in this Jean Paul Gaultier Spring 2008 Couture gown on the Oscar red carpet for me. I have always longed to see a mermaid and Marion fulfilled my wishes. I am in awe.