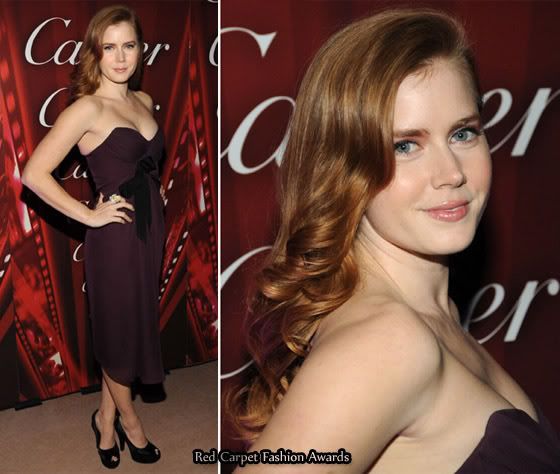 Amy's look is understated and subtle here, but that is what makes her perfectly put together elegant look so classy. Amy's hair is glorious in tumbling waves, her dress fits perfectly everywhere and gives her the proper lift, and her velvet sash is an elegant detail. Heavy black pumps.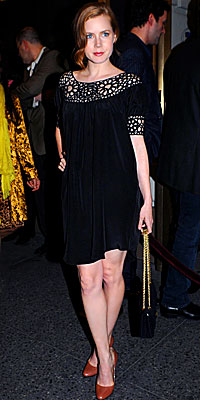 Amy Adams loves Milla Jovovich's vintage-inspired Jovovich-Hawk line and here Amy wears a bibbed smock dress with russet leather pumps and a gold chain bag.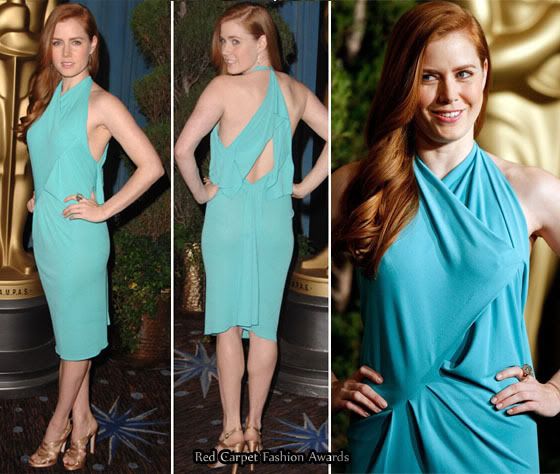 Amy is gorgeous in her RM by Roland Mouret turquoise silk halterneck dress. I love the draping on the dress and the color on Amy. This look is stunning everything from her gorgeously styled hair, barely-there make up, cute butt to her stunning blush satin heels.
Amy looks chic in her RM by Roland Mouret dress. This silver dress has an asymmetrical hem, and an overshot shoulder, which she opted to fold down. She completed her look with black peep-toes, and a satin clutch. I wish she chose stunning or complementing jewels as she usually does, but here in the jewelry department she fails. But the look didn't need bling anyway.
Amy is classic in her stunning Giambattista Valli tulle overlay dress. This is class.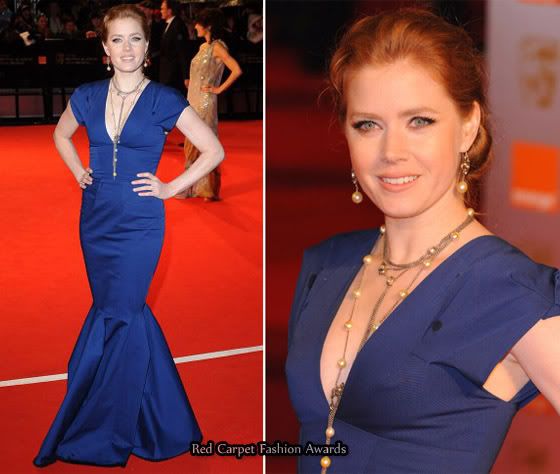 This RM by Roland Mouret mermaid gown is gorgeous. Not to over the top, very understated, very elegant. Wearing a necklace was a risk, but Amy pulls it off with the perfect gold tinted chains of pearls. As usual Amy makes a quite impact on the red carpet.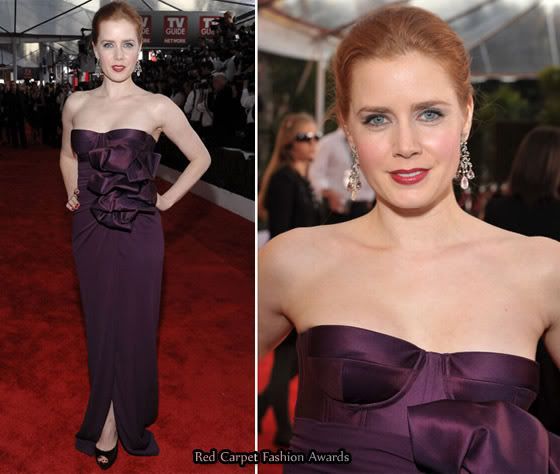 Amy wears a gorgeous Giambattista Valli gown, which had a corseted bodice, and gathered detailing on the front. This grape color is a refreshing color for her. Her make-up doesn't quite work, but anywho, she completes her look with a classic updo, black peep toes, and glittering H. Stern jewels.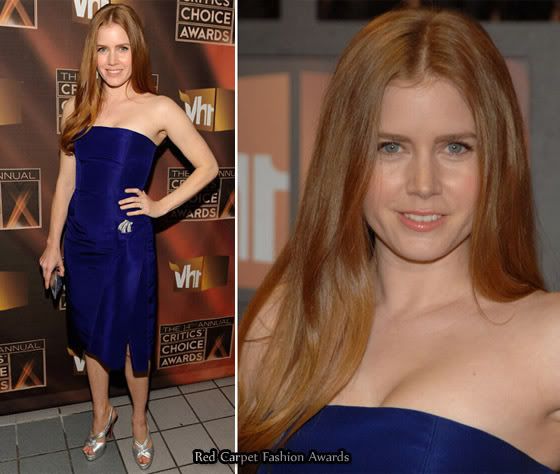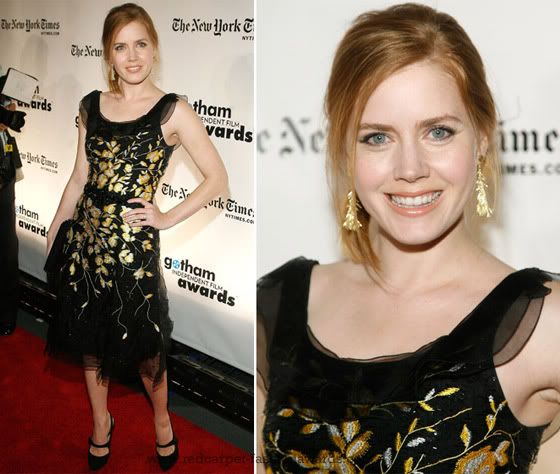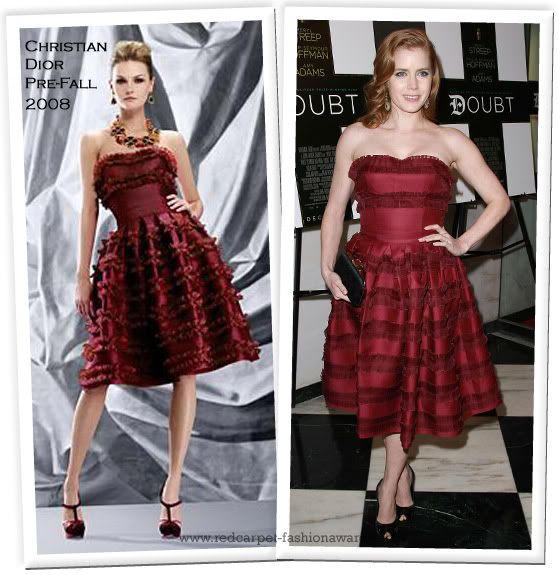 Amy's strapless Dior dress has ruffles on the bodice, and also on her skirt, which has some volume. The actress completed her look with waves in her red hair, a black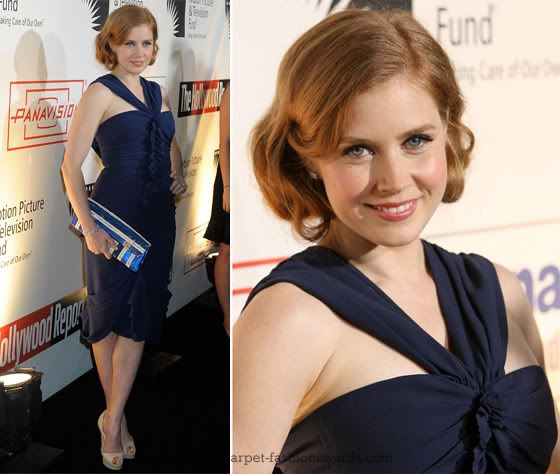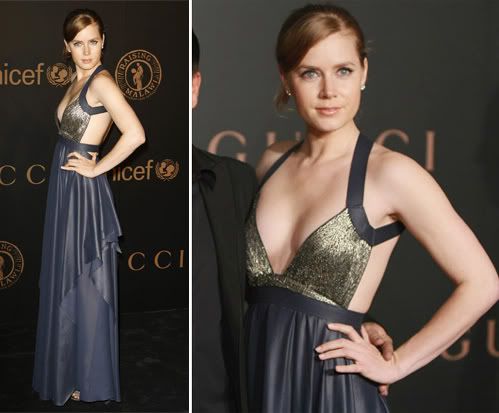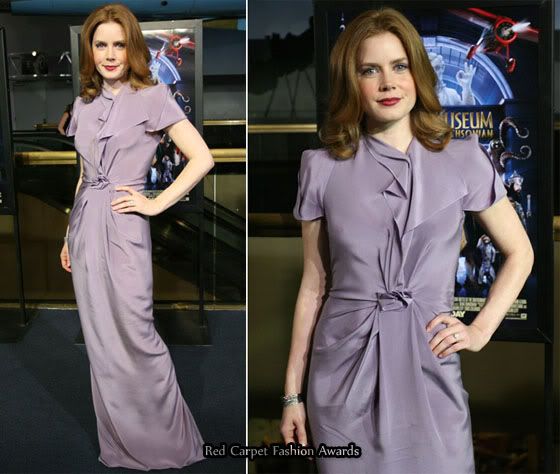 lAmy Adams looked demure in a delicate lilac-hued RM by Roland Mouret dress. I love the pin-tuck detailing, and the pale lilac color against her porcelain skin.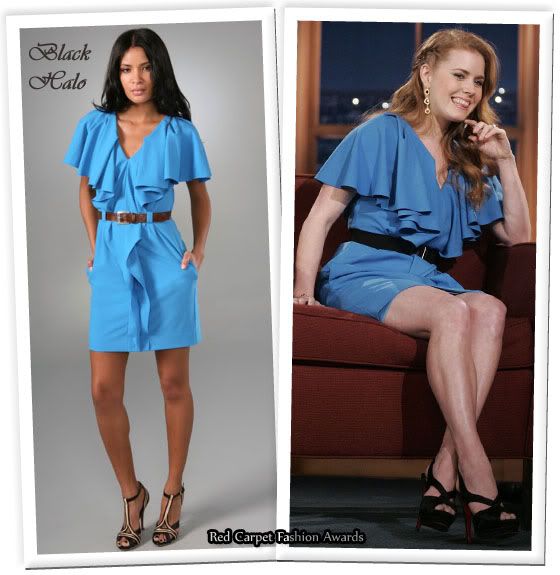 The feminine dress is so adorable. I love how the flowy ruffle layer from the shoulders cascades down the skirt, and the leather belt that nips in the waist. Amy opted for a black belt to match her Christian Louboutin double platform heels.
Amy Adams glows in her Carolina Herrera silk faille dress with a brooch from Herrera's personal collection and Tiffany & Co. jewels. I love her clutch and her heels. The color match is stunning.
Amy Adams is an adorably pregnant Lady-In-Red (LIR) in a gorgeous, flattering Carolina Herrera ruffled silk dress with stunning bronze-red peep-toe heels.