Out wearing a very cute colorful Julian J Smith Spring 2010 dress with her curly bob, and blue suede YSL Trib Two heels.
Even though Victoria looks like some female villain in some children's movie, I like the idea of a long curve-hugging tailored gown with dramatic shoulder embellishment.
This is chic and something Anna Wintour would wear.
I love the dress, but I wish it was worn 0n a more curvy woman. I love the purple velvet/satin pumps.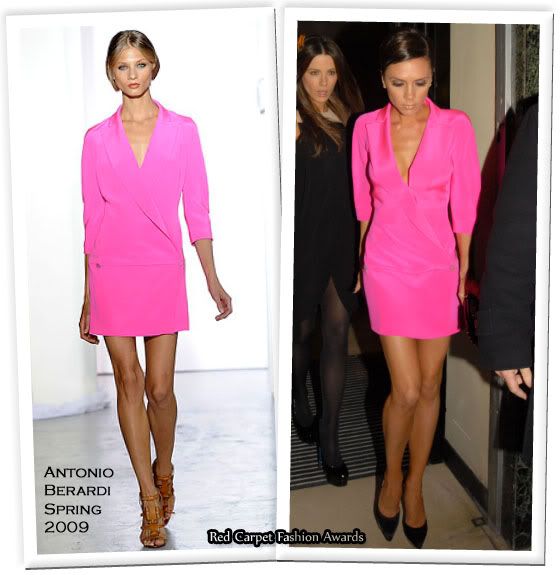 Carrying a black Chanel clutch (hidden) with black pointy pumps.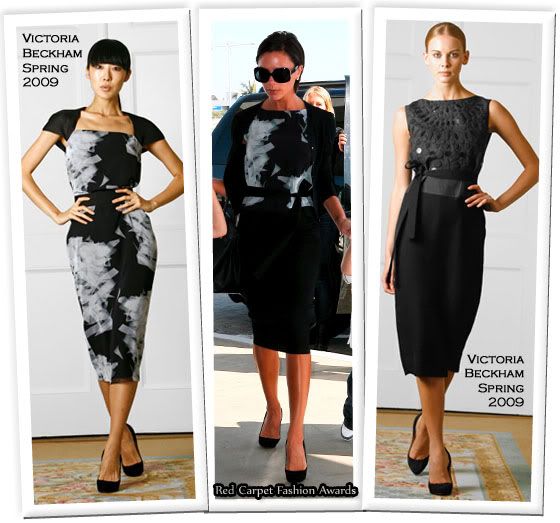 Victoria looks like some villain in a children's movie, but I enjoy that she infused some positive attitude into the dress to make it come alive. I wish this gown was in a COLOR with a different colored belt in the center to make it more animated. The tailoring and fit in impressive.
I love this outfit! The ethnic statement bangles, the silk duponi taffeta radiant dress, the belt and the ankle wrap sandals. Fabulous.
I wish she wore different colored pumps.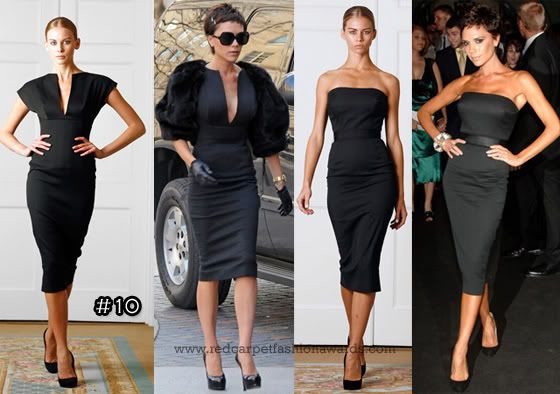 She wears her own designs well.
Chic, darling.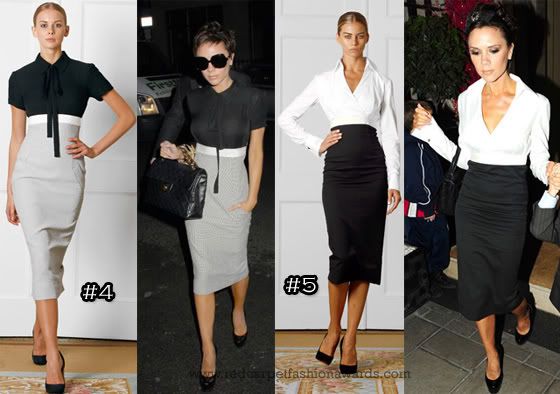 She's a lady! Oh woah she's a lady...
I love strange silhouettes, just like this leafy circular design. I wish VB kept the center embellishments but she wanted to make this sexier.
LOVELY outfit darling.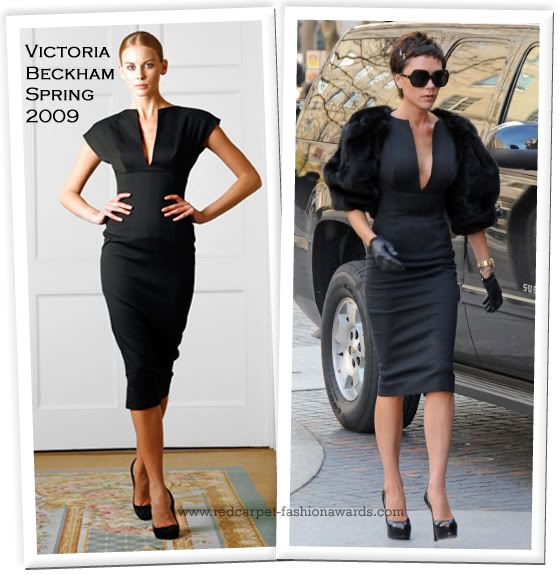 Sharp.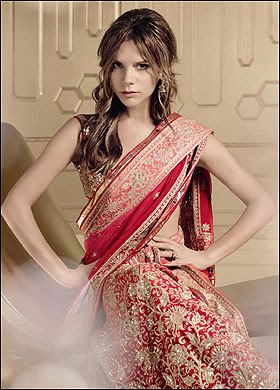 Victoria looks gorgeous here. She is on the cover of India's Vogue.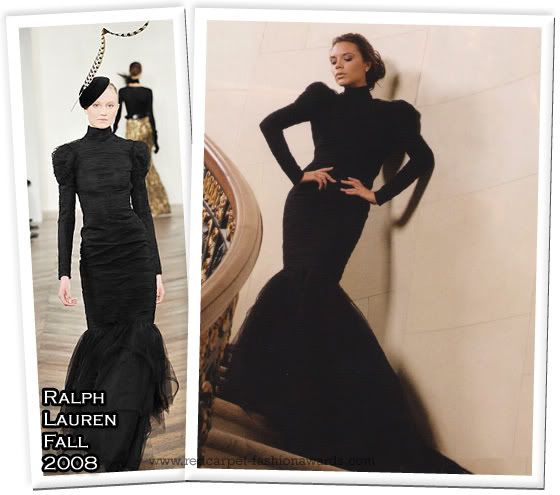 Victoria Beckham appears on the cover of Harper's Bazaar Indonesia October 2008 and looks stunning here.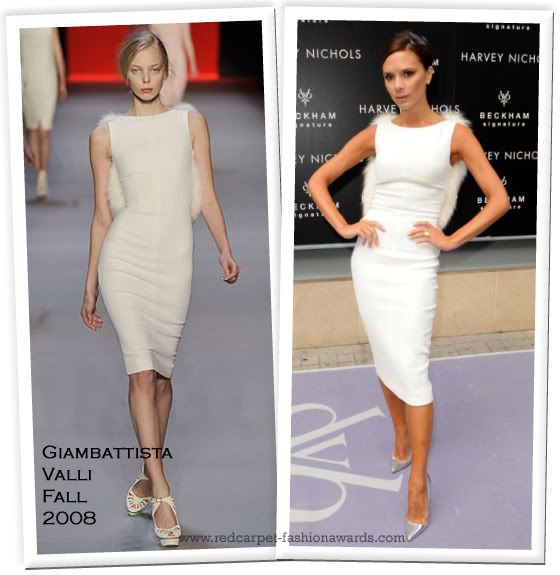 Victoria feels the joys of Fall 2008 wearing a white tailored Giambattista Valli Fall 2008 dress. The Spice Girl was a vision in white, in her angelic sleeveless sheath dress, which she teamed with a pair of sequined silver Christian Louboutin heels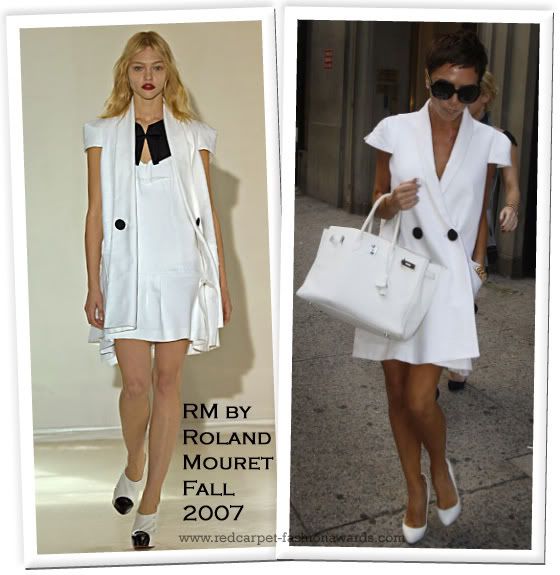 She teamed her RM by Roland Mouret coat/dress with a matching white Birkin and white heels.The white cotton trapeze coat is tailored and chic with black fabric backed buttons.
Wearing a very cute red Marc by Marc Jacobs heart/leaf pinafore dress. Mrs. Matchy Matchy Beckham matched her Christian Louboutin purple croc "Rolandos" to her purple ostrich Hermes Birkin. She completed her look with trademark oversized shades and pout.
I love this orange Jil Sander Spring 2008 orange sherbet cape dress with crossy strappy Jimmy Choo heels.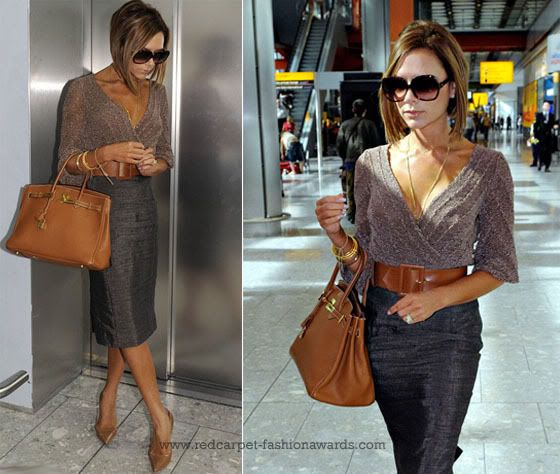 In a chic Graeme Black skirt, V-neck sweater and oversized shades from her dVb line and a Hermes bag.
This one-shouldered Marc Jacobs mini dress on the other hand is stunning. We have seen ruffles on many red carpets recently, but Marc Jacobs gives this dress a twist with heart-shaped ruffles. Her hair slicked back makes a nice change, and her foundation, this time is a close match the rest of her skin-tone.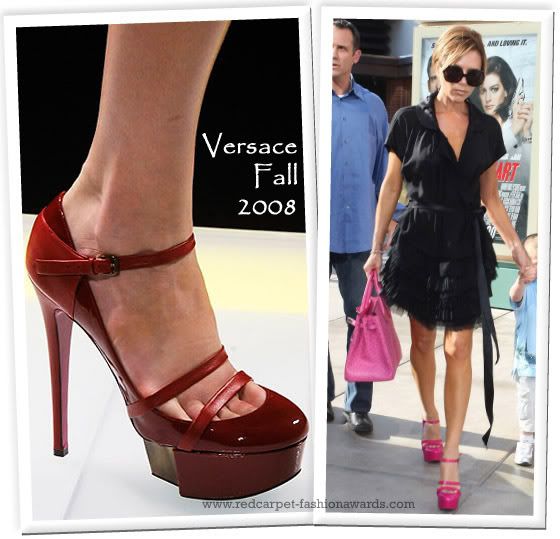 Beckham added color to her Marc Jacobs dress with Versace shoes and an Hermes Birkin bag. She finished the look with shades from her own DVB line.
She was wearing this 60s inspired Marc Jacobs Corded tweed shift dress.
Along with her dress she was carrying a Miu Miu Harlequin patchwork leather tote.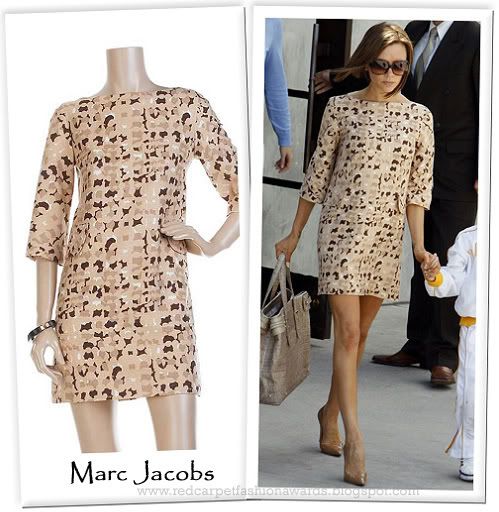 She was wearing a 60s-style Marc Jacobs Dabble print tunic dress teamed with tan stilettos, a croc-skinned metallic Giorgio Armani tote and of course the obligatory oversized sunglasses. I am a huge fan of Victoria's style and I know many of you hate her matchy style, but I love the whole neutral theme she has going on here.
Beckham was ever-Posh in a pencil skirt and Marc Jacobs top worn with a Chanel scarf, Hermes Birkin bag and Louboutin heels.
She wore this stunning knee length sleeveless Marc Jacobs Abstract floral print dress with maroon Christian Louboutin "Rolandos" and a red Hermes Birkin. The dress has a belt at waist, and a high-cut neckline.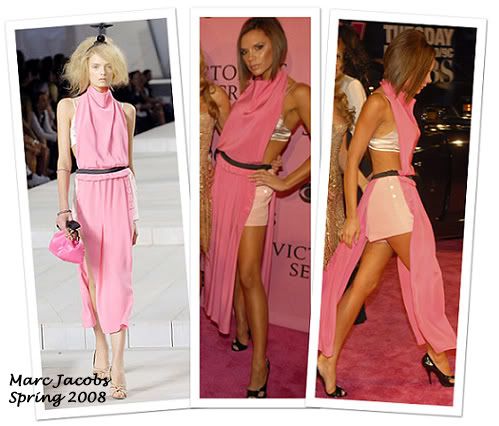 She wore this Marc Jacobs Lingerie evening dress. The dress is backless with button fastenings on back, a high cowl neck a ruffle trim waist with a black accent. When I first saw the dress on Victoria, I assumed the bra was part of the dress, but Victoria wore it to cover her enhanced modesty.
Beckham completed her RM by Roland Mouret with a Prada fur shrug, Louboutin pumps and an Hermes bag.
In RM by Roland Mouret dress with pointy Balcenciaga pumps and a matching pink Hermes bag.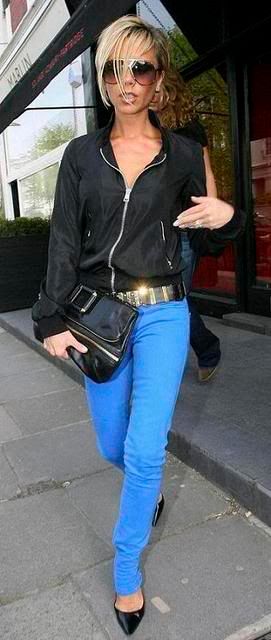 In a stunning Roberto Cavalli Fall 2006 gown.
Spring 2006 Roberto Cavalli.
In an absolutely stunning Roberto Cavalli gown!
In Alaia.
This time she wore a winter white belted Maison Martin Margiela Fall 2009 wool coat with split sleeves. It appears that all she's wearing with her burgundy Christian Louboutin heels, white coat and Hermes "Himalayan" Crocodile Birkin.
Victoria thankfully does not wear tights with her Burberry Prorsum Spring 2010 trench coat which could almost pass off as a dress. I've never really loved trench coats, but this modern twist on the classic trench would see me considering buying my first next spring. Her coat is gorgeous, but check out her footwear. They not Trib Two's nor Louboutin's - shock. They are in fact Alaia's.
I love Victoria's Victoria Beckham peplum dress that she paired with her favorite YSL dove Tribute Two pumps.
Victoria can't get enough of her Yves Saint Laurent Tribute pumps.