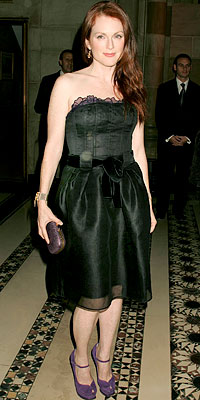 I applaud Julianne Moore for trying the taboo color combo of green with purple in her deep forest green strapless bustier bodice Yves Saint Laurent dress with purple suede platform heels and a dusty purple clutch.
I love Julianne in this hot orange Jil Sander dress.
Julianne Moore stole from Michelle Obama's closet wearing this printed Thakoon Spring 2009 sheath dress but with beige suede platform heels.
In Yves Saint Laurent criss cross heels.
I love that Julianne is trying out a new color on her, but I wish she belted or tucked in her dress to make it fit better and more flattering.
In a surprisingly elegant Proenza Schouler black fur-trimmed sleeveless dress.
Hey Julianne, I love you too! Especially in this Versace gown!
I dare someone to deny how gorgeous and perfect Julianne Moore is in her Tom Ford emerald gown and jewels.
In a taffeta raspberry sheen coat dress with black pumps in 1998.
So fab here in 1996 in a metallic split clinging sheath dress with shining silver peep toes.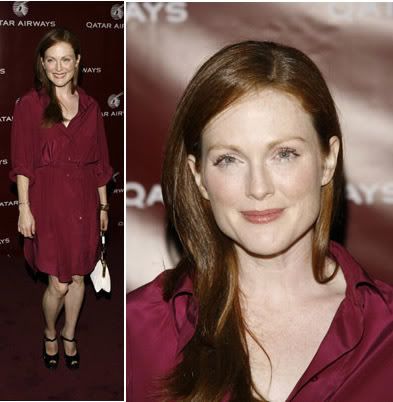 I love this oversize Yves Saint Laurent shirtdress on Julianne Moore. Raspberry looks great on her.
I usually don't like Julianne Moore in Yves Saint Laurent, one of her favorite brands, because I feel the brand's simplicity, masculinity and structure don't quite fit Julianne Moore's whimsical side. I accept her here because her gorgeous collar necklace and satin two-tone ankle strap Chanel heels center this strapless Spring 2008 grey dress.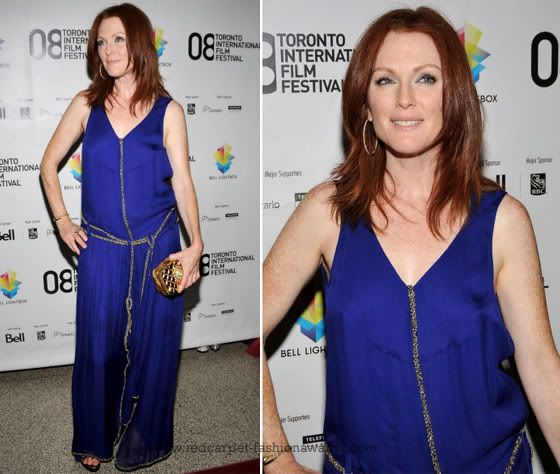 Julianne wears a bold cobalt Yves Saint Laurent gown with gold trimming. Her gold hoop earrings hit the spot.
I am flying because Julianne Moore chose one of my favorite stunning Christian Lacroix Couture gowns. It has front-on black and yellow feathered detail with a gorgeously draped skirt. She accessorized with jewelry from Chopard.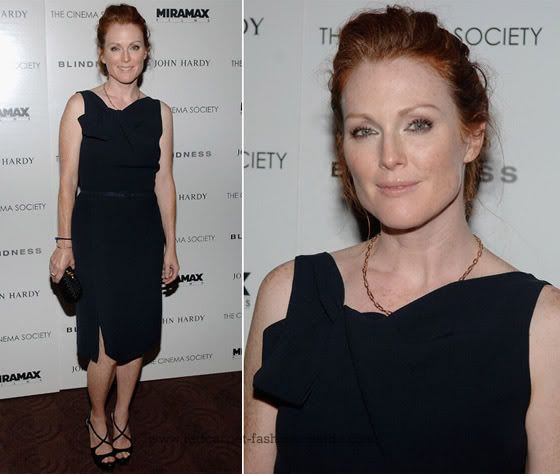 I wanted to yawn but I couldn't because she just looks chic here in a tailored crepe navy bow sheath Oscar de la Renta dress with her go-to Yves Saint Laurent criss cross heels. She wears an unneeded Cartier necklace.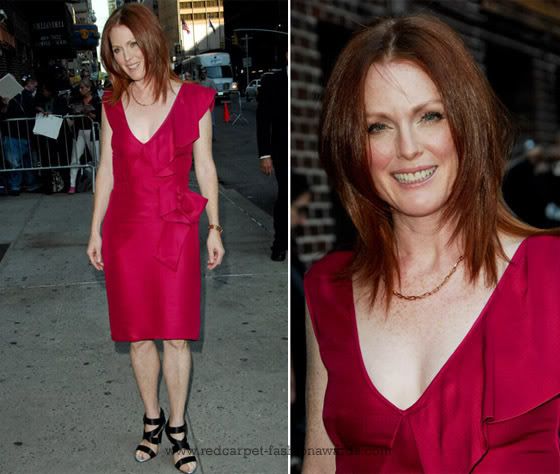 Julianne Moore is gorgeous in her fuchsia Valentino ruffled dress and Cartier jewelry.
Her Roger Vivier sandals just aren't cutting it at all though.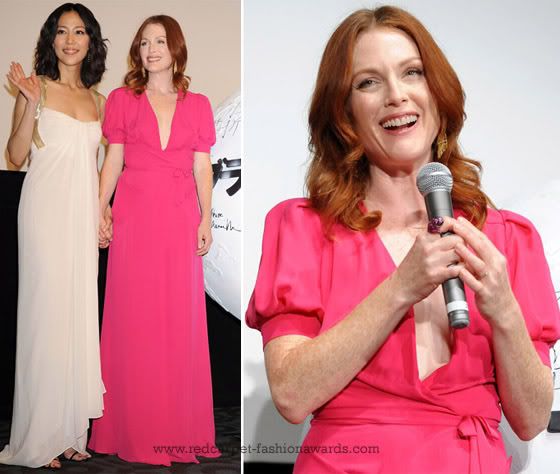 Julianne Moore wore this hot pink Balenciaga pocketed wrap dress.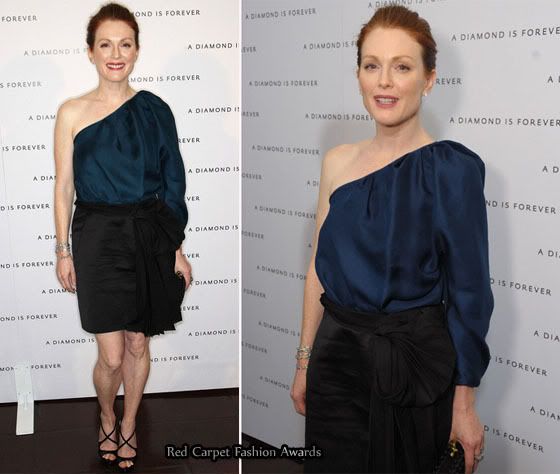 Julianne Moore should wear more Lanvin. Her Lanvin Spring 2009 ensemble consists of a blue asymmetrical blouse with a puffy sleeve, a black skirt tied at the waist into a bow and Yves Saint Laurent black criss cross heels. I just wish this look was a little more tailored, but other than that, I love this look.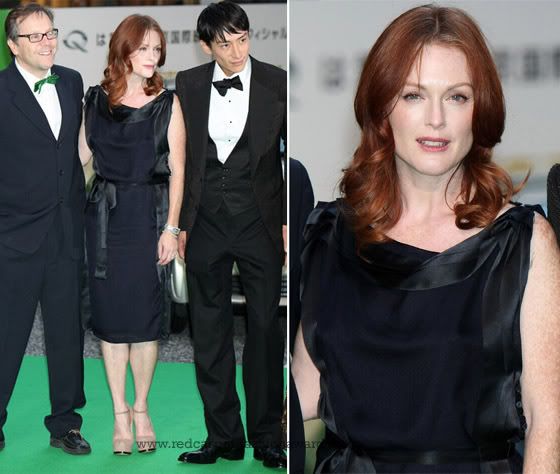 I was bored at first, but I appreciate the elegance of this silk navy sheath dress with a satin trim. I just can't warm up to her shoe choice.
I've said it before and I'll say it again, there's something about red heads and green that is so electrifying - case and point a drop-dead gorgeous Julianne Moore wearing an emerald green Tom Ford silk gown. The gown is sexy without being to overt. I love the knee-high split which is different, the bold red lips and her cute freckles and her perfect ankle strap gold metallic heels. She looks like a gorgeous Irish flag with her orange hair, pale skin and emerald gown.
The green goddess strikes again. Julianne Moore walked the red carpet wearing a Yve Saint Laurent Resort 2009 strapless dress, which she paired with a voluminous bolero. I have to say I love the look with and without the bolero.
Keeping it simple and on point in her Bottega Veneta Resort 2010 silk strapless gown that was a radiant as her naturally flamed colored hair. It's a very simple gown, but there is nothing wrong with that as Julianne's beauty shines through. She carries her trusty Bottega Veneta Impero black satin clutch.
There is nothing I hate more on Julianne Moore than the color black. Luckily, she limits her go-to color to just a jacket (phew). Her ethnic print wrap dress was paired with a black blazer trimmed with a white strip and a black satin gold-framed Tod's clutch to complete this unusually chic look.
Julianne Moore blows my brains in this gorgeous RM by Roland Mouret ripe peachy dress. She is not afraid of color, as she wore a beautiful coral dress with voluminous sleeves. She paired her ankle strap two-tone Chanel heels with a black Bottega Veneta Impero satin clutch.
I first hated this Lanvin two-tone bustier strapless dress because I hate black on Julianne, and I hate stripes on her too, but I slowly softened to this look because she just looks so great and confident.
I would love this more on Julianne Moore is she just wore the runway dress insted of modifying it.