Thandie rocks my world in this gorgeous Matthew Williamson Resort 2010 silk dress. Her look is almost a head-to-toe carbon copy of the runway look, but Thandie opted for a skinny gold studded belt instead of the wider runway belt, and she has a smaller bejeweled clutch. Nude cut-away ankle boots complete this stunning look.
I never liked this Clavin Klein Resort 2010 dress and I never will, but that still doesn't stop me from appreciating how awesome Thandie Newton looks here. She is just so great a putting a look together. The dress nude dress has embroidered detail through-out and a gathered detail on the hip. Her dress was paired with nude sandals, invisible make-up, a shimmering box clutch and a sleek updo.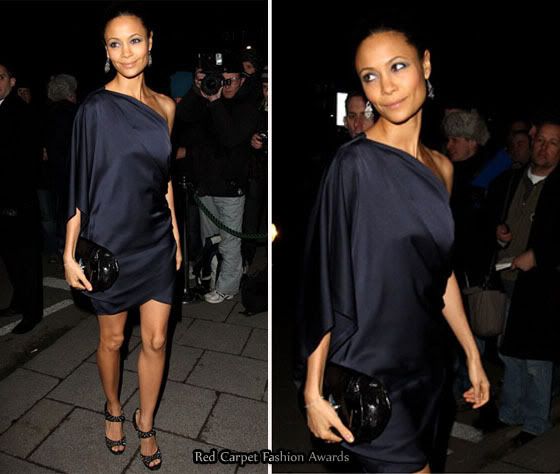 Thandie Newton knows how to combine grace, elegance and sexiness and here she does jus tthat in her navy asymmetrical silk Chanel Resort 2009 dress. Thandie keeps things on focus with a black patent clutch and subtly glittering sandals.
This is my favorite dress that I am dying to wear and Thandie Newton did not betray its gorgeousness. This stunning and delicate rose pink chiffon Blumarine Spring 2009 dress was presented as a halter, but Thaccessories, but she didn't need those to shine, her inner glow radiated for all to see.andie opted to wear it as an off-the-shoulder dress. Her exquisite look was completed with gold accessories, but she didn't need those to shine, her inner glow radiated for all to see.
Thandie Newton is a joyous rainbow in her Jonathan Saunders Spring 2009 floaty dress with a layered skirt. She wore her dress with gold strappy sandals, and added a touch of crimson to her lips.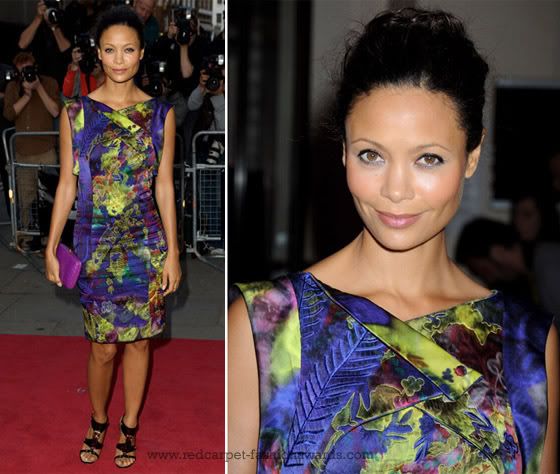 Thandie's style is fresh and fun, colorful and classy and she does not betray in this cool Erdem Fall 2008 stunning dress that is a piece of art. I love her Guiseppe Zanotti gladiator heels and purple clutch.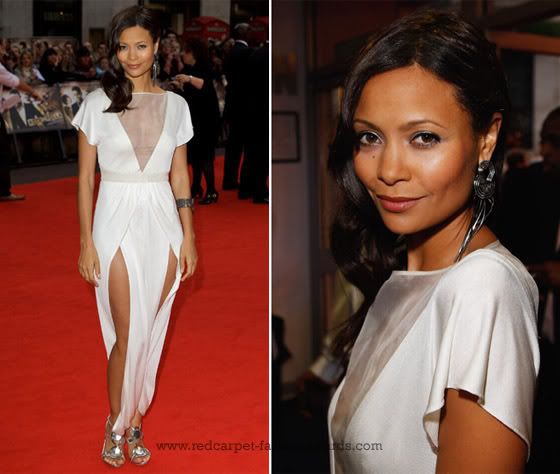 Thandie is stunning and sexy in her Egyptian-inspired Jasmine Di Milo gown with a sheer panel on the front, and slits on the bottom half, to show off her legs.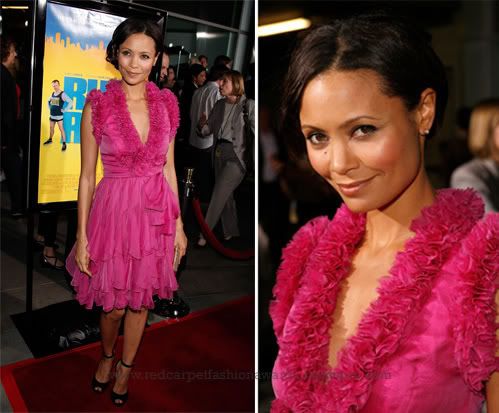 Thandie is stunning in this gorgeous hot pink Matthew Williamson ruffled layered dress.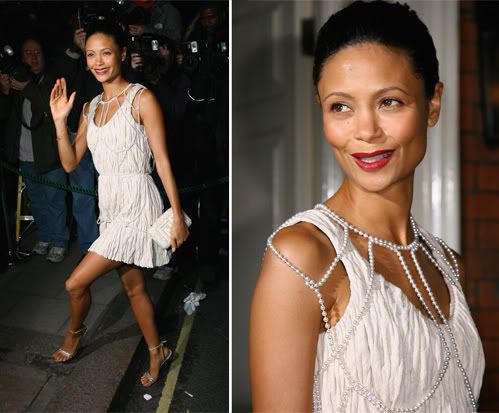 Thandie Newton is amazing in this stunning ivory Marios Schwab Spring 2008 pearl spiderweb concoction. Thandie is gorgeous and she is fabulously flaunting that fact. Her stunning 5 inch heels and white clutch complement this look.
Thandie is classy and sexy in this mysterious Alexander McQueen Spring 2008 gown with a stunning bright punk band belt and lace sleeve on her satuin gown.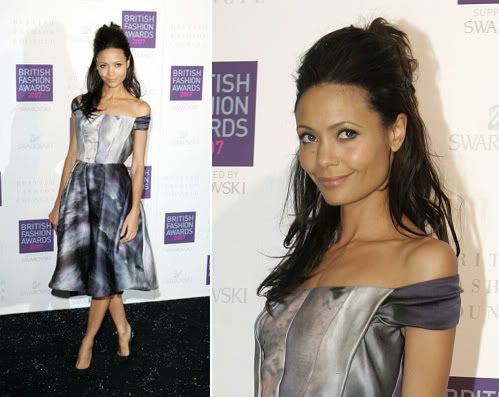 Thandie wears my favorite stunning Giles Spring 2009 silk printed dress. I am in love, but Tandie, baby, what is up with the hair?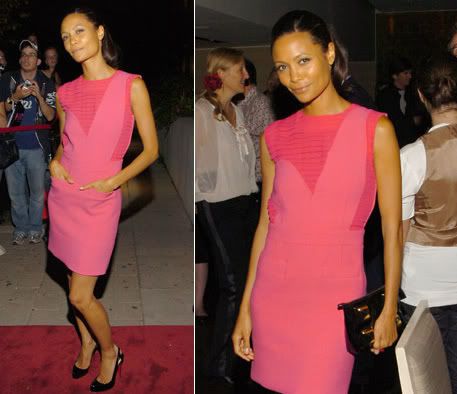 I like this bright pink Preen dress and I like it on Thandie Newton. This dress has energy to it and badassness to it that is hard come by with the color pink. Thandie keeps the focus on her dress with trusty black patent Louboutin black slingbacks, and a gold-zippered patent black clutch.
Thandie Newton walked the red carpet wearing a black and white strapless Prabal Gurung Spring 2010 brush painted rose print draped dress. I wish she wore more inspiring pumps. I love how her hair works with this dress.