She's like, "Dudes, I know, my Sachin and Babi Spring 2011 RTW draped skirt looks like a napkin is giving birth to my pelvis and maybe I shouldn't have worn a dress that triangulates my crotch to the premiere of a movie about having sex. I do love this look though, especially her Joie 'Johansson' lambskin leather jacket and Brian Atwood pumps.
Many of you have heard me complain about this via social media, but I may as well repeat myself here: If the plot of
Easy A
is (as the preview makes it seem) that a totally overlooked social outsider lies about losing her virginity and suddenly becomes Somebody, is it really very smart to cast Emma Stone? Because the thing is, Emma Stone is gorgeous. Severely pretty. Ergo, it's a tough sell that Emma Stone, looking like Emma Stone, would have made it through high school with people treating her like a freak who is radioactive -- kind of like how
She's All That
made Rachael Leigh Cook an outcast by,
gasp
, making her wear glasses. She's just too pretty. People would've been all up in her grill, and if she ignored them, they'd have done whatever the high-school equivalent is of dipping her braids in the inkwell.
Emma Stone is adorable in her blue leopard printed dress and Sergio Rossi "Cachet" pink peep toes, which make a charming combination.
Emma is sweet in this light light purple/pink Doo.Ri Spring 2010 dress that is practically washing her out, however I like this look nevertheless. She is wearing Christian Louboutin sparkly silver pumps. I love her
Melinda Maria baby mosaic earrings
.
Emma Stone has been in love with Stella McCartney for a long time, so it is no surprise she is wearing Stella's sweet blue 3D lace one shoulder dress. I am in love with her navy Casadei pumps.
I love this dress and I love Emma Stone so much that even though (as Fashion Critic pointed out) Emma is not working the dress and I am not crazy about the Stella McCartney grey suede heels, I think she looks great. Pull those shoulders back!
I do love with this feminine nude silk-satin sleeveless Stella McCartney dress which has soft pleats and delicate mesh panel. Unlike many, I think this looks dainty on her and does not conflict too horribly with Emma's lovely red head. Her
Melinda Maria Gwyneth stiletto earrings
are gorgeous.
Emma Stone wore a cute one-shoulder Stella McCartney Pre-Fall 2008 seafoam dress with pink pointy heels and gold complementing jewelry.
I love the multi-colors of Emma Stone's strapless Blumarine dress. Her navy heels and orange clutch perfectly compliment her dress.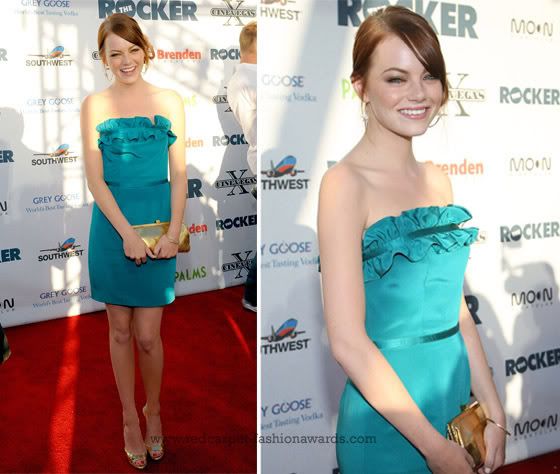 Emma Stone wore a turquoise Jay Godfrey strapless dress with a tonal ruffled trim, which she wore with gold peep-toes and a gold clutch.
I love her Amanda Pearl Mimi roll clutch with this Matthew Williamson Fall 2009 dress and Jimmy Choo Karina booties.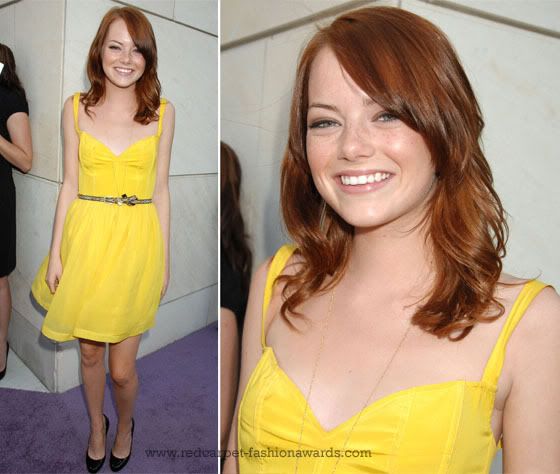 Emma Stone is a burst of sunshine that we all need everyday. I wish she chose more inspiring fun heels though.
Stone was a ray of sunshine in a vibrant cotton halter dress in celery yellow with a geometric print that she made her look California cool with gold flat sandals.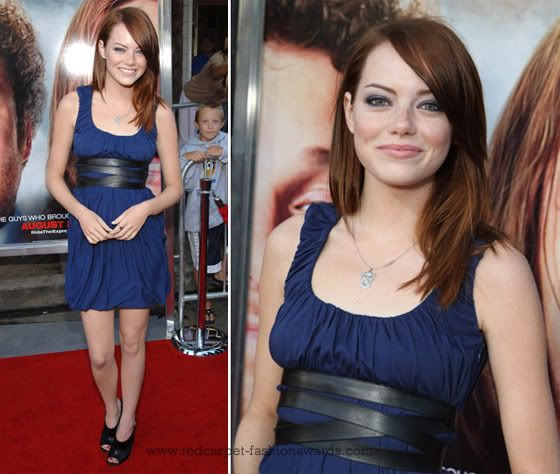 I love the criss-crossing effect of Emma Stone belt over her navy ruched mini dress. She completes the look with black peep-toes.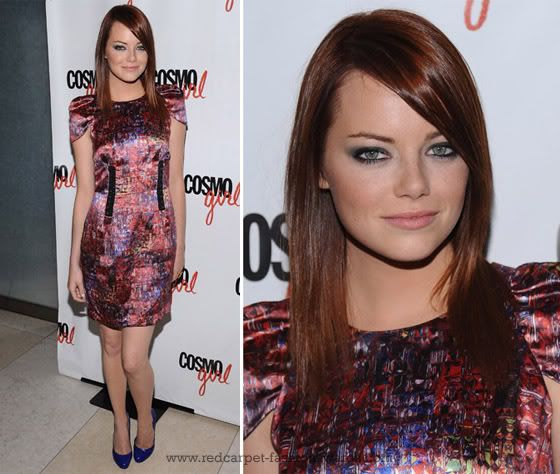 Emma took an artsy approach in this fresh Phillip Lim dress and added blue pumps to complement the blue in her awesome dress.
Looking stunning in an asymmetric off-the-shoulder di Hera dress with ruffle detail that she accessorized with Neil Lane gems and sexy jewelled Sergio Rossi heels.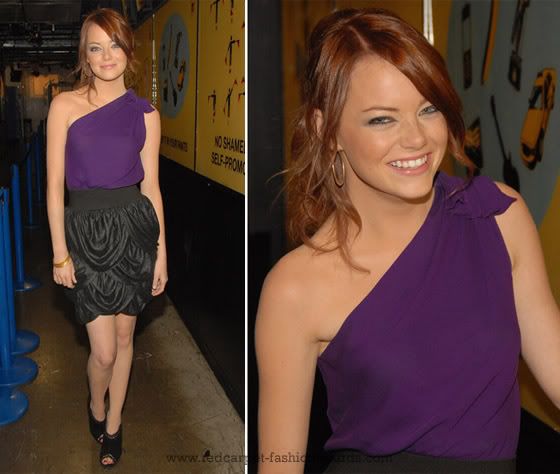 Emma Stone added a purple single-shoulder top from Abaete to a voluminous skirt from Yigal Azrouel; she accessorized with Jimmy Choo "Glint" booties. She wore edgy peep-toe booties by Jimmy Choo with her flirty and feminine outfit. This was a creative outfit because she chose two different designers and put it together to make it her own.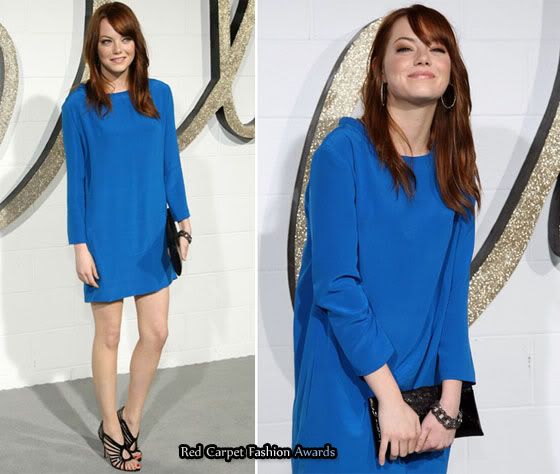 Emma kept it simple in her cobalt blue long sleeved shift dress that she paired with Jimmy Choo "Samoa" kid sandals and a black envelope clutch and a chain silver bracelet.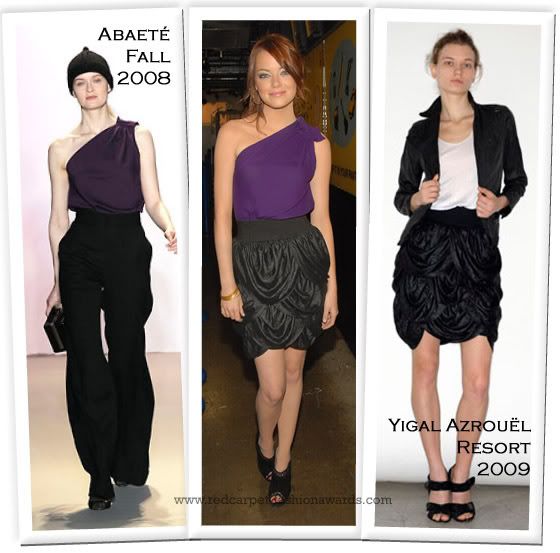 Emma is head to toe in Miu Miu and gave her little black dress a whimsical touch with a satin and brass bow necklace also from Miu Miu along with earrings and a ring from Neil Lane.
Emma Stone opted for a hot red Alberta Ferretti criss cross spaghetti back-strapped detail silk gown which she paired with stunning gold jewels. I love this color on Emma but I wish it was just a bit more form-fitting.