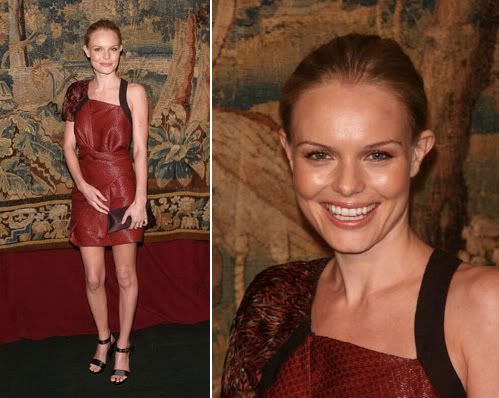 Fresh and unexpected in a burnt red snakeskin Proenza Schouler dress. Her satin clutch brings out the brown hues in kates croc dress.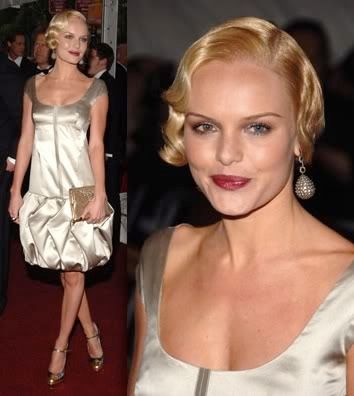 This is a fantastic Prada dress on Kate Bosworth. She is never boring (Angelina take note). This is the MET Gala (gown time) but she still looks appropriate without a gown because she dresses this look up with elegance and glamourous 1920's makeup and hair. The shoes also rock.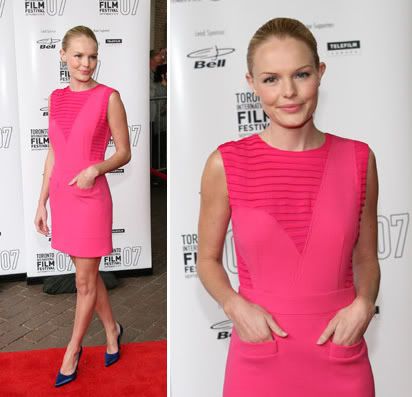 Kate Bosworth is wearing a gorgeous pink Preen Fall 2007 dress. Not sure about the navy shoes.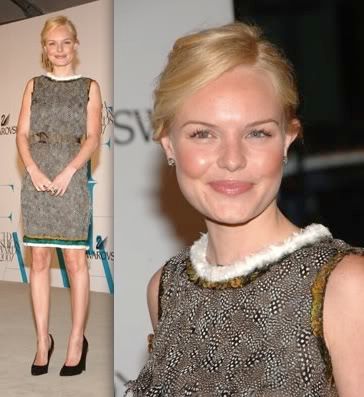 In a feathered Proenza Schouler dress. I wish she wore different colored shoes.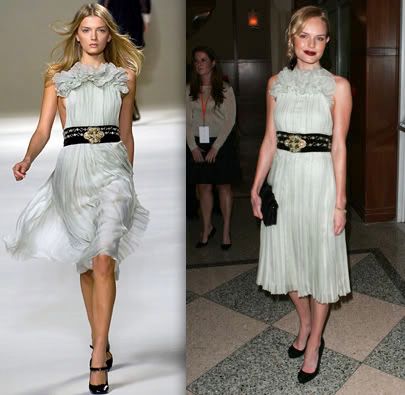 Kate Bosworth wore this jade silk chiffon, knee length, backless halter dress with velvet belt from the Chloe Spring 2007 collection.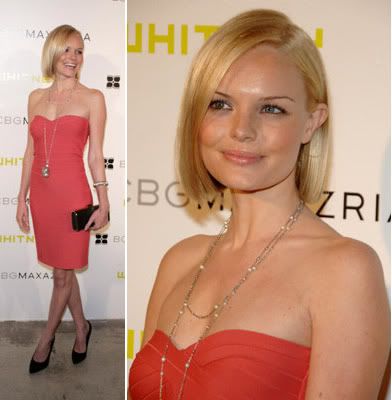 Kate Bosworth is skinny enough to get into this Herve Leger dress with ease. Both the style and the color work. Part of me is content with her black accessories choice, but part of me wishes Kate would have been more experimental with coloring up her accessories.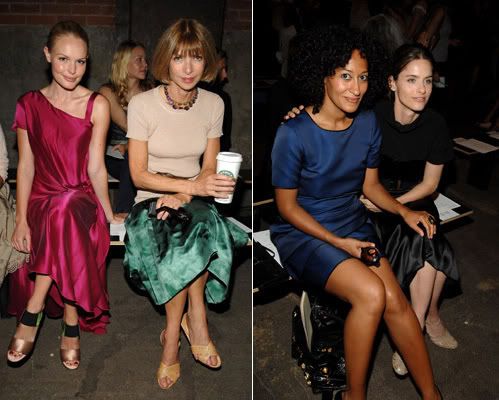 Gorgeous in a red off-the-shoulder Calvin Klein dress.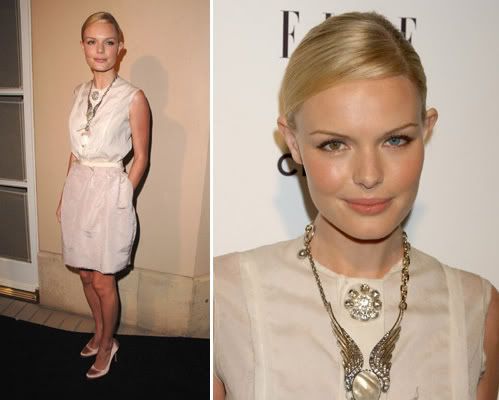 This is a great color on Kate Bosworth. I love the jeweled detail on this Lanvin outfit. The necklace compliments rather than adds too much bling. Lovely Kate.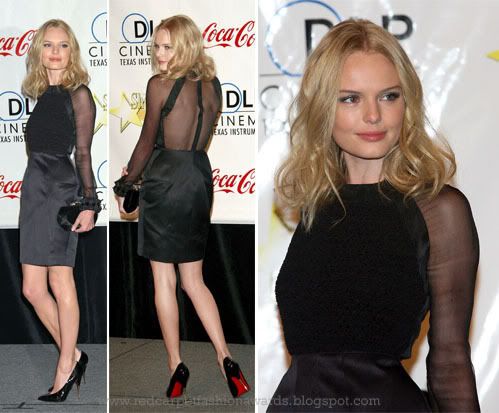 Kate Bosworth is embraces the transparent trend wearing a black satin Alessandro Dell'Acqua Fall 2008 dress with a transparent back and sleeves. I especially love her black patent Christian Louboutin "Lola" pointy pumps, with a gold-tone detail on the heel.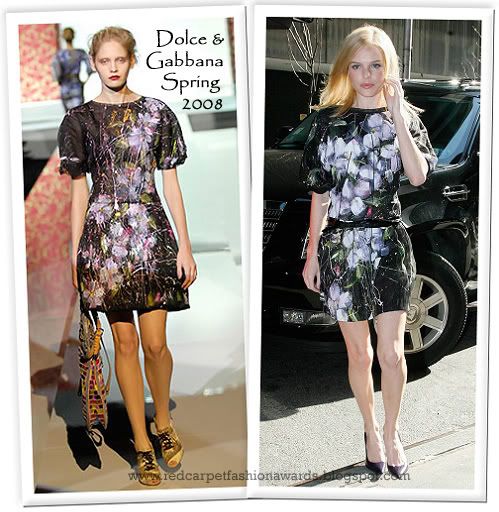 In an artsy floral hand-painted Dolce & Gabbana dress that I am glad she belted with a thin black patent belt. Art students were commissioned to paint silk-tulle, organza and net as if they were canvas. Once completed, the fabric was cut, layered and bunched and designed into the dresses and gowns. Fashion IS art.
Kate is absolutely amazing here wearing a Chanel Couture Spring 2008 dress. I love the ruffles all over the dress and the gold and silver sequin detail on the bodice. Some of you might think, why did she wear the gloves? Well look at it this way: at least she did not wear leggings!
I am a fan of the one sleeved anything, and I am loving this Jil Sander Fall 2007 dress on Kate Bosworth. Kate is so beautiful wearing the dress.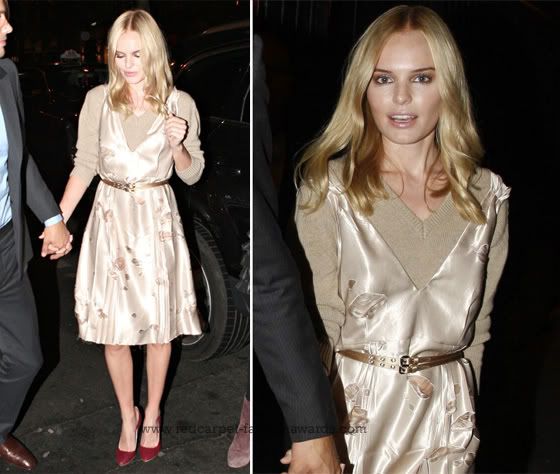 In a satin champagne belted Miu Miu Spring 2009 ripped dress over a light caramel v-neck sweater. She completed the look with burgundy heels.
Kate Bosworth was another 'Burberry babe' Burberry Prorsum Fall 2008 wearing a stunning gold feathered belted dress. The actress completes her moxie look with Burberry Prorsum ruched burgundy platform pumps. I love a girl who dares to wear feathers!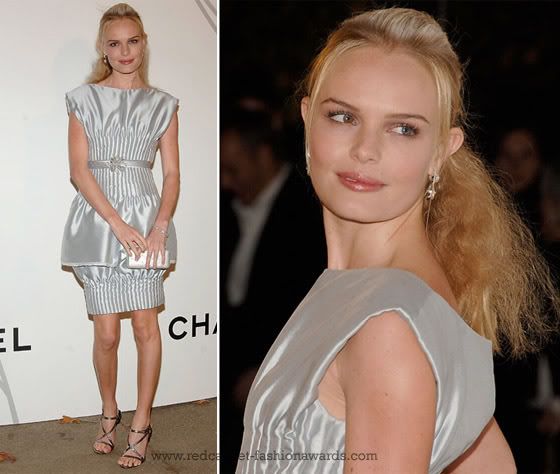 In Chanel Haute Couture Fall 2008.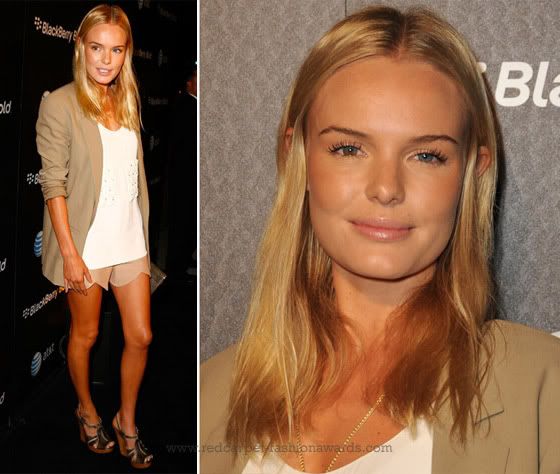 Kate's picked shorts which were lighter in color to her jacket, pairing them with a simple white tank. Kate opted for a simple grey clutch which brings her nude color pallete to life. I particularly loved the peach shorts with its scalloped detail. She completed her look with a white blouse, strappy sandals and a bronze clutch. Kate's interpretation of this look feels fresh and young.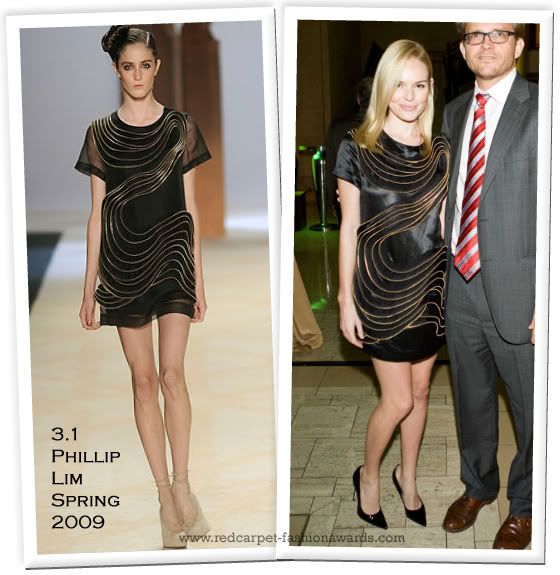 The fun semi-sheer black dress has winding, layered metal zips from the collar to the hemline and is black silk (unlike the runway version of chiffon) with gold zippers on the ruffles. I love that Kate didn't wear tights (tights are a pet peeve of mine!) and wore black patent pointy pumps to add some attitude.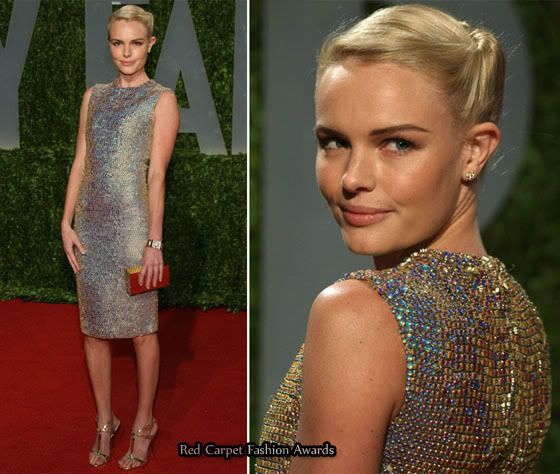 I think Kate Bosworth looks absolutely outstanding in this Alexander McQueen Resort 2009 dress. I love that it is sleeveless, unlike the runway version, and I like that her hair is unfussy. I am in love with her 1940 Estate "Fernis" bracelet by Van Cleef & Arpels with diamonds adds even more radiance to her chic ensemble.
Kate looks so fresh and gorgeous here head-to-toe in her favorite Chloe. She wore grey silk embellished tank, with a lemon floor length chiffon skirt from the Chloe Fall 2009 collection, all whilst showing off an embellished patent crystal studded cream shoulder bag. It's just so easy for Kate.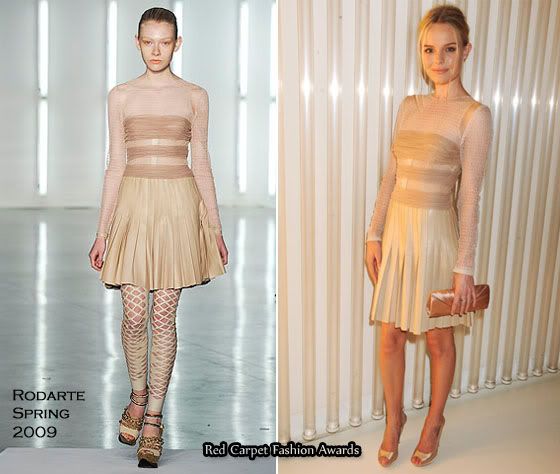 Kate looked radiant, graceful and chic wearing a nude ethereal Rodarte dress from the Spring 2009 collection. The dress had a leather pleated skirt, and a knit bodice and sleeves. Her subtle accessories included an elegant apricot clutch, and gold peep-toes. The neutral theme continued to her flawless make-up. I absolutely LOVE this look and admire her overall neutral look, and her complementary accessories.
Kate Bosworth looked stunning wearing a nude Sonia Rykiel Spring 2009 dress with sequin embellishments and a large bow detail on the front. I love the dress, but I'm not so crazy about the black satin pumps. They don't seem to flow with the nude and sequin dress.