Mila Kunis looks far more put together than other celebrities as she encounters the paparazzi in a taupe leather jacket, jeans, black flats and sweater, and an orange fringed scarf and a large black patent tote.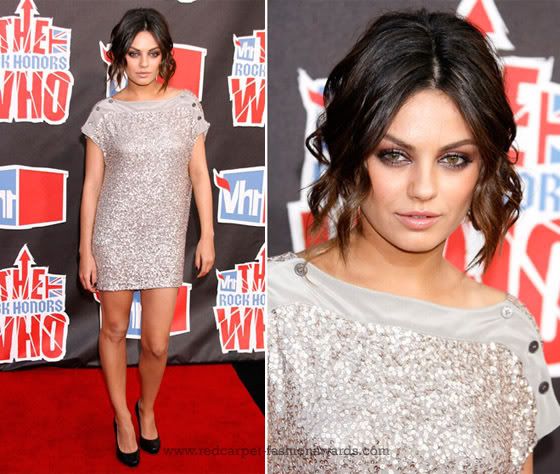 Mila sparkles in her Stella McCartney Resort 2009 silver sequined sheath dress with uninspiring yet classic Giuseppe Zanotti black pumps.
Mila accessorized a classic single-shoulder little black dress with shoulder-grazing Neil Lane earrings and black satin Casadei double platform pumps and stunning oynx drop earrings by Neil Lane.
Mila Kunis is stunning wearing a stunning Matthew Williamson plunge-neck gown, with floral applique at the waist and on the back and draping. She added sparkle with Kara Ross gems. No See 'Ems Too allow you to show off some cleavage while avoiding a major malfunction. Particularly handy for low-cut dresses like Mila Kunis's, the adhesive strips keep everything in place without leaving residue on your clothes or skin.
The cream, grey and mint green brocade shimmering Matthew Williamson Fall 2009 printed brocade dress has a pleated wrap-over sweetheart neckline, with a playful print. A loose updo, nude heels and a stack of silver bracelets worn further up the arm completed the look. Mila perfectly accessorized her pearlescent brocade dress with art nouveau-inspired jewelry that complemented without overwhelming.
Mila is chic in her white satin coat, black satin clutch, black patent pumps and LBD as she poses with pal Natalia Portman who is wearing Chanel.
In a satin Dolce & Gabbana dress with a tuxedo blazer and elegant black pumps.
Mila Kunis is absolutely beautiful. Stunning.
I was really intrigued by Mila Kunis' Monique Lhuillier Fall 2009 ballerina-chic bordeaux ombre illusion tea-length layered tulle gown because of the way she had made it work for her on the red carpet. I really dislike the runway styling, so I'm glad Mila has made me see this dress in a more positive light. She accessorized with diamond pendant earrings and a 19th Century diamond bow bracelet by Fred Leighton and Ferragamo heels.