I'm going to try my best not to gush, but it's so hard when it comes to Camilla Belle because she's red carpet perfection personified. The actress looked stunning – as usual – wearing a black and white print Jason Wu Spring 2010 dress. Apart from the print, I love the flutter sleeves on this dress. Camilla always picks ultra feminine looks, which is why this Jason Wu dress was so perfect for her and why I love her so. As much as I love the dress, I'm drooling over her pink and grey Miu Miu heels. A white Tod's clutch with a diamond buckle completed her look.
I hemmed and hawed a bit over the giant bow on the bodice, but then I just kept coming back to the photo and drinking in the outfit as a whole, and she just looks really pretty. But as much as Team Camila Belle's captain has earned a raise for all this exposure, maybe he or she needs to change course and get this girl some mainstream work. Because there are only so many times we can scratch our heads and go, "WHO, again? Eh, whatever, she looks nice."
Camilla Belle seems to never take any risks on the red carpet, and often wears red carpet ready brands, but you can't deny that she always gets it right.
Case in point. She looked breath-taking on at the Opera last night wearing a beige tiered chiffon strapless YSL dress. I love the tiered ruffles fluttering down her skirt, the embroidered bodice and that black velvet bow. Her make-up is perfect, as is her hair plus her skin is glowing.
She accessorizes with complementary Cartier jewels, black strappy sandals and a YSL ivory gold trimmed clutch.


Wearing my favorite Jean Paul Gaultier Spring 2007 Couture gown.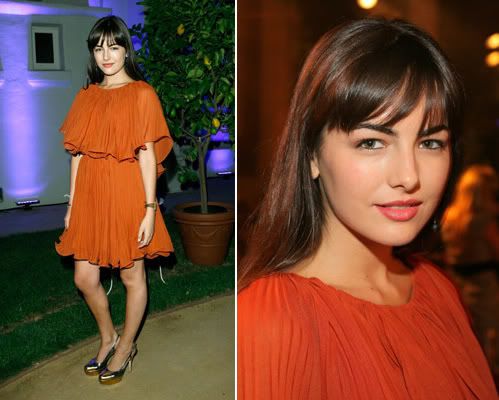 Camilla wore this bright orange Giambattisita Valli dress with two-tone cap toe metallic pumps.
I am loving this tangerine orange on Camilla and her hair and make-up is gorgeous.
The color palette on this Jean Paul Gaultier Spring 2008 Couture dress has a is very aquatic feel to it and I am glad Camilla accessorized with a gold cuff.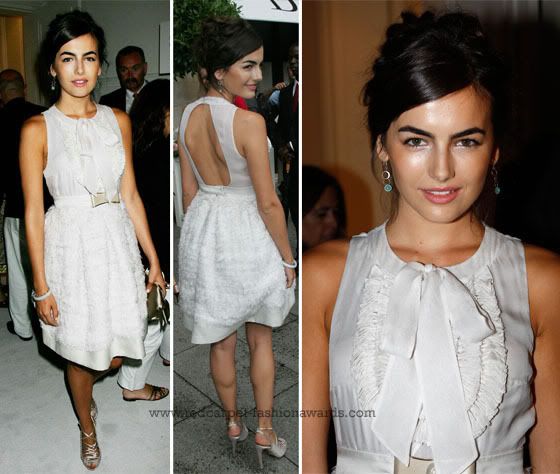 Camilla wears this cute Valentino Fall 2008 dress with a cut-out back, bibbed front and ruffled skirt. She accessorizes with silver ankle strap heels and a shiney pewter clutch.
Camilla Belle wears a green one-shouldered Max Axria Resort 2010 dress with ruffles cascading from the shoulder the actress looked simply gorgeous with seemingly not much effort.
Camilla Belle wore this stunning Marchesa Spring 2010 magnificent dress. This kind of dress could've easily gone so wrong, but the embroidered white tulle cocktail dress with a feather hem and sleeves makes her look like an elegant swan rather than Big Bird.
I love Camilla's frock, both the pattern and the way the dramatic bodice flows into the slit in the skirt. She is dressing way out of her fame level here -- which I don't mean as an insult. It's actually a pat on the back. I mean, can't name anything she's done besides date Joe Jonas and star in
10,000 B.C.,
and yet here she is getting her mitts on an Armani. That is some seriously good work right there.
She totally wowed me wearing a Giorgio Armani Spring 2010 iridescent teal beaded cocktail dress. I love the abstract floral print and the origami pleats at the neckline. Her look was paired with black patent heels and a blue metallic leather Emporio Armani clutch.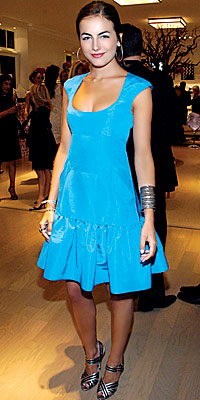 In a Oscar de la Renta bright blue dress with Miu Miu shoes.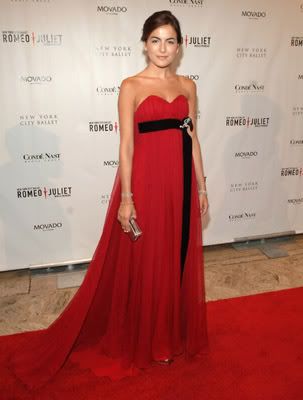 In a pretty black sashed Peter Som gown and silver clutch and lovely diamonds.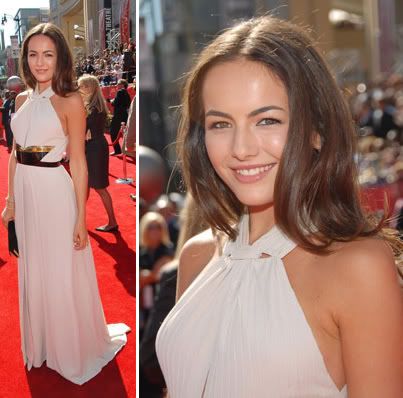 In a gorgeously simple Egyptian inspired Gucci gown.
In a Carlos Miele one-shoulder top with rosette detail top and a whimsical floor-length skirt.
In a ruched silk black and white printed Carlos Miele gown with a red satin clutch.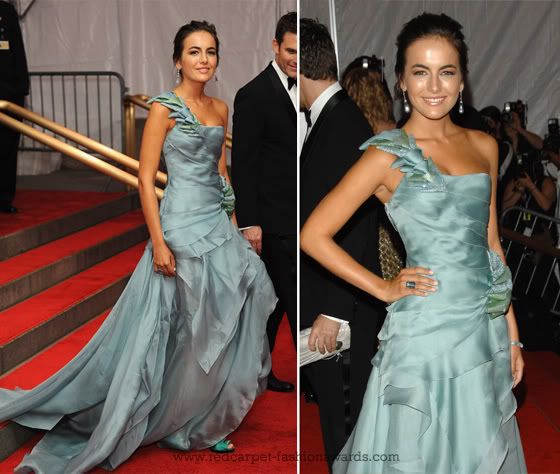 It's elegant but not boring: The icy color is gorgeous on her, the cut is romantic, and the extra flourishes are unusual without being scary. Now someone just needs to put her in a major movie.
Camilla wears my favorite Armani Prive Spring 2008 aquamarine silk organza tiered gown with an origami Swarovski crystal encrusted ribboned one shoulder strap, with the same detail on the hip.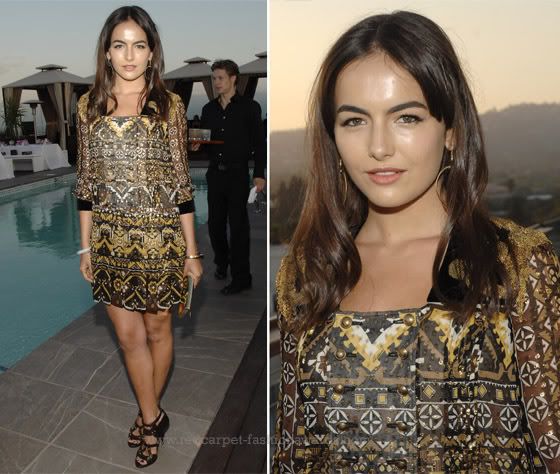 Camilla is in a head-to-toe Gucci look consisting of an ethic printed dress, brown leather strappy gold buckle detailed sandals, a gold patent clutch, gold earrings and large gold bracelet.
Camilla is New York chic is a painted print Oscar de la Renta dress worn with a thin black belted tied into a bow.
In a colorful sparkling beaded and sequin 3.1 Phillip Lim Resort 2009 dress that she wore with a tan belt and navy blue3.1 Phillip Lim Fall 2008 heels.
In a Giorgio Armani brocade dress with gold Amrapali jewelry and fabulous red lips.
In a gorgeous deep magenta Marchesa dress that has beautiful embellishments all over the top half of the dress, and a satin skirt which kicks out at the back. Camilla completes her look with a Jimmy Choo Kase oval clutch and silver peep toes
In a leather Chloe Pre-Fall 2009 LBD that has cute bows going at the back. She completes her look with two-tone Chloe Spring 2009 heels and a Chloe black gold-edged clutch.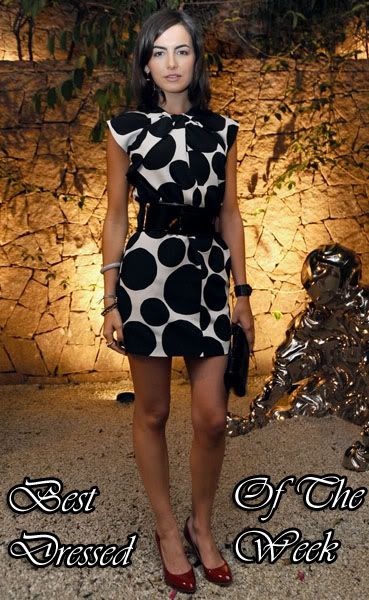 Camilla wears a polka dot Gucci dress with a cinched waist and a wide patent belt and that she added cherry-red pumps, a black python clutch and jewelry in the label's signature horse bit motif.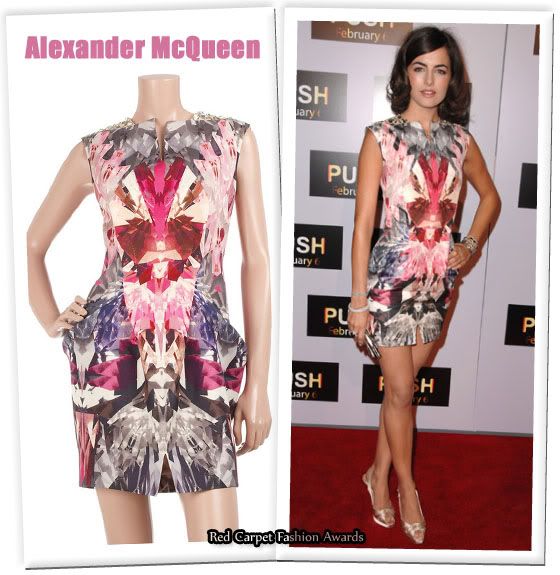 In a crystal-print dress from Alexander McQueen with champagne satin Jimmy Choo sandals, an Alexander McQueen clutch and David Yurman jewelry.
Camilla Belle opted for a grey knotted and ruched LV Fall 2009 dress for her after-party look. Love the hair and make-up with this look.
In a black Louis Vuitton Fall 2009 sleeveless dress. I love the texture of the dress which stops it from being another boring black dress, and the way the skirt becomes narrow at the hem. Cancan heels and dash of red on the lips complete this look.
I saved going gaga for my favorite look from the Louis Vuitton Fall 2009 collection. I just wish she hadn't worn those shades.
In a textured Jason Wu dress with a chain-fringed tote and patent gray pumps. She toughened up a tulle-edged cocktail design with a basic black leather belt and an oversize handbag. She made a conservatively-cut after-dark dress do double-duty for day by adding rugged accessories.
In a diamante-embroidered Alexander McQueen dress and skull clutch, worn with diamond jewelry from Cartier.
This show-stopping avant-garde design has an ultra-flattering hourglass silhouette. This dress has exaggerated shoulders and a full skirt that will make the defined waist look even smaller.