Natalia wears a silk asymmetrical Diane von Furstenburg dress.
This is why I love Natalia Vodianova. She always looks youthful and sweet and just plain GOOD. She makes me smile here in Valentino heading to her front row seating at the Valentino fashion show.
Russian Supermodel Natalia Vodianova and Designer Valentino pose for a portrait.
Natalia cozies up to her pals legendary designer Valentino (right) and his partner Giancarlo Giammetti (left). Natalia was Valentino's muse!
Small stones arranged in a dangling circle hang from Natalia's ears and look lovely.
I love the elegance of this evening casual outfit consisting of a gorgeously printed silk shawl, strapless sweetheart neckline satin dress and white summery shoes with a stunning layered gemstone necklace. I love her Russian Matrioshka doll bag!
Natalia, as always, chic in black as she walks with her daughter while wearing open toed black platform pumps.
This understated clutch lets Natalia's dramatic necklace do the talking.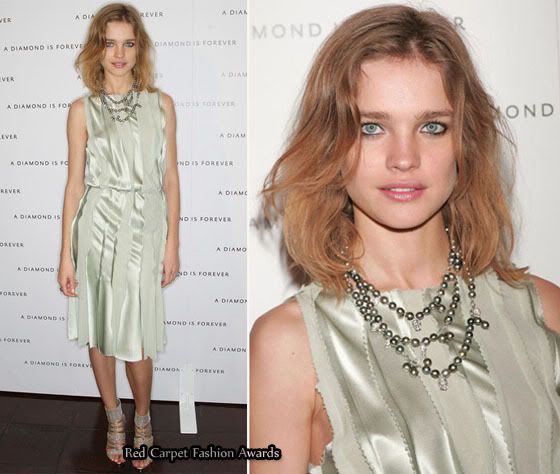 Wearing Louis Vuitton and a delicate gold watch.