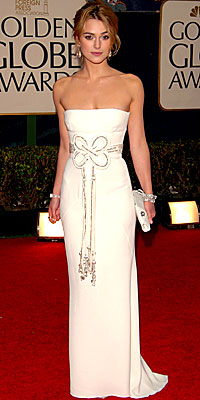 The detailing at the waist of Keira's Valentino gown works to create an hourglass silhouette on the slender Knightley. The silver detailing makes it easy to complete the look with silver accessories.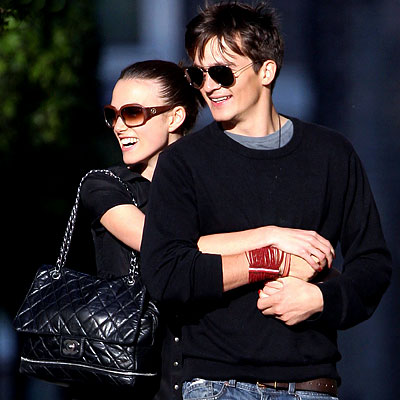 Keira is wearing fab sunglasses and a navy quilted Chanel bag with her handsome boyfriend Rupert Friend who she met on the set of Pride & Prejudice. I had to post this photo because the couple is just so cute and this is a great shot of Keira.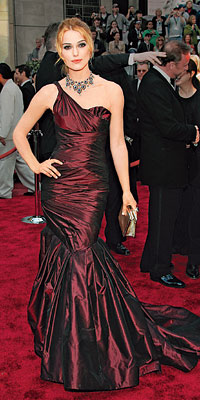 Perfect. Gorgeous. I remember first seeing this look and thinking the same as I do now. It's intricately draped and gathered then splashes out with just enough train. In this eggplant Vera Wang gown, a woman shows up on the red carpet a new-comer and walks away a star. The actress wore a vintage 1960's Bulgari necklace made with emeralds, rubies and diamonds.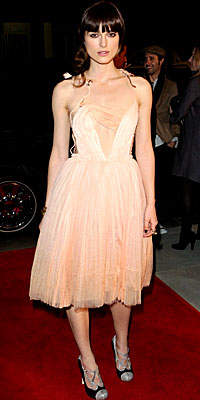 In Rodarte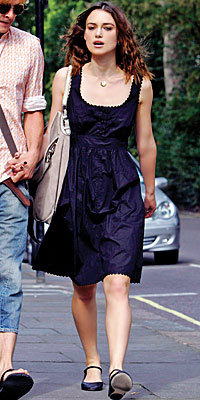 In Topshop
In a Chanel cobalt dress with peek-a-boo tulle, Moschino pumps and a ring and brooch from Chanel Fine Jewelry.
In a gorgeous tiered Valentino gown with Roger Vivier heels.
Keira wears a 3.1 Phillip Lim dress with a tuck at the waist for a drape effect. She pairs her dress with a Prada leather cross-body bag.