Man, I remember back when all the Dev Patel/Freida Pinto rumors were first circulating, and we were all, "NONSENSE! HE IS A FETUS!" Well. That might have been true, but so were the rumors. That'll teach us! They are at least cute together, and I'm very happy to see her pretty face back on the red carpet.
It's probably a case of the right girl wearing the right dress: The shoulder bling suits her, the ornate waist detail doesn't overpower her, and somehow the open sleeves end up looking slouchy-chic rather than like a desperate urge to remember a simpler time when we all did aerobics wearing belted leotards. It's as if it stops just shy of being overly matchy, somehow. I don't know. Maybe I just have a blind spot when it comes to her, since she seems so charming and nice. A little genuine warmth goes a long way.
Freida Pinto definitely stood out in her blue John Galliano Spring 2009 gown. I loved the one shoulder long sleeve gown with the all lace, beading, embroidery and tulle. The gown was perfect for her, as it feels Indian inspired. She completed her look with a Judith Leiber clutch. Freida's stunning diamond ring is unique in that it has a 150 year old vintage diamond from her native India.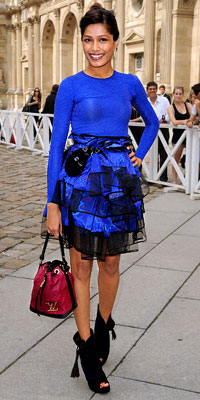 I love Freida Pinto. I think she is so pretty. Today would be so much more delicious if I were Freida Pinto, running around Paris and looking at myself in the mirror and brushing my pretty shiny hair. I'm crazy over Freida Pinto's Fall 2009 look consisting of an electric blue jersey top paired with a matching layered ruffle tulle chiffon skirt. I'm drawn to the bright color, the open-toe boots and bag.
The nude runway version of this Valentino Spring 2010 dress is beautiful, but the Indian beauty picked a black sheer version with a nude underlay which I absolutely adore. I love the shoes. And the bag. And the fouffiness of the skirt ("fouffiness" being a technical fashion term). It makes me want to twirl around.
Her look was paired with satin black heels and a Roger Vivier "Canasta" clutch.
Freida Pinto wore a simple black gown with cut-out detail on the waist.
The gold trim on her dress complemented her gold clutch and the gold ribbons in her hair.
In a Missoni skirt, Amanda Pearl roll clutch, Christian Louboutin sandals.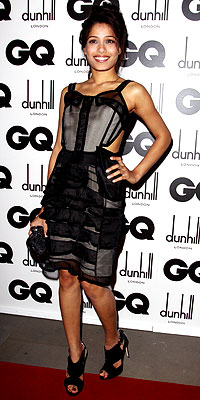 So: It's NOT a detached bra top. That is wonderful news. But that black overlay is so BUSY. The way it lies on her bodice creates the illusion that her boobs are unnaturally high -- like, right under her collarbone -- and then that top ruffle looks like he belly button might use it as a megaphone, and then those hip panels... it's a LOT. So while I respect that it's kind of an edgy take on a prim silhouette, I also can't help feeling it's so BUSY. I want it to slow down, take a deep breath, and maybe consider a nap. Still, I think Freida rocks this edgy sheer tiered Christopher Kane black layered dress, with Rupert Sanderson Khyber cutout sandals and a glittery clutch. She made a skin-baring dress utterly ladylike by adding an undone updo and pared-down accessories. Try a sheer number with clean, graphic lines to avoid the lingerie-inspired look of lace.
I adore this soft yellow twisted Burberry Prorsum dress on her, as she is truly glowing. She opted for a purple studded Burberry clutch and Rupert Sanderson "Aspasia" fuchsia patent heels to complete her look. Very interesting colored accessories for her yellow dress.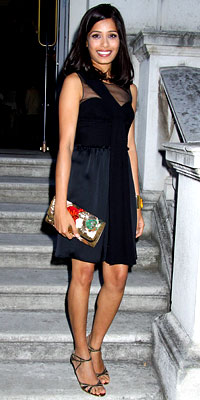 She looked stunning wearing an asymmetrical Stella McCartney Resort 2010 dress.
The black satin dress has a sheer yoke with an interesting detail on the bodice which drapes over one-shoulder and onto the skirt. She added some gold touches to her look including a gold, vibrant embroidered sequin Stella McCartney clutch, a bold gold cuff and gold metallic Jimmy Choo "Freya" heels. Beautiful as always.
The beauty is in the Chanel's chicness, its bold brooches, and the origami sleeves. Outstanding.
Freida Pinto arrived at the Dolce & Gabbana Fall 2009 show looking gorgeous wearing an ivory Dolce & Gabbana Spring 2009 dress.
The dress had a ruffled detail on one shoulder, and she wore her dress with those outstanding bejeweled belts, that were heavily featured in the Spring 2009 collection. A black clutch and sandals completed her look.
The beautiful actress wore a strapless yellow, orange and gold printed Missoni Spring 2009 mini dress, which had been shorten from the runway. This modification was right for Freida. She also replaced the embellished runway sash, with a shimmering sunshiny yellow one.
Her look was completed with a gold clutch, and a pair of blush Sergio Rossi sandals.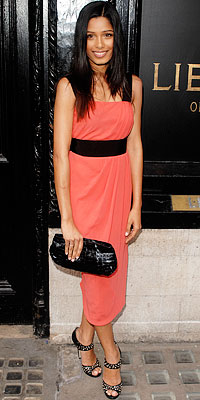 She wore a Dries Van Noten coral draped dress, with a wide black belt and black straps.
She accessorized her dress with black studded Jimmy Choo strappy sandals and a Liberty of London clutch.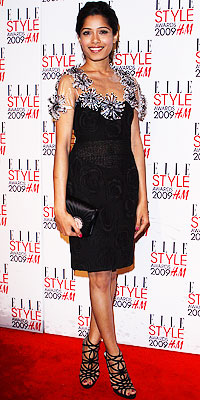 Freida Pinto wore a black Chanel Resort 2009 dress, with a floral embellished see-through yoke.
She completed the look with gorgeous black strappy Jimmy Choo "Verity" heels, whilst styling her hair in a chic updo.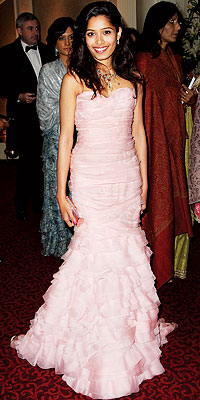 She wore an adorable Oscar de la Renta gown, from the Resort 2009 collection.
The pretty pink dress was the perfect color, with the 18th century Fred Leighton jewels and her Jimmy Choo sandals were the perfect compliment.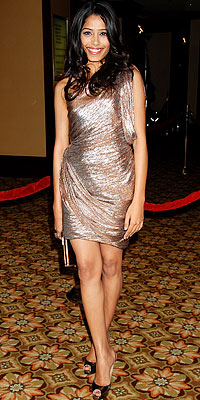 Freida Pinto looks nothing short of breath-taking, wearing this metallic one-shouldered Zac Posen Spring 2009 dress, with matching peep-toes and a clutch from Jimmy Choo and diamond earrings and a raspberry tourmaline ring from Amrapali.
She accented her periwinkle gown with shoes and a box clutch from Roger Vivier and Martin Katz diamonds.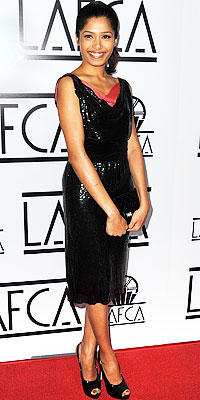 In a Jean Paul Gaultier Fall 2008 Couture chain-mail dress. Her black belted cocktail dress has a melon coloured cowl neck both at the front and back. She carries a Chanel quilted clutch. Pinto added extra sheen to the sequined dress with "Evie" patent peep-toes from Bally that bring out the shine in the star's dress.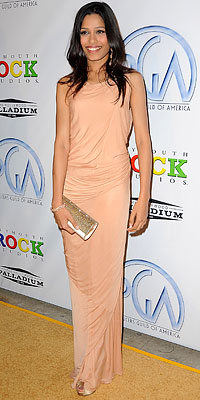 The gorgeous Freida Pinto looked superb wearing a nude draped Donna Karan Resort 2009 gown, with a gold sparkling Leiber clutch, Bally peep-toes and Lorraine Schwartz gems that add enough sparkle without over-doing it.


Freida Pinto made this Christian Lacroix Fall 2008 Couture gown look gorgeous. She completed her look with a Judith Leiber clutch.


Freida looked divine wearing a canary yellow Derek Lam Spring 2009 dress,which really makes her glows. Plus I am in total lust with her clutch.


Freida dazzled in her mint green Grecian-inspired draped Zac Posen Spring 2009 Baby backless dress is complimented with her silver Sergio Rossi peep-toes.


In Marchesa with a matching gold clutch and gold jeweled sandals.


In RM by Roland Mouret with a Bally clutch and peep-toe pumps. Dev Patel, you are one lucky man.



I love Freida in her sari. She looks so naturally gorgeous; the colors highlight her skin tone and radiate off her. Metallics are lovely on this rising star.