Taking a more casual influence on her way back to school, Emma wore a sheer aqua printed top with super skinny indigo jeans and tan woven sandals. Emma added some casual accessories, wearing a leather wrap bracelet with a messenger bag slung across her torso and classic Wayfarers shielding her from the sun. What do you think of Em's casual 'fit, it is college appropriate or do you think the white bra underneath is a little tacky?
Emma's first year at Brown University is now coming to a close, and the young
Harry Potter
star chatted with
Vanity Fair
about her experience becoming a "normal" college student:
"I was scared before I came to Brown—that I wasn't going to be allowed to have both [a career and a normal life]. People would think that I didn't deserve to have both. [I was afraid they'd think], You're famous. You're given free handbags. Why should you deserve to be normal?"
Enjoying a break from classes and filming, Emma Watson checks out Day 3 of the Glastonbury Music Festival with a few friends on June 26 in Somerset, England. Having recently wrapped shooting Harry Potter and the Deathly Hallows, Em let loose at the outdoor festival, rocking a super casual,
Thelma & Louise
90's inspired look. Starting with cut-off high waist denim shorts with a tucked-in white button down shirt, Emma cinched the look with a fabulous leopard print belt. Trekking around in plain lace-up sneaks, Em carried a small Louis Vuitton messenger pouch and added a few colorful bracelets in addition to her wristbands. What do you think of Emma's casual throwback look?
Emma represented British designer Christopher Kane, by wearing a dress from his Fall 2010 collection. Her cool black leather dress had lace panels and embroidered floral details on the sleeves and on the base of the skirt. The young actress paired her dress with black patent Casadei pumps and a gold clutch.
"It's very hard to describe your own style and I'm young, so I'm still experimenting. But I think it's quite British and very much about individuality. There's nothing interesting about looking perfect—you lose the point. You want what you're wearing to say something about you, about who you are."
Emma is wearing a stunning delicate nude organza Christopher Kane Fall 2009 tiered dress with a striking black trim. The soft delicate dress is given an edge with the black piping, then she adds some quirky black heels with a gold platform from Charlotte Olympia. A black fringed clutch completes the look.
Emma wears a Jason Wu Resort 2010 ensemble including a jersey chiffon-edged tank and a nude twist-pleat pencil skirt. Her look was complete with two-tone Bruno Frisoni for Jason Wu grey heels. I love that cute black headband which completes her look.
She opted for this quite sexy haltered leather Proenza Schouler Resort 2010 dress with a black bodice, and a white skirt plus black strappy heels from the same collection. It's unexpected, it's fresh, it's risque without being tacky. She wears black strappy Lanvin (Proenza Schouler?) sandals. Her large turquoise ring is a colorful accessory for this black and white ensemble. I don't get a sense that she's trying to be anyone else. Under all that leather she's still Emma Watson.
Emma carries a Chanel union jacket bag whilst wearing a Saloni Alexia dress, a Chanel necklace and black Chanel Resort 2009 cage ankle boots.
The red silk long sleeved dress has gold sequin embellished button cuffs, and a delightful tiered chiffon skirt. According to Indian designer Saloni Lodha the collection is: "Designed for a girl who can be adventurous and feminine at the same time, who can be playful in the way she dresses with an underlying quality of elegance and charm." I think this sums up Emma perfectly.
Emma sparkles in a Burberry Prorsum Spring 2010 golden dress.
Emma's gold foil short sleeve front zip dress was paired with a black braided belt, a nude textured clutch and thick strapped chunky black Burberry platforms.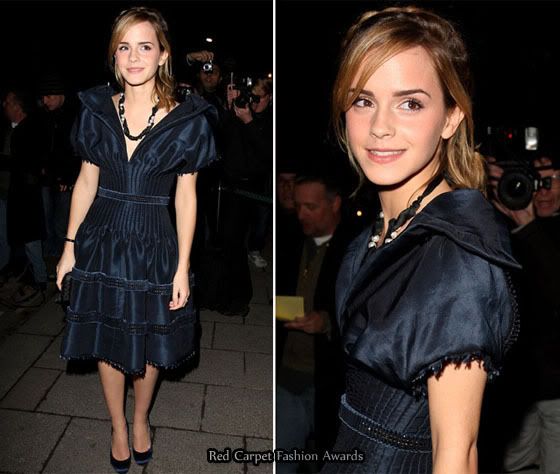 Emma wears a navy Chanel dress from the Fall 2008 Couture collection. I love the dress, and the matching satin shoes. I was hoping Keira Knightley would wear this, but I am content with Emma now.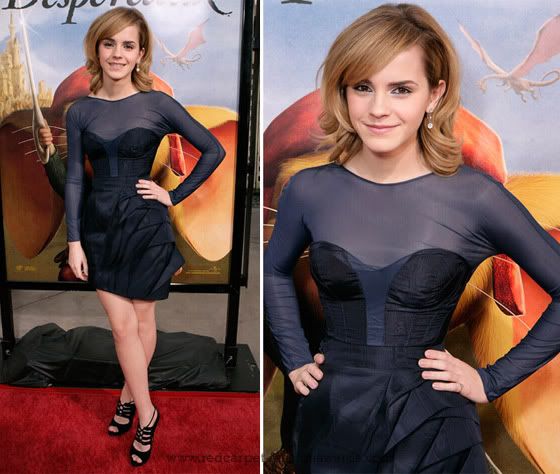 Emma wears a midnight blue William Tempest cocktail dress, with bustier detailing, folds on one side of the skirt and a plunging scoop back. She looked chic, modern and edgy. This really shows that she is not scared of fashion and is willing to take risks. She kept accessories to a minimum, by adding a pair of glittering drop earrings and some strappy black sandals to complete her look.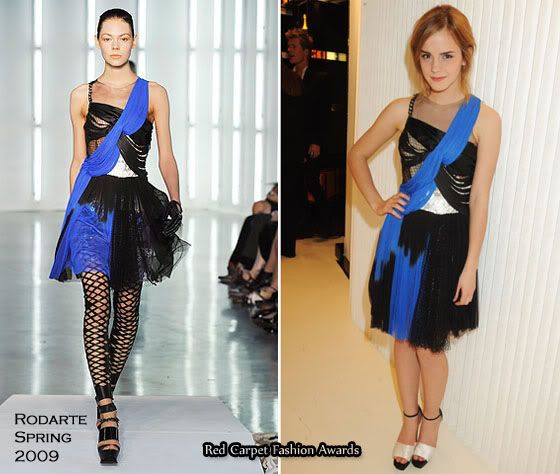 Emma wears a Rodarte dress with a draped azure sash, a tie-dye and netting skirt and a seductive sheer bodice. She wore her deconstructed black, blue and white Spring 2009 dress, with two tone Chanel Spring 2009 Couture ankle strap heels. Emma totally owns her look, without appearing to try too hard.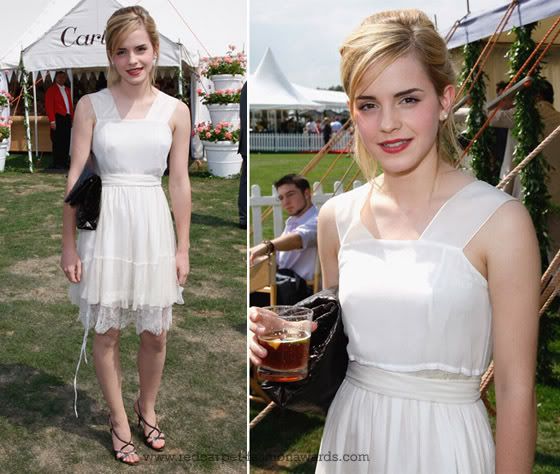 This Charles Anastase dress on Emma was criticized, but I actually love it. Lovely.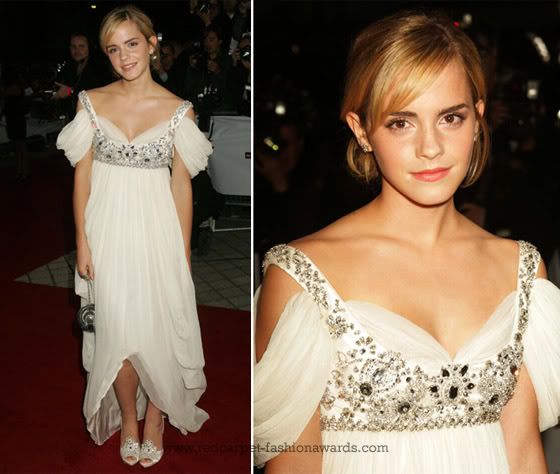 Emma wears a white flowing Grecian-style Alexander McQueen Fall 2008 gown which was beautifully embellished with beads. Her shoes are also by the designer.