Milla Jovovich attended the "The Exodus – Burnt By The Sun" Premiere at the Palais des Festivals during Cannes Film Festival earlier this year.
The actress wore a Louis Vuitton Fall 2010 strapless gown with a rise and fall hem which was paired with mauve satin Sergio Rossi pumps.
The actress wore a white Emilio Pucci one-shoulder lace dress from the VIP Resort 2011 collection and Sergio Rossi pumps.
I would've loved to have seen Milla wearing one of the pieces from the Fall 2010 collection.
This lace dress doesn't have enough bite for someone like her.
Milla is a fierce chick and this dress feels a bit tame for her, despite it being a nice dress.
Milla Jovovich wore a Temperley London Spring 2011 orange draped gown which looks much better in tangerine. She's totally loving this gown by the way she's working it.
Milla Jovovich is a regular at fashion shows, especially Chanel. Here she is wearing a Chanel dress with a Chanel Pre-Fall 2010 enameled metal brooch.
Trying to keep the paparazzi at bay in Prada 59MS sunglasses and velvet bag.
Milla wears Temperley London.
I am ignoring Milla's tights to focus on how fabulous she looks.
Milla makes her way through paparazzi after signing autographs for waiting fans. I am in love with her jade stone Dior platform sandals.
So cute, even off-the-radar vacationing!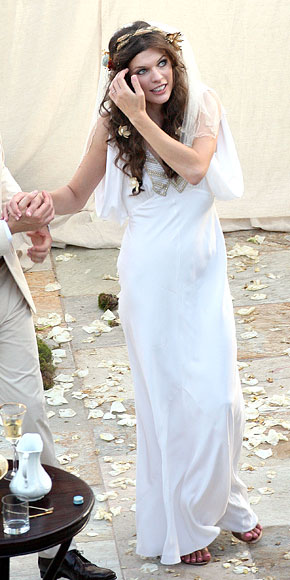 Milla Jovovich looks gorgeous in her art deco inspired goddess Alice Temperley wedding gown that she wore beautifully with a floral headpiece. Milla was named Instyle's Most Beautiful Bride.
Milla's head-to-toe Dior outfit is perfect!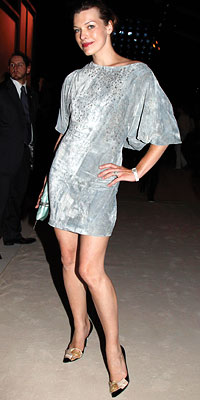 In Nina Ricci.
Out and about Milla style.
The simplicity yet put-togetherness of this outfit is what I love.
In a chic Dior dress.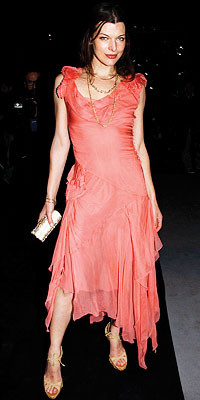 In John Galliano.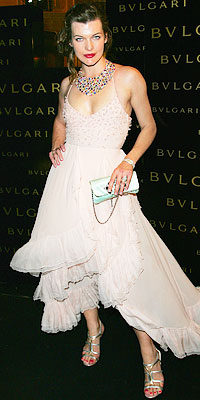 Milla opted for a less bling-out gown. But the beauty of this gown is in its simplicity, and the subtle details of the shimmering cap sleeves and criss cross detail on the waist.
The dove grey works well with her skin-tone, and the clutch is the perfect compliment.
Milla Jovovich shimmered in a Roberto Cavalli Resort 2009 mini flapper dress, when she walked the red carpet at "The Cavalli Card Party" during Fall 2009 Milan Fashion Week back in March.
The actress paired her look with a leather jacket and black pumps.
In Giorgio Armani.
In Donna Karan.
I was wowed by Milla Jovovich wearing this Roberto Cavalli Silk chain print gown.
The combination of the soft ivory color, and the vibrant chain print, makes this column gown gorgeous. Milla carried a gold sparkling clutch, and her hair was swept to one side, with a double hairband to complete the look perfectly. Belle of the ball.
Badass and sexy in Temperley London animal print dress. I love her integrating of the silver Dannijo Harley and Bahlia necklaces into this outfit. The pointy pumps add some snazz.
In Chanel
Milla Jovovich loves to dress sexy.
She's never had a problem showing off her super fit toned body, but for the LA premiere of her latest movie "A Perfect Getaway" she was uncharacteristically covered up.
The actress walked the red carpet wearing a stunning Temperley London Spring 2009 white gown with yellow and silver beaded detail on the shoulders and on the empire waist.
Her look was completed with Christian Dior heels, a diamond bracelet, a silver clutch and a gold necklace.
Milla Jovovich's striped Donna Karan Resort 2009 dress is so chic paired with silver pumps.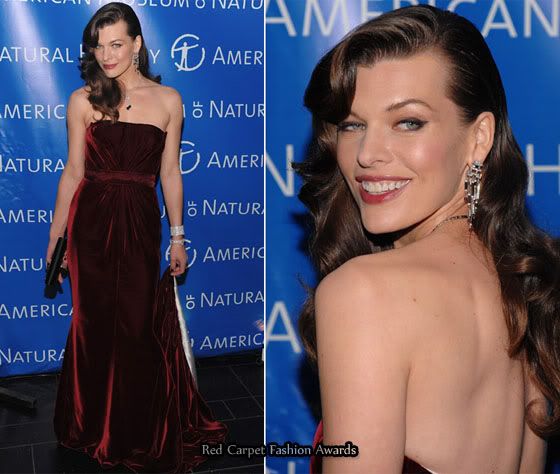 In a gorgeous classic Prada gown and clutch and Cartier jewels. I love her elegance, the side-sweeping curls and the jewels. This is a perfect look for her.
Short, sassy and sweet, that best describes Milla Jovovich as she arrived wearing a chartreuse mini Marni Fall 2009 dress with taupe peep-toes from the same collection completed the look.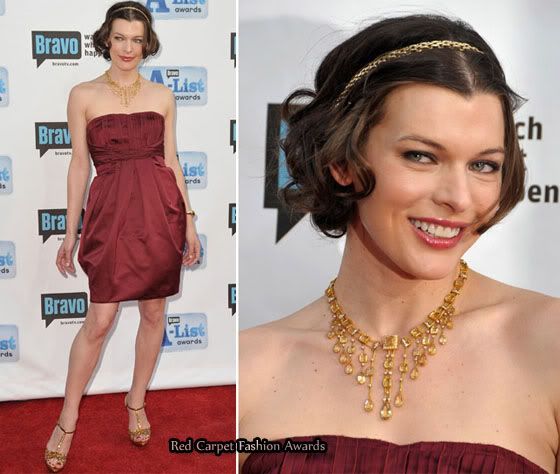 Milla wore this elegant strapless satin maroon dress with a gold chandelier necklace and gold t-strap pumps that were the perfect touch to add more warmth.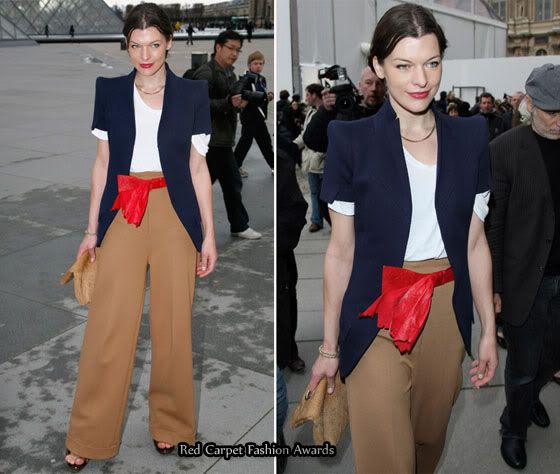 Milla Jovovich wore a navy short sleeved blazer with tan stretch pants all from the Louis Vuitton Spring 2009 collection. She added a white blouse and red belt with a Louis Vuitton Monogram Motard Afterdark bag. I love the creativity and class. This look is modern and chic.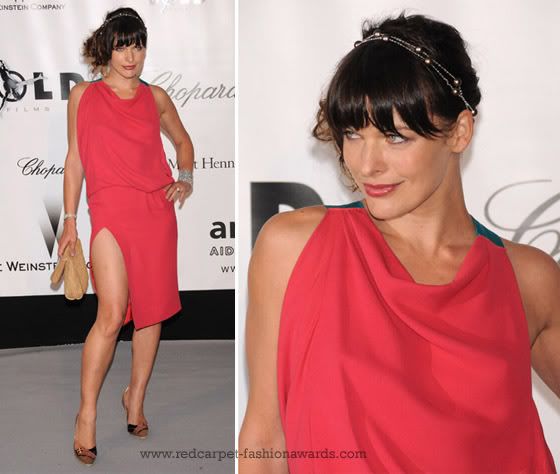 Not many have dared to wear the crazy designs from Marc Jacobs' Louis Vuitton Spring 2008> collection. Milla Jovovich dared to, and looks fabulous.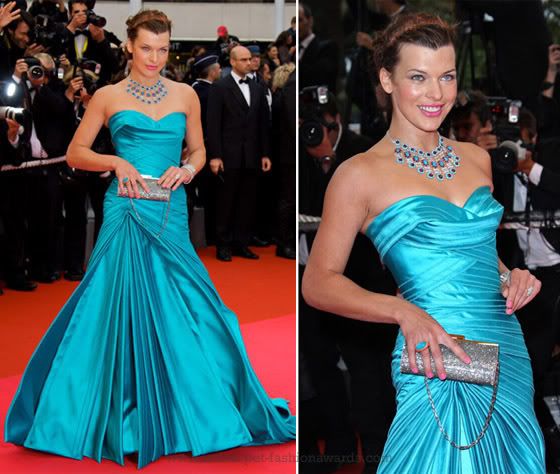 Milla Jovovich wore an interlacing cyan strapless gown with a pleated skirt and a stunning necklace to match her amazing Versace Couture dress.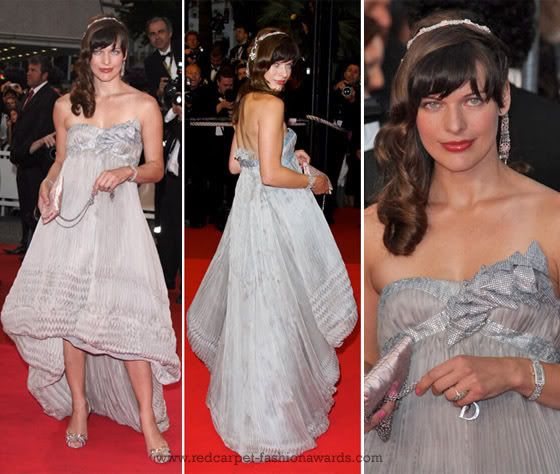 Milla Jovovich is wearing a Armani Prive Spring 2008 dove grey strapless gown, with silver strappy sandals and a jeweled headband.