For La Stew, I like this, too -- simple with a twist, edgy like she is but not trying so hard that there are visible signs of exertion. And in this shot, I'm digging on the hair color, too -- it looks like that transitional hue that brunettes spend some time with when they're in the midst of going blonde, so it'll be curious to see where she takes it in the next few weeks, but it makes a fun break from Bella's chestnut hair and the raven, greasy spikes from her Joan Jett phase.
Right now it's apparently pretty hot in New York, so a pale, basic tank dress seems climate-apt, even if I don't think the color does anything for her. On the one hand she does look a bit like she's headed to a Church luncheon; on the other, it is
Today.
So all that considered, and after going back and forth about whether this is too boring, I embrace this as occasion-appropriate. And after all this press malarkey, she still looks happy and charming. IT CAN BE DONE, AMERICA.
Whenever I ding Kristen Stewart for looking like she'd rather let a woodpecker pierce her ears than be at any of her premieres, people often fight back by claiming that she's just "being herself," and that it would be deeply wrong on a spiritual level to ask her to act bubbly. I contend there is a middle ground between surly and falsely spazzy-happy, and
voila
, K.Stew proves me right here. What's more, that dress is adorable -- kind of a tornado of sequins, the likes of which would give a magpie a joy coronary. I don't even mind the messy updo, because it looks purposefully done and not like a victim of the treadmill, and least her hair looks clean.
I must confess that I rather love this picture. She has, as Tyra would point out, made her own hair-wind. Can we also just take a moment to talk about all the things that Tyra has taught us, maybe in spite of ourselves? They include: the important of hair-wind, smizing, and elongating one's neck.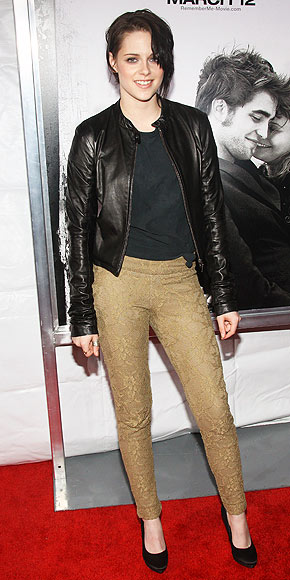 Kristen heads to the event in tan jacquard Burberry pants topped with a tough 1020 by Nicole leather jacket and black Bally pumps.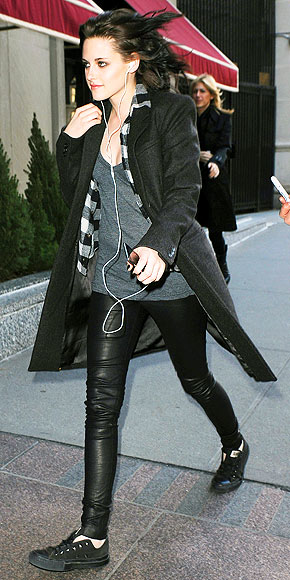 Looking every bit the Runaway, Kristen wears leather liquid leggings from Bird by Juicy Couture and sneakers topped with a black-and-white flannel shirt, gray Market T-shirt and long coat.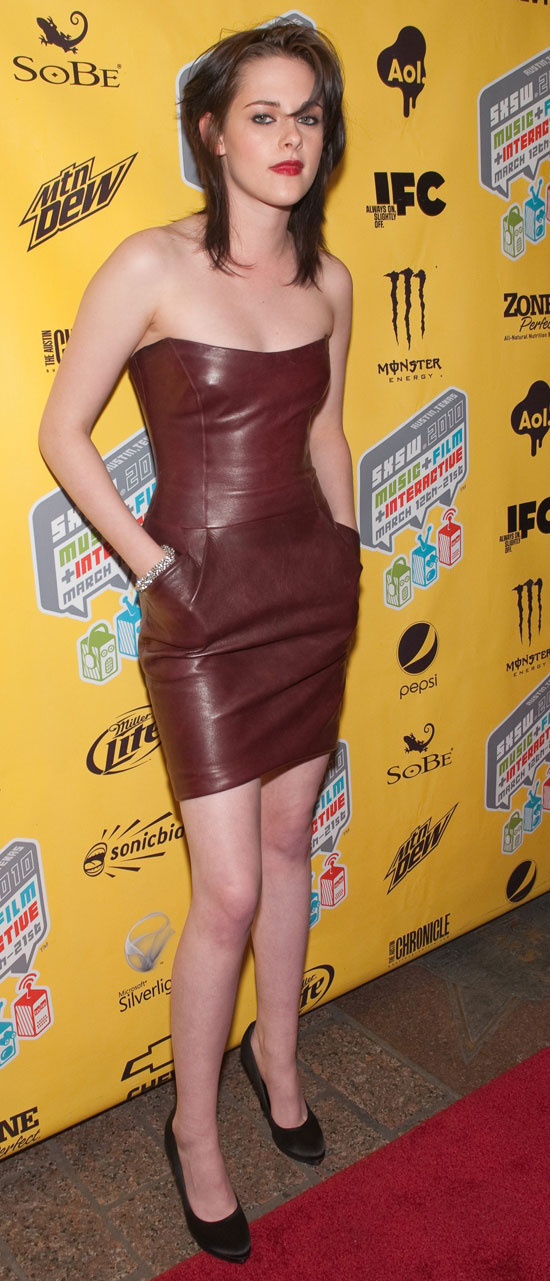 Kristen Stewart is predictable in a molasses leather bustier strapless dress with as usually, boring black (satin) pumps. On this occasion she wore a burgundy leather strapless dress from Jasmine di Milo's Spring 2010 collection which has pockets. This feels like de ja vu, because yesterday I liked the dress, but hated the heels and I have the same feeling again today. Seriously, can't her stylist give her type of heels to wear? These aren't even the same as the one's she wore yesterday as these are by Bally.
Does she travel with a case full of black pumps? Yawn but this is Kristen's style so I guess I have to deal with it sometimes.
She surprised me by wearing this Doo.Ri Spring 2010 dress, because this dress appears to be everything I think Kristen would hate: cute, bubblegum pink and girlie. I'm equally surprised that I liked her in this dress, because for the first time in a long time she looked happy on the red carpet and comfortable in her own skin. Confidence is half the attraction, and Kristen had that last night despite not being in her comfort zone wearing this dress. I still think she would look great in menswear-inspired looks but this look gets a thumbs up from me. The only downside is that her stylist let her down with the boring black peep-toes. AGAIN.
I LOVE this dress. It looks like it was made wholly of recyclables, but I think it's divine. Now if ONLY SHE WOULD STAND UP STRAIGHT MY GOD WOMAN THAT DRESS DEMANDS YOUR MOST BAD-ASS POSTURE YOU HAVE TURNED ME INTO MY MOTHER.

On the other hand, I did just adjust my own posture here at my desk, so thanks for the visual aid.We were commenting on how she could try to do something new with her hair, and here we have a sleek updo with a few pieces falling down one side of her face to keep the look modern. Kristen skipped the statement jewelry and let her intricately embellished minidress take the spotlight. Consider going sans necklace the next time you wear a sparkly number. This time last year Kristen would've looked like she had to be wrestled into this Emilio Pucci sparkling strapless mini dress, but here she stands tall with plenty of confidence. I love the dress – she's clearly having a mini moment – but the black Sergio Rossi heels are killing me. With all those colors on her dress you would've thought her stylist would have picked one to match her dress. Baby steps…


K-Stew had more confidence and she smiled more on the red carpet wearing an Emilio Pucci Fall 2009 bustier dress with an embellished bodice. Her dress was paired with Bally "Amantea" criss-cross satin ankle strap sandals. This dress is very Kristen as it is EDGY, strapless and a mini dress.
In fact, I rather like the dress itself, seeing as it's unusual and it fits properly. The shoes, I could leave, and I really wish she'd gotten a pedicure (that's just me, though -- I love a dark painted toenail, inasmuch as anyone who hates feet can feel affection for toenails), and she still seems unsure of how to hold herself in public. Also, smile. It's truly acceptable to act like you're happy with your life and career. For real. Maybe the glum expression is just an ode to the black detail around her waist, which might be making her feel emotionally connected to perennial loser and fellow zig-zag aficionado Charlie Brown, who also has very little to smile about, considering that his best friend is a dog with superiority issues and a girl whose greatest joy in life is seeing him fall on his ass when he tries to kick a football.
But that's neither here nor there, and I promise I will stop barking about her lack of enthusiasm
Kristen wore a look from the amazing Burberry Prorsum Spring 2010 collection. She layered a black classic coat over a sheer grey knit wrap blouse and draped knot satin skirt. This could've been a great look if it weren't for that black coat and those black Bally pumps. It was unlikely she was going to wear strappy sandals and a not wear a coat on a cold rainy afternoon in London, but as usual the styling lets her down. I think she would've looked better and been happier wearing something from the menswear collection.
Kristen Stewart was one of the presenters at the 2010 Oscars last night. I would've really like the young actress to have surprised me, but her custom-made Monique Lhuillier gown was to be expected- Dark and moody. Her stunning strapless midnight blue silk satin organza gown had a beautifully sculpted ruched bodice and a fitted asymmetrical draped trumpet skirt. She finished her look with a diamond bracelet by H. Stern and Bally heels.
I'm giving credit where credit is due: I LOVE this navy blue pleated number on K. Stew. She looks gorgeous, but she still looks like herself (for all our yapping about Kristen, it's not like we want her to show up places looking like, I don't know, Miley Cyrus). This gown is mature, but not too old for her; intriguing, but not dipping too far into the crazy juice; simple, but not snoresville. Thumbs up, kid. See Kristen, I'm sure you will either look great at your premiers OR you will look like you just woke up from a nap in a pile of Rob's hair product, and either way we're going to have fun.
The young actress wore a navy and white striped Camilla and Marc Spring 2008 mini dress, which is very much becoming her red carpet staple. I love the asymmetric detail of the skirt, and how long her legs look in this fresh dress. She wore her dress with black t-bar heels. Got great legs? Show them off with a short hemline—choose a dress with couture-quality details like tiers and draping for a formal effect.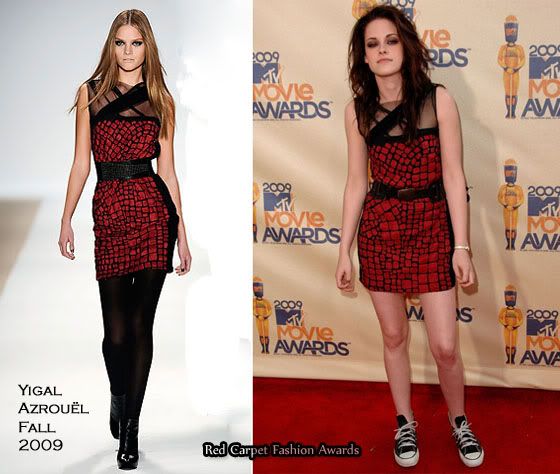 If we expected Kristen Stewart to wear a cute pink mini dress, with silver strappy sandals, we were wrong. She hit the red carpet wearing a Yigal Azroul Fall 2009 red and black dress, with a cross cross detail on the sheer yoke, and a wide black belt. I can imagine her being wrestled into this dress, and her stylist compromising on the Converse sneakers, but she totally rocks this look.
Kristen gave us the colour we were hoping-praying- for wearing a multi-coloured Proenza Schouler Spring 2010 ensemble. I love the color…can I just say that again I LOVE the color. The tie-dye top has a kind of reptile print feel to it, whilst the mini skirt is soft and feminine. It's the perfect mix of edgy and feminine to suit the actress who less comfortable in girly clothes. I would like to say I love this look head-to-toe, but as usual I got a THUD at the feet. The runway shoes would have been so cute don't you think? Kristen chose one of the collection's bolder scuba-inspired looks, swapping the runway's open-toe sandals for a classic, season-friendly black pump.
In a Chloe top and Marc Jacobs heels.
In Prada with Roger Vivier heels.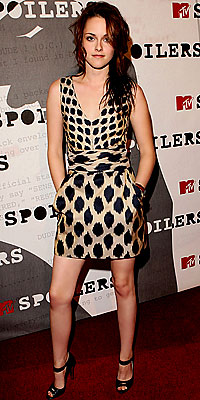 Kristen likes prints, and here she is wearing a gold and blue spotted DKNY dress and black pumps.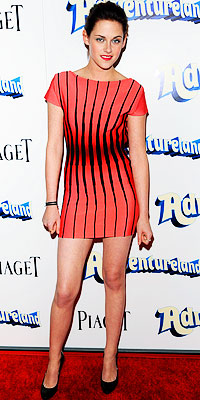 Kristen rocks this Herve Leger by Max Azria coral neon dress with varirgated black stripes that give willowy figured Kristen much needed curves.
Kristen wore an edgy Paule Ka black leather dress, with nude illusion straps, and a white origami detailed stitched hem. This is were her messy hair works, not on a couture gown. This dress feels more like her style. She looks more comfortable here
In a black and white Herve Leger Resort 2010 dress with gorgeous patent pumps yet with bed head hair.
In a laser-cut sequin black and white dotted Jason Wu Spring 2010 girlie strapless dress with a sweetheart neckline. She wears Sergio Rossi peep-toe platform pumps and Neil Lane jewelry. Kristen didn't make this look seem like too much hard work. I like that she belted the dress with a leather belt, and managed to keep her hair under control. It's wasn't a Cinderella fantasy tulle gown that didn't suit her shape, nor personality and I don't feel like she was wrestled into this dress.
Kristen looked comfortable swearing a Balenciaga Spring 2010 grey jersey organza embossed top with sheer panels, paired with a petrol leather skirt which also has sheer panels. You'll be pleased to see we even get a wide genuine smile. Kristen's skirt has sheer panels and through those panels you can see her pants. I guess this is a trend that's going to be around until the end of next summer, so we better get used to it.
I love the fact that she attempted to tame the hair. It's much better than some of the horrors she's been sporting lately. I like the olive green color of her Valentino chiffon dress, and the soft pleats. The dress has asymmetrical pleating and ruffles running down one strap. Kristen wears Sergio Rossi black peep-toe pumps.
Kristen Stewart in classic Kristen Stewart Style: (Gucci) blazer, rock tee, jeans and Converses.
Kristen Stewart wears a French Connection 'Jack' plaid dress with a tulip skirt. She wore her strapless plaid dress with ruby pumps, and a Chanel necklace.
Kristen Stewart is very well known for her grungy chic and she nails a feminine yet edgy Balenciaga asymmetrical lace top dress, with her usually messy hair pulled back in a loose up 'do, Christian Louboutin simple suede pumps, and Chanel fine jewelry.