I am in love. This is a perfect look!
Bryce Dallas Howard has been hitting the red carpet a lot recently and giving us some stunning looks.
At the 14th Annual Hollywood Awards Gala last night she wore a Reem Acra Spring 2011 dress.
Her bustier watercolor dress with gold embroidered details is gorgeous.
Jimmy Choo sandals complete her look.
I love it -- she looks slim yet curvy, and the color is nice on a redhead. the one sleeve is kind of the least of the problems here: All that pulling in her bosom makes it look like Bryce stayed in the bath too long and came out a dark-teal raisin. Look, I like raisins -- in cookies, cereal, and cookies, but nowhere near my bosom unless I have dropped a cookie, some cereal, or a cookie on my shirt. Period. But this is fabulous.
It looks extensions-y, even if they aren't, and it makes her look so generic -- like any other starlet in town who's just waiting for her big break. Which isn't technically TRUE in her case. Girlfriend needs to be practicing more Truth In Hair Advertising. Chop that thing down, honey.
As for the dress -- or skirt and top -- I kind of like it. I do love me some sequins.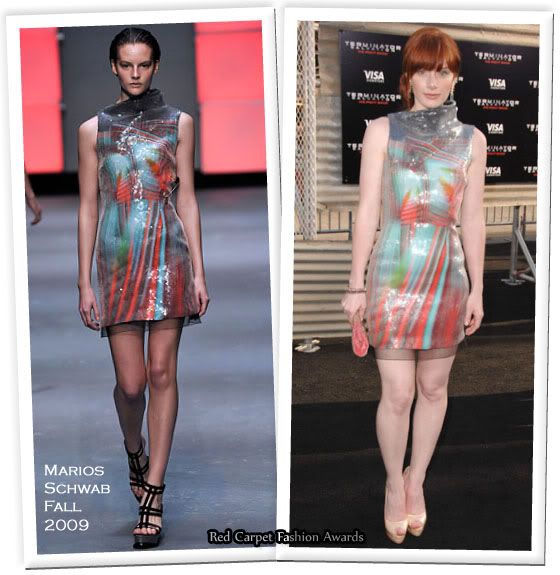 I gotta give to it Bryce Dallas Howard for giving this look a go. I think she rocks it, even though this dress is not in my taste. Call me crazy, but is there something about this look that seems very....TILDA SWINTON to you? I mean, leaving aside the fact that Tilda Swinton doesn't bare her legs very often. I can just see it on her, perhaps because it's mildly futuristic and also a bit ugly, but in a way that seems potentially extemely expensive. It takes a brave woman to wear this, but perhaps we should have expected nothing less from the Heir of Richie Cunningham.