Some say Ashley Greene's more lady-like style turn is aging her, but I disagree. She wants to look stylish and professional. I love the pearls on her top. Smiling wouldn't hurt darling :)
For two seconds I thought Ashley was nude here, and then I realized she's just wearing a ton of nude.
I don;t like this look at all, but I will give Ashley credit for thinking outside of the box and trying to be elegantly minimalist.
I love everything about this look. Everything.
There is something cute here, but not enough to tamp down my suspicion that the studio execs flew her there by private jet, and then made her serve the warm nuts and scotch-and-sodas.
But Ashley took a risk, and I think it paid off.
This dress may seem to be designed for 60 years olds, but I think Ashley Greene looks elegant and lady-like. She is helping Kristen Stewart carry a franchise, remember folks.
Pretty! A bit crinkly, maybe; still, it's shiny, and I like the tiny ruffle on the hem. I think it fits. I can totally imagine how that went, because I've done it a thousand times: You want it to be The One, and it's the size that makes you feel better about yourself, and you like that your waist looks small and that it shows off your giant quadricep muscle (okay, that last bit has never happened to me...), so you tell yourself, "It doesn't squish my boobs THAT much... really, this isn't bad AT ALL, RIGHT?"
Ashley went for a mature instead of youthful approach to celebrate her Seventeen magazine cover. I am charmed.
Different pumps would have made me like this more, but at least she is trying something new with each look.
Casual and put together.
I wish she wore different pumps, but I love this look. But I wish she smiled more.
Of all the looks from the Fall 2010 collections, this Antonio Berardi Fall 2010 LBD is in my top 5.
When I saw it at a press day recently, I promised myself that this dress will see the inside of my closet.
Ashley Greene wore the cream version of this dress and I will assume she didn't get the "subtle sexy" memo by the way she's unzipped this dress down to her waist. Some didn't like that she made this dress sexy, but I am loving it. I think she is fabulous!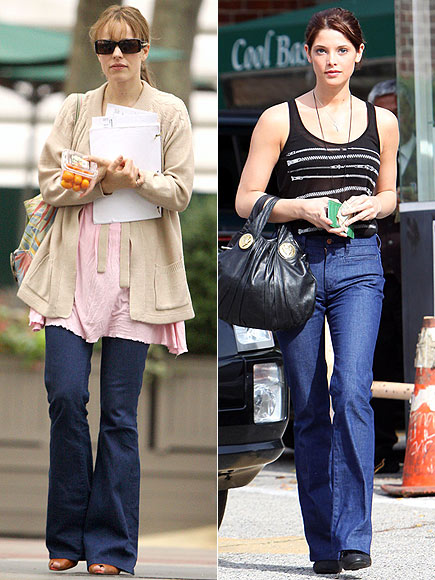 The '70s are back! McAdams rocked her MiH bell bottoms with a sweet pink peasant top and oversized cardigan, while the Twilight fashionista gave the flares a stylish update with a Simdog zipper-detailed tank and luxe Gucci bag.
A pop of color would have been lovely, but she still looks nice.
Ashley Greene had a busy time in Milan seated at the front row of Giorgio Armani, Gucci and Dolce & Gabbana. With her hair loosely pulled back the "Twilight" actress wore a purple and pink strapped Giorgio Armani Resort 2010 loose fitting dress. I loved her pink accessories with this look. At Gucci she also opted for a Resort 2010 dress, which she paired with a Gucci bamboo handle bag. Her front row look at Dolce & Gabbana was my least favorite.
I don't think the long sleeve floral print chiffon dress suited her, especially paired with those Dolce & Gabbana lace mesh peep toe booties.
The other sophisticated looks suited her style better imo.
The shortness opf this dress worries me, but I love this look. She looks so cute with her haircut.
In Dolce & Gabbana.
My first reaction was that I didn't like Ashley Greene'sBottega Veneta Resort 2010 striped suit, but after so many great red carpet dresses this look feels refreshing. It also shows that both Ashley is thinking outside the box, and not playing it safe. My main problem is actually the striped shirt, because the suit is not so bad. I think this would've been a hint better if she wore a solid colored top rather than her (okay) black and white striped top. She also, it seems, loves her some ill-fitting pants. Honey, when the waistband is strained thusly, it's in your best interest to have A Clothing Professional nip over and move the inside button just a wee. Or put a belt over it. Or untuck your shirt. I myself have a waist that is a bit wide in proportion to the rest of me, so I know the deep pain that occurs when your ass needs one size, and your waist could use a bit of breathing room.
Ashley Greene has fallen in love with those Sergio Rossi heels we have seen also worn by pal Kristen Stewart. The nude heel works perfectly with the VBH envelope clutch she used to accessorize her white column Andy & Debb dress. I love her antique style earrings and that divine pink lip color.
Ashley Greene - I believe - is the first celeb to wear a Pre-Fall 2010 look on the red carpet, which only prove how much being taken seriously in the fashion world. The Twilight star wore a pale lemon J.Mendel Pre-Fall 2010 dress with a sheer yoke, pleated bodice and a draped detail cascading from the waist. I love the dress and the color is divine on her, and I even like the matchy matchy color of the clutch and earrings. Champagne peep-toes complete the look.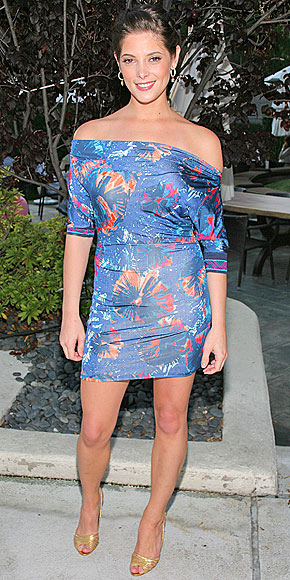 Ashley Greene wears a tropical floral off-the-shoulder BCBG Max Azria dress with gold metallic Sergio Rossi heels.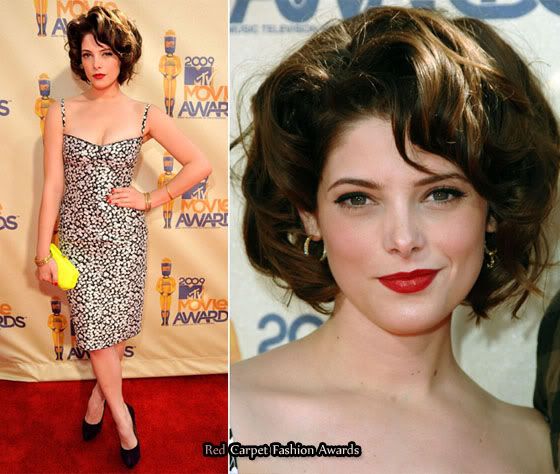 Ashley sizzles in a plunging zipper-detailed Brian Reyes dress with an orange neon clutch and "Verity" Jimmy Choo heels. With a bright orange shell and gold rim, her small clutch packs a punch.
In Jimmy Choo "Verity" heels.
In a Dolce & Gabbana bustier corset top and floral skirt, Raven Kauffman Couture purple clutch and cherry ankle-strap sandals.
This yellow clutch has just enough gold hardware to make a statement. Ashley's Etro heels have thick ivory straps that add an interesting twist to the classic sandal.
Ashley wears her curve-hugging Prabal Gurung scarlett red dress with cut-out shoulders, gold Ippoltia earrings and a gold gilded cylinder metallic Jimmy Choo clutch (not in picture).
Ashley wears a cream and black D&G butterfly applique dress wrapped with an obi belt.
Ashley wears an embellished D&G top and skirt with an obi belt.
In a black Nicole Miller dress with printed shoulder panels and a Bally clutch. Ashley proves that posing practically nude in a magazine helps make you (more) famous. Bravo Ashley. Great dignity. Ugh.
Ashley Greene is making all the right style choices. Nothing is predictable, too safe, nor boring, nor attention grabbing tacky. I absolutely adore her teal and black Yigal Azrouël Fall 2009 sleeveless dress. The pointy sleeves are interesting, the color is intriguing and the length is perfect. Even though I hate tights, tights were appropriate for a news channel event.