It is official: Emily Blunt and John Krasinski have finally married!
While John did some solo photos, and Em hung back off the dais while he did his E! interview so he could have his moment, but they also posed together a bunch and seem genuinely proud and happy to be seen in public on each other's arms. And for a second I thought he even matched his bow tie to her dress, which issweet and yet also over the top, but in the end I think his is actually gray. I don't even care. They're so cute together.
The details are interesting and romantic -- they almost remind me of a trail of shells from a walk on a beach, and yes, I think I just channeled Nicholas Sparks. I love a dress that hits the right balance between flattering itself and flattering the lady in it, and for me this is it. Also, I got all the way through this post without writing, "To be 'blunt,' I love it!"
Unfortunately there is only a cropped picture of Emily, which pissed me off, because I want full pictures. Anywho, Emily wore a strapless Pre-Fall 2010 black and white dress which is embellished with stones and feathers.
As the picture is cropped I have to reconstruct the rest of the look in my mind.
I'm thinking no tights and black heels.
Emily is bold in a cobalt silk Carolina Herrera dress.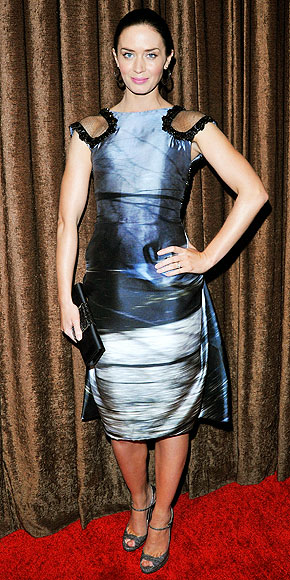 Emily goes high-fashion in an elegant gray Georges Chakra Couture gown with sheer shoulder insets, Daniel Swarovski handbag and Atelier Swarovski jewelry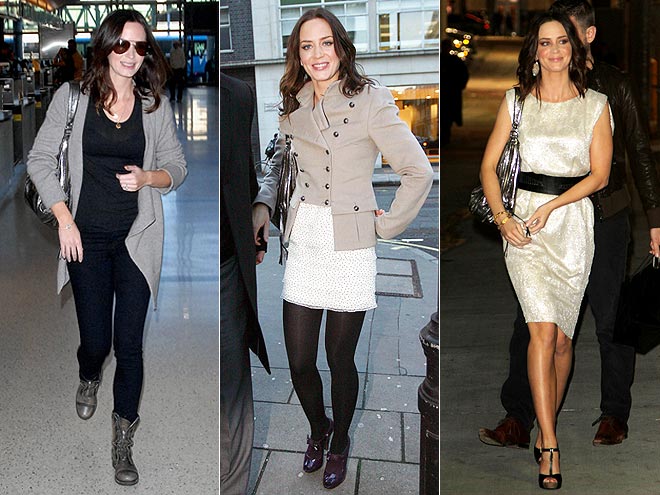 Adding a touch of sparkle to her flirty dresses and cool skinny jeans, Emily Blunt totes her metallic Botkier "Jackie" hobo everywhere from Los Angeles to London.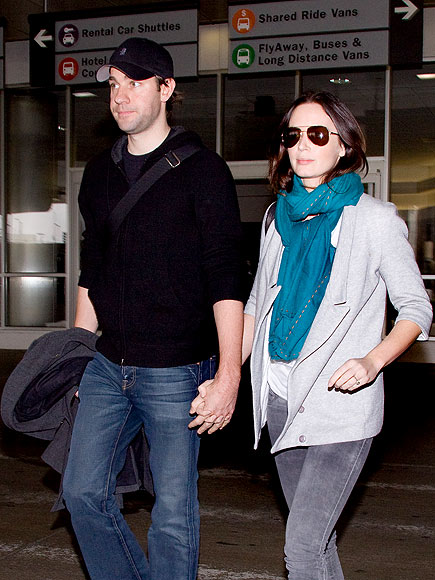 The British actress keeps comfortable and fashionable while traveling in a Monrow tuxedo jacket.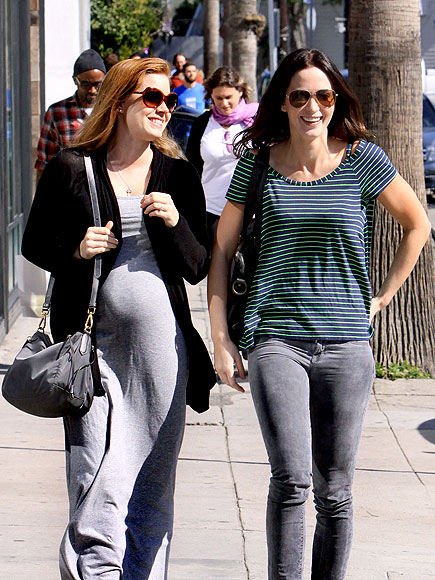 Making for one bright shopping buddy, Blunt tops her jeans off with a neon striped Splendid T-shirt – complete with sexy cut-out shoulders.
On her special night her plus 1 was actor fiancé John Krasinski. She looked beautiful wearing a one-shouldered Kaufman Franco navy Grecian dress with a bejeweled waist band and an asymmetrical hem.I love the feathered hair accessory, her flawless make-up and those sexy Sergio Rossi cut-out sandals. EMILY! HOW YOU HAVE CHANGED! I LOVE YOU HERE. Emily is trying so hard and her efforts have totally damn paid off. She looks stunning- sexy, sophisticated and eye-catching. Plus, she has her sweet arm candy, John Karsinski.
Emily's green croc printed clutch gives her outfit a much needed boost of color and texture. Her layered chain rope necklace is an essential fashion piece and Emily shows that you can even pair it with dressy shorts.
Emily Blunt loves to shine on the red carpet. We often we see her in heavily embellished looks. She wore a Georges Chakra Fall 2009 Couture sequined dress, with a sheer yoke and fish-scale embroidery detail around the hem of the skirt.Emily finishes her stunning looks with a simple black satin clutch and sophisticated Diego Dolcini strappy heels.
Emily Blunt and John Krasinski looks so damn gorgeous on the red carpet. John looked handsome wearing a navy Prada suit, whilst Emily was a knock out wearing a pink tulle and chiffon Dolce & Gabbana strapless dress paired with Lorraine Schwartz jewels.
The British beauty stood out from the crowd in this royal blue Carolina Herrera Pre Fall 2010 dress. She wore Jimmy Choo Private nude patent sandals with a complementing clutch. This shade of blue looks so elegant against her brunette hair and the detailed neckline adds an interesting touch to this look.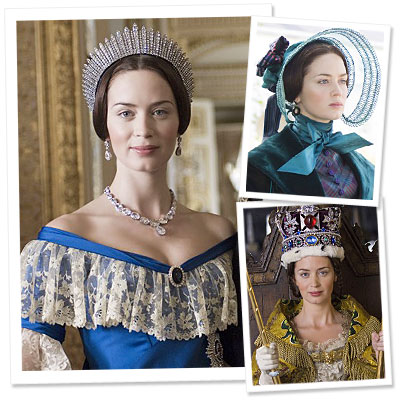 From ornate Swarovski encrusted headdresses to detailed gowns, Emily Blunt's costumes in
The Young Victoria
are rich and regal. In fact, the film follows the 19th century British queen's style evolution as much as her ascension to the throne. Her clothes resembled little girls' party dresses that were very pretty and frothy. Once she becomes queen her style becomes more streamlined and sophisticated.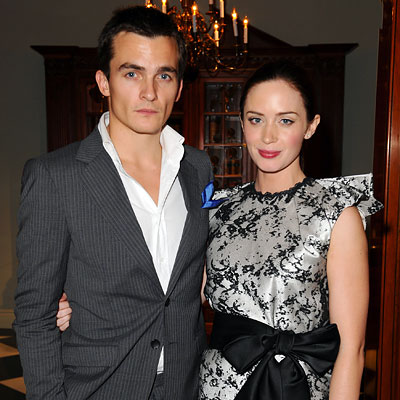 Emily Blunt (in a short and sassy black and white print flutter sleeved Marchesa dress) plays Queen Victoria and Rupert Friend plays Victoria's soul mate Prince Albert in the gorgeous and poignant film
The Young Victoria
. See it!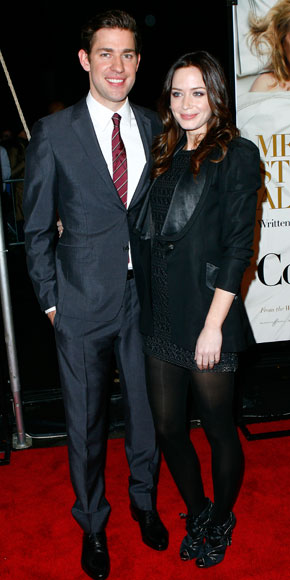 Emily Blunt and her adorable fiancee John Krasinski make quite the cute couple as they pose here in a hip mix of high and low, with Krasinski wearing a Prada navy suit and Blunt wears her beloved Topshop in the form of a textured Topshop minidress with a tuxedo blazer and cutout booties.
Love the dress but the heels don't work with the silver and feathered skirt.
Emily's editorial for Harper's Bazaar had a fairy tale-like princess quality to it, with the princes charming, the gowns and the dreamy backdrop. Emily Blunt looks gorgeous in this stunning Christian Dior gown! I absolutley LOVE this!
The absolutely perfect gown for the stunningly beautiful fresh-faced Emily Blunt. Emily should wear Christian Dior more often!
Sleeping beauty.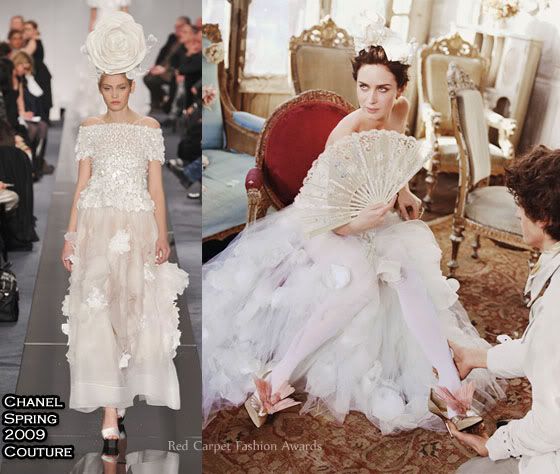 I LOVE the feathered shoes. I am totally flustered. I love the seductively coy pose with her facial expression and the fan.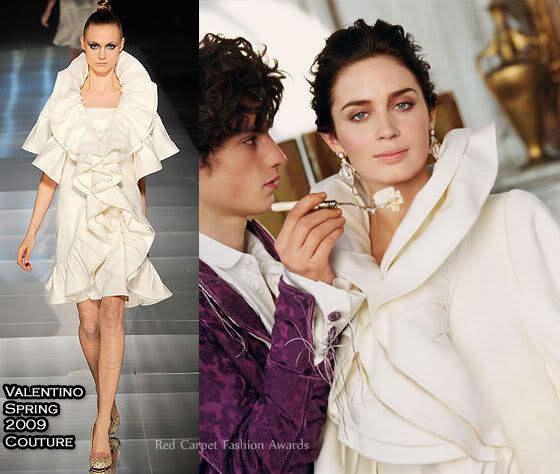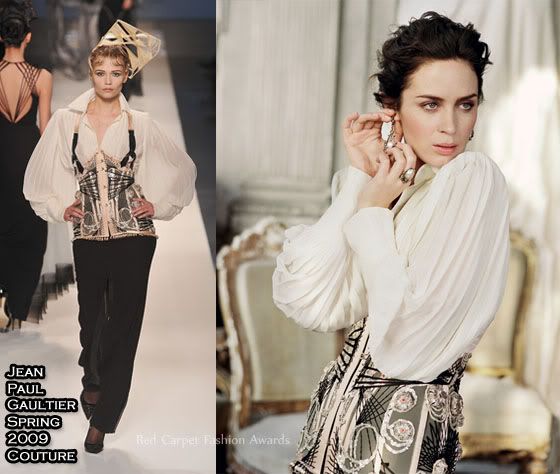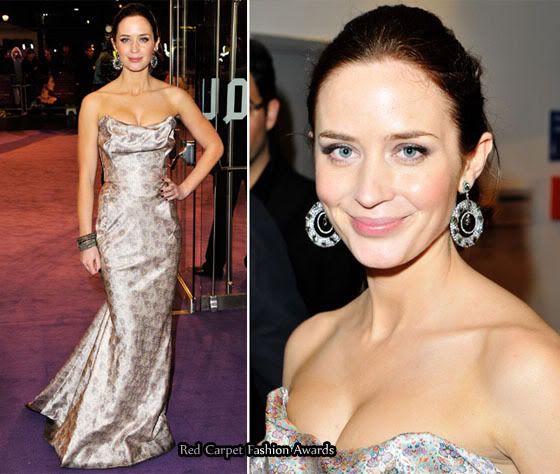 Emily Blunt embraces her Brit roots in a Vivienne Westwood strapless gown that effectively glorifies her emerging twins. She looks radiant in her strapless bustier floral print gown. I am glad she didn't wear a necklace, as the earrings and diamond bangles were enough bling. Her stunning spherical black and gunmetal earrings brought in a baroque angle, as well as her thick bangles.
I love this cute strapless navy polka dot dress with stunning gold Prada shoes.
Looking dashing in a perfectly fitting Calvin Klein Collection strapless sweetheart neckline curve-hugging gown. "It's only a matter of time before Emily is a big star. Glamour suits her. So we made this just for her in hammered sequins in a color to match her eyes. Twisting the chiffon didn't occur to us until she tried it on. Special things happen at fittings." Oscars 2007.
Sexy and sparkling in Clavin Klein Collection and Lorraine Schwartz jewels.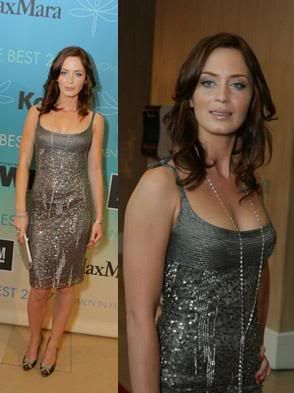 Glimmering and glam in Max Mara.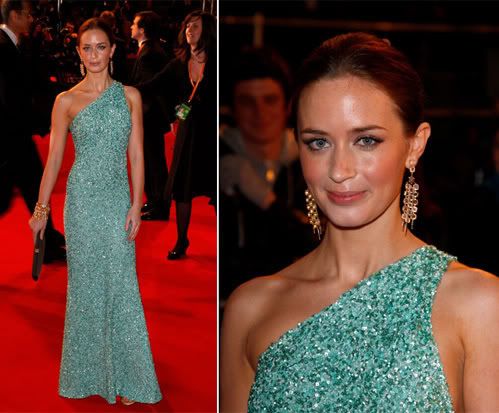 Emily Blunt chose a sparkling one shoulder curve-hugging turquoise sequined Marc Bouwer gown and gold dangling earrings and gold stacked bracelets. This light blue is striking with Emily's brunette hair and it brings out the lightness in her eyes. "I chose this one by Marc Bouwer because I love the color and it's a sexy shape," Emily explains. She got it right.
I like this dress on Emily Blunt because the design stops it from being another boring dress. The foundation of her dress in navy and covered in black tulle.
Emily Blunt is simply gorgeous in her nude strapless tulle Dolce & Gabbana dress with a grosgrain waist belt tied into a cute bow. Her gold Lambertson Truex clutch has crocodile texture and her Louboutin t-strap heels complement her clutch. Her accessories were very complementary to her look without being to matchy-matchy.
Emily wears a ruby-red Basil Soda sheath with a wrapped and beaded bodice; she accessorized with silver sandals, a crystal-studded clutch and dramatic gems. I love the wrap around beaded bodice as it's so interesting and unique, plus I adore her silver sandals, and her crystallized ruby clutch is to die for.