Michelle Yeoh sticks to her favourite designer during Cannes Film Festival.
The Asian actress opted for a Roberto Cavalli Couture gown for the "Wall Street: Money Never Sleeps" Premiere.
Her pale yellow organza tiered strapless gown is everything we would expect from Michelle: classy, elegant and graceful.
I was just about to pass on the "Biutiful" Cannes Film Festival premiere until I saw Fan Bingbing.
My of my best dressed stars glided down the red carpet like a beautiful swan wearing an Elie Saab Fall 2009 Couture gown.
The white strapless organza and tulle gown may look a little bridal, this gown is just gorgeous. There is absolutely no denying how stunning Fan looks.
I really appreciate the bronze lip color, as I may have been turned off this look had she opted for red.
Everything about Fan from her gown, to her pose, to her accessories, to her overall styling screams elegance.
It's hard not to admire her.
God bless Cannes Film Festival.
Chinese actress Fan Bingbing looked absolutely sensational on the red carpet for the "Chongqing Blues" premiere during Cannes Film Festival last night.
I knew she would look amazing, but I'm totally blown away.
The Asian actress wore a a nude silk mousseline pleated Elie Saab Spring 2009 Couture gown with an embellished bodice. The back has an expected embroidered detail, which I find utterly divine.
Big hair is obviously a trend on the Cannes red carpet, as Fan's hair was swept up into high bouffant which was accented with a double braid.
I love Fan for wearing this gown.
I never understood why this collection wasn't worn more on the red carpet.
Red lips and a sparkling silver clutch which complements her stunning jewels completes this breath-taking look.
I don't know how I missed this stunning look on the red carpet at the "Robin Hood" Premiere during Cannes Film Festival last night. Fan Bingbing looked sensational wearing a gold one-sleeved print gown by Lawrence Hsu with crashing waves on the hem.
This look works traditional Asian embroidery with a contemporary design in the padded one-sleeve. The two leaping dragons and waves are traditionally thought to bring eternal peace and prosperity. LOVE it.
It's not just the American actress who are in town for Cannes, our favourite Asian stars are too. Fan Bingbing is one star you can always rely on to bring elegance to the red carpet. She's at the festival to promote "Chongqing Blues" with her co-stars Yi Zi, Li Feier, Xiaoshuai Wang, and Hao Qin. Fan left me breathless as she looks so beautiful wearing a Valentino Fall 2010 dress. The pink is perfect for her milky complexion. I love those delicate ruffles which cascade down her skirt. Those of you who like details will be happy that she kept the butterfly brooch on her dress.
Simple jewels and invisible make-up completes this stunning look.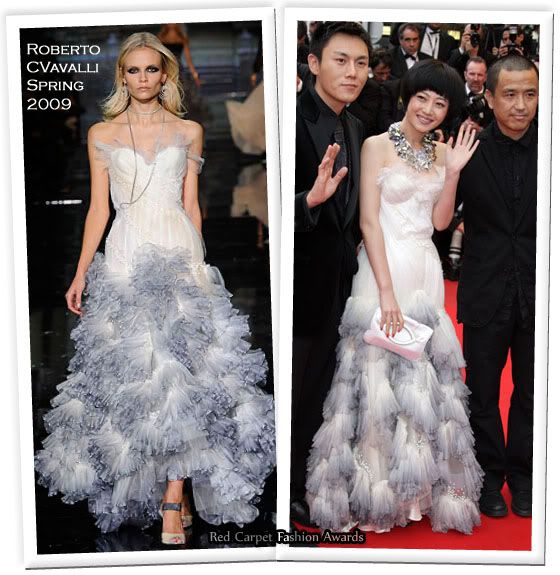 I am in love with Tan Zhuo's Roberto Cavalli strapless tiered gown. It is so magical; her heavy crystal necklace adds more magic and mystery to her look.
Korean stars Jang Dong-gun and Ko So-young (aka Korea's answer to Brangelina) recently got married. The couple's wedding was held at the Dynasty Hall of Shilla Hotel and was attended by the biggest stars in Korea. Around 500 people attended but all eyes were on the bride wearing Oscar de la Renta.
Her wedding gown was slightly modified from the runway as her gown doesn't have the chiffon off-the-shoulder detail, which I think the gown looks better without.
The blushing bride kept her look simple by adding a white floral accessory in her hair.
Jang wore a Tom Ford suit and their wedding rings were by Chopard.
Actress Michelle Yeoh looked breath-taking as she arrived at the event.
She wore a faded blue ombre Ralph Lauren Spring 2010 chiffon dress.
I adored this dress on the runway and I'm happy to see Michelle do justice to the stunning dress. The dress has a tiered skirt and a exquisite embroidered beaded hem, which matched the detail on the neckline.
I love Michelle's look, but I do prefer the runway shoes to matching blue pair she wore.
Li Bingbing & Fan Bingbing both attended the Shanghai Bazaar Charity Gala 2010 in China. The Asian actresses presented together at this event wearing the same designer.
Li wore a navy off-the-shoulder Tadashi Shoji Fall 2010 gown with a lace overlay and a black belt, whilst Fan wore a liquid silver draped off-the shoulder Tadashi Shoji Fall 2010 gown. Both look stunning as they kept their jewelery subtle, but Li was my favorite. Her dress fits her like a glove.
Gong Li is a goddess, and she's very much the first Lady of Louis Vuitton which is why invited to be part of these store openings. She's always front row or attending a chic LV party. The Asian actress is the first to wear a look from the Louis Vuitton Fall 2010 collection.
I love her vintage velvet floral dress which has an dirndl-esque petticoat skirt. I would've liked to have seen this dress without the necklace, but it's still a fabulous look.
I hope we'll see more of these dresses on the red carpet. Unfortunately this was the best picture I could find.
Jeon Do Yeon is the latest celeb to fall in for Victoria Beckham's pencil dresses.
This dove grey cap sleeve Spring 2010 dress with VBs signature exposed zipper at the back, was Jeon's choice for the press conference of her new movie "The Housemaid".
I love the dress, but I really dislike the shoes.
The matching heels on the runway are much preferred to Jeon's choice.
*Sighs* I'm nearly speechless.
Fala Chen was absolutely breath-taking as she walked the red carpet at the 2010 Hong Kong Film Awards yesterday.
The Asian actress wore a Valentino Spring 2010 nude gown with a lace embroidered overlay and gold mesh inserts in the bodice. It's the perfect fairy princess gown, without being to sickly sweet.
I just love how it complements her skin-tone.
Shu Qi also wore a breath-taking nude gown on the red carpet at the 2010 Hong Kong Film Awards.
The 2009 Cannes Film Festival judge looked so regal as she glided down the red carpet wearing a strapless Elie Saab Fall 2008 Couture gown.
This dress is typically stunning, and typically embellished.
Shu didn't need jewels as the embroidered details on her tiered skirt sparkled enough.
Zhang Jingchu floated down the red carpet at the 2010 Hong Kong Film Awards.
The actress wore grey dramatic Valentino Spring 2010 gown with black open-toe heels.
I really wish she'd kept this look very simple like the runway and not worn all that jewelry and the tiara.
I would've also preferred to have seen matching heels or silver heels, because my focus goes directly to her black shoes when I should be concentrating on the construction of her amazing gown.
Park Bo-Young and Shin Se Kyung warmed my heart looking this beautiful.
Park Bo-Young has won me over with her love for pretty, ultra feminine dresses.
She gives me that again with this sweet pretty pink mini.
I love the dramatic forest green colour of Shin Se Kyun's asymmetrical gown.
The neckline is exquisite as it gathers in a knotted detail on her shoulder.
Whilst her fellow actresses were wearing high-end fashion, Baek Jin Hee was wearing a red dress from the high-street. Baek wore cute mini dress from H&M's recently launched Garden Collection. The Garden Collection is a lovely eco-friendly collection made of organic and recycled materials. I give Baek points for wearing this H&M dress amongst designer-clad ladies. That takes moxie. I love the dress, dislike the clunky black pumps.
Han Hyo-Joo opted for a tailored Victoria Beckham Spring 2010 black dress with a voluminous skirt. I wish she hadn't changed the color to black, because I would have loved to see the gorgeous navy runway color on her, but black works here. Chain embellished ankle boots give this look a bit of an edge, but Han still look sweet. Love the silver clutch.
The Blumarine Spring 2010 collection of last October had a tie-dye meets-summer vacation vibe and I've been eagerly awaiting its presence on the red carpet.
Son Ye-Jin made that wish come true by wearing a bright orange asymmetrical dress which is embellished with rhinestones and has a sexy thigh high split.
I am thankful Son took a pretty approach instead of the obvious sexy approach as presented on the runway.
Son Ye Jin looked breath-taking in her lovely delicate tulle ruffled sleeve Fendi Spring 2010 dress paired with Fendi heels which have a python ankle strap. I love the look. It's so pretty and complements her skin-tone perfectly. With no make-up, she looks so beautiful.
Bae Doo-na wore a head-to-toe Fendi Spring 2010 runway look.
The look included a sheer appliqué cotton blouse, a voluminous bubble-hem skirt with a paperbag waist and those lusty worthy tulle sandals.
Some of you might be screaming that she ripped this right off the runway without interpreting the look to her own personal style, but when she looks this good in the look I think it's hard to argue because she looks amazing.
Why break up all the pieces when it look so great together?
The heels however are different colorwise and she's tied them in a different way to the runway. I love it when the runway look is interpreted!
Chae Rim matched that beautiful angelic face of hers she wore a white Marc Jacobs Spring 2010 mini dress. Her white ruffled dress with pearl embrodiery looks like she has layers of clouds wrapped around her. No runway styling here. She added very simple ivory slingbacks to complete her look. The heels really elongate her legs which already look sky high in that mini.
Han Chae Young wore an interesting Gucci Spring 2010 dress paired with silver heels. Her stunning grey dress is detailed with silver beaded embroidery and a lace-up harness for dramatic effect. Many of you have stated that looks on Asian red carpet tend to copy the runway head-to-toe. Well Han opted for a different pair of heels. I'm not crazy about her choice, so I would've preferred a head-to-toe runway look on this occasion.
Beautiful actress Guey Lun-mei opted for a white Christian Dior Fall 2009 dress with silver embroidered detail on the skirt. The dress was paired with a silver Dior clutch. It's such a simple dress, but the embroidered detail and clutch add a touch of magic to the look.
Uhm Jung Hwa looked amazing wearing a blue Stella McCartney strapless tuxedo dress from the Spring 2010 collection. Uhm opted for high-end, wearing a pair of Balenciaga platform sandals from the Spring 2007 collection. I adore this dress. It's so cute and chic. Wearing her hair up and opting for minimal jewelry was the perfect way to go for this look, but I would've preferred heels in a lighter colour like the one's the model wore on the runway.
Chang Yung-yung wears this pink Versace Spring 2010 flowing dress looser and bigger than it was presented on the runway. It drowns her.
Gao Yuanyuan wore a beautiful strapless Versace Spring 2010 lilac gown with a central split. Her hair was swept up into an elegant updo whilst she added silver jewels to complement her gown.
Stunning actress Chi-Ling Lin, arrived on the green carpet wearing a Valentino Fall 2008 halter gown, with embroidered details and a layered skirt.
I am in lust. I love everything about this look and it's such an amazing color against Uhm Ji Won's skin tone. I'm really glad she wore this look the same shoes as on the runway.
Park Jin-hee wore a Diane Von Furstenburg Josun strapless dress that needed to find a home off the runway. But I hate her tights.
Han Chae Young looked amazing wearing a 3.1 Phillip Lim dress that resembles a Rodarte sculptural pleated organza lace underlay pleated tiered dress. Han rocks this creative dress with orange ankle strap black platform heels.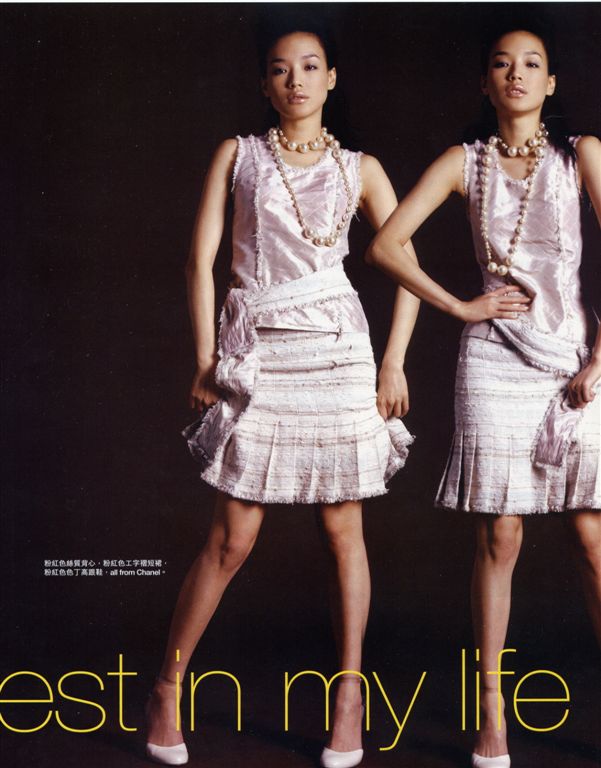 In a cute pink tweed Chanel outfit.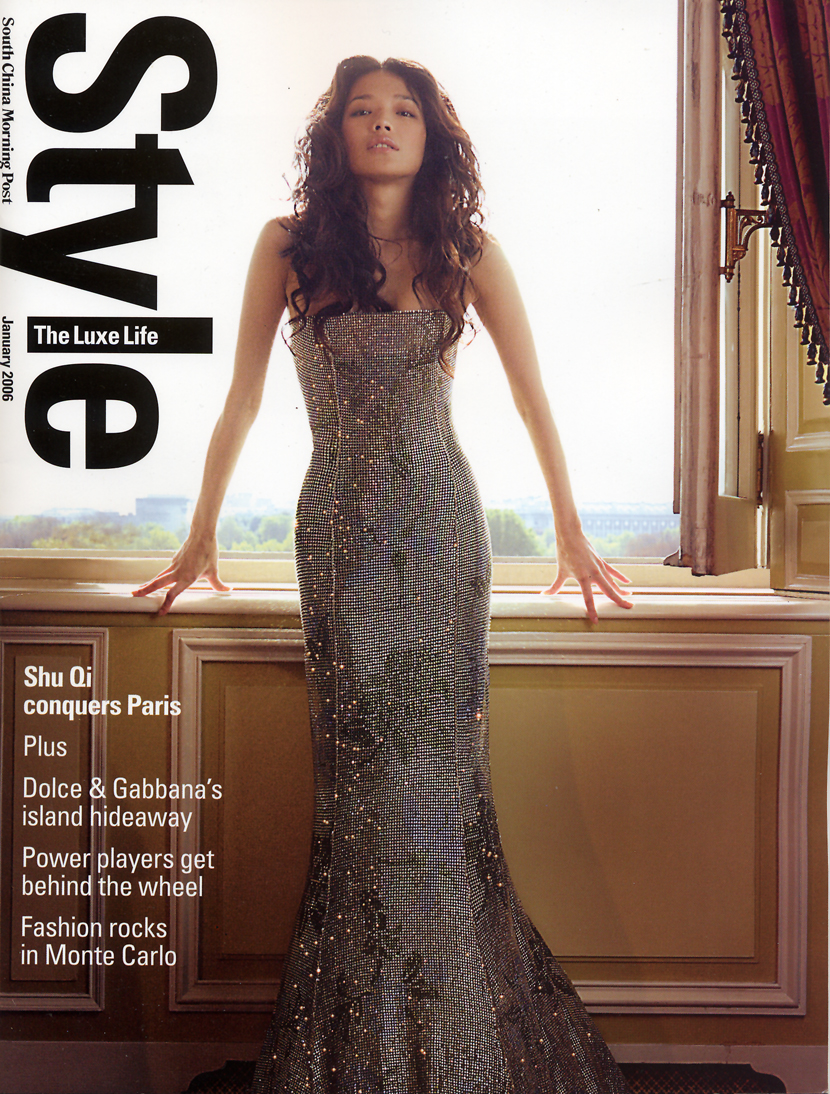 In a platinum sparkling metallic strapless knock-out gown.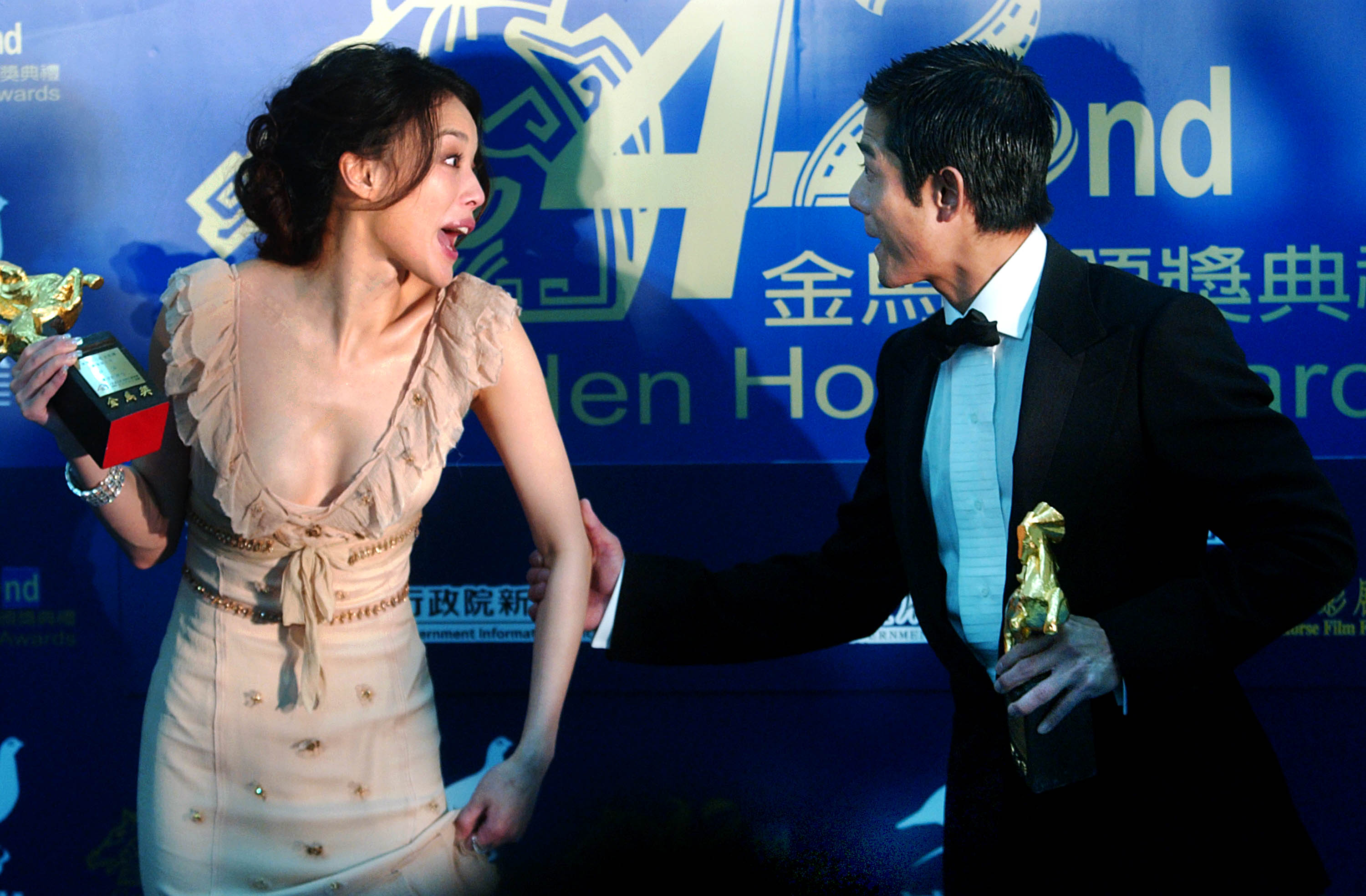 In a gorgeous blush chiffon gown.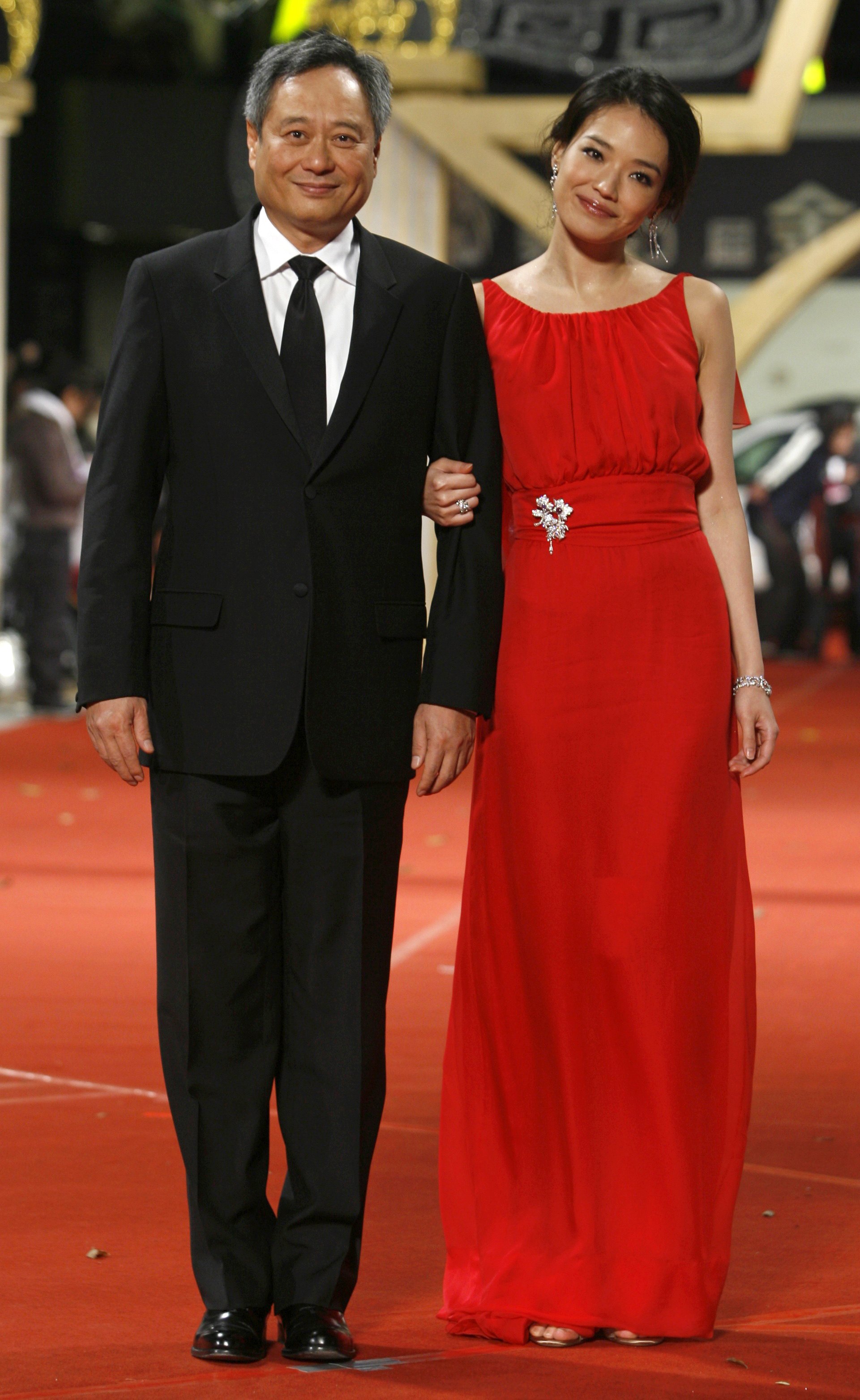 A lovely lady in radiant red.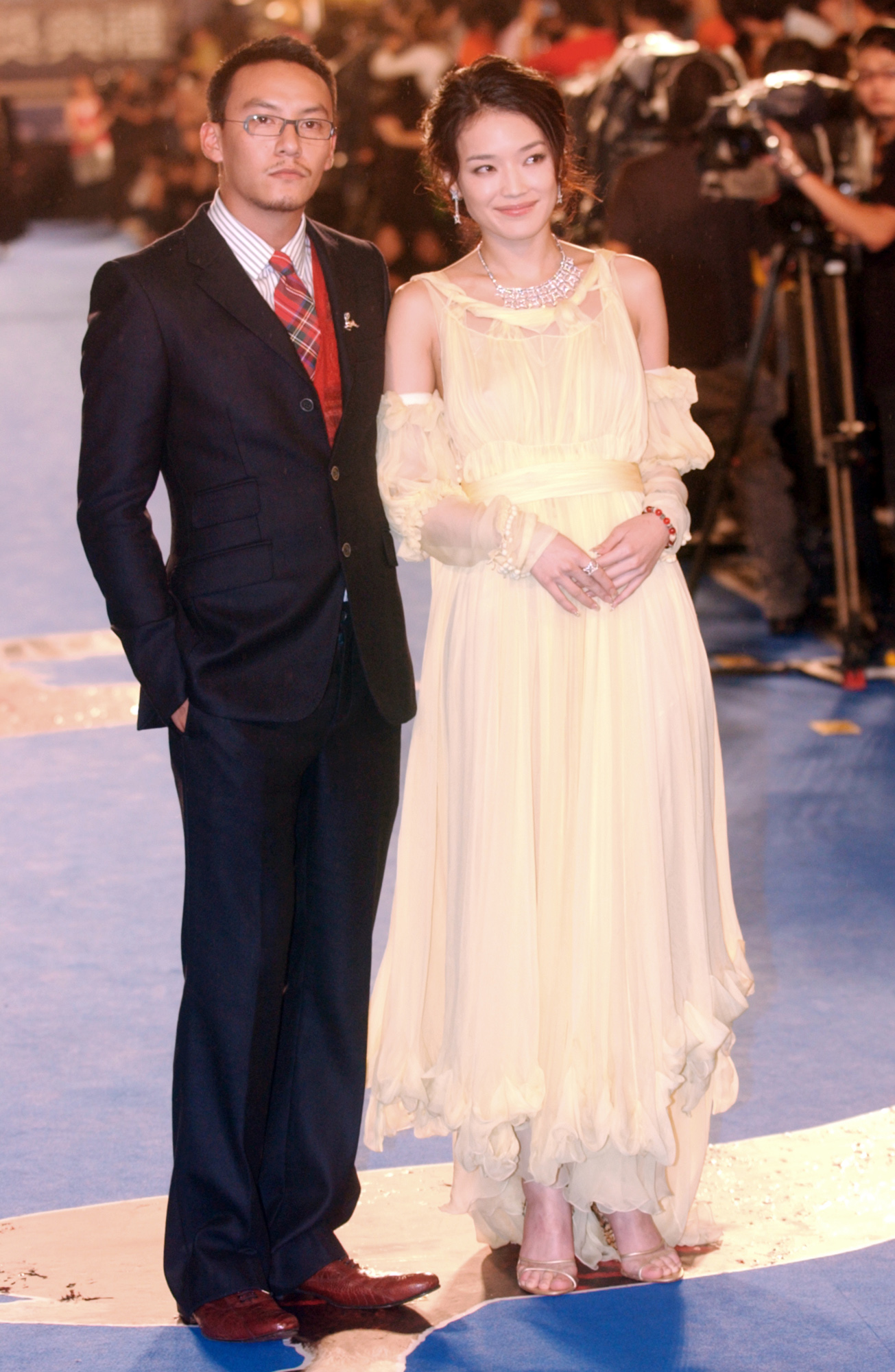 In a flowing buttermilk chiffon gown.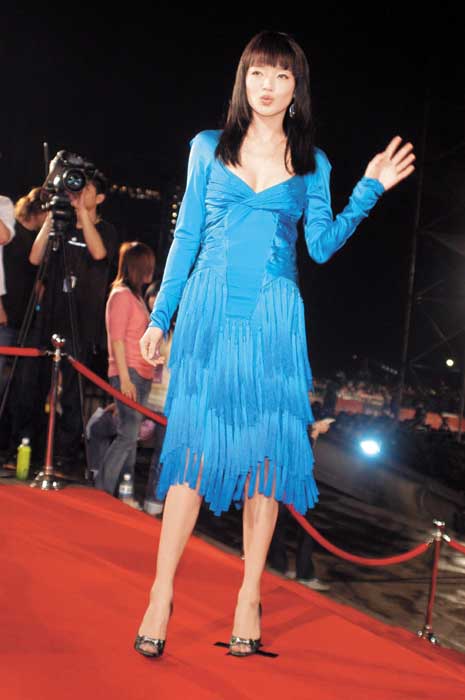 In an intriguing blue dress.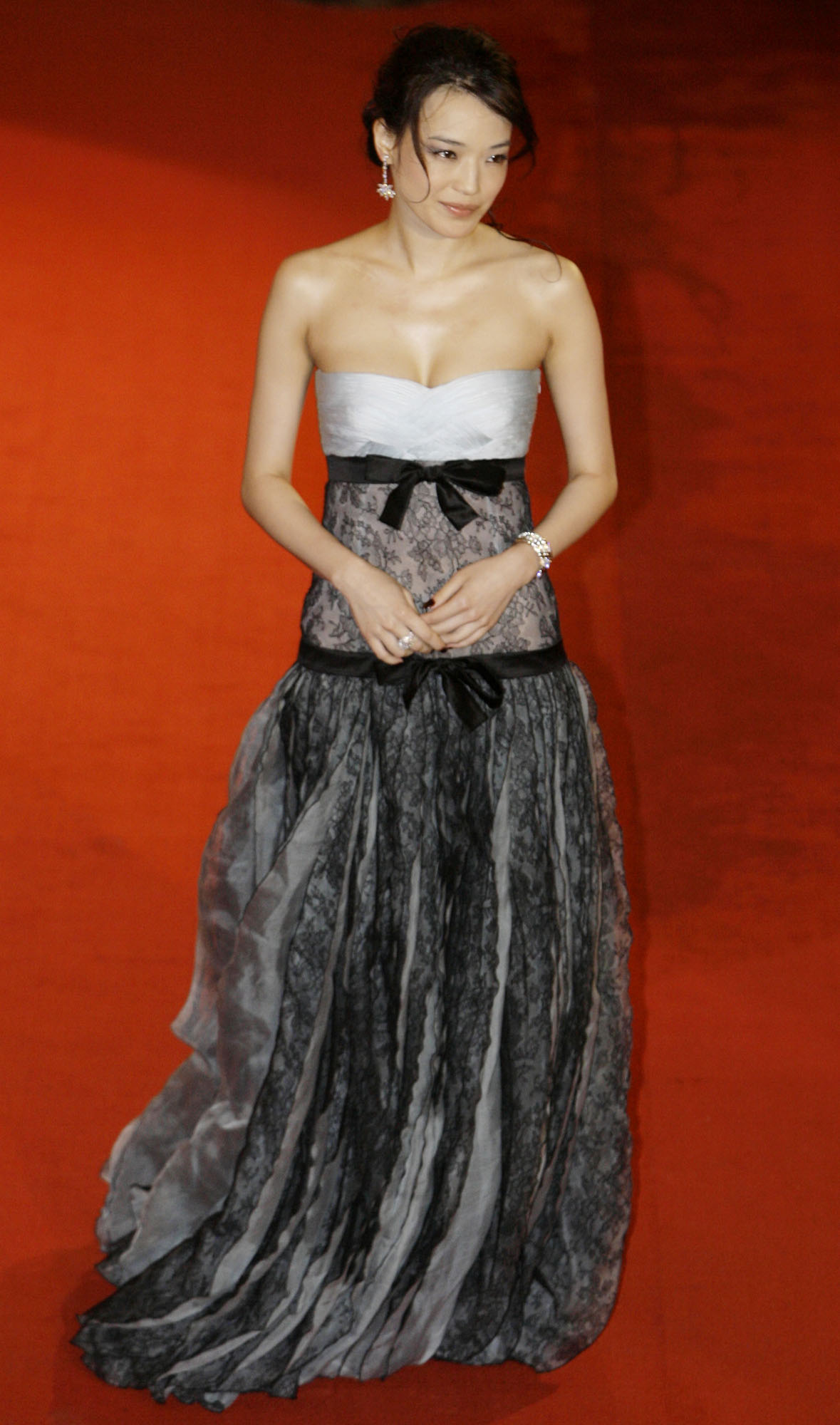 In a gorgeous Valentino strapless lace gown.
We all went gaga of the soft pastel pieces with the twisted details in the Burberry Spring 2010 presentation. Lim Soo Jung wore a complete Burberry Prorsum Spring 2010 head-to-toe look, right down to the socks and leather strappy heels. The only thing different was that Lim's twisted skirt was a lot longer, and she wore a matching colored shirt. I would've preferred the length of her skirt to be a little shorter- but not as skimpy short as the runway on Lim, and I wish she had a lighter shaded shirt to break up the two pieces.
Surprisingly I'm not crazy about this look. It is a little too military for me and it shouldn't be. I usually don't like it when celebs copy looks straight from the runway because I believe in personal spins on looks. Make it your own. Unlike Lee Na-young's head-to-toe Burberry look, Lim's monchrome runway look isn't hitting it for me but it's still fabulous.
My chin is still on the floor in shock at how stunning Oh Yoon Ah looks wearing this lime green Burberry Prorsum Spring 2010 ensemble. The color is perfect for her skin tone. Like you, I still can't get over how amazing this collection was, and how it translates so well off the runway. Even the socks (with out them the look would've been sexier and her legs look too long) and strappy leather sandals combo work well here.
Yoon Eun Hye caught my eye wearing this colorful Diane von Furstenberg Cerilla print dress, which I've been in lust with ever since I saw it on the runway. I think Yoon could have pulled off the matching bow, as it's as cute as she is. Black strappy sandals and an ivory bag complete the look.
Lee Na-young was front row at the Burberry Prorsum Spring 2010 presentation back in September. It looks like she took a lot of notes, because she copied the runway look from iron straight, central parted hair to the nude platform heels which she wore to the press conference for her new film, "Happy Change." As much as I love the heels, the textured coat dress is absolutely stunning.
Zhou Xun wears a black and gold embroidered Chanel Resort 2010 dress with a matching cardigan that she manages to make work as she paired her look with controversial Chloe Sevigny for Opening Ceremony multi buckle wedge booties. I am still unsure about the booties. What do you think?
Models Philip Huang and Du Juan grace the red carpet with their beautiful presence. He looked dapper in a black suit with very shiny shoes, whilst Du looked beautiful wearing a Gucci Fall 2009 black one-sleeve dress which has 3 textures including a furry skirt. Her look was paired with Christian Louboutin "Maggie" heels. FABULOUS. Brad and Angelina have some competition.
Model Mo Wandan opted for the uber sexy Versace Fall 2009 plunging gown; even though the runway is hot sexy red, Mo opted for a subtle navy color which is still sexy. I love those fish scale-style paillettes which decorate this gown.
This Blumarine Fall 2009 dress is quite dramatic and very difficult to pull off so I'm surprised to see it worn on this red carpet. Son Ye Jin pulls off this black and navy strapless dress surprisingly well. The gow'ns shredded skirt and awkward bustier didn't overwhelm her.
Yoon Jin Seo blows me away wearing a red Chanel Resort 2010 off-the-shoulder gown (sighs). This is magnificant. I love EVERYTHING about this look. The dress is stunning with her awsome fur shrug that is a little Cruella de Ville in the best way. Is it just me or do Asian starlets wear Chanel fabulously (besides Diane Kruger)?
This is Deja Vu. This lovely pink Amsale off-the-shoulder gown with a rosette detail on the bodice looks very much like a gown from Valentino's Spring 2009 collection. I love this shade of pink on Han Ye-Seul.
I'm desperately trying to pick my chin off the floor. May I just say wow to Kim Ok-Bin in her Max & Logan fuchsia gown. Her stunning dress is draped and has twisted detail on the skirt with an equally stunning pink fur stole. What a lucky dude.
I love this picture of Taiwanese-French actress Sandrine Pinna. Firstly because she looks adorable in her ruffled Lanvin Resort 2010 strapless dress, but also because she appears to be mimicking the runway picture by standing on one leg. Lanvin bow-front satin pumps complete her look.
We're seeing more and more Salvatore Ferragamo on the red carpets in Asia, and I'm so happy about this as we don't see enough of the brand elsewhere. Michelle Chen opted for this nude strapless dress with a criss cross detail on the bodice from the Fall 2009 collection. I just love the way she politely holds her Bottega Veneta clutch. I'm glad she decided against the (stupid) shimmering turtle-neck with the brown cuffs. Michelle's look is how the look should have been presented.
Vivian Hsu opted for a beautiful necklace with her Chanel Resort 2010 black dress. I didn't pay attention to this austere gown on the runway, until Vivian made it chic. I love that she added a stunning silver necklace and diamond jewels. It gorgeously cuts off the austerity of the dress.
Ivy Chen also looked adorable wearing a white Christian Dior Spring 2008 strapless dress with a floral detail on the bodice. I love her gleaming campagne satin peeptoes.
I love the pop of colour from Momoco Tao's aqua strapless draped Lanvin Resort 2010 dress and I'm like a bull to a red flag in lust for her red YSL eel skin platform pumps, This look is so fresh, not just because of the calming sky blue, but because of Momoco's punchy attitude and her choice of great red.
Model Lynn Hung needs some more curves to smoothly fit the proportions to pull off this stunning canary yellow Valentino Fall 2009 plunging gown, yet this illuminates her and I can't blame her at all. A model full of sunshine.
Alas, my girl-crush, the ever delicatly beautiful Shu Qi. I was convinced her gorgeous gown was from the Ralph Lauren Fall 2009 collection, but on closer inspection it appears that the two gowns are just very similar. The 2009 Cannes Film Festival judge glows in her shimmering strapless gown. Yet another winner for Shu.
I'm getting a Dior vibe from Li Bingbing's white gown. Li looks absolutely beautiful. A chic updo and that emerald necklace perfect this look. I love how her clutch adds and matches to the decoration on her sloping gown. Gorgeous head to toe.
Prudence Liew added a bit of sass to this event full of cute dresses and event appropriate gowns. I love her leather strapless dress with its ruffles and folded details. The look is completed with a pair of Gucci Iman heels. Prudence looks fresh and spunky and reminds me of Rinko Kikuchi's Sophia Kokosalaki Fall 2008 dress. This is a fun look.
It seems like Asian stars are in love with the Burberry Prorsum Spring 2010 collection as much as we all are. Son Ye Jin follows Oh Yoon Ah, Lee Na-Young and Lim Soo Jung
Despite her bashful wave, Cha Ye-ryun also picked a fabulous colorful strapless dress from the Miu Miu Spring 2009 collection, which was famed for it's mosaic prints.
Yes she is wearing the total runway look, with a green python Prada clutch, but her look is still so refreshing.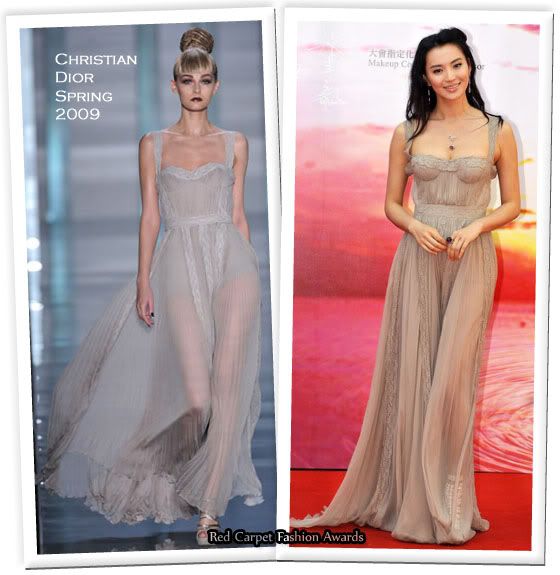 Hong Kong actress Monica Mok really made me swoon as she glided along the red carpet wearing a Christian Dior Spring 2009 taupe gown. With the color and lace details, the gown has romanticism that just warms my heart.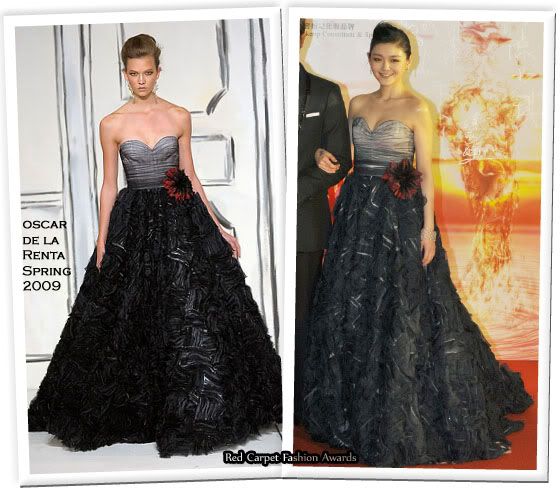 Taiwanese actress Barbie Hsu wore a very voluminous black silk organza Oscar de la Renta Spring 2009 gown, with a tulle bodice, when stepped onto the red carpet. I love the quiff in her updo, and the blood red floral applique on the hip. She looks quite petite, but doesn't get lost in the gown.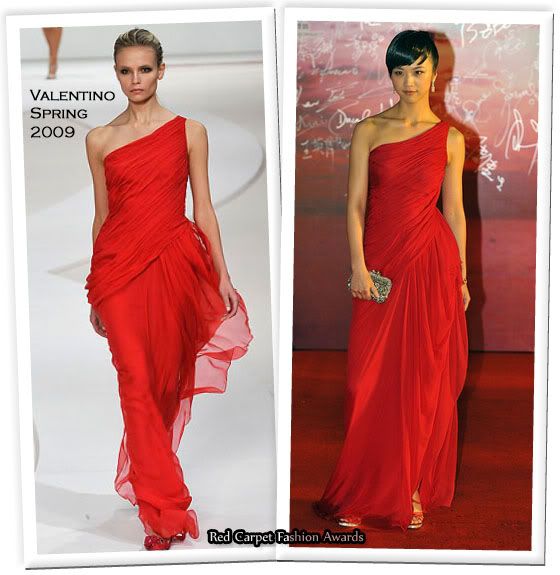 Chinese actress Tang Wei strikes a pose in this stunning red Valentino Spring 2009 one-shouldered gown. I love the asymmetrical ruched bodice, and I'm pleasantly surprised that the gown doesn't make her appear wider than she is. That was my worry, when I first saw the gowns from this collection. A jeweled clutch and red strappy heels complete the look.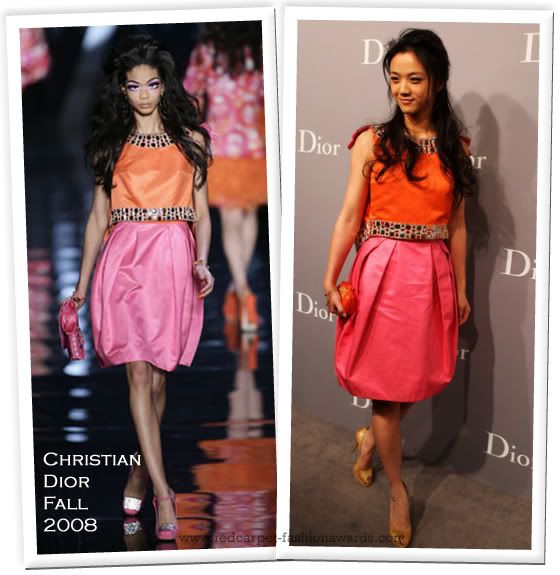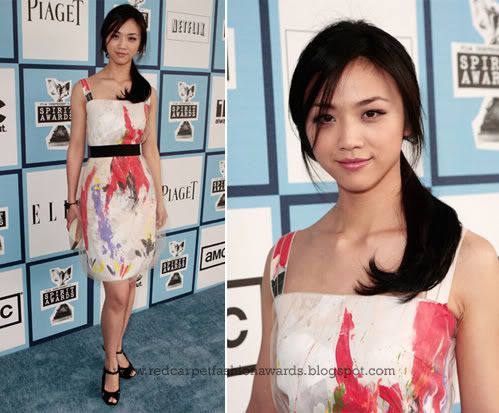 Tang Wei arrived in an artistic print Dolce & Gabbana Spring 2008 dress.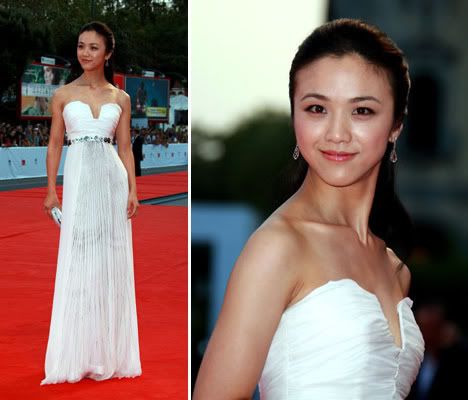 Tang Wei wears this beautiful white strapless gown. Stunning.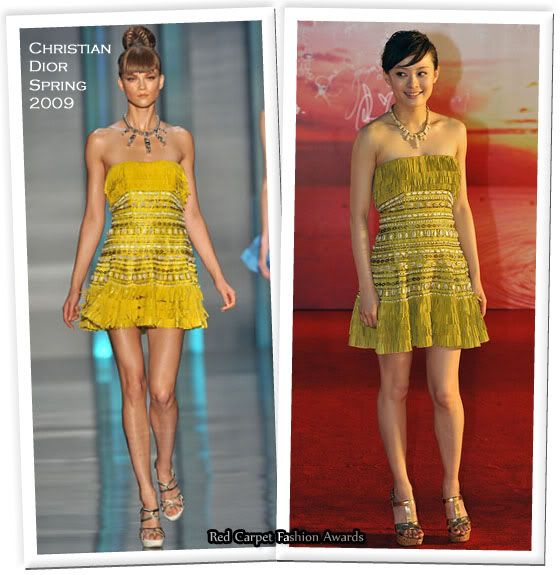 Chinese actress Sun Li wore gold sandals with her yellow Christian Dior Spring 2009 strapless dress. I love her ivory necklace, which works with the seashell embellishments on her dress.
Sun Li opted for a teal blue Valentino Spring 2009 off-the-shoulder gown. Simple, yet elegant.
Kelly Lin looks very sexy in her red hot plunging Versace Fall 2009 gown, with paillettes on one side of the bodice. I love the color, the gold clutch and matching bracelet.
It's easier to appreciate how cute this dress is without all the madness.
I'm glad Li Xiaolu opted for a pair of cute peep-toes rather than the expected LV platforms.
Co-stars Yao Chen, Peter Ho and Zhang Ziyi also attended the premiere.
Yao wore a stand-out aqua blue sleeveless dress with an silk draping neckline, whilst Zhang opted for a fuchsia pink dress with black heels. All three ladies make baggy-clad Peter look good.
Hong Soo Hyeon shortened her red Salvatore Ferragamo Fall 2009 dress. I love the dress shortened as it's suits her sparkling personality and makes the dress more youthful and fun.
Regular readers will know that I hate exposed bras, but there's something about Jae Shi Ra's look which makes her bra appear to be part of her purple Salvatore Ferragamo Fall 2009 satin dress. I also love the classy runway look as well.
Jeon Do Yeon opted for a black draping Louis Vuitton Fall 2009 black dress with sparkling layers to make the dress shimmer.
Kim Min-Sun has a body and a gown to die for. I love the rich purple color and the crystals that cover her sweetheart neckline gown. She's simply breath-taking.
Park Bo-Young is quite pale, so this white rise and fall hemmed gown shouldn't work, but I LOVE it on her. The gentle ruffles are so feminine they melt my cold heart. I like her fur accented heels and silver tiny shiney clutch.
Yoon-A opted for a sassy 3.1 Phillip Lim and she looks so adorable. Her dress is paired with Christian Louboutin open-toe heels, whilst carrying an interesting clutch. So cute.
Betty Huang Yi opted for a quirky Louis Vuitton Spring 2009 ensemble which included a feathered skirt, and Spicy heels. Her orange necklace, and bangles added some much needed color to the this look.
Ruby Lin is one of my Best Dressed at this festival wearing a purple one-shouldered Versace Spring 2009 gown. She's glowing with gorgeousness.
Chen Yao opted for a feathered head-to-toe Louis Vuitton Spring 2009 top with a bronze skirt and Spicy heels.
Ziyi Zhang took some time off wearing Giorgio Armani to wear a bow front Moschino Spring 2009 floral dress which she belted.
Fan Bing bing wore an asymmetrical Salvatore Ferragamo Spring 2009 maxi dress with a leopard print which was modified from the runway.
My new girl crush Taiwanese actress Ruby Lin opted for a white and red circle print sleeveless Moschino Cheap & Chic Spring 2008 dress with a ruched skirt, plus red Christian Louboutin pumps.
All the ladies look really fabulous here, and I'm really glad to see them mix things up a little.
These lovely ladies make these (cute) men look good.
Japanese actresses Tae Kimura, Ryoko Hirosue and Miki Nakatani walked the red carpet together, each wearing red dresses in various styles, shades and textures.
Ryoko in the middle opted for a strapless silk chiffon Derek Lam dress with frayed ruffles at the ruched bodice, which she paired with champagne color, red heels.
Tae's red strappy gown is very elegant in it's simplicity, and Miki strapless velvet gown is divine.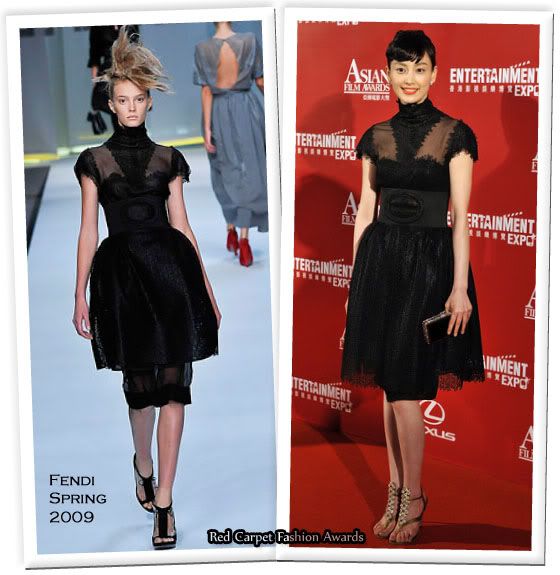 South Korean actress Lee Na-young adds so much charm and grace to this Fendi lace dress, it's hard not to fall in love with it. A cute box clutch and gold heels complete her look.
Gianna Jun appeared to be in awe of Uncle Karl like we all would be.
She still looks beautiful in her all black look. I loved her black dress but I wish we had a more front on picture to appreciate the details.
Zhou Xun stepped in the Chanel archives, and picked out this gorgeous Fall 2007 Couture haltered creation. I'm glad she didn't try to style her embellished dress with a pink bow and cape, with the boots and gloves like on runway as it would have been overkill. She kept her look simple opting only for black simple satin pumps and a black embellished clutch.
Best Actress winner, Zhou Xun shows off her award, wearing stunning costume-made Burberry Prorsum gown. The gown was made using the same delicate leafy lace, which we saw presented in the Spring 2009 collection.
Zhou Xun posed with Uncle Karl wearing a black sleeveless dress with ruffled skirt.
Her only pop of color came from her red belt, lips and bangles.
Zhou Xun also wore a dress from the Chanel Spring 2009 Couture collection.
Her ivory creation was minus the runway collar, but Zhou added a statement necklace to her strapless ensemble. I love the look both ways, but I like that the actress made the look more interesting for us by modifying from the runway look. Pearl pumps completed the look.
Han Chae-Young is wearing a strapless pink Christian Dior strapless gown that she complimented her gown with a silver beaded clutch.
Han Ye-Seul wore a nude Fendi Spring 2009 dress. It's so pretty, and looks so delicate against her pale skin. The floral appliqué's add some texture to the dress, which she wears with nude strappy sandals.
Actress Han Ye-Seul wears a stunning sparkling Versace beaded gown.
Han Ye-Seul looks exquisite wearing a red Valentino gown with a bow accent on the side. Her pose and smile tell me she LOVES her gown.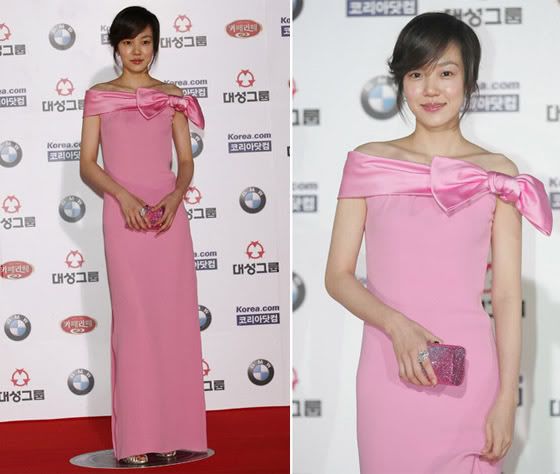 Actress Lim Soo-Jung looks gorgeous in this pink Valentino Spring 2008 off-the-shoulder gown with a pink bow detail. She matched her pink dress with a pink and silver diamante clutch.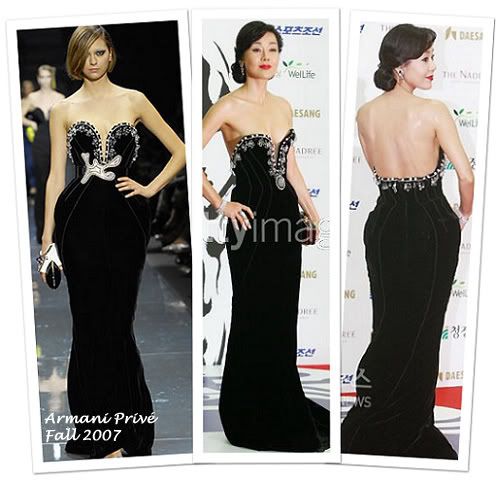 South Korean actress Yunjin Kim wore this Armani Prive Fall 2007 dress with a lovely updo and classic elegance.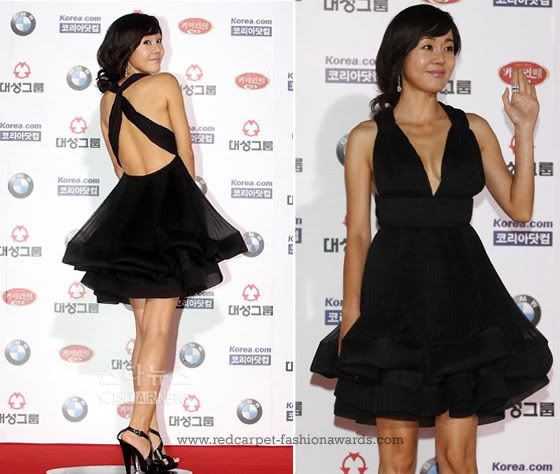 Actress Yunjin Kim wore a cute black dress, which had many tiers on the skirt and a criss cross detail at the back.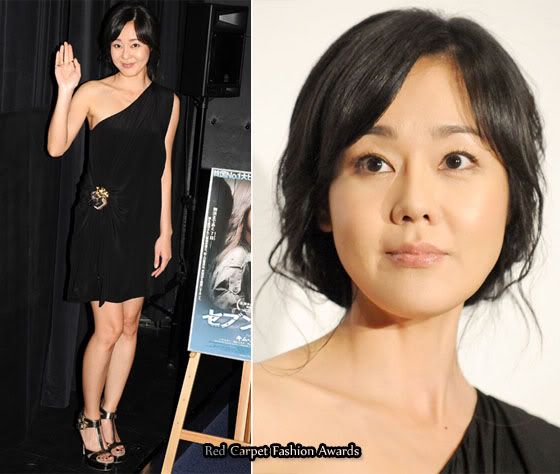 Yunjin Kim looks so flawless with such minimal make-up. The Lost actress opted for a black Gucci Spring 2009 asymmetrical dress gathered at the waist with a gold clasp. Gucci Iman metallic T-strap sandals from the Fall 2009 collection, complete the look.
South Korean actress Yoon Eun Hye wore a Louis Vuitton Fall 2009 dress. She looks so elegant in her black dress which has a blue pom pom in one of the sleeves, and a matching ribbon tied to her waist. I'm glad that she didn't feel the need to accessorize with the Louis Vuitton Cancan shoes, but she did wear a large pearl in her hair like one of the models on the runway.
The gorgeous Taiwanese actress Shu Qui wore a nude colored Bottega Veneta Spring 2009 one-shouldered dress, with matching wedges from the same collection.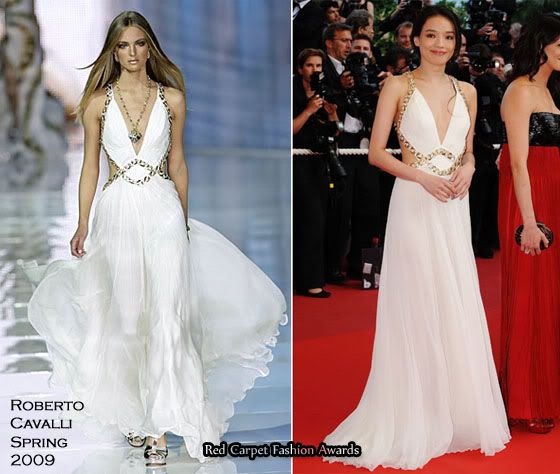 Shu Qi looked angelic wearing a white Roberto Cavalli Spring 2009 gown, which had a gold chain detail embellishing the trim of the bodice.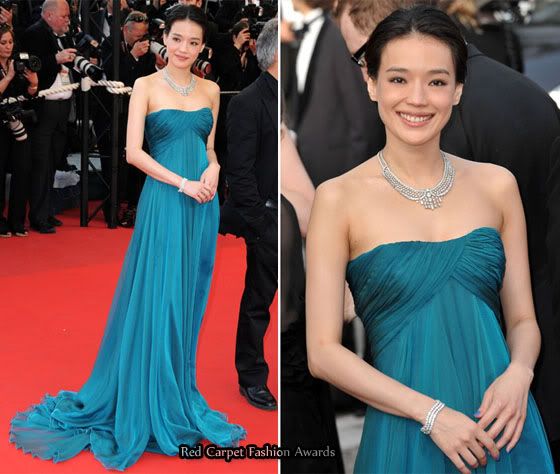 Shu Qui wore a beautiful teal strapless Roberto Cavalli gown with a stunning diamond necklace
Shu Qi's blue one-shouldered Roberto Cavalli gown, was decorated around waist, and on the shoulder strap with black crystal embellishments. Her sapphire blue earrings and ring, complimented her gown beautifully.
Shu Qi wears a strapless pink Salvatore Ferragamo Spring 2009 satin gown and Roger Vivier heels. The gown was gathered above the waist with a circular silver clasp, which complemented her silver necklace.
Japanese actress Rinko Kikuchi graces in Chanel. I was expecting something Bjork-like from this lady as most of her red carpet dresses have been kinda crazy. Glad she stepped it up for the big day.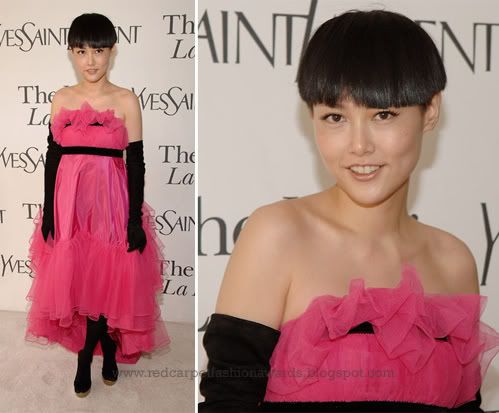 On anyone else this dress would have been a disaster. On Rinko Kikuchi it perfectly suits her quirky sense of style.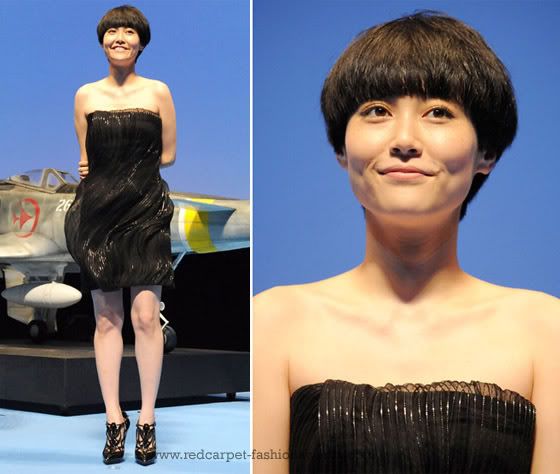 Rinko Kikuchi is still sporting her YSL Fall 2008 bowl style hairstyle, but let's face it, she does wear it well. The actress arrived at this event wearing a strapless black Sophia Kokosalaki Fall 2008 dress, which is so beautiful with its dramatically sculptured silhouette of twisted waves. Her heels are from the same collection.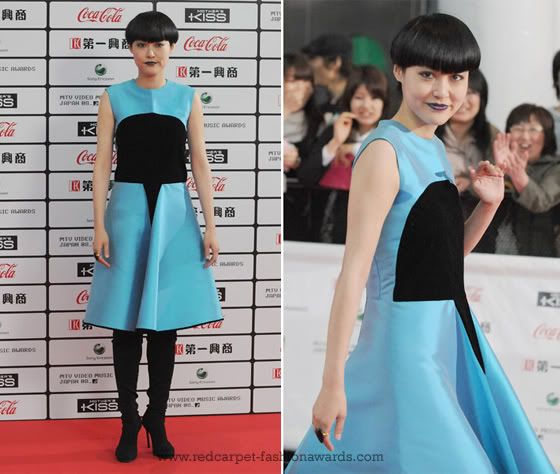 Rinko Kikuchi is wearing blue YSL Fall 2008 dress, with a velvet bodice.
She has worn a few pieces from YSL recently, and is clearly in love with this collection so much, that she has copied the styling from the runway. Her bowl-cut hairstyle is the same as the models the Fall 2008 runway for YSL.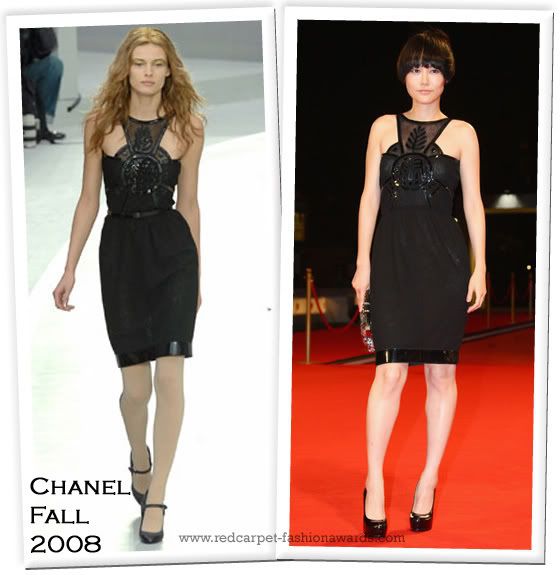 Actress Rinko Kikuchi wore a black halter-neck Chanel Fall 2008 belted dress, which is beautiful with the raised detailing and patent detail on the hem. She completed her look with her now trademark YSL inspired bowl hair cut, black patent YSL Tribute Two Platform Pumps and a stunning Chanel bag.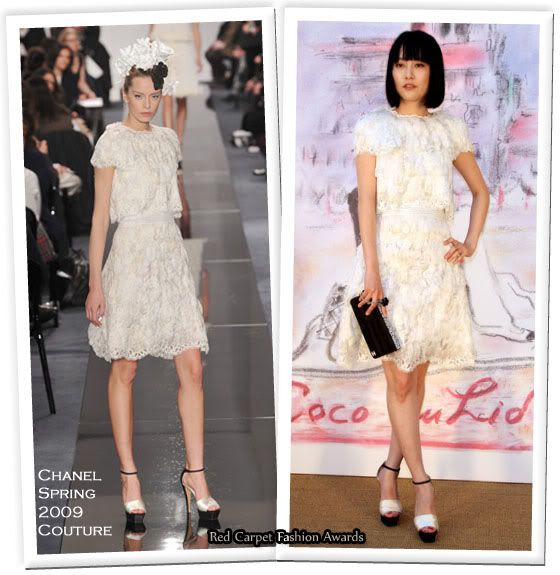 Rinko Kikuchi has grown out her bowl-style hair cut, into a very chic bob.
The actress wore a white Chanel Spring 2009 Couture lace dress, with the two tone runway ankle strap heels, and a black clutch.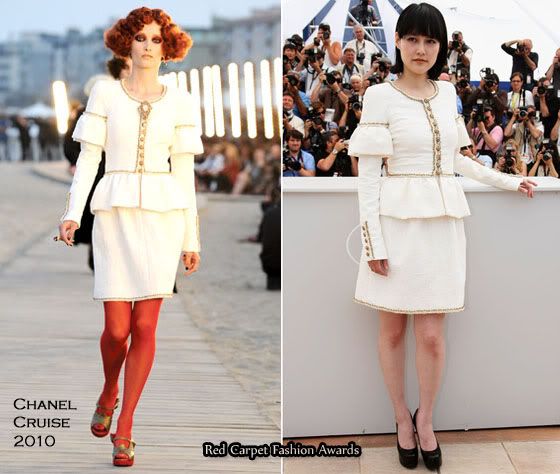 This more like the Rinko Kikuchi we know, wearing a piece that has a lot of personality.
Her dress included a peplum on the waist, and gold detailing throughout.
Rinko stuck to the same designer, but this time she wore a black structured peplum dress.
The metallic dress is much simpler than the previous dress, yet still fascinating in it's design. The dress has structured cap sleeves, with partial sleeves under the arms. The peplum on the hips is decorated with a black ruffle trim and the skirt has two diagonal pleats on the front. Her futuristic dress needed a stand out pair of heels, and she doesn't disappoint in that department either. A silver sparkling clutch completes the look.
This is something we don't see very often from Rinko Kikuchi. A soft and sweet look. Usually she's wearing something cutting edge, couture, or well structured, so this white ethereal vintage Sophia Kokosalaki gown, is a nice refreshing change.
Rinko went for an edgier look, opting for a Toga Fall 2009 dress. Rinko's dress was blue, which allows us to see more of the pleated and ruffled details. I love it when Rinko gives us edgy, she never looks uncomfortable and this look suits her kooky style well. The actress paired her dress with YSL Trib Two heels.
Japanese actress Rinko Kikuchi rocks this Louis Vuitton Fall 2009 blue and pink dress with a black lace overlay. I'm glad she didn't wear it as obnoxiously presented on the runway, as we all know Rinko likes to take a risk.
South Korean actress Moon Chae Won opted for a sexy Versace Spring 2009 mini dress with a heart shaped zipper detail on the neckline. She wore her dress with Christian Louboutin heels with a black chiffon petal detail running along the front of the shoe. A selection of rings and a gold leaf detail bracelet complete the look.
Malaysian actress Michelle Yeoh is the queen of class in her Dior Fall 2007 strapless embroidered dress, which she paired a cute fur shrug, black satin satin clutch and her elegant watch which just completes this look. Fabulous.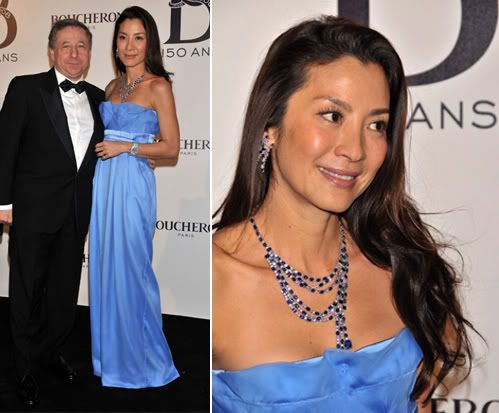 Michelle Yeoh kept things simple yet elegant in her baby blue strapless gown, draping necklace and classy watch.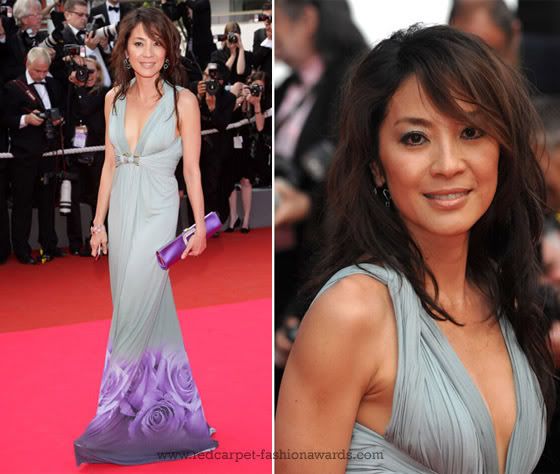 Michelle Yeoh wore a turquoise Roberto Cavalli gown with a violet rose print at the hem. I absolutely LOVE this gown- I love the gentle combination and harmony of the seafoam green and the purple flowers. Her solid purple silver tone hardware satin clutch is perfect to reflect on the purple in the gown.
At last Michelle Yeoh fulfills my Cannes red carpet wish by wearing Elie Saab Spring 2008 Couture. Regular readers will know I have a thing for Elie Saab's fairytale creations, and I am not let down with this peachy sequined strapless gown. I love that Michelle wore her hair back.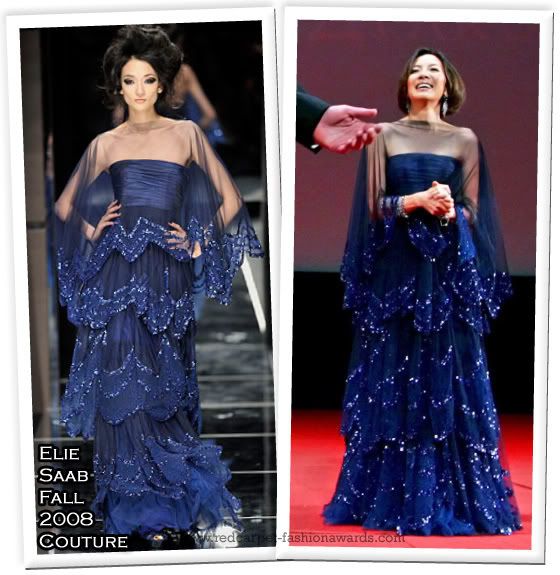 Michelle Yeoh wore a STUNNING midnight blue silk tulle Elie Saab Fall 2008 Couture gown, embroidered with sequins in matching tones. The dress appears to be strapless, with a shawl-style piece, but Elie Saab labeled this dress as a long-sleeved dress.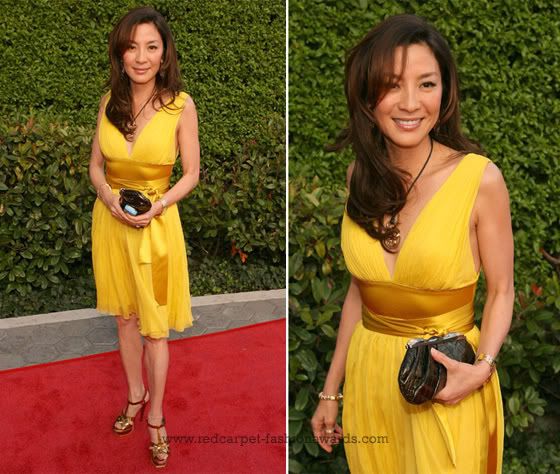 Michelle Yeoh wore gold YSL Tribute sandals, with her sunshiny canary yellow dress.
Malaysian actress Michelle Yeoh wore this lime green, one-shoulder Atelier Versace Fall 2008 gown. I am so glad she didn't wear a necklace, like she usually does. Silver accessories compliment this unique colored dress.
Michelle Yeoh opted for a beige strapless Roberto Cavalli gown, with stunning gold accessories to compliment the gold embroidered details on her bodice.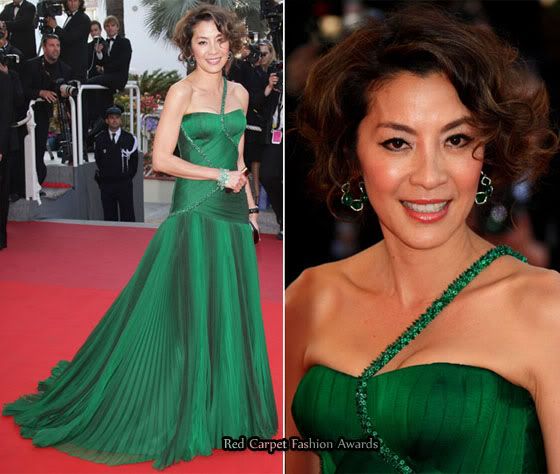 Michelle Yeoh is...WOW in this pleated green one-shouldered Versace gown. Her emerald earrings are the perfect compliment to her gown.
Michelle Yeoh hosted this event wearing a Caribbean blue, Roberto Cavalli cowl neck dress, with a shutter pleated detail on the front. This is a sophisticated evening dress, but Michelle makes it work for her daytime event.
Malaysian actress Michelle Yeoh was the picture of elegance wearing a black shimmering Roberto Cavalli gown, with an exquisite silver necklace.
South Korean actress Kim OK-Vin wore a sexy black lace panel halter-neck gown, with a lace overlay, paired with an ivory jeweled clutch for added glamour.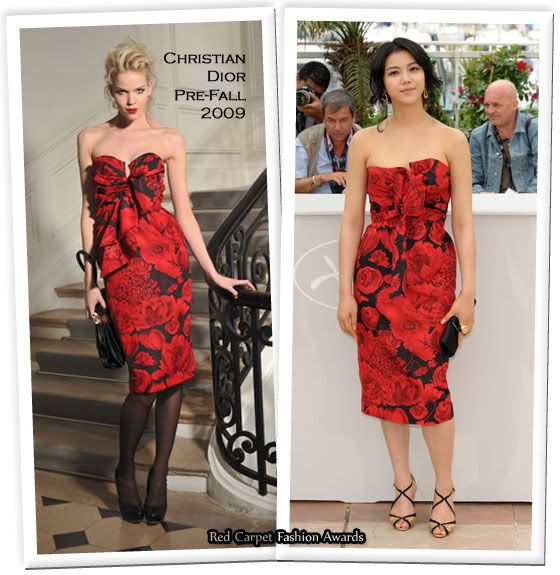 With her loose wavy updo, South Korean actress Kim Ok-Vin looked radiant wearing a black and red floral Christian Dior Pre-Fall 2009 strapless dress. She teamed her sleek and chic dress with gold and black criss cross sandals, gold jewels, and a black clutch.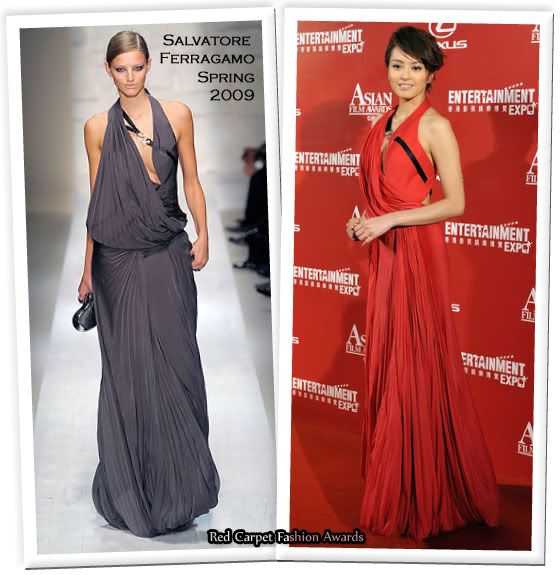 I didn't think much of this dress on the runway because it looked so dull but Hong Kong actress Gigi Leung gave this dress the spark it needed to catch any attention. Her posture, smile and chic updo add elegance to this flowing pleated gown.
Chinese actress Fan Bing Bing looks so preciously gorgeous in this pink dress and Yves Saint Laurent pumps
I prefer Fan's bright coral-pink gold piped Versace gown to the Hollywood sexy version on the runway. Fan makes this gown delicate with her gorgeous curled glam hair, jeweled brooch, sparkly pearl snap box clutch and simple chandelier diamond necklace.
Fan funks her look up on trend in this artsy plunging bubble hem puffed sleeved dress.
Fan Bing Bing looks absolutely gorgeous with her evergreen strapless pleated Valentino gown, a favorite of mine that she paired with an exquisite diamond necklace and drop earrings.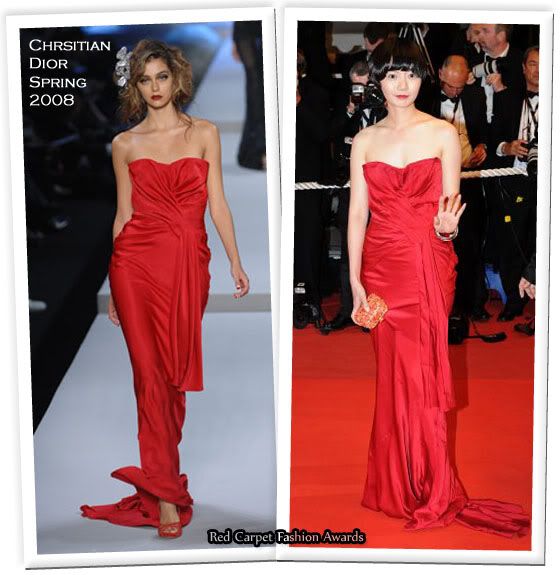 Korean actress Bae Doo-na wears a red strapless Christian Dior Spring 2008 gown, with a matching bejeweled clutch. I loved that she kept her jewels simple, with just a handful of gold bracelets, and I love her chic trendy bowl cut.