This is a cute look, but not something you'd wear to a PREMIER.
Vanessa Hudgens showed her support to boyfriend Zac Efron at the LA premiere of his new movie "Charlie St. Cloud" last night.
Vanessa looked so cute in her champagne colored Reem Acra Spring 2010 dress which she made considerably shorter.
Her dress had an embellished neckline and a pearl detailing at back which I totally love.
She paired up her dress with a Jimmy Choo shoes and a Ferragamo bag.
Vanessa Hudgens
was caught by the paparazzi as she indulged in a bit of retail therapy at Planet Blue in Malibu on April 3, staying true to her beachy, bohemian style. Vanessa chose a lavender maxi dress that she seemed to have to hold up in order to walk, in addition to a pair of oversized sunnies and brown leather flat sandals. VH accessorized with a serpentine pendant necklace and a nice assortment of gold bangles. Do you like Vanessa's look here, readers?
Do you like the BFH (big floppy hat) look on Vanessa? For the rest of her 'fit, she paired a flowy shirt dress with a brown leather belt and matching strappy sandals.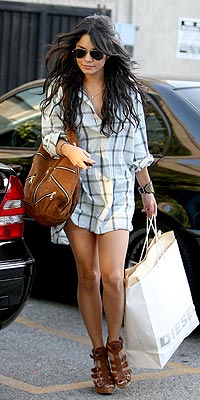 You don't have to get the pants home first before you can wear them. You do know that, right? Or are you just... wait, I don't have to clarify for you that SHIRTS are not pants, do I? Is THAT where we are as a society? Because if so, then I quit Earth.
I just wish her graphed flannel top was actually the length of a dress. Her 'dress' is too short to actually be a dress. Vanessa works the leather bag and shoes look with her JJ Winters bag and Twelfth Street "Luella" leather gladiators.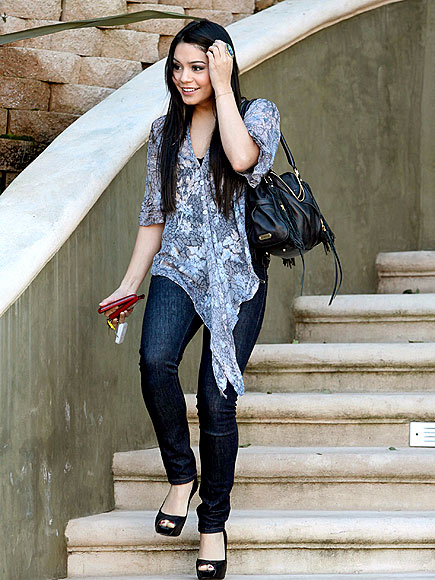 The Nessa of Zanessa looks cute in her flowing top that works well with the dark blue of her jeans. She carries a Botiker "Morgan" satchel and wears Guiseppe Zanotti patent pumps. She also toted along her silver Powerbook Pro for her day of errands.
Mike & Chris "Dickson" leather jacket in Gold Dust with dark blue jeans and satin blush pumps that work well with her gorgeous gold leather jacket. I am glad she didn't stick with the usual leather jacket and shoes combo.
In a cozy shrug, belted top, casual jeans, peep toes and her Balenciaga motorcycle bag.