Kirsten stuns in Chanel Couture.
Kirsten rocks a hand-marbled silk chiffon and tulle design from Rodarte with Nicholas Kirkwood sandals and a thin metallic Salvatorre Ferragamo clutch. Rodarte is never a safe choice. The pieces are bold, edgy and dynamic plus you need the right kind of attitude to pull a Rodarte piece off and Kirsten does.
The Mulleavy sisters created a stunning white Rodarte for Gap gown for Kirsten Dunst.
Kristen looked exquisite as she glided down the red carpet at the Costume Institute Gala.
The white one-shoulder gown has a pearl-detailed bodice, embroidered chiffon skirt and a fluffy detail on the shoulder. However I detest her white boots and socks. Why?

I love Kirsten's Nina Ricci floral dress because it is bursting with spring time freshness. The heavy stitching detail, puff shoulders and pleated skirt add girlishness to this lovely dress. Kirsten got it right with loose, slightly messy waves in her hair, but unfortunately this lightweight, fresh spring look ends with a thud at her boring black pumps.
Thanks to Kirsten we can finally see the front of her Chanel Fall 2009 Couture gown as it drapes at the front revealing a sheer split which is embellished with black crystals. Normally we see Kirsten in edgy looks by Rodarte or Opening Ceremony, but I guess she wanted a more grown up look at Cannes considering she's at the Festival to present her work. Tres chic, non? I truly am amazed at how elegant Kirsten looks at this event, down to the smoky eyes and shiny blonde locks.
Kirsten wears this turquoise Chanel Resort 2011 dress that I loved on the runway, but it feels so ordinary on the red carpet. It has no magic, no wow factor.
It's a press conference or TV show dress at best.
I love how she styled her hair, but I was fond of the embellished snow flake shaped hair accessory. Nude crystal embellished heels completed her look.
I am in love.
Kirsten Dunst looks so adorable walking through the streets of Soho, New York with her boyfriend Jason Boesel.
She wore a Miu Miu Spring 2010 dress with block colors of black, white and baby blue.
The trademark swallow and naked ladies print of course features on her dress, which she pairs with comfortable ballet flats for her romantic stroll.
The former Miu Miu campaign girl does the brand proud.
I love this look for the mere fact that Kirsten pulls it off effortlessly on the sidewalk.On many this look could've looked very contrived or 'try hard'.
Kirsten wears a Miu Miu skirt with a Chanel bag on the sidewalk effortlessly.
hhjjj
Kiki is all smiles during a night out with friends wearing a vintage inspired floral top with strong shoulders, black skinnys and leather jacket. I love her green laced shoes! Kiki wore her hair half up, half down and minimal makeup, giving off a surprisingly youthful look –but not disheveled as she sometimes appears.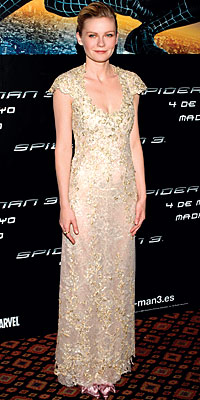 In a pretty Christian Lacroix embroidered and beaded gown and pink satin shoes by the designer.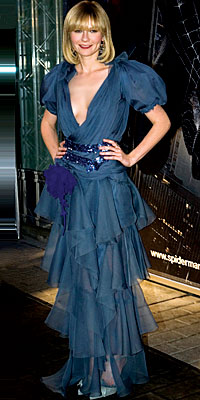 Kirsten's coloring works wonderfully with her gorgeously extravagant blue Christian Lacroix Spring 2007 Couture gown (cheers).
In Chanel Haute Couture.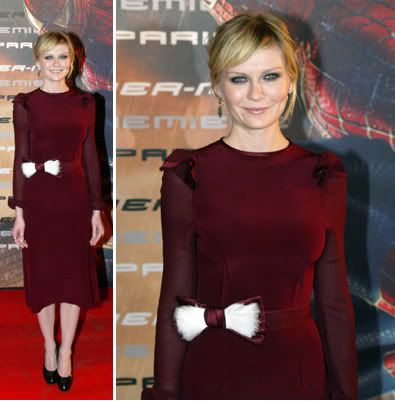 I love this burgundy Rodarte dress Kirsten wore to the Paris Premiere. I think it was the perfect choice as the dress is very Parisian. The only downside is the shoes. She should have worn better shoes.
Pretty in pink in a Christian Lacroix Spring 2007 Couture pink gown that is absolutely gorgeous!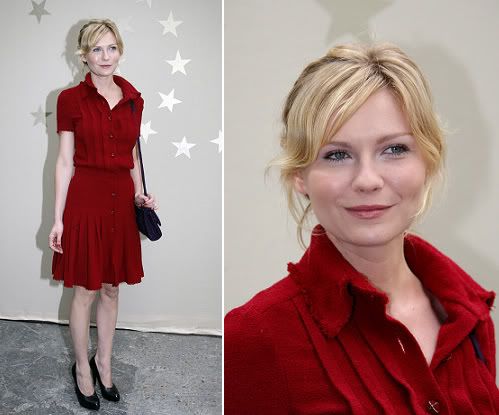 In a Chanel shirtdress.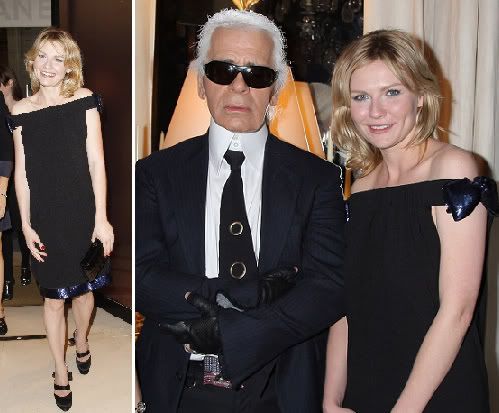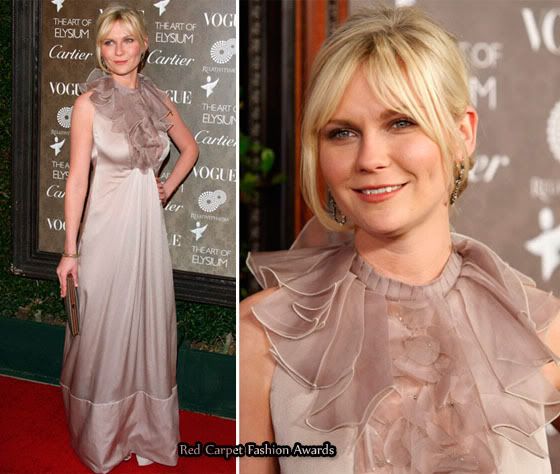 Gorgeous in a silk-satin rose Valentino gown with a ruffled collar, and a delicate chiffon petal front bib.
Kiki aka Kirsten Dunst arrived wearing a black dress from the Prada Spring 2009 collection.
Seeing the dress on the actress, it answered my question, which was can this collection work off the runway? The answer is yes.