Magically, her dress -- orange and drape-y as it is -- has somehow managed to avoid looking like the love child of a bridesmaid's dress.
Zoe Saldana glowed wearing an orange crepe Lanvin dress which was paired with a gold ringlet belt. The star continues to get both thumbs up from me.
Zoe kept her accessories fun by adding a leopard print clutch and a gold peep-toe heels and Neil Lane jewels. She's never predictable and I love her for it.
Zoe matched her towering green and black platforms to the print of her Giambattista Valli bubble dress with nude nails and a confident attitude. I love the way it nips in her tiny waist, and the Valli black and green heels she wears with the dress.
Zoe went frilly in this adorable and classic Valetnino design with a tiered crochet skirt and floral embroidered detail. She accessorized with a metallic bag and strappy "Pique" sandals, both from Christian Louboutin. Zoe grounded her ethereal dress with earthy leather platform pumps. Get her look by adding cutout sandals or peep-toe booties to a light-as-air sundress.
Zoe mixed a high-neck ethnic print Louis Vuitton dress with bejeweled Jimmy Choo "Quinze" peep toe sandals and a sparkling clutch. Her ethnic print dress has a voluminous skirt kicks out at the back.
Zoe is absolutely stunning in this masterpiece Givenchy Spring 2010 Couture gown. She made a statement with her strapless sparkling bodice and a sculpted skirt featuring tiers of tulle in cloud-like shapes and a brilliant ombre effect of shades of purple. Zoe complemented her stunning gown with a tonal 80-carat amethyst ring custom-made by Lorraine Schwartz. Zoe wore the runway suede purple heels.
Zoe wowed me in her strapless Givenchy Fall 2009 Couture gown with a sweet light pink draped bodice and ombre red skirt, which she matches with a red clutch. I am letting her off the hook with those intriguing cuffs because she looks so fabulous in this gorgeous gown.
I love Zoe's dress; the teal, navy and aqua white each complement her skin tone and her clutch works well with its gold trimming. I love her metallic heels. Zoe is comfortable here and it shows.
Zoe is simply gorgeous in her cream flowing Grecian gown with a velvet burgundy belt, gold drop earrings, box clutch and gold bracelet.
Gorgeous and fresh in an ocean blue tunic dress subtly belted with beige suede platform heels, a tan crocodile clutch, a gold leaf earrings.
Zoe keeps things casual yet fun and fresh with a sleek outlined grey blazer, knit tank, dark jeans, fringed Gucci heels and a purple crocodile envelope clutch.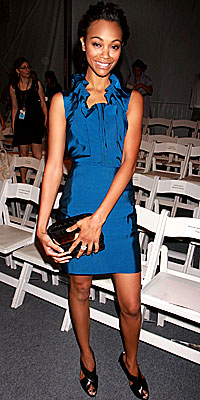 Zoe Saldana sizzles in her Lela Rose sapphire dress. "You should never feel as if you're hiding. My stylist [chooses clothes that] complement my personality, my character. Look in my closet and you'll see things that are elegant, sexy, tomboyish, sophisticated, beautiful, aggressive. It's harsh. It's a lot of black. I've never really been that feminine." Like this adorable dress isn't feminine... Zoe, darling, your style is QUITE feminine.
Zoe looks so cute in this strapless red satin trimmed ruched red banded dress. I love her red satin clutch and pewter heels.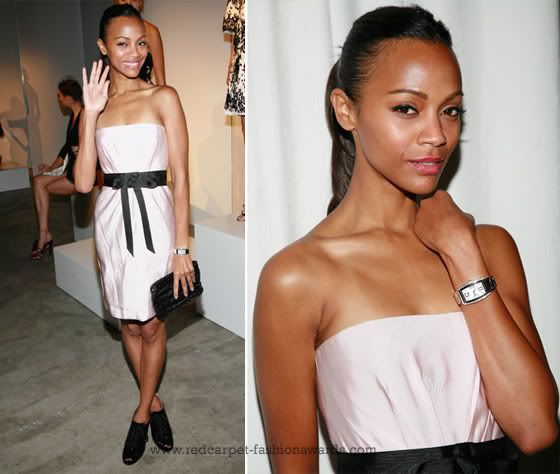 Zoe Saldana kept things quite simple wearing a strapless baby pink Notte by Marchesa cocktail dress, with a contrast black bow at the waist. She completed her look with black peep-toe booties and wore a diamond watch from Piaget and no other jewelry.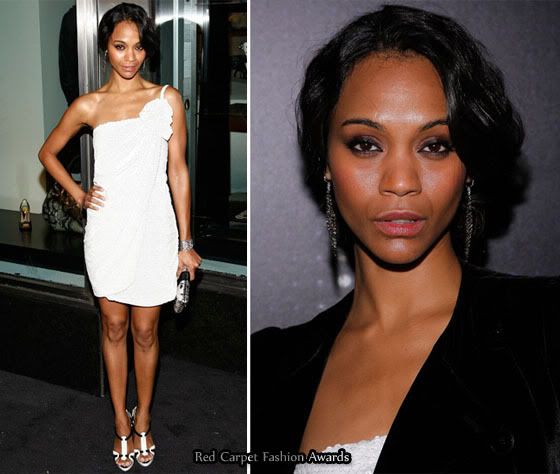 Head-to-toe in Giorgio Armani with a one-shoulder rosette deatil white dress with black and white strappy ankle heels, silver jewelry and a silver clutch.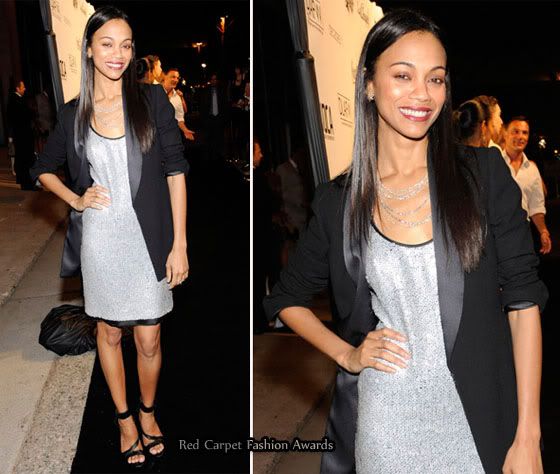 I like that Zoe Saldana layered a tuxedo jacket over her simple silver sparkly vintage Galanos dress with a black satin trim and I also love her sexy Brian Atwood sandals and H. Stern jewelry.
Zoe Saldana is fiercely wearing this simple made chic and unique LV Fall 2009 dress. I love her gold accessories, the ruffles sleeved and the one-poufy shoulder detail, and her Louis Vuitton Can Can pumps.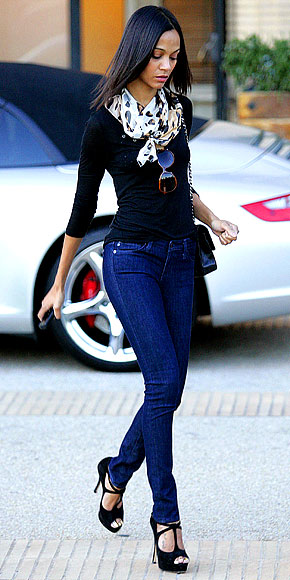 Zoe Saldana added edgy accessories to her bright blue skinny jeans and long-sleeved navy tee: a leopard-print scarf and towering Bally black t-strap platform heels. Chic.
Zoe Saldana has had an amazing year on the red carpet. She continues to shine so brightly for me. I'm floored by this stunning RM by Roland Mouret silver gown. I love the texture of her mermaid gown plus the structured shoulders. I also love the very subtle Neil Lane diamond necklace she wore with the gown, which actually looks to be part of the gown.
Zoe wore a RM by Roland Mouret Jason crepe wrap dress. The grey dress has a draped collar which gives the casual dress a very smart feel. I love her the purple peep-toes she paired with this dress.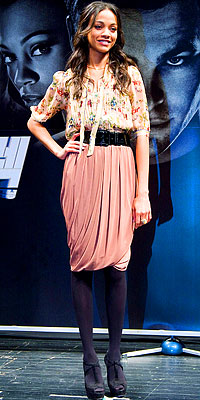 Zoe gave a sculptural edge to her floral blouse with a blush Jean Paul Gaultier skirt and Bally t-strap heels. I hate the (plum) tights but love everything elese.
The actress wore a delightful Jason Wu Spring 2010 ivory draped foil dress with puffy sleeves, a bubble hem skirt and a black sash tied to the waist. Her look was paired with Christian Louboutin white peep-toes with a black and yellow trim and animal print velvet bow which are oh so very cute.
I love that Zoe Saldana constantly surprises us and keeps things interesting. I would never have picked this blood red Louis Vuitton gown for her, but I am loving all this drama. She keeps the spotlight on her gown with minimum Lorraine Schwartz jewelry. The ruffles, the train, the seemingly unfinished nature of it all screams beautiful chaos. The hue is wonderful. I want to roll around in that thing. Maybe she just has a gift for making stuff I might normally question look like stuff I'd love to try on if my life were to veer sharply in a different direction. Not that I want to attend awards show -- dear God, can you imagine how HUNGRY those people are?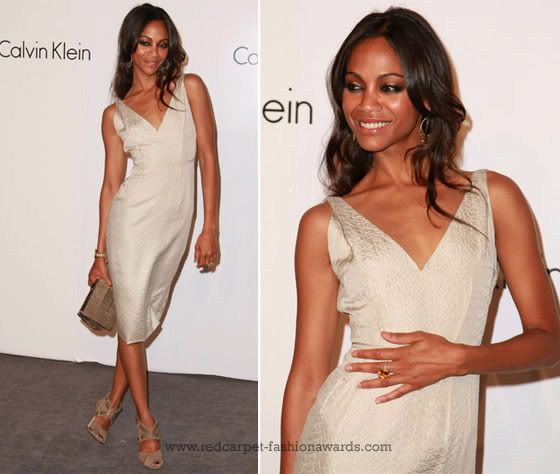 Zoe Saldana is also wearing a heavenly ivory sheath dress from the Calvin Klein Resort 2009 Collection with taupe suede heels.
Keeping it simple yet chic in a black trapeze dress, blue jewels and sharp Burberry Prorsum ruched strap heels.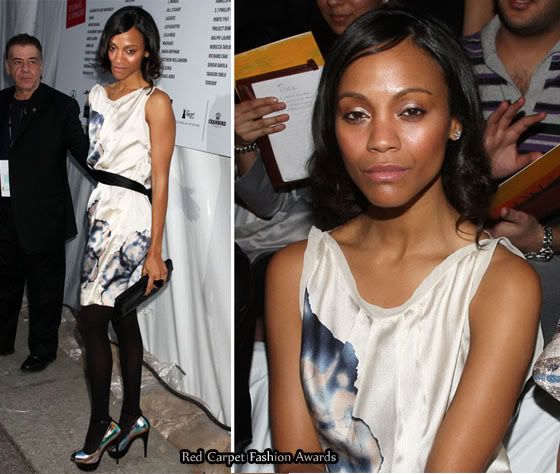 In a belted floral Diane Von Furstenburg Pre-Fall 2009 silk dress with flashy iridescent heels.
Saldana accessorized her embellished D&G tunic dress with darkened gold earrings and bangles from Neil Lane for Arcade. I am glad someone wore this from the runway. It takes moxie to wear such an embellished dress.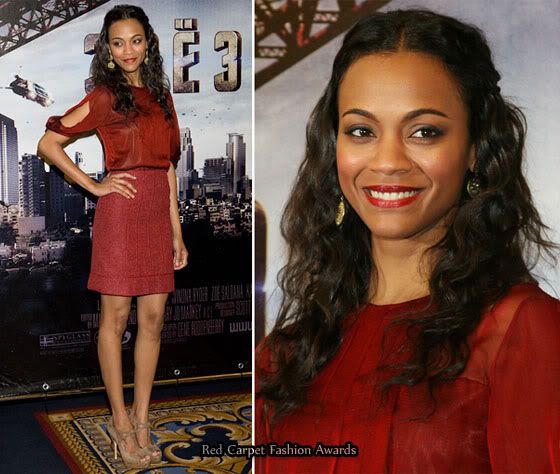 Zoe's Akris Pre-Fall 2009 berry ensemble consisting of a chiffon blouse, with cut-outs in the sleeves, and a tweed skirt, and suede tan heels.
In Jasmine di Milo Fall 2007 tulle overlay dress with black Giambattista Valli pumps.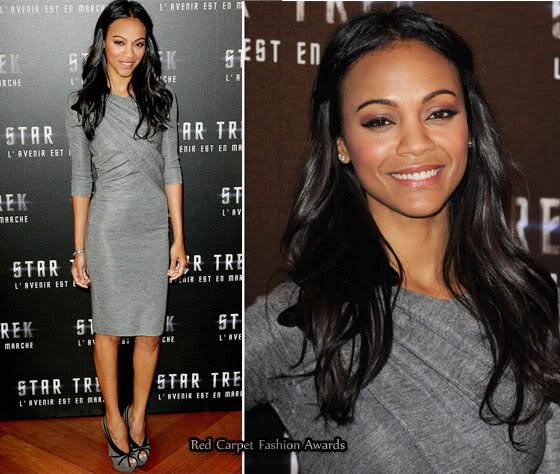 In a charcoal grey Giambattista Valli drape front sheath dress with a criss cross bodice. Zoe wore grey Fendi heels to finish this sophisticated look.
Zoe Saldana wears this full-skirted grey sparkly Azzedine Alaia dress that was the perfect for choice for Zoe as it delicately skims over her hips with a metallic waistband and made her stand out on the red carpet. She accessorized her dress with long dangling earrings, a bold cuff, and Azzedine Alaia lace-up booties. "Sometimes the outfit chooses you. You see it, you walk toward it and you slide into it. That's what happened with this dress."
Dashing in Prabal Gurung dress, Bulgari jewels and black strappy Emilio Pucci heels. Her Bulgari jewels include a yellow gold and diamond pave Celtaura bracelet, and yellow gold and diamond pave earrings. The asymmetrical mini dress had a large exaggerated folds on the shoulder, and a tiered skirt."Clothes can send a powerful message. You don't have to be on a movie set to tell a story. You can play a part on the red carpet or at a photo shoot."
In an Emilio Pucci beaded dress, with snake-like detail slithering around her mesh panel cutouts. Her sexy swagger and strappy Brian Atwood "Wicked" heels completed this perfect look.
A draped gathered at the hip goddess dress that complemented her warm skin tone with a gold clutch and Sergio Rossi sandals. The flash-free way to wear bold gold sandals? Black toenail polish, like Saldana's, keeps the look strong without adding a new hue to the palette.
Zoe Saldana continues to impress me. Take note how this Calvin Klein Resort 2010 sheer layered grey dress was plain and quite boring on the runway, but Zoe brings it to life by making it a bit sexy and sassy without much effort and Neil Lane jewelry.
Zoe Saldana looked very elegant wearing a black Giambattista Valli strapless bustier dress, with ruffled detail on her hip. Everything is perfect here from her hair to her jewels to her dress.
In a draped one-sleeve Calvin Klein Collection dress with Brian Atwood buckle strap platforms, silver tear-drop earrings with small inlaid diamonds by Loree Rodkin.
Zoe Saldana wears her Giambattista Valli Spring 2010 orange floaty dress adorably and I am glad she changed the color to suit her, even though she could have pulled off the emerald on the runway.
Zoe Saldana glowed as always wearing a Calvin Klein Spring 2010 ivory dress. The heavenly dress is gathered on the skirt to give it some shape and was paired with gold accessories and Christian Louboutin ankle strap 'Ronda Dina' platforms.