Check it – Taylor in a tight shirt, Taylor's muscles threatening to tear apart the sleeves of his leather jacket, Taylor squinting like he's some kind of sex symbol, delivering his best Rico Suave...
When discussing the whole "Team Jacob" versus "Team Edward" fan frenzy, Taylor gave his take: "It just depends on your type … If you believe in that friendship and you guys are friends at first and you develop this deep friendship and then all of a sudden fall in love later on, then you should be Team Jacob. But, if you believe in love at first sight, seeing that mysterious man in the corner, then alright, join Team Edward." Damn, I would have been crushing on this kid so hard when I was twelve. He would have, like, totally
understood
me.
Are 18 year old boymen really fully formed? This 18 year old doesn't seem like he knows yet. I don't think he's figured it out even though his entire life has already been mapped out for him. Taylor you're a superhero. Taylor you're a sweetheart. Taylor show your dimples and puff out your chest. Taylor meet Tom Cruise. He was you 25 years ago.
Kristen Stewart, in an
Entertainment Weekly
interview, tells Taylor Lautner : "I think you need a little more growing up to do. You need to grow into your cojones."
Taylor: "Okay…. I'm not sure if that was a compliment." Dude… that was
not
a compliment. Kristen really does think of him as a kid brother if she's mocking his cojones.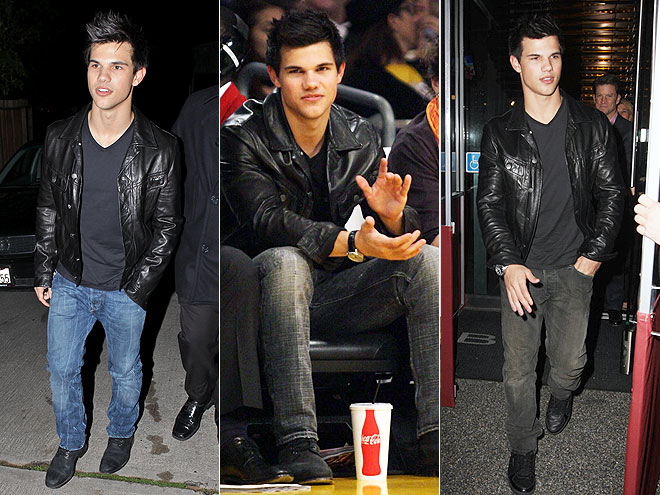 He may be known for his buff body, but Taylor Lautner proves he is just as sexy with clothes on in his favorite Simon Spurr leather jacket.
Taylor's outfit doesn't call for attention as his outfit usually does and he does fade a little next to a thankfully cute Kristen Stewart (love the outfit- yes, Kristen, you actually created an outfit). I like the dude in the background's buttery, clean and straightforward leather jacket.
Taylor and Robert apparently got the memo to put some effort in. Kristen, I love ya, but PLEASE show me SOME effort- not just throwing on clothes. I know badass rocker chick is your personal style, I respect that, put please step outside of your normal zone. A colored shirt with an awsome necklace? Pumps or sandals? Even your favorite Helmut Lang blazer would've made this look better.
Nikki Reed looks nonchalantly cool, Taylor put together as always (love his Nike green tee) and Kristen Stewart. This is one of the few times Kristen looks put-together- like she actually created an outfit- not just throwing on whatever t and jeans and whatever shoes. Kidos to Kristen for a non-whatever outfit!
Looking decent getting groceries with Dad. Yawn.
Converse kid. Aren't we all.
Looking fresh (thanks to his awsomely colored shoes!) with the ever cool Edi Gigi.
He wears a color other than white, black, grey, and blue! GREEN. That is fresh. Keep the colors coming Taylor.
I love Taylor Lautner's style because he dresses for comfort, style and action and formulates his look so that he is always put-together. Robert Pattinson, take note PUT TOGETHER!
Can we please have a bit of color! Lady, please spice your look up with a colored or printed scarf... Taylor is close to looking...not like a straight guy (I have nothing against homosexuals).
Wearing great fitting jeans
Taylor Lautner out with his adorable (an adorably dressed) girlfriend Selena Gomez.
Right back at cha.
In a Diesel shirt (with cute stains from the trip- I'm not the only messy one!)
Looking good with fellow good looker Kellan Lutz (what a name).
With a finally put-together, cute looking Nikki Reed. I am surprised Nikki wore heels because she usually goes super casual, but I am glad she did.
Looking quite put together with a (lamely) off-to-yoga-class dressed Nikki Reed.
The issue with tighter jeans is that when you put anything into your pockets we can all see it.
In D&G. This is the sloppiest I have ever seen him with the untucked sloppy shirt. That is so Robert Pattinson's style. The blazer is sharp. Love it.
In Dior Homme. I'm not crazy about Taylor here though. It ages him 20 years. Taylor there really isn't a need for you to look 38 when you're 18.
Snakeskin jacket with slim skinny jeans? That takes snazz.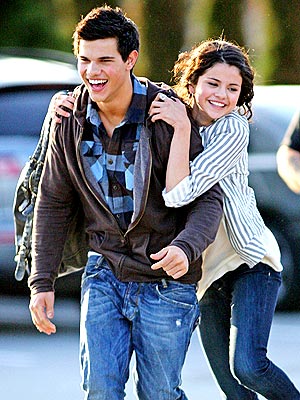 Taylor Lautner and Selena Gomez are so cute together I just had to.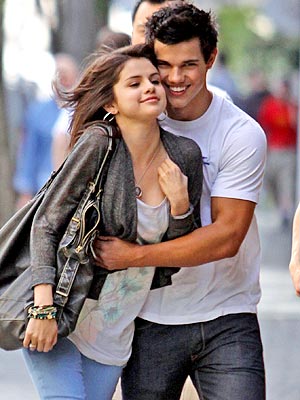 Taylor Lautner and Selena Gomez make an adorable couple.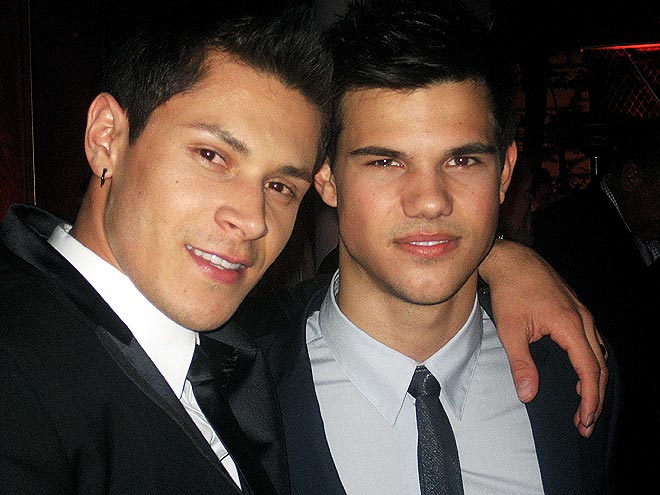 Alex Meraz and Taylor Lautner in one picture and it's all good. Alex is wearing Dolce & Gabbana and Taylor is wearing (guess?)... Calvin Klein Collection.
In J Brand Jeans.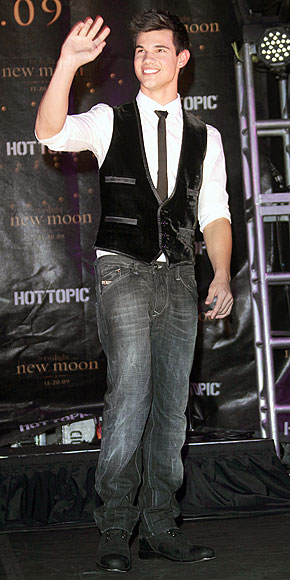 Velvet!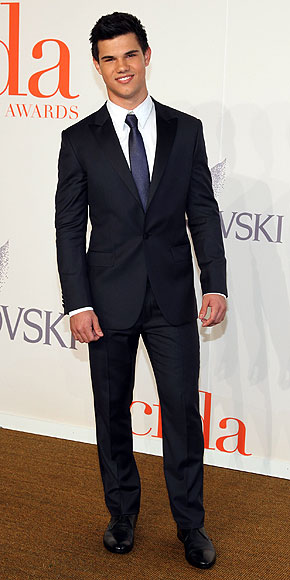 Suave. Robert Pattinson beat that. In his favorite Calvin Klein Collection.
In Calvin Klein Collection. This is objectively the sexiest style of suit he has worn.
What 17 year old wears David Yurman sunglasses (aviators)?
He's blue da bu dee da bu dye.
Whether you like Twilight or Taylor Lautner himself, he has great style. I figured my Great Outfit series of female celebrities needs a little break. So I give you outfits of Taylor Lautner's that I find stylish and fashionisto worthy.