I recently discovered this pic from 2009. I think it is classy for Megan yet keeping up with her sexy style.
I know. OMFG. By now we can all count on vixen Megan Fox to bring on the heat and boy did she bring it in this custom Armani Prive dress.
I rather like it: it's nice to see someone wearing something that's NOT just a standard issue cocktail dress, even if I happen to LIKE standard issue cocktail dresses. Kind of like how if you have a cheeseburger five nights in a row, you might really want a salad on the sixth night, without taking anything away from your love of the cheeseburger.
Megan stands with her husband Brian Mr. Megan Fox Green wearing an all Emporio Armani look with eye-catching Christian Louboutin peep toe pumps.
The newly minted Mrs. Brian Austen Green poses head to toe in Emporio Armani.
Drop dead gorgeous.
A leather motorcycle jacket over a black tee, grey skinnys and awesome wedges have never looked so hot.
Her funky Jimmy Choo metallic clutch, with its cool, chunky features, turns this otherwise tight pink dress into something a bit more playful. I love her pointy gold Christian Louboutin pumps.
I understand why the paparazzi are going crazy for Megan Fox because she looks like the movie star she is in her Armani dress.
The real Megan Fox totally casual at the mall with her lucky boyfriend Brian Austin Green in 2009.
How she can walk in those skyscrapers I have no idea. Balance and flat ground helps. Megan struts in Yves Saint Laurent Tribute pumps, a body-glorifying Mayle dress and a blush Giorgio Armani(her new pal) bag. I am in love with this look and Megan in this look. She is stunning.
I do like this outfit: a bright yellow cardigan over a purple silk dress paired with nude patent platform Brian Atwood (her fav) pumps. It is fresh (bright yellow cardi), appropriate (non-sexy dress) and sexy (the pumps!).
I thinks this Megan Fox (here in 2007)- the REAL Megan Fox- is just as beautiful as the Red Carpet Megan Fox.
I like this velvet dress with gold embroidered and embellished side panels. It is sexy, demure and appropriate. The pointy gold patent pumps add sharpness and complement her dress well.
This really is Megan Fox in 2007. I think she is beautiful here.
I like this shiny satin strapless tucked dress on Megan. The orange complements, rather than clashes horribly with her tan. She should try shades of orange more often.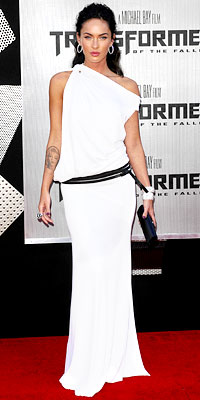 Megan wears a white jersey toga-inspired Kaufman Franco dress with a low-slung belt, diamond hoops and a Siera cocktail ring. Her gown is incredibly sophisticated and sexy. With this elegant, flowing off the shoulder gown, all she needed is this Gucci black clutch. These diamond-encrusted Kwiat diamond earrings give her look some extra sparkle. I love how her stunning diamond encrusted bangle bracelets subtly complement her gown.
Megan layers several golden bracelets to add some sparkle to her black dress.
In Armani Prive.
Megan is irresistible in her stunning strapless lace Valentino Fall 2009 Couture number with a Christian Louboutin "Loubiday" clutch and red patent Christian Louboutin "Claudia" peep toes with delicate ankle straps that look amazing with Megan's perfectly toned legs.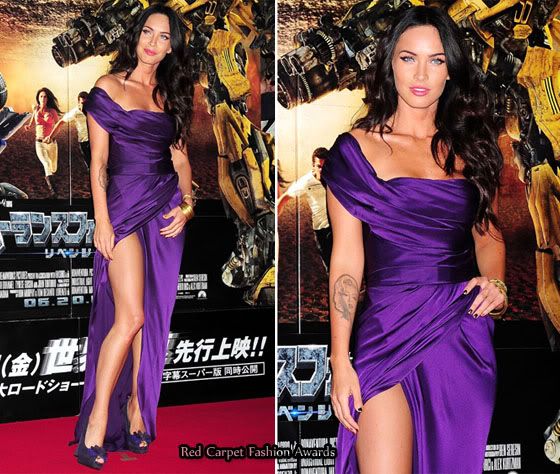 In a gorgeous purple Donna Karan gown with Stewart Weitzman bow pumps. Layers of thin gold bracelets play off the layered look of Megan's purple gown.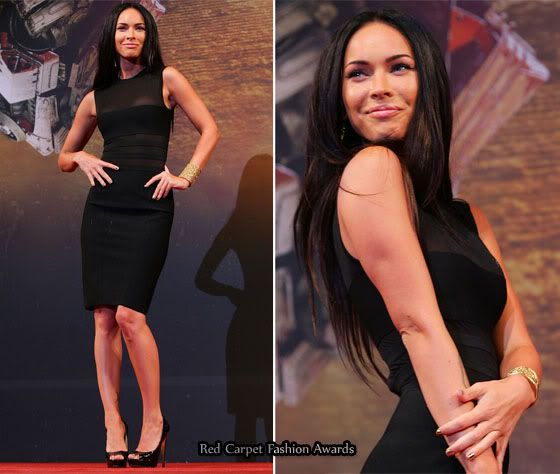 Brian Atwood pumps.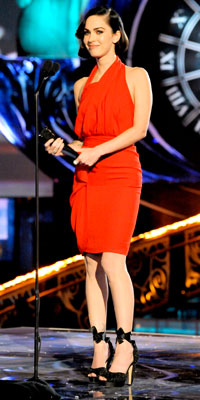 Perfect. I love Megan Fox's demure look: black ankle-tie peep-toes to a sultry red haltered Martin Grant Spring 2010 dress that wraps and drapes around her toned body, as she sports a classic updo.